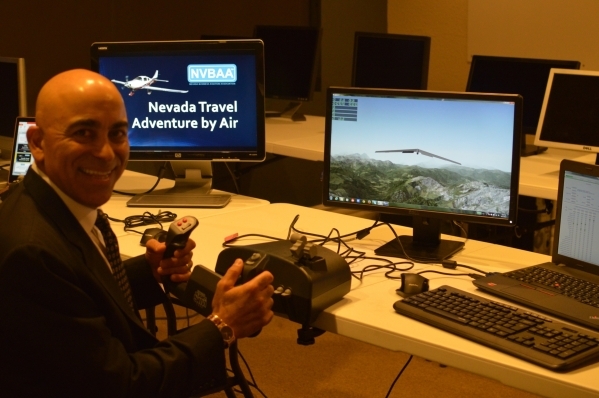 Reza Karamooz is a highly educated engineer who has dedicated the last dozen years to the aviation industry.
"I really see this industry as one that is going to continue on a very fast growth trajectory for decades to come as worldwide air travel continues to grow, as Unmanned Aircraft Systems become nearly a $100 billion industry over the next decade, and as our national security depends on our ability to maintain global air and space superiority."
His day job is as CEO of Lucky Jets, a company he founded in 2008 to serve the private jet charter market to and from Las Vegas. But he wears many other hats.
Karamooz is president and CEO of GRADD (Global Robot And Drone Deployment).
He is also vice chair of the Nevada Chapter of Aerospace States Association. Lt. Gov. Mark Hutchison is the chair of ASA Nevada.
He also started the Nevada Business Aviation Association Chapter of the National Business Aviation Association, which is bringing its national convention to Las Vegas in the fall.
Q. What is the NVBAA?
A. NVBAA is a chapter of the National Business Aviation Association. NVBAA is a Nevada corporation 501c3 nonprofit public charity, and after a few shorts years has become one of the most successful chapters of NBAA with over 400 members, representing corporate flight departments, Nevada airports, industry stakeholders, government and academic leaders.
Q. What are the goals of the Nevada Business Aviation Association?
A. We have two major goals; the first is promoting STEM (science, technology, engineering and math) education to under-represented teens in at-risk Nevada schools. NVBAA has now created one of the most successful after-school aviation programs in America, right here in Las Vegas.
And our second goal is to help boost economic development activities in aviation, aerospace, and unmanned aircraft systems in Nevada. We do this by uniting the state from north to the south, with everyone working together — the airports, aviation industry stakeholders, and government leaders — with a common goal of growing our industry and providing significant economic diversification. Working together in 2015, we were able to get an Aviation Tax Abatement bill passed that will greatly help the Nevada aviation, aerospace and UAS industry.
Q. What does the Aviation Taxation Abatement Bill that recently passed do?
A. The Aviation Tax Abatement bill — AB161 — allows existing Nevada aviation-related businesses to grow and encourages new businesses to come to Nevada.
Here are the basics: Once an organization is approved … 50 percent of their personal property taxes are abated for up to 20 years, and the sales and use tax on aircraft (manned or unmanned) parts are abated down to 2 percent.
This is great news for our state, because now our Nevada-based companies can better compete with similar companies in other states, on a more level playing field.
Q. What makes the tax so significant?
A. Some aircraft parts are very expensive … so if you have to pay $80,000 or $150,000 or $200,000 in taxes on aircraft parts, you'll just go to a state that doesn't charge tax on those parts. In past years, one would have to fly their aircraft over a tax-exempt state to come to Nevada, and pay us 8.1 percent tax.
In fact, in addition to having a difficult time competing for aircraft maintenance work to come to our state, in many cases, aircraft based in Nevada flew to other states for repairs and maintenance. In essence, until the passage of AB161, we were shipping out great high-paying aircraft repair, maintenance, and manufacturing jobs to other states, as well as giving up associated fuel sales, airport landing fees, hangar rentals, and other related business opportunities.
The passage of AB161 is showing great promise. Seven companies have already been approved for the abatement, and have started hiring more people, expanding their operations, and in some cases, planning on building new hangars.
Q. How much of an increase do you expect to see in jobs since Nevada can now be more competitive?
A. Based on an economic impact study, commissioned by the Reno-Tahoe Airport Authority, we will create somewhere between a low estimate of 450 jobs, and up to 1,350 jobs in the first year alone. These are high-paying aircraft repair, maintenance and manufacturing jobs. And although AB161 was a tax abatement bill, it is anticipated that in the first year it will result in a net tax gain of $1 million to$4 million. This is a great example of how a state economic incentive will not only create great jobs, but also generate more tax dollars for the state. A true win-win-win for the great state of Nevada, its aviation, aerospace and UAS businesses and Nevada citizens.
Q. Tell us a little about your own business.
A. I have 2 companies, both to serve Las Vegas and Southern Nevada — Lucky Jets (www.LuckyJets.com) and GRADD (www.GRADD.co).
I founded Lucky Jets in 2008 for the purpose of providing the best private jet charter service to and from Las Vegas. We created and managed Las Vegas' most successful scheduled charter service from private terminals in Southern California to a private terminal in Las Vegas for Wynn Las Vegas in 2009 and 2010. And Lucky Jets has been the exclusive provider of Private Jet Charters to the Price Is Right Show since 2009. Since 2008, we have arranged flights for many clients on four passenger jets, and larger jets, up to 30- and 50-passenger capacity. At Lucky Jets, we work with our own network of approved jet operators, both locally, and nationally, and manage it all with our small staff of five from our Las Vegas office. We look forward to serving the Las Vegas market for decades to come.
I founded GRADD in 2014 with the sole purpose of creating the ecosystem in Southern Nevada to attract and grow the Unmanned Aircraft Systems industry. We have about 15 people on our core team, and our advisory board. It is our mission to help build the infrastructure for the research, development, manufacturing, and commercial application of UAS, and develop a drone deployment network to serve clients across America, and across the globe. We have created introductory and safety training workshops for UAS, and also signed an exclusive partnership agreement with one of the top companies in America to bring world-class UAS pilot, and operations certification programs to Las Vegas. GRADD is currently in the process of setting up drone pilot proficiency training programs, with indoor, and outdoor netted drone test areas. The UAS market is very promising, and it is our goal at GRADD — in collaboration with industry, government, and academia — to bring our fair share of that market to Nevada.
Q. Where did the idea to start the STEM education after-school programs originate?
A. We need K-12 students to become inspired in pursing STEM careers. And to do our part, I chose Sunrise Mountain High School — where my wife teaches math — to start the Aviation Club.
Q. What does the after-school program teach and how is it benefiting the kids?
A. We teach aircraft design, airplane flight simulation, UAV's, RC aircraft, robotics, propulsion and rocketry, critical thinking skills and mental math techniques. Our team of engineers, scientists and mathematicians support our after-school programs and we provide summer internships for Nevada's underrepresented teens at our offices.
We are going into our third year of sponsoring and supporting the aviation club, the robotics club and the math club at Sunrise Mountain High School.
Q. Considering this program is only a few years old, what unexpected results have you seen in such a short time?
Although this is only our third year of our aviation club program, we have already gained national success. In 2014, our Aviation Club won the national championship of the Aviation Design Challenge by beating 79 high schools from 33 states and D.C., and in 2015 we once again achieved the national top score in the Aviation Design Challenge. Our Math Club, which is supported and mentored by my wife, has won the 2014 and 2015 Southern Nevada Krypto Math Championship.