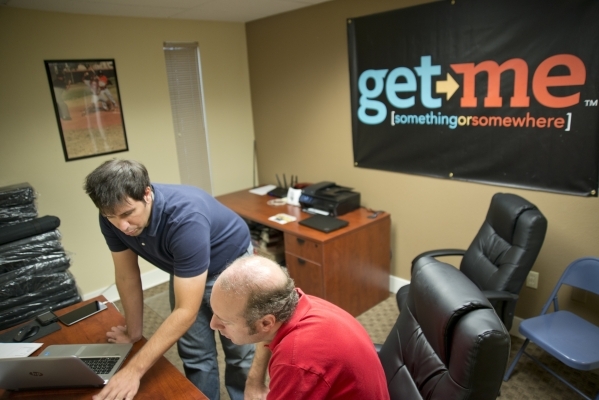 Las Vegas is adding a third company to its ride-sharing roster as GetMe, a Dallas-based concierge app, is scheduled to make its debut on Nov. 12.
Jonathan Laramy, chief experience officer for GetMe, said the app will not only provide rides but deliveries as well.
"We're unlike other apps out there because in addition to providing rides, we're on hand to deliver the essentials, anything from dry cleaning to a cup of coffee," he said.
Once its Las Vegas branch is up and running, GetMe will have launched in four cities in 70 days.
Laramy said the company is working with the Nevada Transportation Authority to determine the rules and regulations.
"There have been other ride-sharing companies who have bullied their way into the market, so we want to make it a seamless process," he said. "We're not able to offer rides to and from the airport yet, but hopefully we'll get that permit soon. However, we feel there are more lucrative jobs away from the Strip and casinos that will be more valuable than fighting with Uber, Lyft and taxis at the airport."
Laramy said the company aims to hire 60 drivers in the Las Vegas Valley and understands that they are the backbone of the operation'sr success.
"Our drivers are independent contractors who decide who they want to work for so once a job goes out a text hits our drivers and they can decide what they want to do," he said. "Some of them don't want to drive people and just do deliveries; some do both. It's up to them."
Launching in Las Vegas was an easy decision, Laramy said.
"Las Vegas is a city of convenience and it seemed like an obvious city from a delivery standpoint and rides as well," he said. "Instead of sitting in a hotel spending $15 for a bottle of water you can save a lot of money by having things delivered and in the suburbs there are stay-at-home Moms who can't leave home."
GetMe is also setting up an office on South Sandhill Road, which will be a central location for Las Vegas-based drivers.
"It won't be a big office, just a place to call home base and serve as a direct line of communication locally," Laramy said.
Later this year, the company will be launching in San Antonino and has plans for an international launch in early 2016.
"To have launched in five cities in under 90 days is a huge achievement," Laramy said. "We'll offer a different experience and do what many other apps do in one."