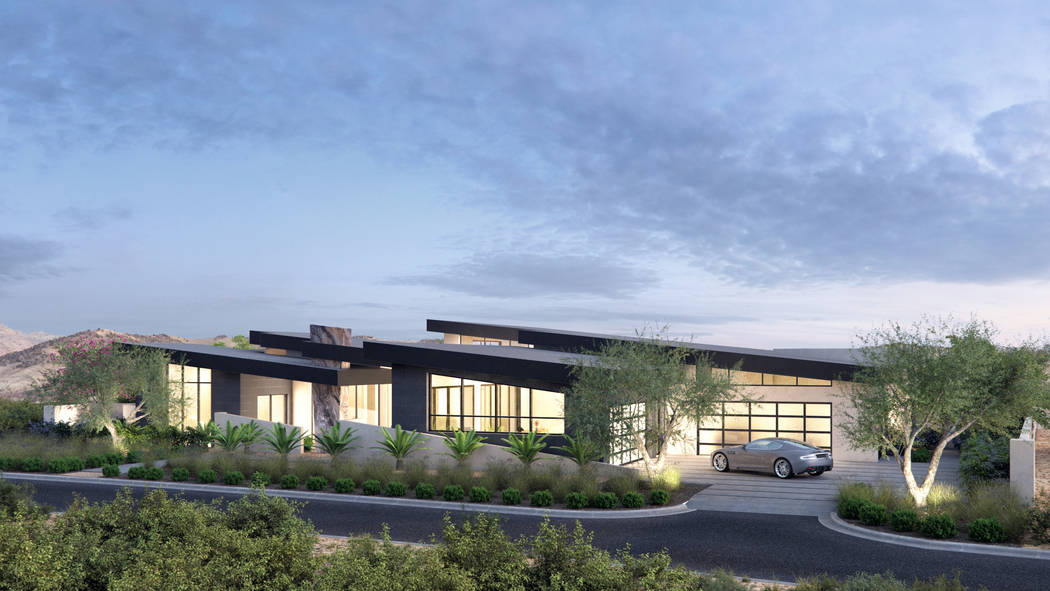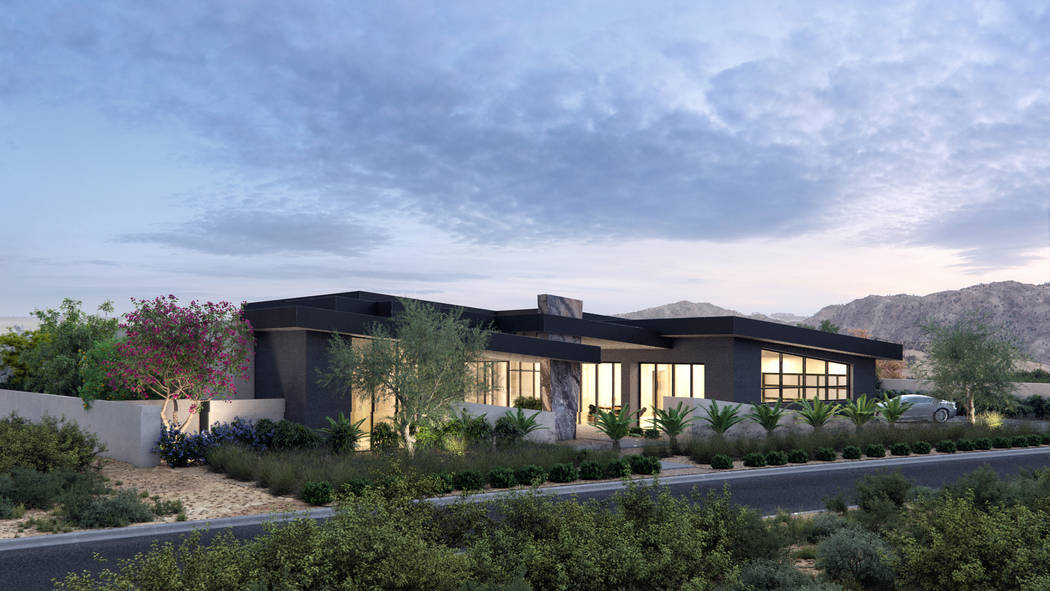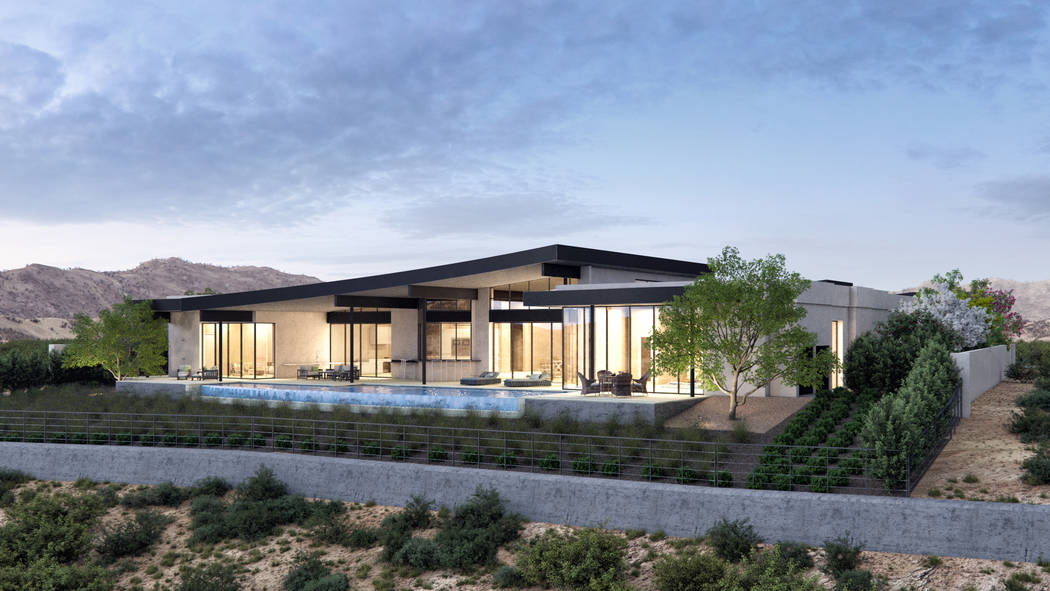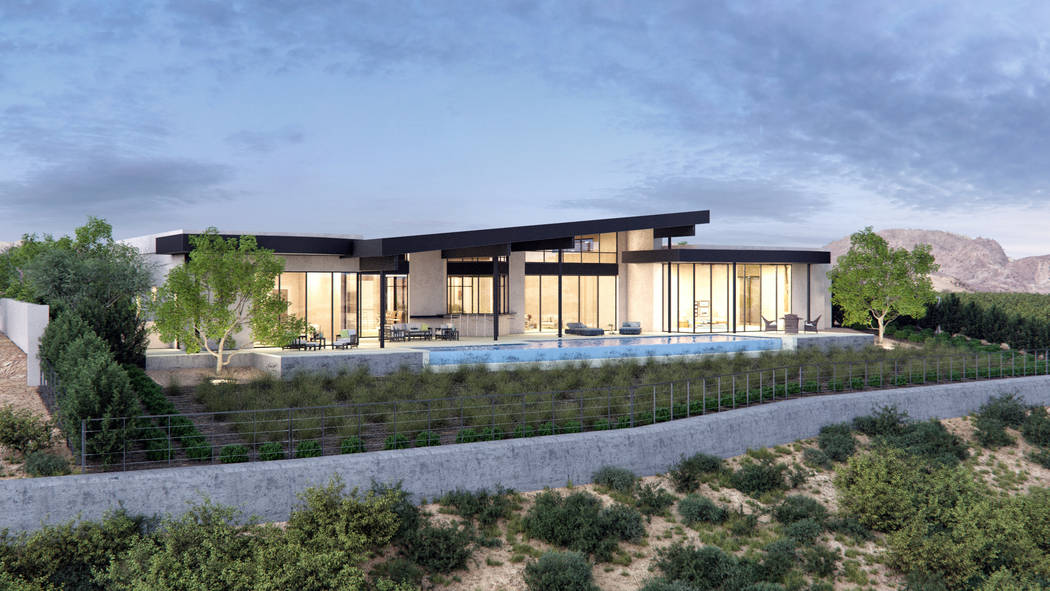 Sun West Custom Homes has been selected to build a cutting-edge, high-tech luxury home — the 2019 New American Home — in Ascaya that will be showcased at the National Association of Home Builders' Show in February 2019.
The one-story, open-air home in the luxury Henderson hillside community will measure about 7,900 square feet. It will have five bedrooms and five baths, a study, great room, dining room and pantry. It's valued at $4.9 million, according to Sun West owner Dan Coletti.
The door system will open to the courtyard, and inside awaits what Coletti calls a "great room-style house, meaning there's no separation between living area and family room." He said it may be hard to tell where the home ends and the outside begins.
"The architecture is on the cutting edge, and some stuff people have never seen before," Coletti said. "When you approach the front door, it has an indoor/outdoor living at the front of the house instead of the rear of the house.
"That is unique, as is how the courtyard, study and showroom four-car garage are all going to blend together."
Homebuyers who purchase custom homes at this level tend to have an affinity for exotic cars, and the 2019 New American Home has them covered, Coletti said. It will include an expansive home office where the homeowner can look across the front courtyard to view their cars in what doubles as a finished, air-conditioned man cave and garage that features a pool table, Coletti said.
In addition, there will be an infinity-edge pool in the rear that comes against the home in some areas. The back will also feature a Jacuzzi, fire features, and outdoor heating area.
The National Home Builders Association reaches out to architectural firms ahead of its national conventions that are held in different spots across the country, including a three-year rotation between Las Vegas and Florida. A New American Home in MacDonald Highlands was part of the 2016 show. Tens of thousands of people in the building and design industry are bused to the showcase home to view the latest in architecture, products, materials, fixtures and technology in the homes.
Coletti said the builders' board reached out to him and others in Las Vegas about a year ago as part of a selection process where finalists went to Washington in June to outline their proposals. Coletti said he proposed that he build the home as well as design it. He was notified in August of his selection, and the contract was signed in November.
Coletti said he showed the panel floor plans and elevations that they considered "unique from what they had seen before." They also liked the selection of Ascaya on a lot with its spectacular views of the mountains and Strip, he said.
"We're excited we were selected as the residential designer," Coletti said. "It's in a new community, which is exciting and cool. The market is revved up, and the attendance for the convention is expected to be up with everyone hyped up on new construction."
Foundation work started in February, and the home is expected to be completed by November.
Coletti said he will finance the project out of his own pocket, since financing would be tough because he and the banks don't know what the final cost will be. The final cost will be kept down because vendors offer discounts to use their products and materials in the home, and they capitalize on that in promotional materials, he said.
"They want to be in it because it will be on the cutting edge of architectural and product development," Coletti said.
That means the latest technology in efficiency when it comes to heating and cooling systems, plumbing fixtures, light fixtures, tile, insulation and windows.
"It's going to be a green house that's far beyond most homes," Coletti said.
A home built under current codes has an energy-efficiency rating of 100, Coletti said. He said his team's goal is to reach 50, which is twice as efficient.
"That's difficult to accomplish in a custom home where you have lots of glass," Coletti said. "We're currently at 59 and trying to engineer to get under 50. We will get there."
Solar power and other green elements have advanced considerably in recent years, and the plan is to make this a net-zero energy home or as close to it as possible, Coletti said. That means it will put as much energy back into the power grid as it derives from the grid, he said.
The home will serve as a model and will be on display for people to view for about one year after the homebuilders' convention, which runs Feb. 19-21, Coletti said.
About the New American Home
Price/Value: $4.9 million
Location: Ascaya, Henderson
Size: One story, 7,900 square feet, five bedrooms and five baths
Features: Showroom four-car garage, man cave, indoor-outdoor living features at the front of the home, ultra energy-efficiency, net-zero features, infinity-edge pool, Jacuzzi, fire features, and outdoor heating area
History: Being construction by Sun West Custom Homes as the 2019 New American Home. Completion is expected to be in November. Will be showcased at the 2019 National Association of Home Builders' Show in February.