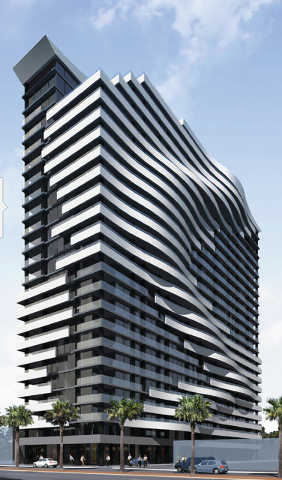 Another high-rise residential tower project is in the works for the north end of the Strip.
Cambridge Companies Inc., a land development company based in Las Vegas, is planning a 22-story condo tower at 1801 Las Vegas Blvd., South, just north of the Stratosphere between St. Louis Avenue and Oakey Boulevard.
Filipp Chebotarev, chief operating officer at Cambridge Companies, couldn't give an exact estimate on how much the new project would cost, but he said it would be north of $100 million for the new construction.
The project will feature 1,500 square-foot units, according to Chebotarev.
The plan, according to Chebotarev, is to lease those units for the first two years after construction and then sell them as condos.
Many of the specific details on the future project are still being fleshed out, he said.
The site itself has been zoned as a C2 space, according to the City of Las Vegas, which generally means use as retail space. But, according to company literature, Cambridge plans to convert the site to an H-1 zoning, which would allow construction of an apartment district.
Cambridge Companies has been doing business in Las Vegas and its surrounding communities for more than 20 years. Michael Bash, the founder and president, has been in the real estate business for more than 50 years.
The company has done several developments and redevelopments around the Valley including most recently C-2 Lofts, several apartment complexes, a 64,000-square-foot industrial space developed for Ken Foods in Las Vegas and another 101,000 square feet of industrial space in North Las Vegas. In total, Chebotarev said, there are 37 different projects by Cambridge going on around town.
Cambridge is also planning a 1 million-square-foot industrial space on the 55-acre corner of Las Vegas Boulevard and Lamb. Chebotarev said he is planning to bring in a buyer or a joint venture equity partner on that project.
The new industrial projects are a reflection of Las Vegas' improving real estate picture.
Chebotarev said industrial space is doing well in Las Vegas right now, pointing to Prologis' quick turn around on its nearly 500,000 square feet of space.
Charles Van Geel, vice president of leasing and sales at American Nevada Realty, agreed.
"In terms of the rental market, right now there's a big time demand for large industrial and large warehousing type facilities," he said.
Chebotarev said the market is in need of new space.
"They're tracking 8 million square feet of usage demand," Chebotarev said. "There's 2 million square feet that's going up in the next year and a half. There's a 6 million square foot void," he added.
Cambridge is also planning on purchasing another $200 million property in Las Vegas. Chebotarev gave no further details on the purchase.
Cambridge has also done work in Jerusalem, New York and California.
Many of these deals are brought together by outside investment—each with a different financing structure.
"It depends on the project," said Chebotarev. "If the project is looking north of $20 million, we'll put in 20 percent of the project and then we'll bring in a large institutional investor from New York for the remaining 80 percent."
For smaller projects, between $2 and $6 million, Chebotarev said, Cambridge will put in closer to 50 percent of the project and seek investment from an individual, family office or smaller investment fund.
A recent alignment has brought the company some successes.
Chebotarev said he had a chance meeting with Ike Suri, co-CEO and co-founder of Pelican Point Capital Partners LLC., located in Newport Beach, Calif. The two did their first land deal together on a property at Boulder Highway and Galleria Drive, Chebotarev said. They went on to do several more deals together, and now have created the Las Vegas Opportunity Fund together, a special projects vehicle that could bring $100 million in new investment around Las Vegas.
"They bring capital, as well as relationships to finance our projects," Chebotarev said. "They brought me onto their board to advise them on land use development and real estate matters after our five successful transactions," Chebotarev said.
Members from Pelican Point sit on Cambridge's board as well.
On the high-rise project, Chebotarev said he plans on bringing in a buyer or a joint venture equity partner on this one as well.
According to company literature, the property is being valued at $16.2 million with the rezoning. The original purchase price for the land, the same literature says, was $5.5 million, leaving Cambridge with well over a $10 million profit if it was sold at this price.
"Everything we do is aligned with the community that we serve," said Chebotarev. "If we're doing a retail center, or a business park, we like to make sure that the city and the neighbors in the community also want that development there."
Chebotarev said he meets with Las Vegas Mayor Carolyn Goodman and with North Las Vegas Mayor John Lee to see what the needs of each city might be before building.