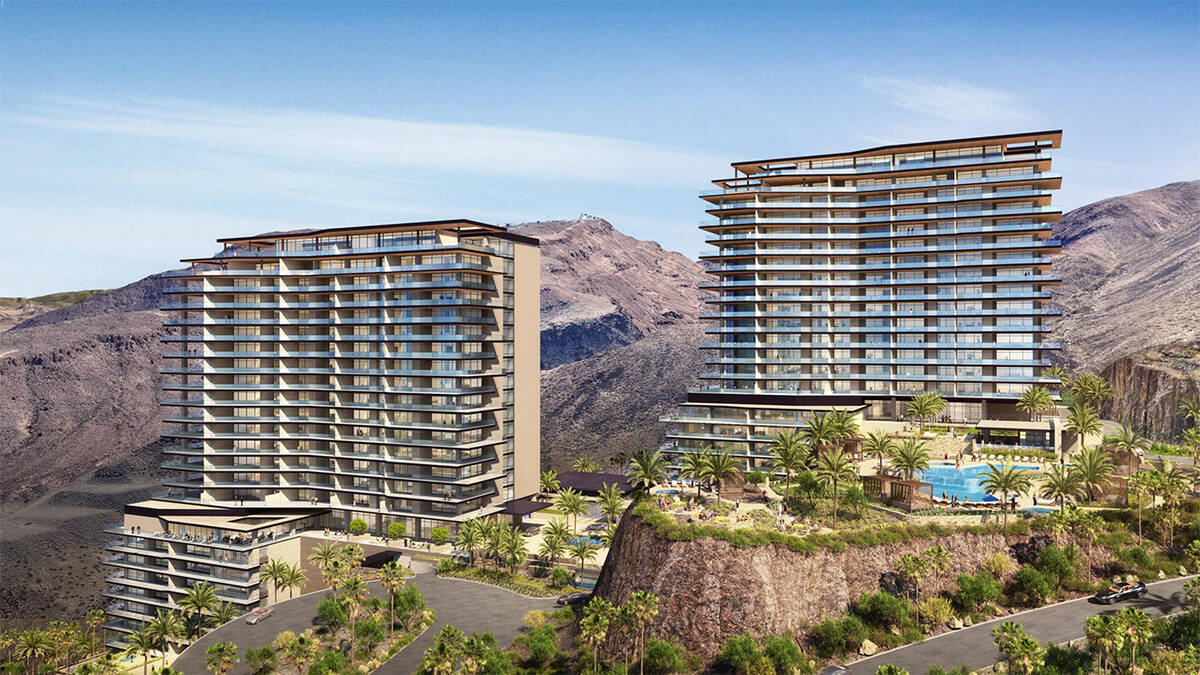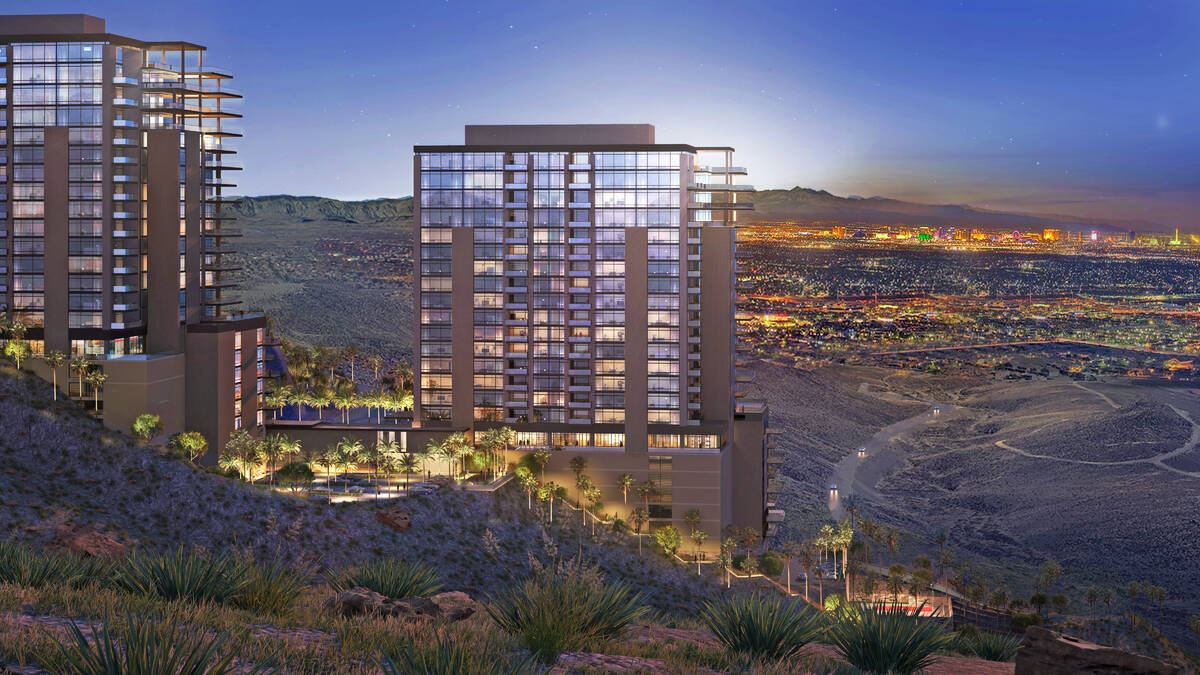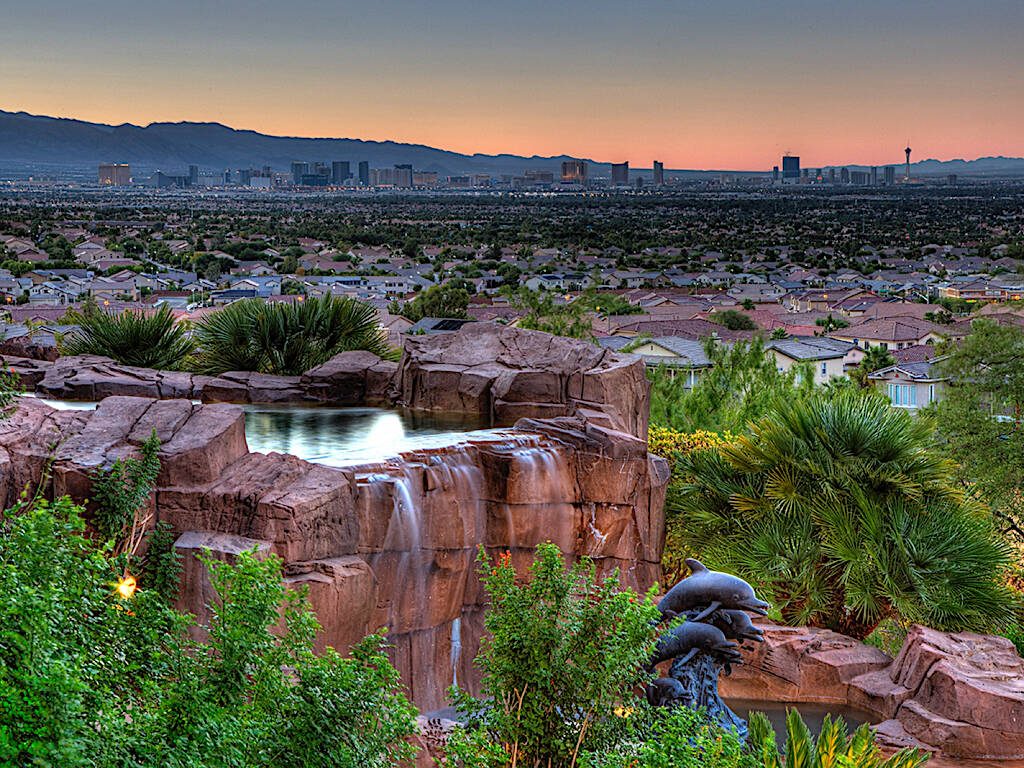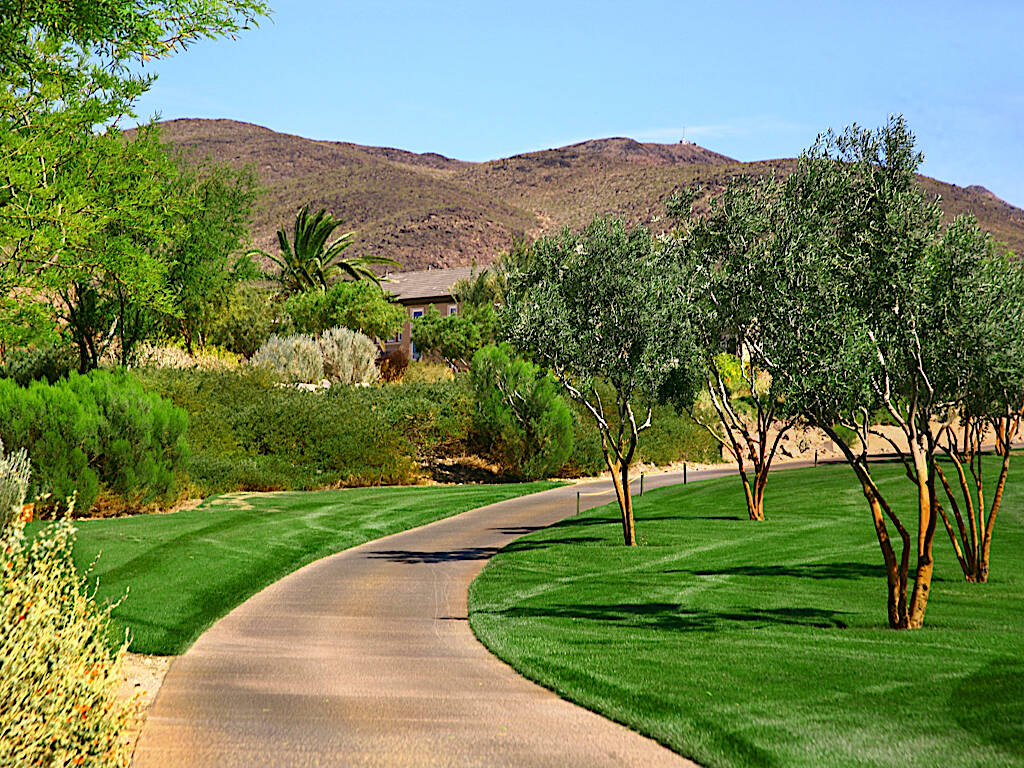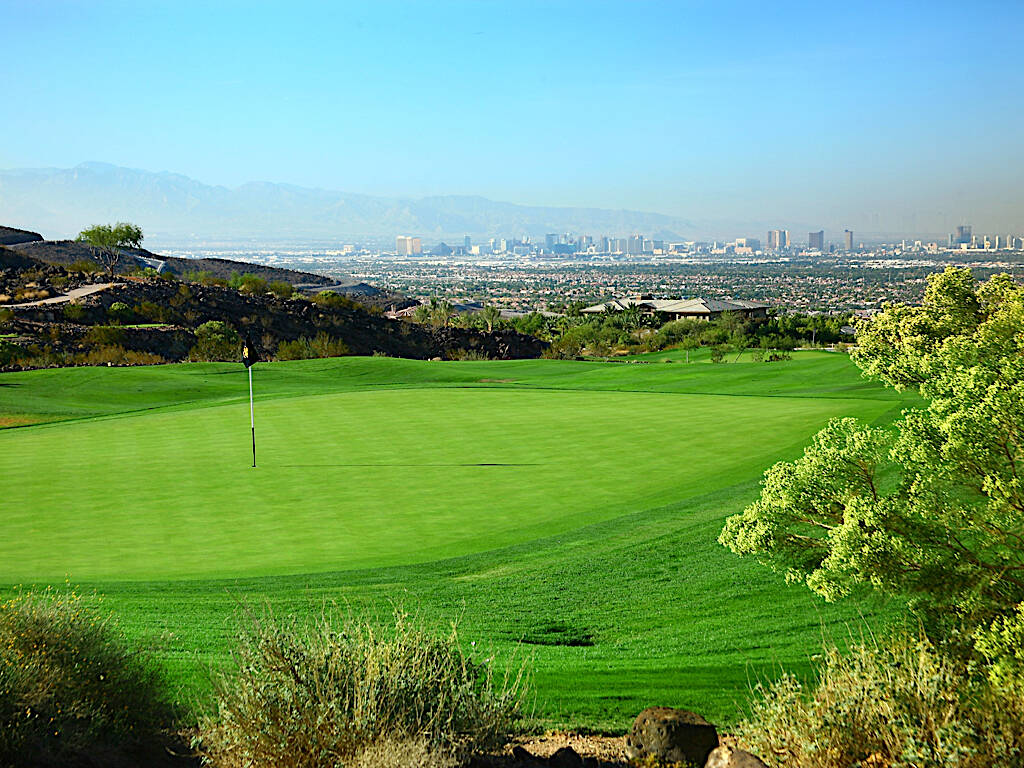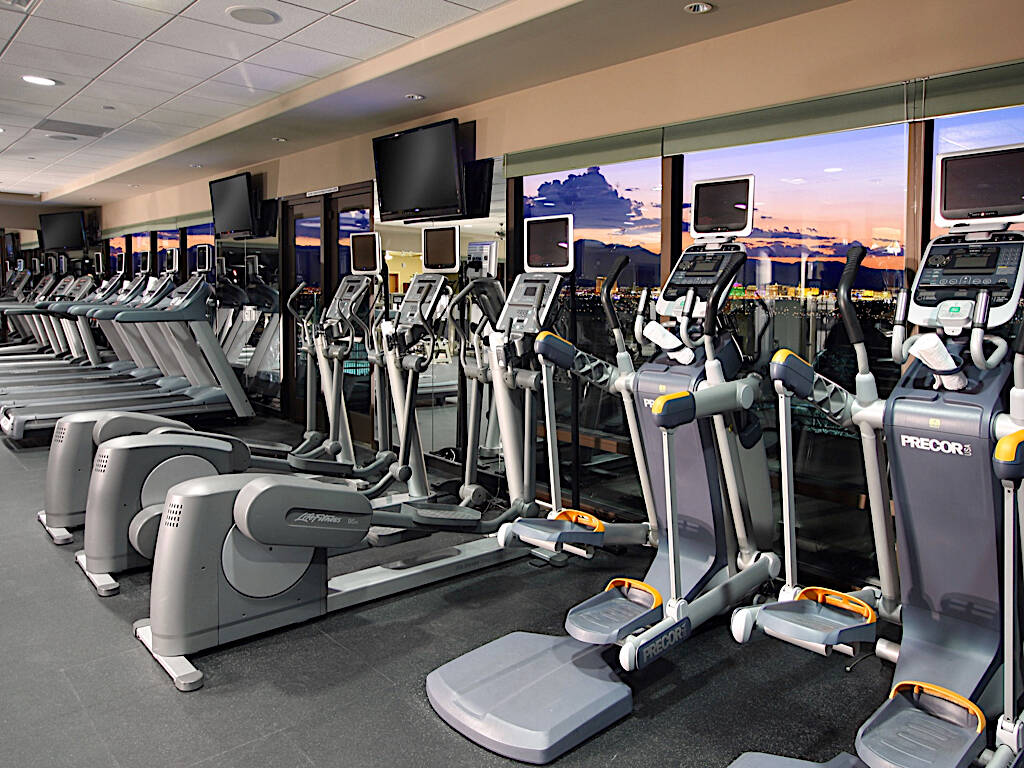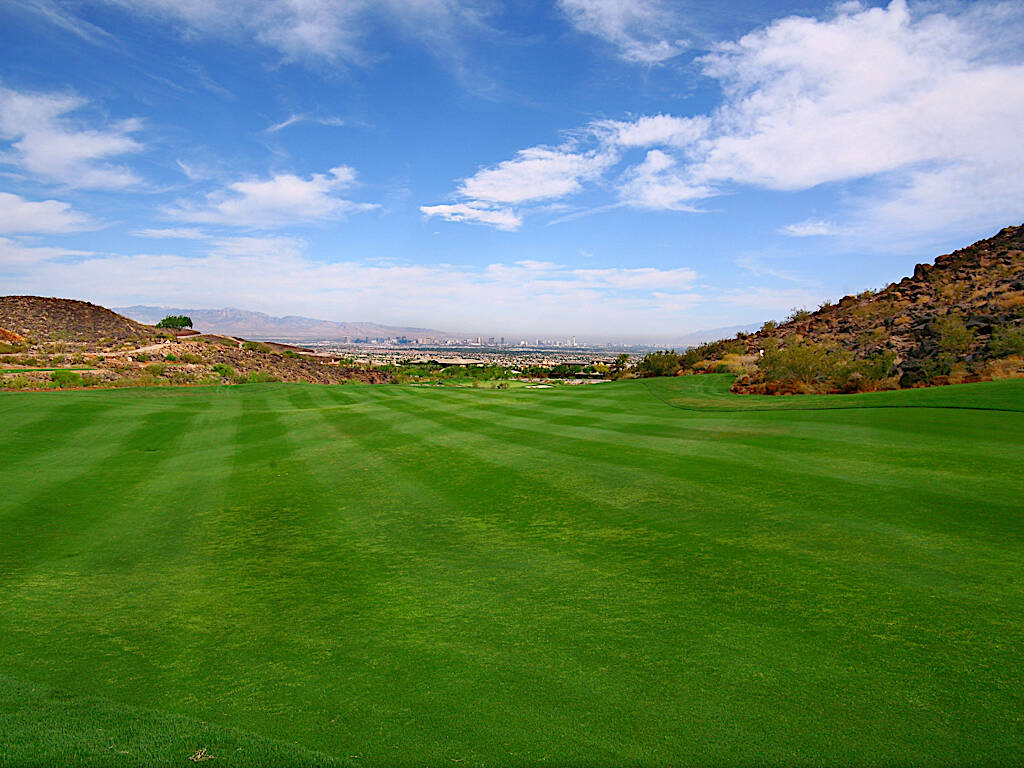 A $600 million luxury resort-style condominium project is planned for MacDonald Highlands in Henderson, and if approved by the city, it would be the first high-rise built since the Great Recession.
Called the Pinnacle Residences at MacDonald Highlands, the project with two towers totaling 183 units is far along in the planning process. The Henderson City Council will consider approving the project entitlements in December.
One tower is proposed at 24 stories and the other at 25 stories. The project calls for underground parking of four and five stories.
Prices and layouts haven't been finalized but are expected to start at $1.5 million and go up to $13 million for penthouses, which have their own private pool on their terraces. About 140 reservations have been taken with customers putting down between $10,000 and $100,000 in refundable reservations. In early 2022, those reservations will be converted into purchase and sales agreements, requiring a 25 percent deposit with the balance due upon delivery of the residence by June or July 2024.
Veer Towers in CityCenter, which started construction before the real estate downturn and opened in 2010, is one of the last high-rises built in the valley.
"It's the most exciting project to hit Las Vegas for luxury residential since CityCenter," said Kristen Routh-Silberman, a Realtor with Corcoran Global Living, the exclusive listing agent for the Pinnacle Residences.
"The response has been fantastic. It's in a beautiful canyon with arroyos all around, and 99 percent of people in MacDonald Highlands won't even know it's there. It couldn't have been in a more beautiful location. People wondered why Summerlin has this but Henderson doesn't. They've been asking for lock-and-leave. Everybody wants it to be embedded in a five-star, guard-gated country club community with all the amenities and beautiful Strip views.
We tried to make it like a house in the sky, and that's why the outdoor space (for the units) is important for us."
All of the units will have extensive outdoor areas with outdoor kitchens, outdoor dining and outdoor sitting areas.
The project, a development of Las Vegas- and Mexico- based Azure Resorts and Canada- and New York-based Luxus Developments is expected to start readying the site pad in the first quarter of 2022 with vertical construction to start in the third quarter. It's expected to take 27 to 30 months from May.
Azure President and founder Jim Reilly, a Henderson resident in Seven Hills, said this will be their first project in the continental U.S. after doing resort residential villas in Mexico, Hawaii and elsewhere. He said he thought of the project with himself in mind.
"I have lived here the last 12 to 13 years, and after dealing with COVID, there was not a whole lot that was happening outside the country," Reilly said. "My son is a senior in high school, and we were thinking about what we were going to do when he leaves. I would like to stay on the Henderson side of town, and we started thinking about whether we could build a service-oriented luxury condominium project somewhere in Henderson."
The closest comparison for Pinnacle Residences is One Queensridge Place in the southwestern valley, which opened in 2007 with two 20-story towers of luxury residential living.
"We chose MacDonald Highlands because it was the pre-eminent luxury, guard-gated, golf-course community in Henderson. I don't think there's anything better than that in terms of amenities, homes being developed and homes already developed."
Reilly said prospective Pinnacle buyers making reservations are people who live in guard-gated communities in Henderson, don't want to live on the Strip and may have a second home in California. He expects that the next phase of buyers will be from residents from elsewhere in the valley and the rest will be people from out of state.
"It's great for a couple of days or a long weekend, but most (Henderson and Las Vegas residents) want the ability to access the Strip within 10 or 15 minutes but go to their secluded area in the suburbs where you can have a normal life and not have the traffic and tourists," Reilly said. "I want to live in a residential community, and the Strip is not a residential community. Once we started talking to people about this, we found a ton of demand for this sort of product."
The prospective buyers live in homes of 6,000 square feet to 7,000 square feet with five bedrooms worth about $3 million to $5 million and are interested in three- to four-bedroom condos at a similar price of $3 million to $4 million, Reilly said.
"We tried to make these condos living like single-family residences with outdoor dining space, outdoor living space, a private garage and private elevator that leads directly into your residence," Reilly said.
About 15 months ago, early in the pandemic, Reilly said he approached MacDonald Highlands, and its developer, Rich MacDonald, loved the concept and lifestyle. MacDonald took it to Henderson officials, who were favorable about it. Azure and Luxus came to an agreement to buy 11 acres from MacDonald Highlands that will be consummated when entitlements are obtained. MacDonald Highlands is an investor in the project, but Azure and Luxus maintain control.
"This is a three-quarter-of-a-billion project and it's in the only location we would allow it to be, and it's a great product and the proof of that is that it's (mostly reserved), right now," MacDonald said. "The reservations are bouncing up every day, and there hasn't been any real advertising yet, but just to the neighborhood and friends."
MacDonald said it's an opportunity to give people another lifestyle choice. As people age, it's nice to have a unit to turn the key, lock the door and take a trip and come back and everything is the way you left it.
"It's great for the valley," MacDonald said. "It gives us a new standard for excellence. The design and decor of this project is over the top that it has forced me to remodel the clubhouse."
The developers hired WATG, a firm that designs projects across the world, as the architect for the project. The design will be desert contemporary with some modern features and will feel similar to new homes under construction in MacDonald Highlands, Reilly said.
"It is an upscale project that will probably be $750 million to $800 million in total sales," Reilly said. "That will mean about $6 million a year for the city of Henderson in property tax. They like that it's upscale luxury compared to rental apartments and smaller condos, and it's not age-restricted, so we're not going to have a lot of need for schools or police services. It's a net positive for the city, and we're going through the process right now to have the final design approved."
The project won't be over the ridgeline, Reilly said. It's nestled into an arroyo and designed to blend in with the natural environment with the mountains behind it. There's nothing behind it, so it won't block any views within MacDonald Highlands, he said.
Two-bedroom units start at 2,500 square feet for the interior and 650 square feet for the exterior. Units go as high as 9,000 square feet for the interior of penthouses with a 7,000-square-foot exterior. There are two penthouses on each tower. The penthouses and junior penthouses offer five bedrooms.
While the junior penthouses and penthouses will have outdoor private pools on terraces, five ground-floor units tucked in front of the garage will have private plunge pools where you can walk out to them from your terrace.
MacDonald Highlands is home to the DragonRidge Country Club, tennis center and athletic center. Pinnacle Residences will have 24-hour concierge, valet and security; a gourmet restaurant and lounge with city and Strip views; room service; private chef service; private dining room; special events such as wine tastings and private dinners; resident wine cellar and wine lockers; resort-style, multilevel pool with Strip view; lap pool; poolside food and beverage; outdoor Jacuzzi and grotto; barbecue grilling area; private cabana; event lawn with catered food service; full-service gym and spa; personal training; fitness lounge; steam rooms; indoor Jacuzzi; golf simulator; game room; media screening room; children's room; pet spa; parcel acceptance; boardroom and meeting spaces and library.
The project also will have four hotel rental suites that condo owners can use when they have friends and family visit.
"It will feel a little more like a luxury hotel resort," Reilly said.