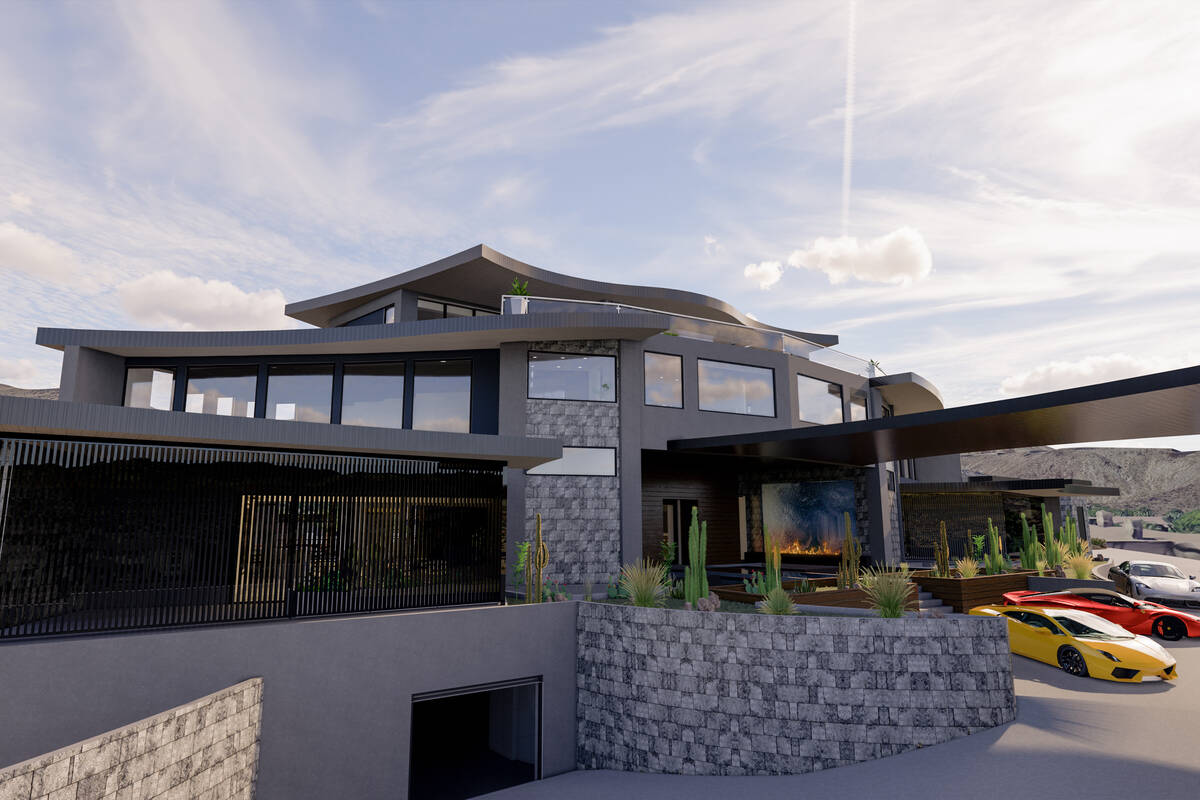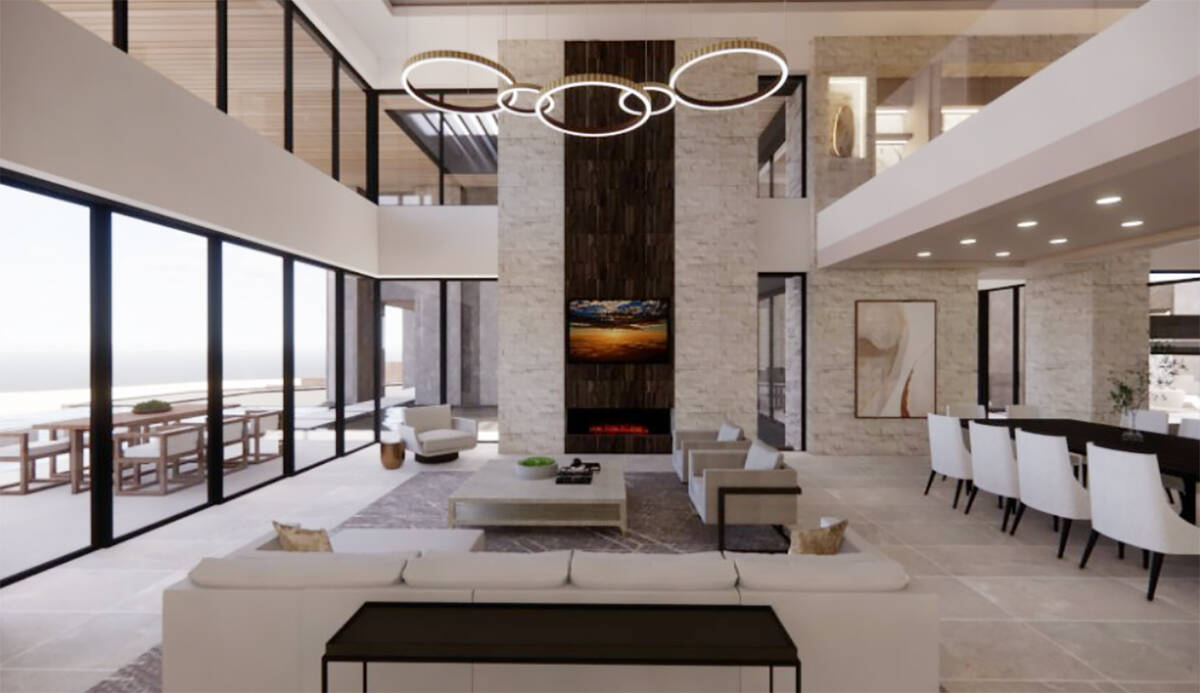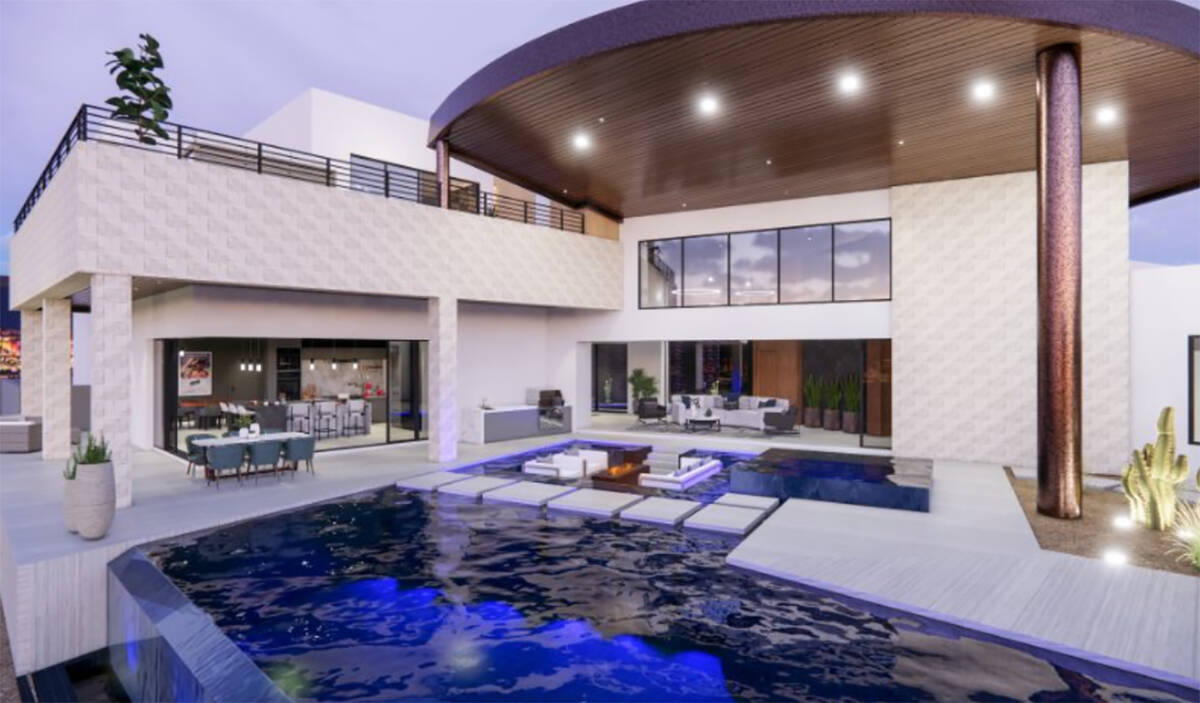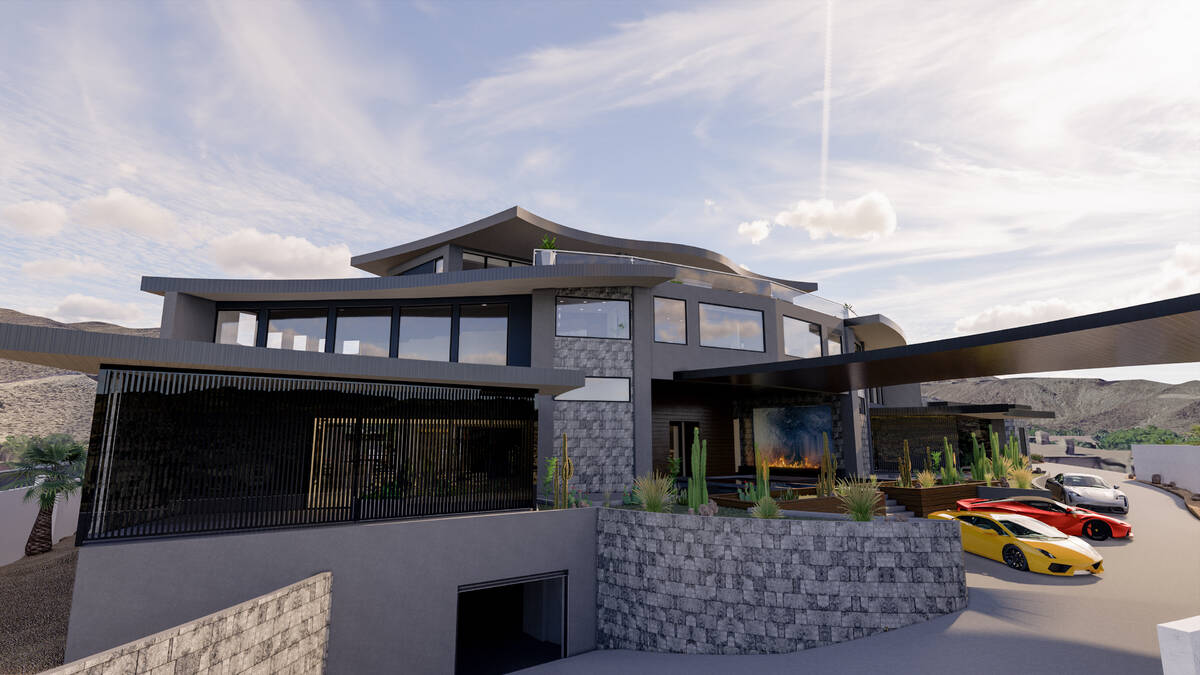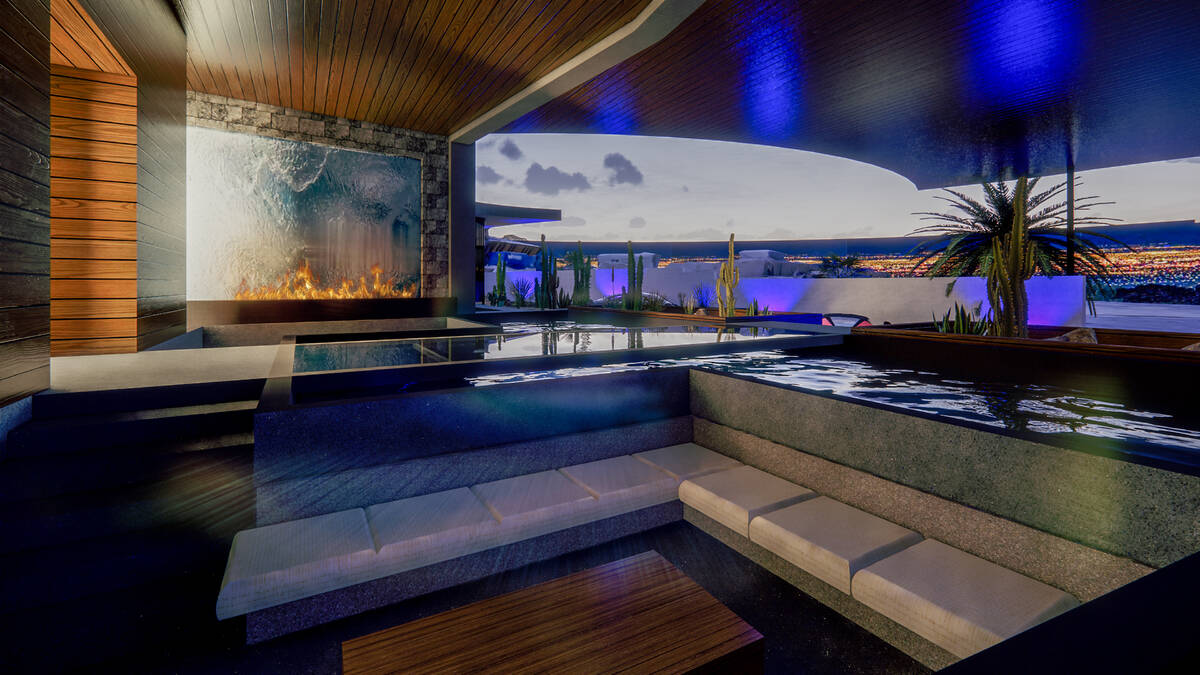 Las Vegas development firm Terra Firma said it has a new home project at the top of the hillsides of MacDonald Highlands under contract for a record $75 million and that it will be one of the largest luxury estates ever built in the valley at 55,000 square feet.
The sale when it closes will eclipse the $25 million deal in 2021 for a newly built 15,000-square-foot home in MacDonald Highlands that sits on 1.26 acres. That project of Blue Heron was bought by Anthony Hsieh, the founder and chairman of LoanDepot.
The name of this buyer hasn't been disclosed, except that it's a family. It's listed under contract by the Las Vegas Realtors association Multiple Listing Service and it won't show up on Clark County records until the deal closes for the land in mid-May.
The design hasn't been finalized and is subject to change, but currently stands at 55,000 square feet with two or three stories for 13 bedrooms. The $75 million figure includes four combined lots of 1.1 acres and the home and square footage and price could end up higher or lower based on the final design.
De'Aire Shannon, director of design and development at Terra Firma, said there's a lot of programming for the planned home and expects to finish the design and break ground in early 2024. He said it will take at least 2½ years to build.
Terra Firma is a three-year-old design-build company that has acquired more than 30 lots in MacDonald Highlands to build luxury homes. It has been working with the client for about a year.
Matthew Brimhall, managing broker for Terra Firma who listed the property, said the company has gotten a lot of publicity from being featured on the Bravo TV show "Million Dollar Listing" that aired on three episodes in February and March.
"The show (with the Altman brothers) looked at our development and saw exactly what we see with its unlimited potential," Brimhall said. "It's been very effective in finding clients who are looking for a luxury estate to help the design and build."
The three episodes focused on the development as a whole and Terra Firma's partnership with the Altman brothers in marketing the site. The show also featured Terra Firma working with clients in the design-build format.
Brimhall said they can't provide any details on the buyer, except to say "he's a substantial person" who has a number of residences and has a family.
Shannon said they get inspiration for their designs in South Africa and the UK with the curvature and fluidity of the homes and are trying to bring some of that style to Las Vegas.
"We're trying to do something a little different," said Shannon, a Las Vegas native who has been in the business for more than 30 years. "We want the homeowners to achieve their wildest dreams. Whatever they can imagine and any materials from across the world we want to go to the edge to get them exactly what they want — a true luxurious custom home."
Shannon said the 55,000-square-foot figure is a starting point and suggested it could go to 60,000 square feet or be smaller than 55,000 square feet. They won't know until the design is completed.
The home will be modern to fit the style of MacDonald Highlands and will have a gym, theater, game room, sports court and swimming pool.
"We sat down with this client and their programming is expensive and the likelihood of the (final cost) going down is slim to none based on the amenities that they are asking for at this time," said Diedre Gaddy, Terra Firma's director of interior design. "It's four lots put together so the programming that's going into home has a lot of amenities around staying in place so they almost never have to leave. They will have all the bells and whistles and everything that meets their lifestyles. All of their kids will have their amenities there."
Shannon said the homeowner asked that the home be 55,000 square feet but doesn't know why that size was sought.
"It's a personal decision for each one of our clients," Brimhall said. "It's less our concern about how many square feet and more our concern is (how it will be) used perfectly and wonderfully and establishes the vision that they have."
Brimhall said the site is at the "top of the top of MacDonald Highlands" with views of the Strip and entire valley. There's only one other lot on that street after these four lots were combined.
"When you are standing on those lots, the view of what you see is incredible," Brimhall said.
Kristen Routh-Silberman, the broker of MacDonald Highlands who facilitates land sales to homeowners and builders on behalf of MacDonald Highlands developer Rich MacDonald, was the listing agent for the then-record $25 million sale in 2021.
"Rich MacDonald is certainly thrilled," she said. "He helped hand-select those lots for Terra Firma, and the MacDonald sales team is thrilled with those guys and to be in partnership with them. It's a huge day for real estate in Las Vegas. Anything coming on at $75 million, we haven't seen anything like it. This is going to be sensational. It's a showstopper for sure."
The location at the top of the peak is part of the last phase of development in MacDonald Highlands, Routh-Silberman said.
"They might not all be at $75 million because this is 55,000 square feet across four lots," Routh-Silberman said. "Matt is going to shatter my $25 million record, and I'm thrilled they are doing it in MacDonald Highlands. I'm happy to have an ancillary part of it with MacDonald Highlands and the whole sales team."