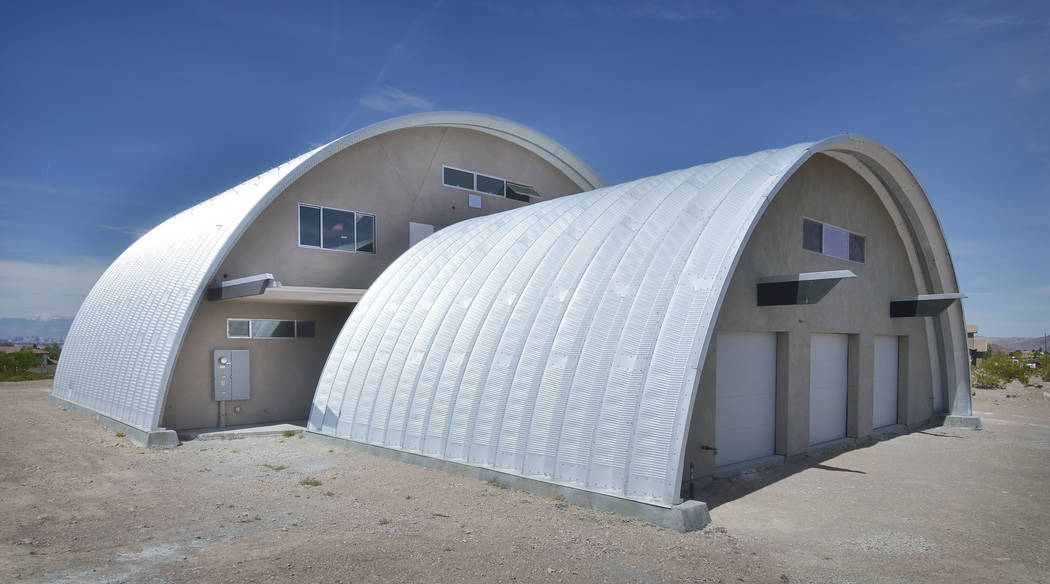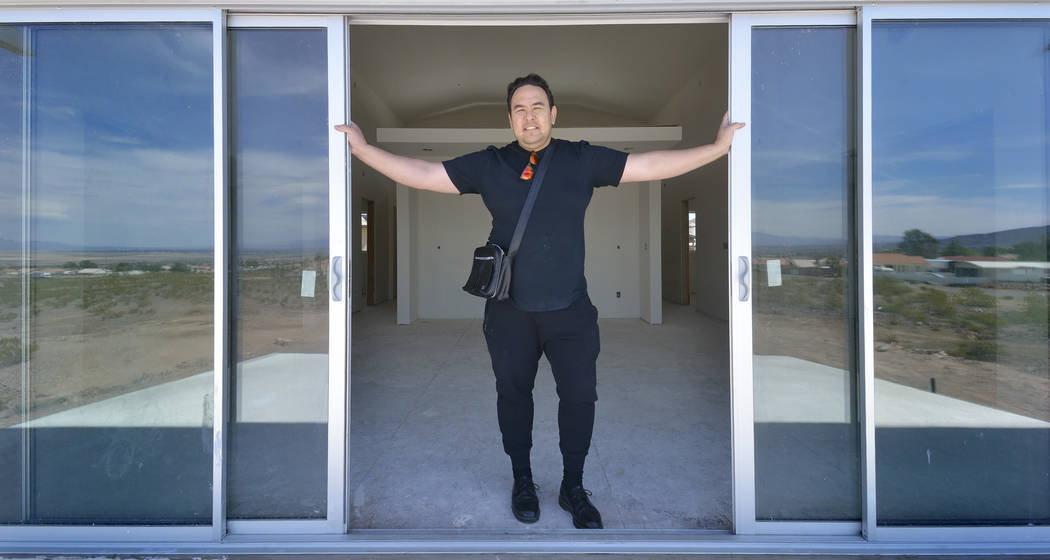 Industrial designer Aeron Tozier has created a high-performance, modern home whose appearance is radically different from the desert contemporary or Mediterranean architectural styles prevalent in Southern Nevada. Nevertheless, its structure is uniquely spacious, durable and energy-efficient, with a panoramic view of the Las Vegas Valley.
Based on the classic arch, the home and its attached three-car garage are reminiscent of vintage Quonset huts, whose architectural design was popularized by the U.S. Navy in the South Pacific for quickly built but rugged structures that could function as hangars and assembly factories.
Matthew Litt, sales agent with Shapiro &Sher Group of Berkshire Hathaway Home Services, is representing the property. The single-family home is on 0.68 acres of land in the southeastern foothills of Henderson at 328 N. Lisbon Street and is listed at $409,000.
The residence is being offered for sale at the drywall stage of construction, allowing prospective buyers to customize their own styling, finishes and upgrades.
Two structural steel arches, made of "galvalume-plus," wrap up and over the north and south walls to form the roofs covering each building. The outside steel surface is coated with a corrosion-resistant finish that should last 25 years before needing to be repainted.
The arch structure of the residence allows for 3,170 square feet of available living space that includes four bedrooms, three baths, two living rooms, kitchen, dining room, office area and workout room.
The home has been built in accordance with guidelines from the U.S. Department of Energy. Testing has been performed to ensure that the architectural design meets Energy Star and Zero Energy Ready Home program requirements, including documentation of home energy audit inspections.
Despite the spaciousness of the home, average energy consumption from electric and natural gas utilities are estimated to cost just $179 per month combined, even before the installation of a photovoltaic solar power array.
"The home is essentially a gas-electric hybrid, using natural gas where it's most efficient and electricity when it's most efficient. So, gas for heating and cooking, and electricity for cooling and home electronics," Tozier said.
Ethernet CAT-5 cables and RG6 coaxial cables have also been integrated into the walls of the home for data communication and video entertainment systems, in addition to the electrical power wiring throughout the house.
Les Lazareck, an energy auditor from Home Energy Connection, tested the envelope of the house shell after it was insulated. Auditing the construction work during installation ensured that the original design complied with software modeling results authorized by the Residential Energy Services Network for the DOE Energy Star and Zero Energy Ready Home programs.
After performing a blower test on the front door and visually inspecting the insulation just after construction, Lazareck confirmed his RESNET model of Tozier's home design. It showed a Home Energy Rating System index of 47. This number equates to 53 percent better energy efficiency performance than the baseline 100 score of a typical newly constructed home.
"This home will provide exceptional energy performance with comfort, indoor air quality and durability that is rarely, if ever, experienced by a homeowner, because of the verification conducted on the building envelope and the effectiveness of installed insulation," Lazareck said.
Energy-efficient features include high-quality insulation and sealing, low-emissivity windows and glass, smart energy monitoring and environmental control systems, properly sized mechanical systems, recycled materials, low-flow plumbing fixtures, low-VOC flooring and paint.
The home has been super-insulated and made airtight using a combination of rigid and open-cell spray foam insulation, as well as insulated building wrap from Insultex.
Homeowner options and upgrades include stained concrete, recycled bamboo flooring, extra-deep concrete countertops, kitchen and bath tiles, cabinets, fixtures, Energy Star appliances, LED lighting, pool &spa, xeriscape and native plant landscaping, rooftop solar panel arrays, home battery backup power system and electric vehicle recharging stations.
Sanders Construction Group, SSG and Eco-Electric partnered with Tozier to build out his energy-efficient architectural design.
Other construction industry partners included Steelmaster and Futuresteel, who provided components for the structural steel building arch.
Sol-Up partnered with architect Tozier to design an integrated mounting system for the steel roof arch that can accommodate a photovoltaic solar panel array rated up to 10.7 kilowatts. The renewable energy system is available as a net-zero energy option for a potential homebuyer who would like to totally offset electric energy consumption during the year, in order to minimize the use of grid utility power.
Tozier is an American industrial designer who was raised in Singapore, Korea and Japan. He holds a bachelor's degree in architecture from the University of Hawaii. His past experience includes leading a project team for the research and prototype design of sustainable cities in southeast Asia, funded by the Rockefeller Foundation. His experience also includes three years as a University of Hawaii research scholar in ecological design and construction process innovation."
In addition to designing custom homes for clients in Hawaii, Tozier has created home product lines for luxury furniture and kitchen flatware. The Henderson home was his first residential design project within Nevada.
There are no windows built into the north or south walls, but plenty of light flows in through the abundant glass doors and windows of the two-level home facing west and east.
The ground-level floor plan features a great room that integrates a large kitchen and living room/entertainment center. The lower level opens out through sliding glass doors to the patio and outside recreational area, as well as to a panoramic view of the Las Vegas Valley.
Two master bedroom suites, each with its own bath, are situated on either side of the great room.
Behind the kitchen is a side-door entrance and pathway to the attached garage. An adjacent stairwell climbs up to the second floor. Beyond the stairwell on the ground floor is a utility room with fixtures for a washer and dryer. Additional space is available in the utility room for staging kitchen preparations or for more pantry shelving.
The upstairs floor plan features a central grand family room that extends out to a second-level viewing deck. On either side of the grand family room are two additional studio spaces that can be configured as a home office, exercise room, game room or guest room.
Behind the second-floor studio rooms on either side of the home are two larger beds that share a common bath. A third-level open attic accessible above the common bath consists of 200 square feet of additional space that can be converted into a loft or storage area.
A rear door on the second level of the home beyond the stairwell leads to a walkway bridge that is connected to the second level of the attached garage, as well as a staging area for two separate HVAC systems, one for each level of the home.
The internal garage space encompasses 1,290 square feet, with separate garage doors for three bays. The second-floor level of the garage could be made into an additional office.