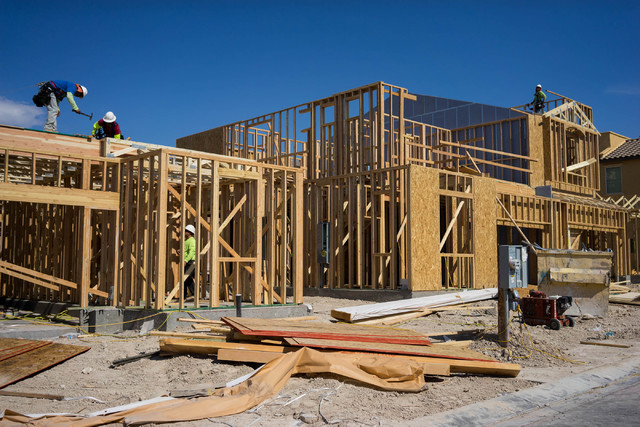 The era of affordable housing in Southern Nevada following the Great Recession is over as quickly as it began.
The affordable housing shortage that was routine prior to the housing collapse a decade ago took center stage among panelists and experts in the Las Vegas Housing Outlook held April 21 at The Orleans Arena.
Dennis Smith, president of Las Vegas-based Home Builders Research, who organized the conference, said new home median prices should hit a Las Vegas record in the next couple of months. It reached $329,000 in March and will close in on the record of $337,000, Smith said.
Smith projected new-home prices will increase between 6.5 percent and 8 percent in 2017 and rise another 5 percent to 7 percent in 2018, in part because of rising labor and material costs. Limited availability of land has also contributed to price increases.
Not helping with the affordability problem, according to John Restrepo, principal at RCG Economics, is that the average weekly wage in Las Vegas at $650 is starting to lag behind housing prices.
"Part of the challenge we're seeing with housing costs is, if they go up and wages lag, we have a challenge," Restrepo said. "There's a little bigger concern about the affordability of new home prices, and that's helping drive some of the market activity (sales and construction) in apartments."
Restrepo said home affordability isn't as bad as it was in 2005 and 2006, when homes were only affordable to 15 percent of the local population. It got as high as 90 percent but has since fallen to approximately 60 percent.
"If the housing market gets too expensive (compared to) competing cities like Phoenix, it slows job growth, and it slows companies expanding," Restrepo said. "Housing affordability and job balance is something we watch closely. I never thought I would say this again, because we just went through this. We're going back to some of the potential supply constraints in housing we saw in 2005 and 2006."
The rising prices haven't tempered sales.
There were 2,631 new home sales in the first quarter, compared to 2,231 during the first three months of 2016, for an 18 percent increase, Smith said. New home closings should increase by 7 to 8 percent in 2017 and 5 to 7 percent in 2018, Smith said.
"I never saw it coming," Smith said. "I didn't think we would see that kind of increase in 2017."
John McLaury, vice president of sales and marketing at KB Home, said prospective buyers feel the urgency to purchase because of the concern of continued increases in interest rates and the rising cost of new homes.
"People are getting off the fence and buying today, and that's the best news of all," McLaury said. "Buyers understand builders are raising prices because their costs are increasing, because of the labor shortage. Our prices have to go up. We have to be profitable."
However, McLaury said there's a limit on what builders can charge. It's a question of what people are willing to pay, he said.
"We can't raise prices simply because the costs are going up," McLaury said. "If we did that, we would start restricting sales even more. What the market bears changes by ZIP code. Sometimes we make a little lower margin."
The lack of availability of desirable existing homes at good prices has pushed buyers into the new-home market, McLaury said.
There were more than 5,500 existing homes on the market in April without any offers, Smith said. Not only are some homes undesirable, but some homeowners are unrealistic in overpricing their homes on the market, he said. By the end of the year, Las Vegas could have a two-month supply of homes on the market, he said.
"Resales are held down because buyers are asking too much, and the product out there is not the best," Smith said. "It's not the best time to be a Realtor unless their clients go out and buy new homes."
That's not likely to change soon.
The median price was $216,000 for all existing home product types, which was a $26,000 increase or 13.7 percent, Smith said. He said the price could increase 10 percent by the end of the year and increase 8 percent in 2018.
Smith said the share of new home vs. existing home sales has moved to 18 percent, and he suggested it could eventually reach 25 percent of the market.
"We're not going to see an end to this situation, because it's deeply entrenched and came out of the recession for resales," Smith said.
Some prospective buyers are choosing to live in apartments, McLaury said, because they want that simpler lifestyle and don't want to be tied down to a home.
"The American dream of owning a home has diminished over the years, and we're trying to build that up," McLaury said. "A lot of people are thinking twice and think about renting an apartment nowadays over buying a home because of the lifestyle and amenities. That's another competition."
Smith said the homeownership rate in Las Vegas has fallen below 50 percent; at one time it approached two-thirds of the population.
"Will we get back there? I won't see it in my lifetime in Las Vegas," Smith said. "It's going to be very difficult. A new product type will have to be introduced."
New single-family homes had competition. During the first quarter, Smith said, closing of new condos and townhomes rose 32 percent from a year ago.
Some analysts have suggested the answer to affordability is building in Pahrump and other outlying areas in Coyote Springs and Northern Arizona. Restrepo said builders got burned by that strategy last decade and will be reluctant to build outside of the valley.
"The last experience was pretty traumatic, and companies and lenders will be hesitant to go that far," Restrepo said. "It might be a bridge too far. I think we'll go up before we go out."
Apartments are helping to fill that void in meeting the demands of the housing market, especially since Las Vegas residents on average have some of the worst credit scores in the nation and have difficulty in getting a mortgage, especially if they lost their homes to foreclosure or a short sale.
High-end Class A luxury apartment construction remains strong and is being pushed by lenders who want builders to pursue that clientele, said Spencer Ballif, senior vice president of multifamily with CBRE. Some 90 percent of the new units are being built in Henderson and the southwest valley, where rents are higher.
Apartment rents rose 5.59 percent in the valley during 2016, Ballif said. High-end unit rents rose 4.16 percent. The next market tier, or B, rose 7.27 percent, and the lowest tier, named C, rose 6.12 percent. In 2017, he said, tiers B and C will outperform tier A in terms of rents, he said.
The secondary apartment market has been altered, because of acquisitions in the last two to three years of units that date to the late 1980s and early 1990s.
In the new-home market during the first quarter, Smith said, every submarket in the valley had sales increases except the northwest valley, which fell 22 percent from January through March compared to the same period in 2016. The southwest valley had the strongest growth, at 29 percent, from the first quarter of 2016. North Las Vegas rose 21 percent, Smith said.
The No. 1 selling subdivision during the first quarter was D.R. Horton's Expressions in North Las Vegas with 48 sales. It has homes that measure 1,600 to 2,300 square feet and has an average price of $262,000, Smith said.
American West came in No. 2 with Jones Crossing with 45 sales. Lennar was No. 3 with Boulder Ranch with 43 sales.
Inspirada in Henderson was the No. 1 selling master plan with 164 sales, besting Summerlin by one sale, Smith said.
"To me, that's an upset," Smith said. "I didn't see that coming. Inspirada has a lot of new product and some smaller product."
Smith said Summerlin will be interesting to watch in 2017 as its builders come out with more-affordable homes than its past average that had approached $600,000. Some of the new homes will sell for between $350,000 and $400,000, he said.
"They're downsizing new and more-affordable homes, and it will be interesting to see how they do, because there are things called HOA fees," Smith said. "When you are talking to millennials about their budgets, they feel these fees are too much with the addition to payments. It will be interesting to see how it shakes out. I think Summerlin coming out with product with a lower price is a great idea and well overdue, but people will buy in Summerlin because it's Summerlin."