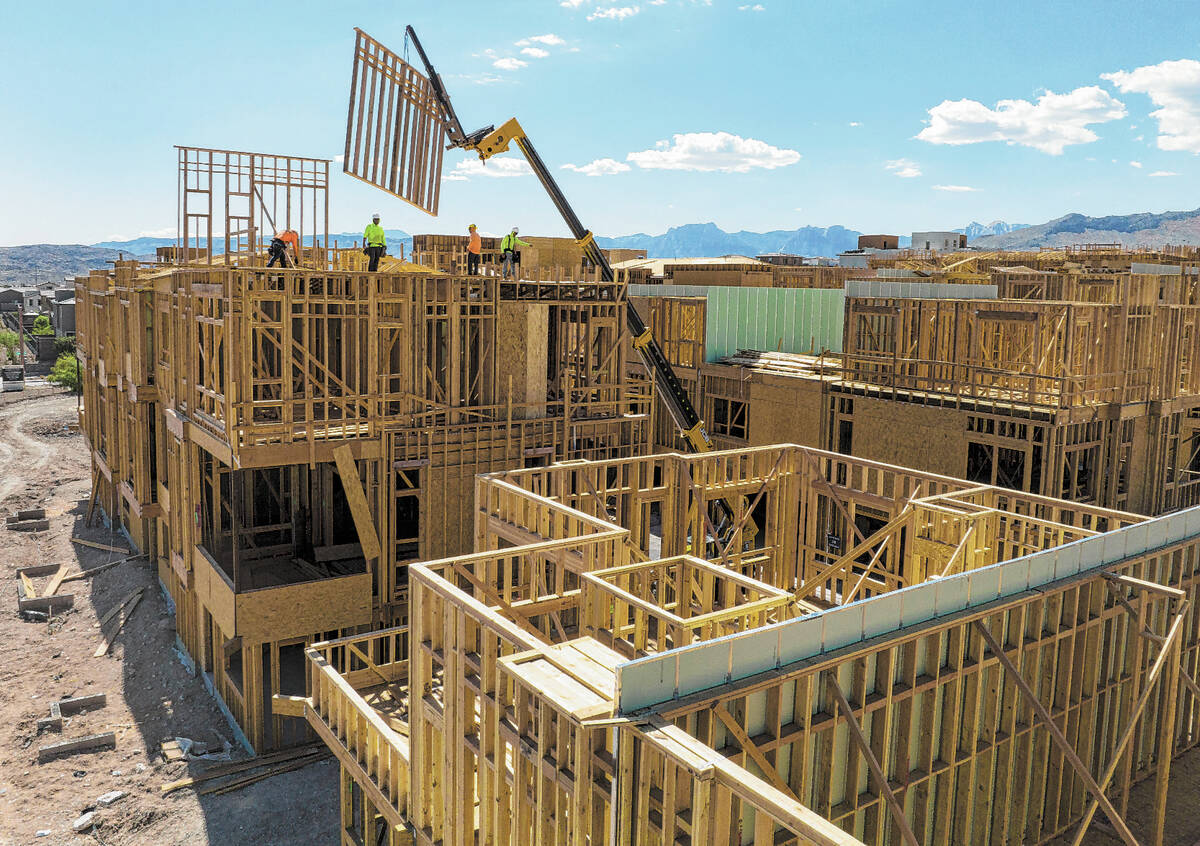 Despite elevated mortgage rates that continue to increase, Las Vegas residents bought the most new homes in August than they have since the recovery of the housing market in the late 2000s.
Las Vegas-based Home Builders Research reported there were 1,037 new-home net sales — sales minus cancellations — far surpassing the 488 in the same month last year when the market was getting hit hard as interest rates rose. The 1,037 total is the third time the marketplace has exceeded 1,000 sales a month this year.
Also, the total surpassed previous Augusts over the past decade: the 872 in 2021; 937 in 2020; 983 in 2019; 845 in 2018; 912 in 2017; 596 in 2016; 533 in 2015; and 519 in 2014. August is the latest month for which home sales numbers are available.
Home Builders Research President Andrew Smith said builders continue to adapt and sell homes at what he called historically acceptable rates. He said part of the reason for the strong August was because there were five weeks reporting during the month.
"As Augusts go, the eighth month of 2023 performed slightly above average, looking back to 1999 (during the building boom), accounting for 14 percent of sales for (this year)," Smith said. "August is typically the start of the decline of monthly sales figures, with the bulk of annual new home sales in our market coming between February and July."
There were 12 new product lines that opened in August, bringing more 1,400 lots onto the market, Smith said.
The average base asking price for the new communities is $474,001, with an average size of 2,014 square feet for an average of $235 per square foot. Only two are outside of master-planned communities. They are River Mountain Trails from KB Home, located in far east Henderson just south of Lake Las Vegas, and Majestic Point North from Beazer in the southwest submarket area, which features the attached product.
Half of the lots brought to market in August are located in the Cadence master-planned community in Henderson by Century Communities and Richmond American Homes.
Some 44 percent of those new lots are in communities selling attached products. Market share for attached new home products reached a new high at 30 percent in August, Smith said.
Attached products closed 325 units in August, 76 percent higher than in August 2022. The total this year is 1,783, up 18 percent year over year, Smith said.
The new home market share for closings in August reached a new high for the year at 28 percent, bouncing back after dropping to 21 percent in July, Smith said.
"As resale closings have remained flat throughout 2023, fewer listings are coming to market as many homeowners choose to remain in their homes with much lower mortgage rates," Smith said. "As with homebuilders on the new construction side, agents are stressing to buyers they should 'marry the house and date the rate,' meaning they can look to refinance their loan in the future when they may be lower. This should continue to be emphasized in our opinion as the actual prices of homes do not appear to be declining any time soon, if ever."
There were 753 single-family detached closings in August, 10 percent fewer than a year ago. The 2023 total is 5,493, 12 percent less than in 2022 through August, Smith said.
The median new home closing price for all product types was $459,950 in August, a 7 percent decrease from August 2022. The median new home closing price for single-family detached products was $500,000, down 3 percent from August 2022. For attached product types, the August new home median closing price was $368,690, 3 percent lower than August 2022, Smith said.
July's top-selling builder, Lennar, with 193 net sales, opened The Luca in the Inspirada master-planned community in Henderson. The price was an average of $259 per square foot, Smith said.
Lennar debuted Avery in Skye Hills in the northwest submarket featuring two product lines, Landing at $252 per square foot and Pointe at $264 per square foot.
Some 19 percent of new home closings in August were done with cash, Smith said, citing Clark County data.
Of those using financing, the average loan amount was $421,531. The largest loan for a new home closing in August was $2.345 million by BMO Harris Bank for a home in the Talon Ridge section of The Ridges in Summerlin, he said.
As for building permits, Smith said the August total of 894 was 6 percent higher than August 2022. For 2023, the overall total of 8,014 is down 10 percent from 2022.