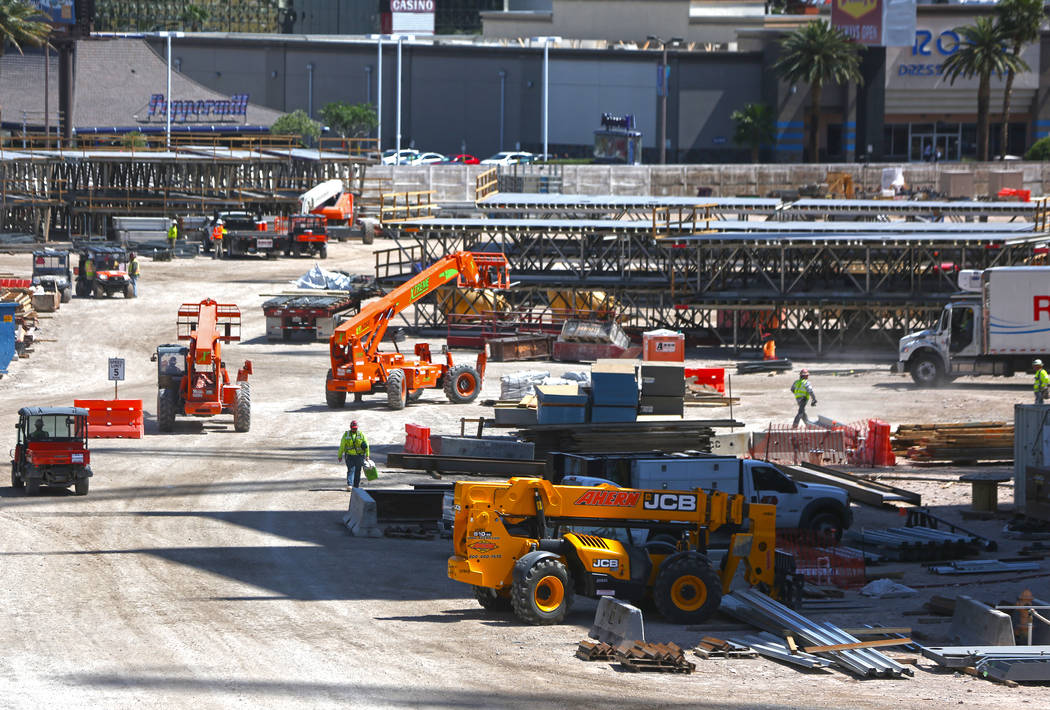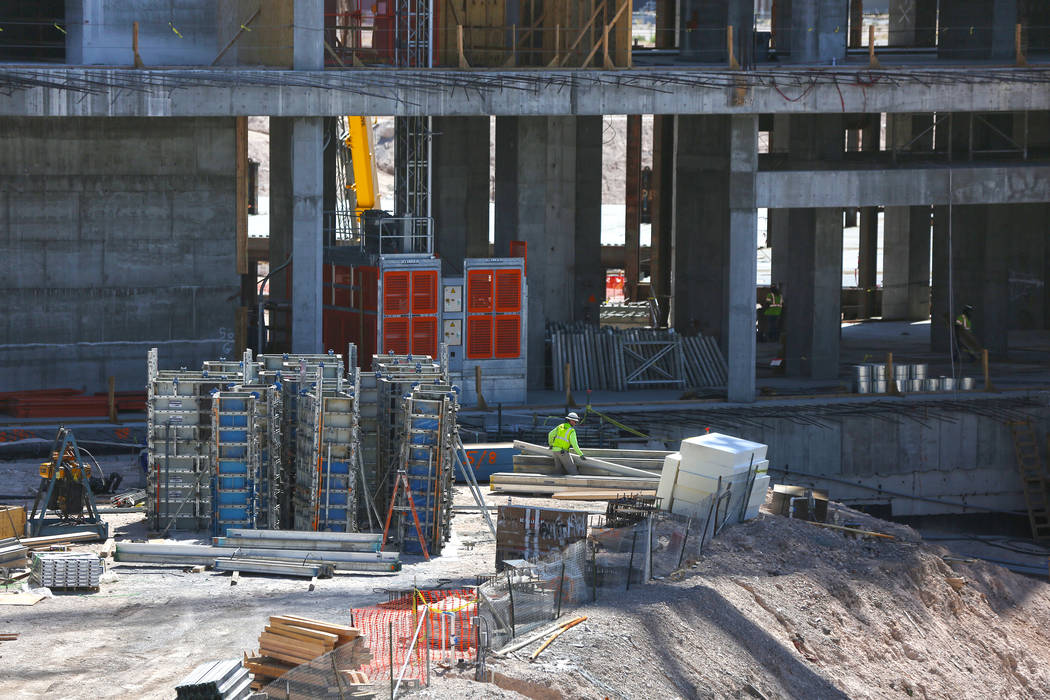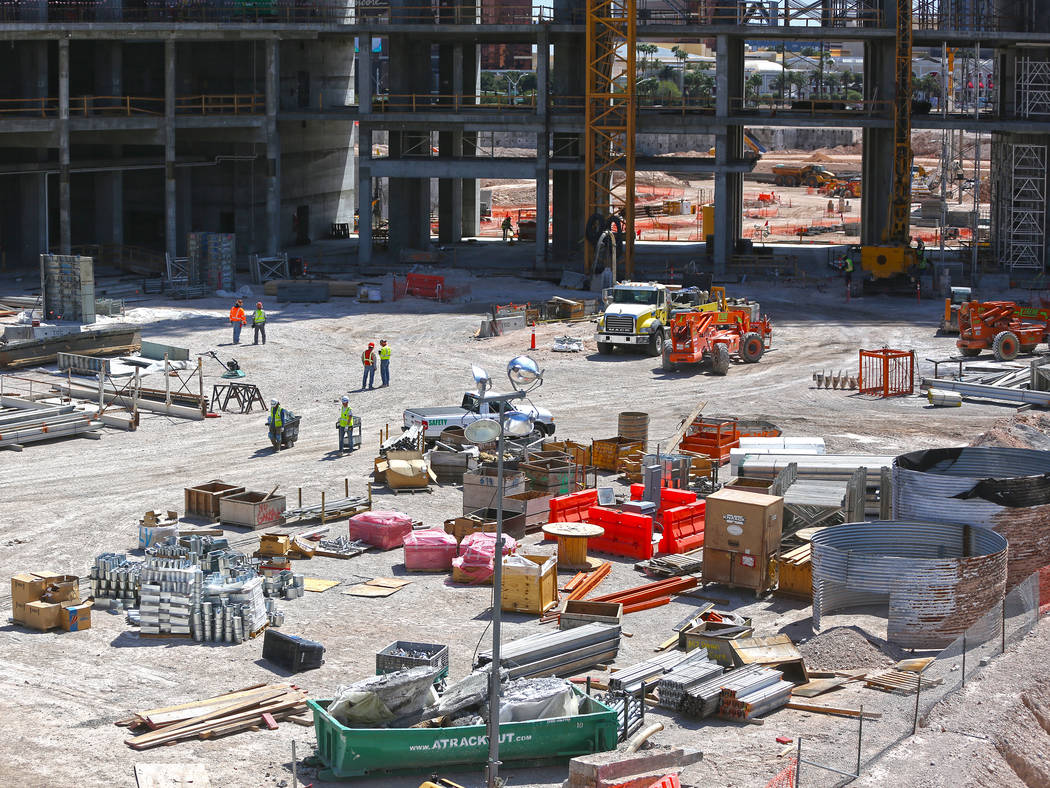 Executives with Resorts World Las Vegas and The Drew touted their casino projects for enhancing the north end of the Strip and pave the way for further development along the corridor and said the marketplace will be able to absorb their more than 7,000 rooms when they open in 2020.
The casinos were represented April 12 during a panel discussion called "Billion Dollar Projects" as part of the breakfast series at The Orleans. It was hosted by NAIOP Southern Nevada, the commercial development group.
Gerald Gardner, general counsel and senior vice president of government affairs for Resorts World, told commercial real estate and development executives that the former Echelon project by the Malaysian-based Genting Group, which acquired it in 2013 from Boyd Gaming, is on track for a 2020 opening after construction resumed.
The site of the former Stardust is ideally located and has great appeal by being situated not only on the Strip but on the backside by Industrial Road, Gardner said.
"We're trying to capitalize on that location and just this great synergy that is happening on the north end of the Strip," Gardner said. "Starting in the fall of 2020 we will have a 3,400 mega resort casino with all the great amenities that you have come to expect and love on Las Vegas Boulevard with an Asian theme. If you drive by the Strip, you will see five tower cranes going up and concrete being poured and floors of the hotel tower going up. We are up to level 14."
Gardner was asked by program moderator, Daryl Quick, director of design and planning at Caesars Entertainment, about the Asian theme at a time Las Vegas is moving away from themed properties.
Gardner said when Genting announced the opening of Resorts World, the idea was to be the first Asian- or Chinese-themed property on the Strip because the company has a database of 40 million Asian gamers in Malaysia, the Philippines and the United Kingdom. After "testing the waters," Genting has decided to do "less classically themed" project and is moving toward a more modern Asian theme, he said.
"It's going to have some elements reminiscent of great Shanghai classic architecture," Gardner said. "But the property overall will have more modern Asian themes, like you were staying in a very nice property in Beijing, Shanghai or Hong Kong."
Gardner said people will see the influence of famed architect Frank Lloyd Wright's Asian influence that "came back to the United States in the early part of the last century. It will not be the Epcot Center Chinese theme you may have seen in earlier renderings."
The unfinished Fontainebleau, renamed The Drew, was purchased in 2017 by New York developer Steve Witkoff. Itwill have nearly 9 million square feet and just shy of 4,000 rooms, said Sam Nicholson, president of Grand Canyon Development Partners, which represents the ownership.
Nicholson said the project is in redesign and cited how the original project when construction began didn't take into account the use of Uber and Lyft.
"There is no means and methods of getting Uber and Lyft through the property," Nicholson said. "There's a pretty expensive redesign in the process."
The opening of The Drew, Resorts World and expansion of the Las Vegas Convention Center is going to change the north end of the Strip, Nicholson said.
"I think it's going to re-energize the whole north end of the Strip, and you're going to see quite the dynamic change as a result of this," Nicholson said.
Gardner said the combination of the three projects will help spur future growth. He also cited how Wynn Resorts has pledged to keep developing the former Alon property on the north Strip. Triple Five has land across from Resorts World and has just purchased another five acres in the corridor, he said.
"In the old days, that part of the Strip was mostly small motels and tourist outlets, and you're going to start seeing something that more resembles the center Strip and south Strip," Gardner said. "You're going to have another center of gravity on the north end of the Strip."
The market continues to evolve, Gardner said. There's 65 percent to 70 percent non-gaming revenues, and the pedestrian traffic on the Strip continues to grow with the newer properties trying to capitalize on that foot traffic energy, he said.
"And the meeting and convention business is absolutely critical," Gardner said. "Tying into the convention center and having your own meeting space that complements the convention halls is paramount. You can't be a dormitory for the Convention Center. You have to somehow complement it."
Gardner said Resorts World has 1,400 linear feet of Strip frontage and will try and capitalize on it with foot traffic by use of retail, dining and entertainment concepts that will draw in people.
Quick said one of the challenges of having retail on the Strip is whether it's different from retail in other locales. A drug store and gift shop works well but there's not a lot that drives retail revenue for the space it encompasses, he said.
"We learned that if it's not convenient, it needs to be experiential," Quick said. "People are not coming to shop, but for an experience, and unless there that's experiential aspect and something you can't get at home; it tends not be successful."
Nicholson said Las Vegas has been able to absorb a large amount of rooms in the past, even when the recession hit as CityCenter opened. The city is helped more today by the rebound in the economy, he said.
Bill Allsup, director at Union Gaming Analytics, said the two new projects won't cannibalize revenues of other properties but drive more visitation to Las Vegas. The opening of the Raiders stadium in 2020 and convention center expansion will also help fill rooms, he said.
"We are at 90 percent occupancy and don't see any reason why that should go down even with 10,000 more rooms," Allsup said.
The north Strip has more potential with the proposed hotel and arena project of former UNLV basketball player Jackie Robinson and property across from the SLS that could be developed, Nicholson said.
"I think we will see a steady and healthy growth of the north end of the Strip as a result of these projects going forward," Nicholson said.
Allsup said, however, it's difficult to finance large projects at once because it's hard to find large syndicates that want to take on the risk. There's skepticism on how much revenue can be taken from existing brands with established business models, he said.
"Non-gaming is the way to drive increased revenue and increased hotel occupancy," Allsup said. "You need convention centers and Top Golf and all of these other things that are coming to the market. If you are on the Strip and tapping into the market and doing things to build visitation and take advantage of who is coming, that is more financeable. But it's not easy, there's no easy money out there right now."
Allsup said publicly traded companies will continue to build and add projects as long as the return on investment is at least 10 percent. It had been 15 to 20 percent in the past, he said. For now, many casinos are remodeling and rebranding restaurants and that investment is working, he said.
Some money sources in Europe and Asian are willing to accept an 8 percent return as long as it's not too risky, Allsup said. That will allow more to be funded because it's difficult to build on the Strip today and get a 10 percent return, he said.
"With the recent acquisition of the Hard Rock, one of the comments we are hearing is it's $1 million a room on the Strip so we thought it was a good deal," Allsup said. "There are investment funds behind that though. That might be an indicator there is some pause at this point. But we will see opportunities, especially from operators with proven business models."
Nicholson said the big concern is that as the cost of construction increases, some projects may not be viable. Not only is there a labor shortage that drives up cost but the cost of steel is rising, he said.
Gardner said Resorts World has steel production in the pipeline before President Donald Trump ordered tariffs. They have their name on steel they've already paid for and is stored in Utah. Some pieces can't be ordered yet, and that means paying a premium for steel and aluminum, he said.
"There are some projects that won't happen if these price increases happen," Gardner said.
The two hotel projects should generate more than 10,000 permanent jobs between them in addition to construction, even though there are concerns about a shortage of workers.
Gardner said Resorts World will have 4,000 employees when it opens and most of them will be hired in three to six months beforehand. There are 50 employees now and that will ramp up to 300 to 400 and then there will be 3,000 employees brought in, including 1,800 for food and beverage and 800 with gaming, he said.
"It's a daunting task," Gardner said. "There's nothing like that I can think of in American industry. You open a 6-million-square-foot operational business with 4,000 employees that are serving tens of thousands of guests per day and generate hopefully millions of dollars of revenue per day. It's a remarkable thing."
Gardner said the positions can be filled without cannibalizing from other properties. It will be done by population growth and people working part time at other properties who want full-time positions with benefits, he said.
"Some people in my company that have done it before describe it as being between the birth of a child and being taken hostage," Gardner said.