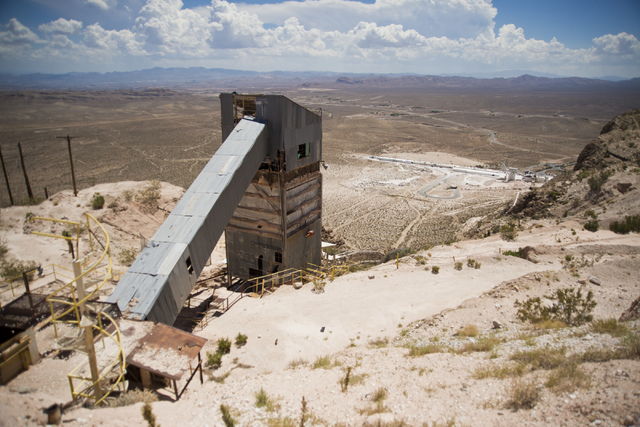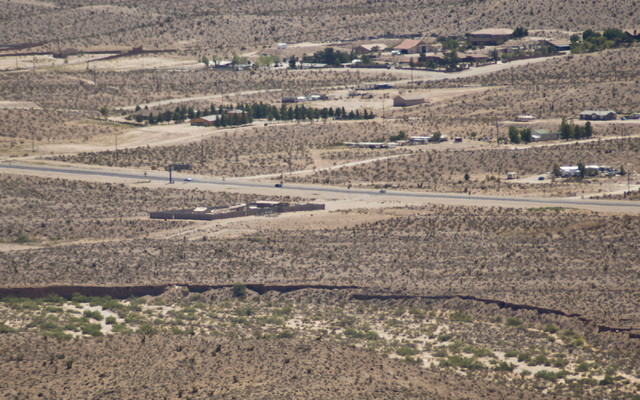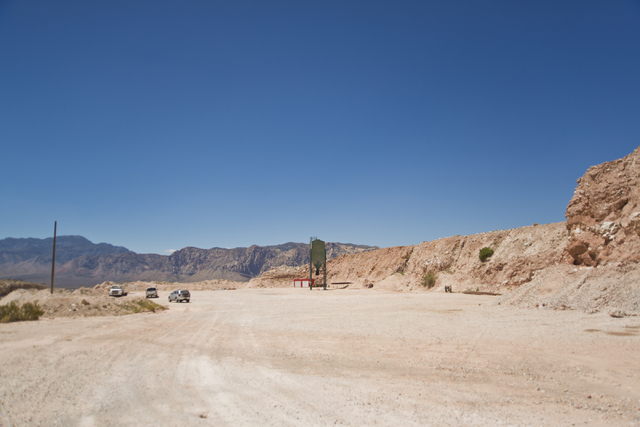 Save Red Rock, a group fighting the Blue Diamond Hill development — a more than 5,000-home development near Red Rock National Conservation Area, won a legal hurdle in early May in Clark County District Court.
Clark County District Court Judge Jerry Wiese ruled on May 2 that the environmental nonprofit could move forward with several counterclaims it made in a lawsuit originally filed by Clark County against the group and Jim Rhodes' Gypsum Resources, owner of the property. Wiese said Save Red Rock could proceed with five of its original nine counterclaims.
One of the counterclaims was that the Clark County Commission violated open meeting laws during a February zoning meeting. At that same meeting, commissioners allowed Gypsum Resources to withdraw a new concept plan, on the basis that a plan approved in 2011 had not expired.
Save Red Rock's counterclaim is that the 2011 plan was expired; Wiese is allowing the group to move forward on that item.
Justin Jones, attorney for Save Red Rock, said the group will proceed with "claims for injunctive relief against the county based on their processing of the old 2011 concept plan, and also injunctive relief against Gypsum, based on their use of Highway 159, which is the Red Rock Scenic Highway, in violation of the prior notice."
At this juncture, the case is moving into a discovery phase, Jones said.
This would include "document requests and depositions — presumably, we would file a motion for summary judgment or a motion for preliminary injunction or the other side could file their motions," he said.
Clark County and Gypsum Resources want the case dismissed. The counterclaims that didn't move forward were based on new concepts Gypsum brought forth in February, which were withdrawn.
Jones also hopes that state Assembly Bill 277 gets passed to create additional pressure on projects such as the one being proposed by Gypsum. The bill was originally introduced to restrict zoning by local governments within a 5-mile radius of a national conservation area and within the borders of a conservation area in the state.
The bill was amended before passing out the Assembly Government Affairs Committee to require builders wanting to develop inside or within 1½ miles of a national conservation area to create an environmental impact report.
Local governments would have to publicly post the report for 15 days prior to a public hearing to approve or deny it. The bill has passed the assembly and is in the senate committee.
Medical Office in Union Village
Las Vegas-based SR Construction announced the completion of an 84,500-square-foot medical office building at Union Village, a $1.2 billion, 170-acre planned health care, housing, retail and entertainment complex. This follows the opening of the 130-bed acute care Henderson Hospital in the fourth quarter of 2016.
The new, four-story medical office building is open for leasing and contains an ambulatory surgery center on the first floor.
The space is listed on loopnet.com averaging just under $2 a square foot on a triple-net basis. Available space sizes range from 2,925 to 7,409 square feet, according to loopnet.com.
Home prices rise in April
The Greater Las Vegas Association of Realtors reported an increase in home prices in the Las Vegas Valley in April. In its new report, the association said we are in a housing shortage.
The median home price on existing single-family homes in April was $249,000. That was an increase of 2.9 percent over March's $242,000 median home price for homes sold through GLVAR's Multiple Listing Service. That was also an increase of 12.9 percent over April 2016.
David J. Tina, the 2017 president of the GLVAR, said: "the steady appreciation is welcome news for local homeowners and the housing market."
Tina, however, was concerned about the supply of existing homes in the valley. There is now less than a two-month supply homes available for sale in the valley, where a six-month supply is normal.
"Our housing supply has been tight for a couple of years, but now, it's getting to the point where it's fair to call this a housing shortage," Tina said. "As experts from the National Association of Realtors have been saying recently, this has become a concern across the country. Most metro areas are now facing a housing shortage. But this is a bigger issue here in Southern Nevada, where our population and the demand for housing is growing faster than most places."
The number of home sales for 2017 was on track to outpace 2016's 41,720 homes sales, including single-family homes, condos and townhomes.
On a monthly basis, there were 3,529 homes sold in April, up from 3,518 homes sold during the same period in 2016. Single-family home sales increased by 1.7 percent, where condo and townhome sales decreased by 5.3 percent in April when compared to the same period in 2016.
Howard Hughes Corp. sees decrease in Summerlin land sales, increase in average price
Howard Hughes Corp. saw a decrease in the number of acres it sold in the first quarter of 2017 but reported a spike in the average price per acre due to a bulk sale to Pulte Homes in 2016.
Howard Hughes Corp. sold 37.7 acres of residential land in Summerlin in the first quarter of 2017. The company received $26.3 million, or $697,000 per acre, for the holdings, according to a first quarter Securities and Exchange Commission filing.
Comparably, the company sold 118.1 acres for $421 million or $357,000 per acre during the same period in 2016, when a $40 million transaction to Pulte Homes occurred. Pulte is developing the 300-acre Reverence project at the northwestern edge of Summerlin at Cheyenne Avenue and the 215 Beltway.
The company also reported a 38.9 percent increase in the number of homes sold in Summerlin — reporting 207 units moved in the first three months of 2017. However, the median sales price for new homes in the area fell by 2 percent to $550,000.