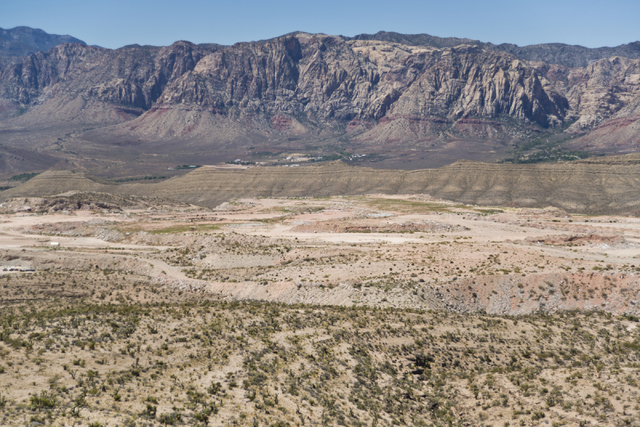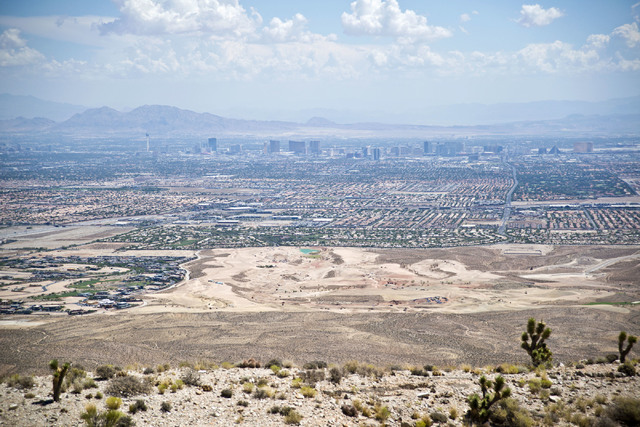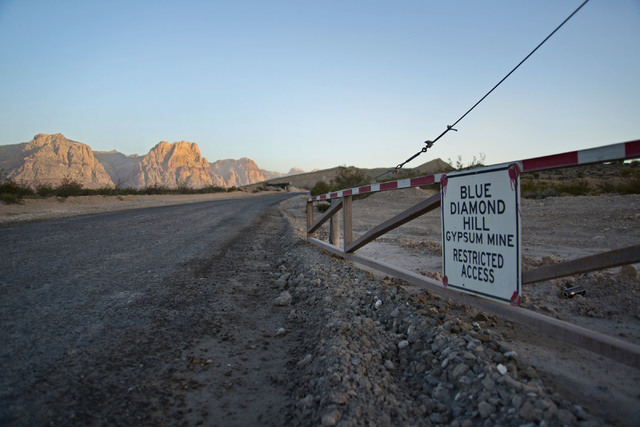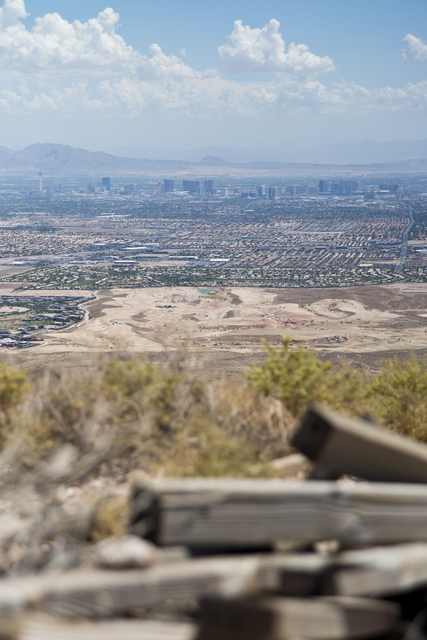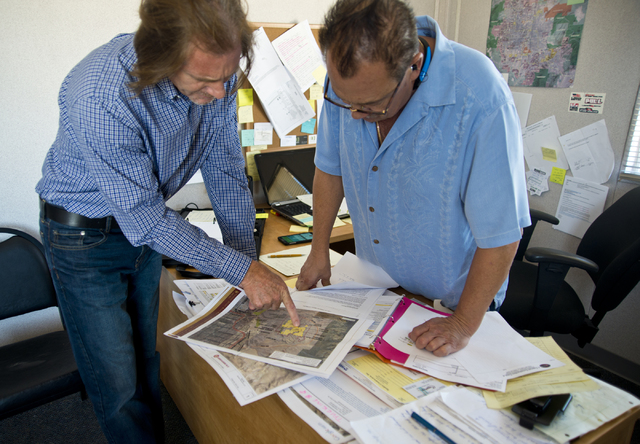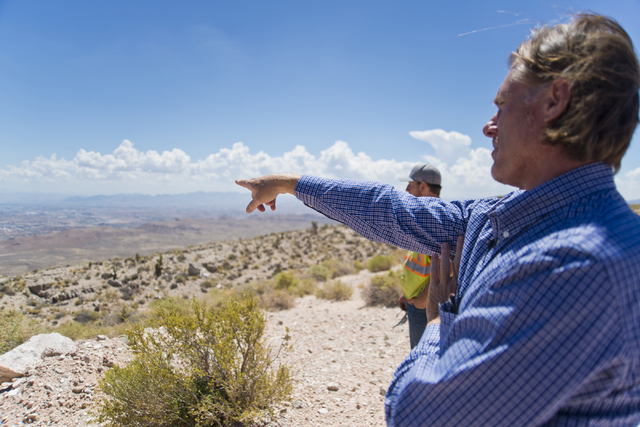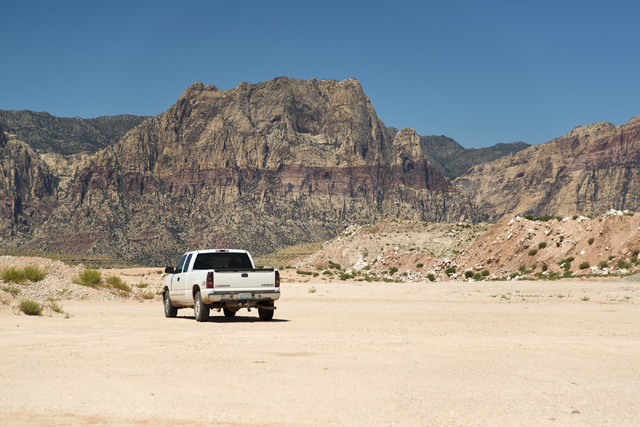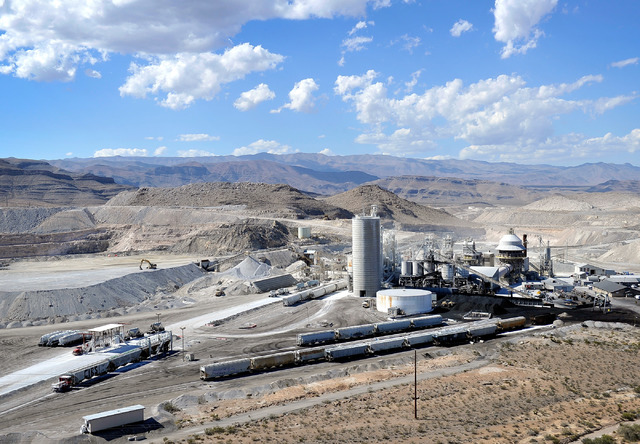 The fight to stop a 5,000-home development on Blue Diamond Hill overlooking Red Rock National Canyon Conservation Area shows no signs of slowing and is likely to intensify.
More than two weeks after the Clark County Commission allowed Gypsum Resources' concept plan approved by the county in 2011 to move forward, environmentalists and residents of Blue Diamond and the southwest valley are gearing up for the next round in the fight.
Justin Jones, the attorney for Save Red Rock with the firm Wolf Rifkin Shapiro Schulman & Rabkin, said the group plans to file claims in Clark County District Court seeking an injunction against the commission's decision and claim there were violations of the state's open meeting law. The group disputes the county's contention that the 2011 concept plan hadn't expired when they voted by a 5-2 margin on Feb. 22.
Jones said the court case is likely to be heard in the next three months. In the meantime, Gypsum is moving ahead with its application to seek a zoning change on the property to enable up to 5,000 homes to be built instead of the one home for every two acres on the 2,400-plus acre site developers said would net only 1,250 to 1,400 homes.
"The property has its own specialness up there," said homebuilder Jim Rhodes, administrative trustee of the property acquired in 2003. "This is far and away the best piece of property there's ever been in Clark County."
It's that shared view of the property that has contributed to the friction. Jones said people feel strongly about putting a housing development surrounded on three sides by a national conservation area and the thousands of cars it would bring to the Red Rock Canyon area and the visual impact on the landscape.
"I don't think it's fitting for Red Rock Canyon to have a big master-planned community up there," Jones said. "It's fine for other areas."
Gypsum said Rhodes has the right to build one home for every 2 acres and should stick to what the underlying zoning is, Jones said.
"They can probably build somewhere between 1,000 and 1,200 homes if they wanted," Jones said. "We have never been opposed to building to what they bought. We understand the respect for their property rights.
Ron Krater, a Southern California-based project planning consultant and a spokesman who represents Gypsum, said applications to build between 8,000 and 12,000 homes failed at the county level in the past. Building at the minimum level of 1,400 homes or less, however, isn't the best solution for the property with an operating gypsum mine. The plan calls for building a road to bypass nearby residents and traffic in their neighborhoods, he said.
The project has had a long legal history. The Nevada Supreme Court ruled state legislation prohibiting entitlements for expanded development was unconstitutional.
"The existing zoning doesn't study any of the existing conditions on the property and doesn't take into account the mining activity over the last 80 years. It doesn't take into account the socio-economic and demographic studies and not account for any growth patterns over the last 30 years. The normal process is just like what happened in Summerlin, Rhodes Ranch, Mountain's Edge, Inspirada and every other project built over the last 20 to 30 years."
Krater said the plan is to continue to reach out to people and communicate the facts about the project. He said some residents believe it could be left as open space forever, which is not an option as an operating strip mine. The property doesn't have any ecological value and isn't a threat to Red Rock Canyon. Some 90 percent of it won't be seen in Blue Diamond.
"The one misconception is that we're developing an area that's nature, and it isn't," Krater said. "It's in proximity to it, but this property is not any closer to the conservation area than Summerlin. This is no different than a project along the entire western edge of Las Vegas. We appreciate the emotion of their investment. We want to save Red Rock, too."
Both sides had long wanted the Bureau of Land Management to do a land swap with the owners who would be given other federal land instead. The BLM didn't want to take possession of a property with a gypsum mine, Jones said.
"We would have preferred they did, but that's their decision and don't think it will change," Jones said. "We're going to fight it every step of the way. We brought a hundred people to the meeting, and our list of petition supporters is growing."
Krater said he wants to move as soon as possible. The matter could be heard by the commission by the end of this year. Rhodes said they will continue to work with those who oppose the project and try and mitigate their concerns as they have done over several years.
"I don't have any hostility," Rhodes said of the opposition. "I just wanted to frame some houses. That's why I became a builder. I like building things."
Rhodes said no decision has been made on the composition of the development and housing sizes and costs. He said a market study would have to be done first and mentioned 2019 or 2020 as a startup of the project.
"I think we will probably do a little bit of everything," Rhodes said. "I think we will have move-up housing to the most expensive homes in the state."
Rhodes said there will be strong demand for homes in an elevation as high as 4,800 feet that has views of not only Red Rock but as far away as Lake Mead. Because of the elevation, temperatures seldom surpass 100 degrees even in July and August, he said.
"There's nothing like this in the valley, and this the will be the far way best thing I have ever done," said Rhodes, the developer of Rhodes Ranch. "I think whatever the most expensive house is, we will design them, and they will be quality. And we're going to make sure we're going to have homes for firefighters, police officers, school teachers and other working people. It has to be attainable for working people, otherwise, we would have an elitist community."
Harmony Homes would be one of the builders on the site, and some of the property could be sold to other builders, he said.
Jones said he isn't one of those who thinks Rhodes will ever build on the site, saying it's too costly to extend a road and water, sewer, power and other infrastructure to the site. While some speculate he's only trying to enhance the value to sell it, Jones said it's hard to get inside Rhodes' head.
"I think the guy has a vision, and he thinks he will fulfill that vision," Jones said. "I just don't think when the rubber meets the road, and he has to come up with millions of dollars to build it, that he will be able to do it."
Jones raised concerns about Rhodes' financial woes in the past that led to bankruptcy and how it would be a shame for this project to start and not be completed halfway through.
"He's going to scar the land up there, and you can't undo the scar on the side of a mountain," Jones said. "Realistically, Rhodes will never build up there because it's too costly to do so. But Save Red Rock can't rely on the hope that's going to happen."
The unnamed development would have a grocery store, hiking, biking and walking trails and would be environmentally sensitive with the use of solar power, Rhodes said. He also said he would like a community garden, recreation center and amphitheater for people to watch the sunrise and sunsets.
There will be strong demand, Rhodes said.
The Southern Nevada housing market is "nice" and healthy" and showing itself to be sustainable at this pace, Rhodes said. Second-home buyers and people who got credit but couldn't afford to make payments and caused the market to overheat are no longer a problem, he said.
"I think the best part of Las Vegas is still to come with these pro (sports) teams coming and what's happening with conventions," Rhodes said. "Las Vegas has done a fantastic job of setting itself up for the future. It's more diversified. I don't think we're all there yet, but compared to where we were, it's a great situation."