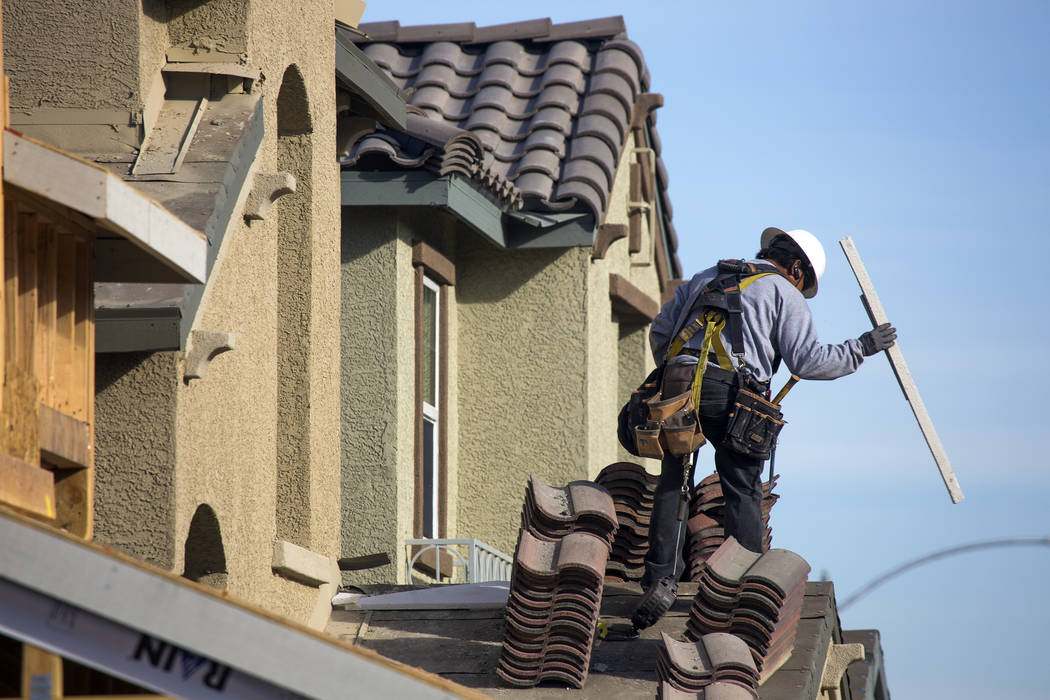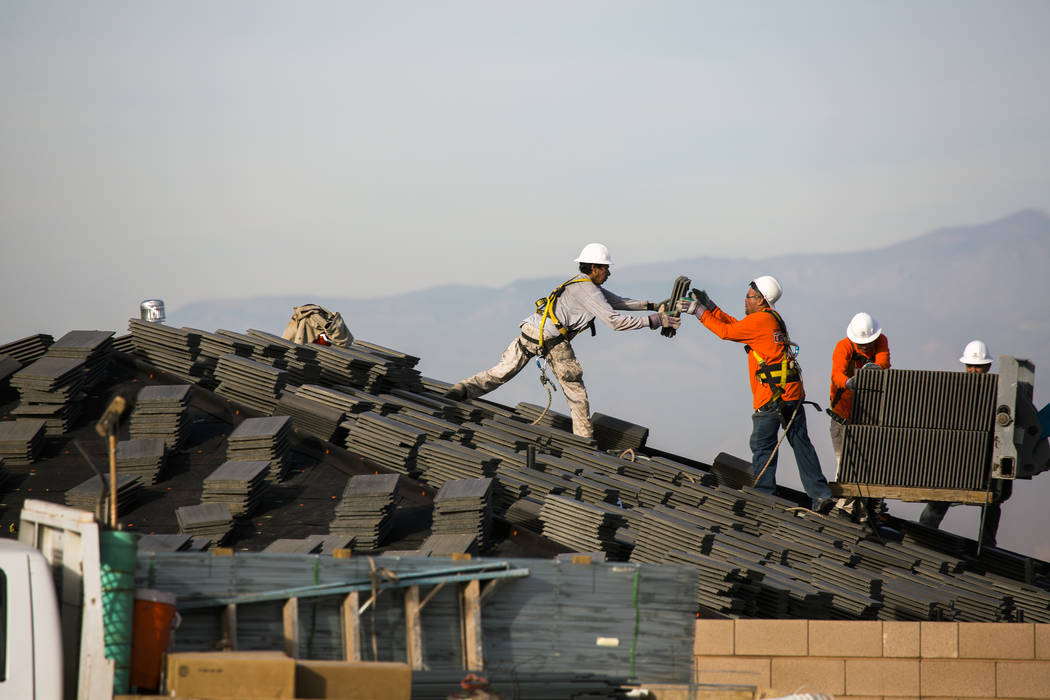 The desire for affordable new housing in Las Vegas and the trend of price increases has buyers antsy of where the marketplace is heading when they're out looking for that first home or a move-up home.
Nothing sums it up better that the latest analysis from Las Vegas-based Home Builders Research that showed the number of new home plans between $200,000 and $300,000 offered by builders is evaporating.
In April, that number for the valley stood at 129, down from 410 in April 2016. And it's a valleywide phenomenon. Henderson fell from 86 two years ago to 33 last month. The southwest valley fell from 171 plans in that price range in April 2016 to 19 last month.
Even in North Las Vegas, which is the most affordable community, the number of plans between $200,000 and $300,000 went from 58 two years ago to 41 last month. In contrast in that city, the number of plans between $300,000 and $400,000 rose from 10 a year ago to 38 in April.
There are no plans priced under $200,000 when there were two last year in North Las Vegas. Builders are going out of their way, however, to show Realtors that there are plenty of affordable new homes for sale in the valley, especially in North Las Vegas.
Members of the Nevada Association of Real Estate Brokers recently toured new homes in North Las Vegas and hosted a panel discussion with representatives of builders who answered their questions, including addressing their concerns about rising prices and the reason for it.
Jen Haack, senior manager of strategic marketing for KB Home, said people need to look at the resale market as well in looking at price increases, and don't simply point to builders and how their prices have gone up over the years. She said her research from 2012 showed there were 3,900 homes with a $210,000 median price on the Multiple Listing Service. Pulling from similar data in April, Haack said it showed there were 3,500 homes with a median price of $389,000.
"That's a $179,000 increase over 5½ years," Haack said. "That equates to a difference of $98 to $162 a foot, but the median household income has only increased $5,000 in the same time frame. That is a huge gap in the cost of housing versus the affordable index, and as a builder it becomes our responsibility to create products that work at the median household income."
Haack said KB is looking at different products such as building a one-car attached town home near the future Raiders football stadium. KB Home is also building duplexes and looking at condos as a way for buyers to obtain Federal Housing Administration financing for homes.
"We're not priced significantly above resales," Haack said. "I have eight communities that have at least one floor plan under $290,000, and FHA limit is $294,000 and change. Those are getting smaller and smaller, and we are selling them so fast. I do model homes and open them and a month later we are closing them. It just goes so fast that stuff in the $300,000 range. We are so conscious of that, and we are actively bringing in product to meet the under $300,000 criteria."
Ed Smith, director of sales with the Las Vegas division of Beazer Homes, said the "elephant in the room" is that Las Vegas is becoming a "real city," and if people want affordability, they're going to have to drive.
"That's one of the biggest reasons we moved into Pahrump a little bit over a year ago with a 7,000-square-foot lot minimum, single-story homes up to 2,300 square feet," Smith said. "You can get a home starting at $180,000."
Smith said people point to the drive time of about 90 minutes and said it's nothing in comparison to other metropolitan areas across the country. People can drive four hours from Las Vegas and be at the ocean and yet people in many cities make daily commutes of three to four hours so they can live in an affordable home.
"That is the reality Las Vegas is facing," Smith said. "We all want to create products for affordability because that's how we sell houses, and it is how you sell houses to your clients. But at some point as a city, we need to get our mind around that going out is probably the key to doing that.
"Like any other big city, we have professional sports, and we are getting more of them and the closer you are to the hub, the more expensive it is. No one likes it, and maybe we have been a little spoiled. We complain about a 35-minute commute in the heart of traffic and in other parts of the country you go five miles in 35 minutes because of the traffic."
Mosi Gatling, sales manager with loanDepot, said it's up to the real estate community to educate buyers when they want a home, for example, in the southwest for $150,000 to $200,000, which is not possible. People moving into the marketplace are more realistic and understanding, she said.
"I've been seeing a lot of people coming here from California again, and they think this is a dream, even if they lived in North Las Vegas and worked in Henderson," Gatling said. "In California, they would beg for that. It is our job to educate and make the comparison."
The builders outlined some of the communities that they will be opening later this year and early 2019.
KB will be opening Aurora Heights, a paired or duplex community in North Las Vegas in August or September, Haack said. The gated community with two-car garage and three to four bedrooms will start in the mid-$200,000s, she said.
Autumn Winds is a one-car garage town home in the southwest that will open in September. It will have two to four bedrooms. No prices have been set.
Cumberland Ranch is opening in November in the southwest near Mountain's Edge and will feature single-family homes in the mid-$200,000s.
There are plans for town homes in North Las Vegas that will be priced in the low $200,000s before the end of 2018.
Luke O'Loughlin, general sales manager for Richmond American, said the builder is well-positioned when it comes to affordability. It has opened three communities in the first quarter that fall in that category. One in Cadence in east Henderson is a two-story home that starts in the low $200,000s.
Richmond American will have two to three of its numerous communities opening that are in the FHA range, O'Loughlin said.
"We will be well-positioned for years to come," O'Loughlin said. "As our average sales price is going upward, we're trying to drive it back down. This is something we are well aware of, and it's great timing for this conversation."
Richmond American allows 15 to 20 percent of the base price in options before it comes out of pocket, O'Loughlin said. People can be in a home with $40,000 in options and $2,000 in earnest money.
Smith said Beazer has a town home community near Nellis Boulevard and Craig Road that starts just over $140,000. This summer, it's opening Hamilton Place north of Russell Road and off Boulder Highway. It will start at $250,000 for two-story homes at 1,700 square feet.
Beazer is one of three builders that bought land of a former North Las Vegas pig farm to build single-family homes. That is expected to roll out by mid-summer.
"Our forte and strength is quite honestly entry-level and move-up buyers," Smith said. "We build a great home and want to stay in that wheelhouse. We're good at identifying opportunities that give us a chance to do that and gives us a chance to be successful for our customers."
Smith said that over the next year, Beazer has nine neighborhoods that will open. The builder retracted like many others when the market crashed a decade ago, but it has acquired land in the last two to three years that allowed the builder to move forward.
Geoff Gorman, vice president of sales at Pardee Homes, said people are talking about price as if that's the only factor when it comes to buying homes. He said Pardee considers itself to be a "premier brand." It's not the lowest price but in "many cases we are always the best value."
Pardee includes items that others don't such as 42-inch cabinets where others may have 30 inches or 36 inches. That allows for more storage, Gorman said.
"We have incentives so when we open Indigo in Tule Springs (in North Las Vegas in the low $304,000 with homes), and typically in a grand open(ing events) we offer a washer, dryer and refrigerator," Gorman said.
"We know when people move into home there's a whole lot of out-of-pocket costs you have as a homeowner. This is going to help you as a buyer to not have it come out of your pocket for something you need in your home."