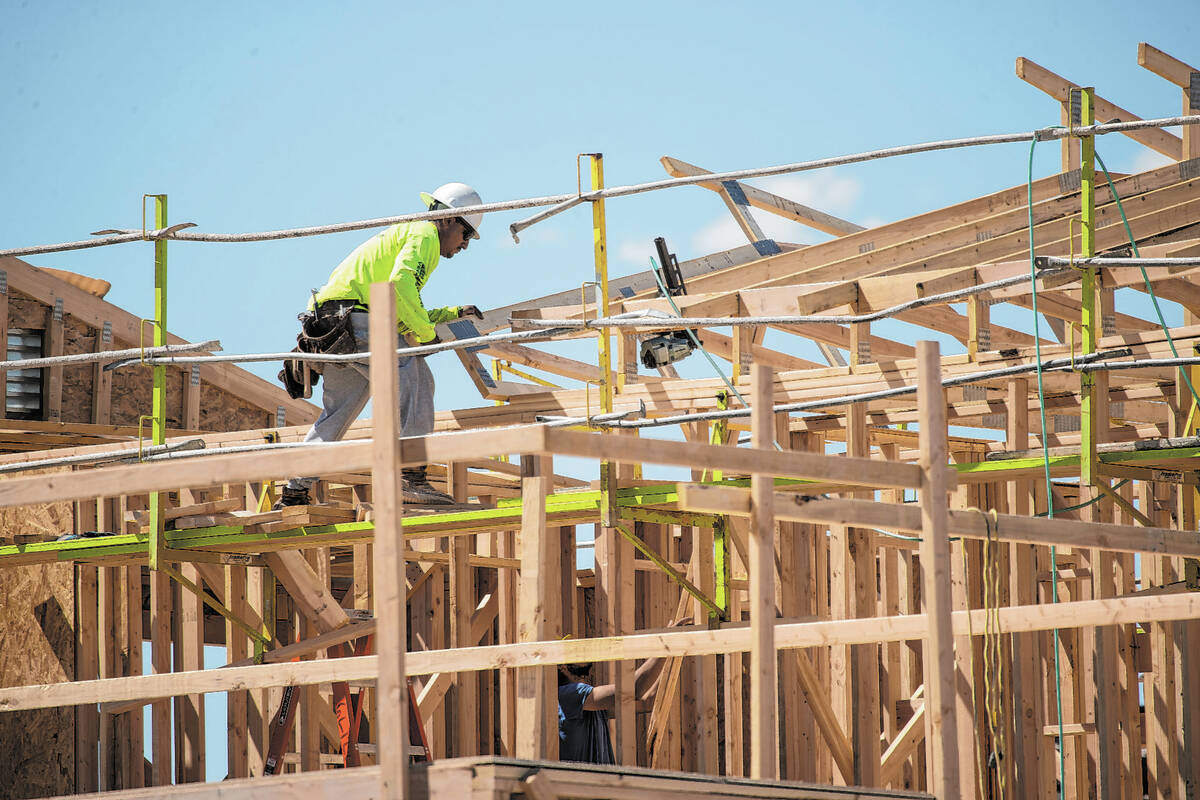 During the first three quarters of 2023, Las Vegas' new home net sales have surpassed the first nine months of 2022 as buyers slowly become more accustomed to elevated mortgage rates and are choosing new homes over existing ones in greater percentages.
But the higher borrowing costs continue to be an issue for the homebuilding industry despite surpassing 2022 new home net sales totals.
Las Vegas-based Home Builders Research reports new home sales are up 5 percent for the year and net sales — sales minus cancellations — are up 10 percent because cancellations are down 19 percent through the first nine months of 2023.
September, however, marked the second-slowest month in net sales for the year after January. The 201 net sales per week was in line with the rest of the third quarter of 203 a week in July and 207 a week in August. The high point this year was 245 a week in April.
"Builder performance has been steady since June despite the rising number of challenges facing new home affordability," Home Builders Research President Andrew Smith said. "Home prices continue to rise, and fewer residents are able to afford to buy a home. This should not be a surprise as signs have been leading to this for quite some time. Lack of inventory (current and future), higher interest rates for all parties, higher development costs across the board, increased regulatory challenges, and the list goes on, as to why there should be no surprise that homes, particularly new homes, are getting more expensive. This should not be seen as a short term or temporary trend by any means."
But Smith added that the net sales in September of just over 800 homes shouldn't be taken as a bad sign as sales normally decline at the end of the year.
The 30-year fixed mortgage rate closing out October was 8.08 percent, but interest rates are expected to lower throughout 2024 in anticipation of the Federal Reserve cutting rates as inflation gets under control.
The median price of new homes was 2 percent lower through the first three quarters, Smith said. In September, the median closing price of single-family homes was $510,350, a 3.1 percent decline. The median price for new town homes and attached products was $377,500, a 1.3 percent decline.
Attached products with their affordability continue to make up a greater share of new home closings in September at 27 percent, Smith said. The 283 attached closings in September were 24 percent higher than September 2022 and the 2,066 for the year are 19 percent higher. Third-quarter attached closings of 829 were 45 percent higher than 2022.
With a lack of inventory of existing homes and homeowners unwilling to sell and face higher mortgage rates with another purchase, the market share of new home closings in September reached 29 percent, a new high for the year.
Smith cited Clark County data that showed 19 percent of new home closings in September were done with cash and of those using financing, the average loan was $441,836. The largest loan for a new home closing in September was $3.129 million by Bank of America for a custom home in Henderson, Smith said.
Home Builders Research reported five new product lines with nearly 600 lots opened for sale in September. The average base asking price was $568,483, with an average size of 2,363 square feet.
Pulte Group, September's top-selling builder with 148 net sales, opened Paldona and Linmar Ranch — the latter under the American West Homes brand — in the southwest valley, Smith said. Pulte's Southbrook led September with 23 net sales.
Richmond American Homes debuted Osprey Ridge in Summerlin West, and Tri Pointe Homes opened Arrow Peak and Citrine at Kyle Pointe in the far northwest valley off Kyle Canyon Road, he said.
Buyer traffic in the subdivisions continued to rebound in the third quarter as it did in the second quarter compared with 2022, Smith said. Traffic was down sharply during the first quarter.
Smith predicted builder land buying could be picking up in the latter part of 2023. Taylor Morrison acquired 25 acres in Summerlin West for $1.3 million per acre a month after adding 28 acres in Cadence in Henderson.
Beazer Homes will be making their first entry into Cadence after closing on over 23 acres for nearly $700,000 per acre, Smith said.
Lennar acquired about 6.5 acres in the southwest valley for more than $960,000 per acre.
"After an unprecedented lull in activity, we have been hearing whispers of more and more tire kicking over the past few months, which seems to be translating into a few more deals getting closed," Smith said.