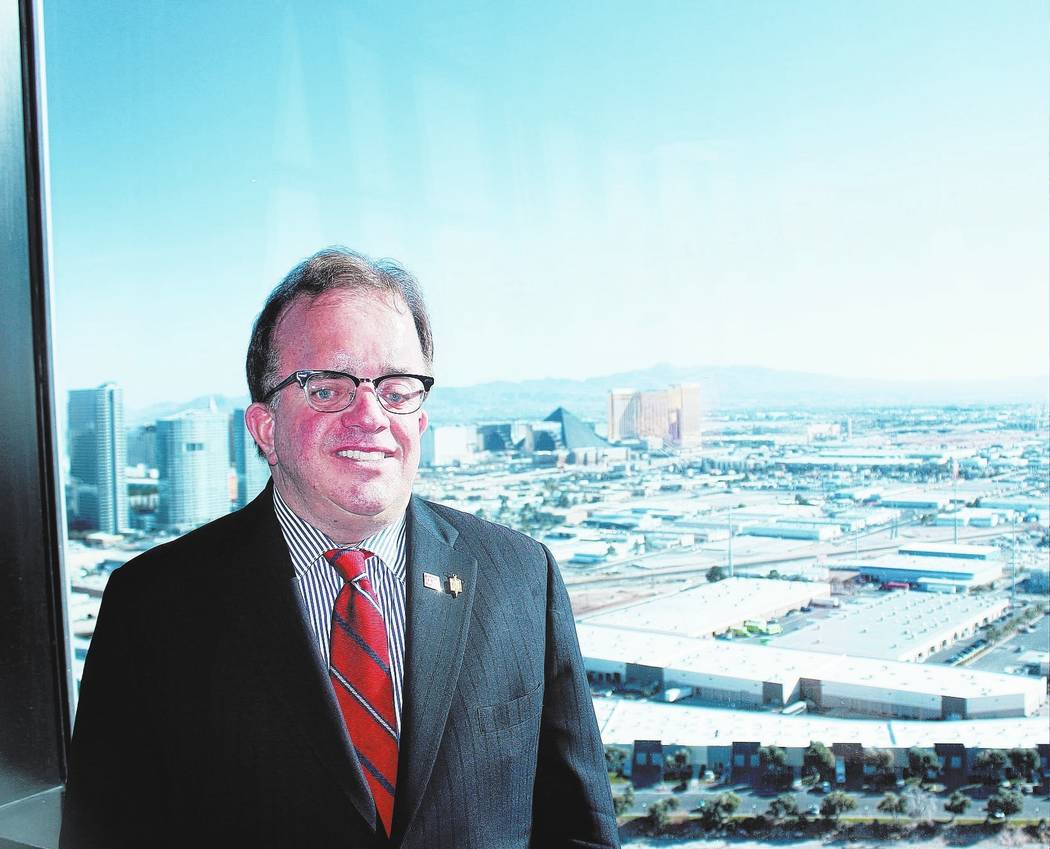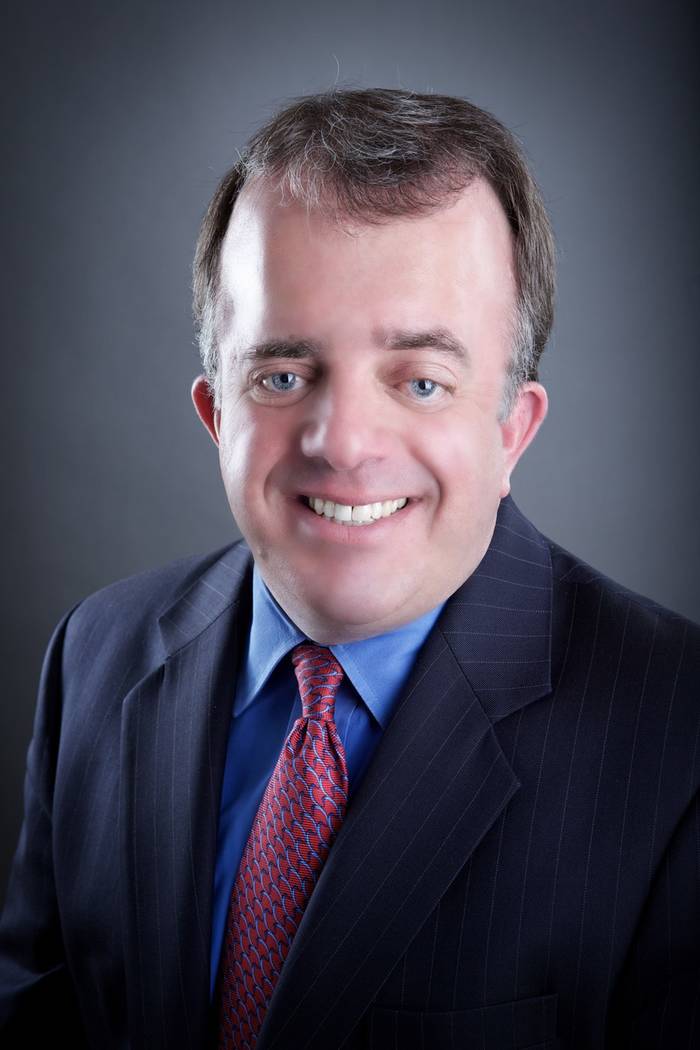 Christopher McGarey, founder and team leader of The McGarey Group at Berkshire Hathaway Home Services, Nevada Properties, has learned to take charge and meet challenges over his lifetime, both in his personal life and professional career in real estate.
Challenges are abound for McGarey in 2018, as he takes the helm of two of Southern Nevada's largest commercial real estate organizations, Commercial Alliance Las Vegas and the Southern Nevada Certified Commercial Investment Member chapter, all while leading a major property management portfolio in the Las Vegas Valley.
"I've learned through life to face everything and handle it. Face it and get it taken care of no matter what it is," said McGarey from The View at the top of the Palms Casino Resort's Fantasy Tower, where CCIM Southern Nevada held its first luncheon of 2018. McGarey took over leadership of CCIM Southern Nevada and CALV on Jan. 1.
CCIM and CALV
McGarey will take charge of over 500 members in CALV, the commercial division of the Greater Las Vegas Association of Realtors, along with 256 more members in CCIM's local chapter, where 78 hold the CCIM designation.
Plans for a membership increase is on the table this year for CALV as McGarey takes charge. He plans to grow the membership by 50 to 100 members this year, along with pushing for continued increases, he said.
"We plan to increase our membership of commercial practitioners as well as residential agents that want to learn and get into the commercial arena," McGarey said. "Our sights are set this year on growing membership, promoting CALV, promoting benefits and continuing what's already been in play and uniting more so through membership all the other organizations, as well as all the other practitioners."
Southern Nevada CCIM is also set for growth under McGarey.
About 200 CCIM designees are in the Las Vegas Valley, but you don' have to get the designation to join the organization.
For those interested in obtaining such a status, it requires several hours of education, a portfolio and other thresholds to earn the title.
McGarey has had a couple board meetings for CCIM since taking over the ship. "It's an honor and a privilege," he said. "The company I work for has had a long association with the board of Realtors — dating back to almost its infancy."
McGarey said photos of past leaders of the GLVAR, many his mentors, hang on the wall at the board of Realtors' facilities. "To follow, not necessarily the president of GLVAR, the commercial board, is an honor that I don't take lightly," he said.
Early life inspiration
McGarey said he was a product of a single mother and was born in New York, and growing up in Arizona.
His mother spent her early years raising seven children, with McGarey being the youngest. That was really her job for 22 years, he said.
In her early 40s, his mother got into real estate.
"She got into real estate, and I watched her juggle a family, a personal life; a family raising kids and her real estate business," he said. "She was always the driving force."
Sadly, McGarey's mother passed away a few years ago, but she left her mark on her children.
"She always pushed us to do more, be more — not in a bad way or harmful way," he said. "She was definitely an example of somebody that worked very hard and enjoyed life."
In McGarey's early days, he also dealt with his own challenges.
Up until the age of 8, McGarey spent the majority of his life in the hospital. He was born with a syndrome, where his skull had fused before being born.
McGarey had several surgeries in his days as a young man, as his brain developed.
He also suffered from problems related to his condition including his midface being concaved and other issues that led to McGarey going through reconstructive surgery in his teens.
McGarey said the experience gave him a new outlook on life, as you never know what's going to happen.
Career
McGarey got his start in real estate in 1988 during the savings and loan crisis in the late 1980s when a lot of foreclosures were happening, and shopping malls were sitting empty in Phoenix, he said.
He left Arizona for Southern California to work for Marcus and Millichap in New Port Beach as a researcher for about two-and-a-half years after receiving his undergraduate degree from the University of Arizona.
McGarey would come to meet a couple brokers in 1990 that owned some distressed property at Bonanza Road and Eastern Avenue. At first, he commuted back and forth every couple of weeks from California. In 1991, he moved to Las Vegas permanently to work on the property.
A couple years after moving to Las Vegas, and the project he'd been working on was completed, McGarey came to what was then known as NAI Americana Commercial to launch a property management division.
The names have changed over the years, though McGarey said he's spent most of his years working for Berkshire Hathaway and Prudential Americana. He also did spend a few years away from the company and opened his own firm.
McGarey is now the team leader and founder of McGarey Group at Berkshire Hathaway HomeServices, Nevada Properties. McGarey and his team manages more than 500 single-family homes and around 2.2 million square feet of industrial, office, multifamily and retail space.
"We're a small team, but we do a lot of business," McGarey said.
The group has been ranked No. 1 by Berkshire Hathaway's measurements nationwide and Nevada for several years.
Commercial markets
Things have been bouncing back since the recession era with property management, he said.
In 2007, the boom that Las Vegas was experiencing started to slow down for McGarey.
Many of his properties were 100 percent leased with waiting lists, he said. That later turned into tenants paying rent late and rising vacancies.
McGarey estimated 30 to 40 percent of properties ended up vacant at that time, with the other 60 percent being late payers. He said he tried to keep tenants in place by extending leases and lowering lease rates.
"If they had a couple years left on the lease, we'd just renew it — lower their rates, give them free rent," he said. "We did everything we could to try and keep tenants in place."
Those numbers have been moving into more positive territory.
"The last two years, we've seen an uptick," McGarey said. "Our vacancies have dropped. We've got people who are leasing space again."
The uptick hasn't brought the craziness of the late 1990s and early 2000s, but it has bought a slow and steady rise, according to McGarey.
"We don't have that right now, but we have exciting things to talk about," he said.
Raiders' effect
McGarey said it will be interesting to see what happens as things on and near the Las Vegas Strip start to move such as the 65,000-seat Raiders stadium in development and other large-scale projects.
McGarey said he manages a lot of properties in the Russell corridor.
"I predict once that stadium starts coming out of the ground, you're going to see a whole shift in what's going on there," he said. "People are going to be paying above-market rates to be near there, whether it's small hotel or bars and restaurants."
Right now, the region is predominately industrial, though that could change as the stadium moves closer to completion. This will also be true for the area surrounding the practice field planned in Henderson.
Near the stadium, Marcus & Millichap represented the seller of a 14.8-acre industrial site at 4300 W. Tropicana Ave. that once housed Southwest Gas Corp.'s corporate office and servicing facility.
The deal drew $18.5 million or $1.25 million an acre. The property sits just over a mile from the Raiders stadium site.
In a press release in October, Marcus & Millichap reported the property, which sits adjacent to The Orleans, as the highest per-acre-cost for a 10-acre plus parcel of commercial land that wasn't located on the Strip in nearly a decade.
The cost per acre on that property equates to over four times the average price of land Colliers International Las Vegas tracked in 2017.
Ray Germain, first vice president investments at Marcus & Millichap's Las Vegas office, who represented the seller, said the Utah-based buyer was likely looking to repurpose the industrial site to a mixed-use property or potentially use it for a hospitality and retail concept, according to a report in the Las Vegas Business Press in October.
A 2.5-acre parcel, directly across the street of the future stadium's north end, on Hacienda Avenue, sold for more than 10 times the average price-per acre of land in 2017, according to data from Colliers Las Vegas. The total deal equated to $7.25 million or $2.9 million per acre.