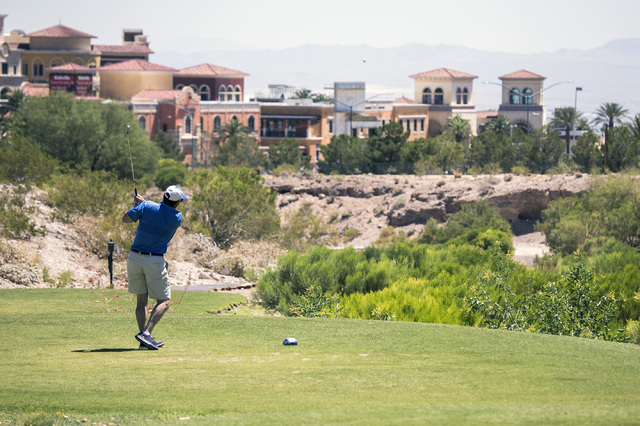 Developers trying to gain approval to convert the little more than 250 acres at Badlands Golf Club into a site for single-family homes, condominiums and apartments may have to wait a little longer.
The Las Vegas Planning Commission, during a mid-July meeting, voted to postpone a decision for 90 days after several residents objected.
Approval would have allowed Las Vegas-based EHB Cos. to start on the first of four phases of a project expected to create nearly 2,700 luxury apartments and single-family homes.
Phase one, if approved, would bring four four-story buildings, totaling 720 multifamily units, to the eastern edge of the Badlands course toward Rampart Boulevard, adjacent to the Queensridge Place condominium development. That phase would cover 17.49 acres of the course, plans submitted to the Planning Commission show.
Arguments at the proceedings earlier this month continued residents' efforts to keep Badlands open. The pushback to stop developers began not long after EHB Cos., the developer of Tivoli Village, announced its intentions in September 2015.
High-powered residents from Queensridge, including businessman Jack Binion, sued EHB near the end of 2015 in Clark County District Court.
On July 7, Robert and Nancy Peccole, whose property abuts the golf course, sued EHB Cos. and Las Vegas, alleging a breach of contract to "deprive the plaintiffs as Queensridge homeowners of their entitled rights to a golf course, open space and flood control …"
Several items are scheduled to return to the Planning Commission on Oct. 11. This includes a single request on the 17.49 acres and another that has plans for development across the entire 250 acres. If the larger plan were to pass, the single phase would be subsumed into the larger scope — eradicating the need for the other.
Ultimately, EHB wants to bring in 2,475 residences across the course, along with an additional 200 assisted living apartments. Phases one through three call for 2,600 multifamily dwellings, including the assisted living units.
A submittal to the Planning Commission shows that developers, during a neighborhood meeting with residents on phase one, stated "these would be mapped condominiums that will be rented out for at least six years."
The second phase proposes two multifamily residential towers, up to 15 stories. The assisted living developments could be in phase two or three. Those two subsequent phases consist of about 50 acres.
This part of the development would also include the right to bring in up to 7,500 square feet of ancillary commercial.
Phase four is pegged to bring in 75 single-family homes across Queensridge. This development, which would occupy more than 180 acres, or 73 percent of the total acreage available, would also require a major modification to the Peccole Ranch Master Plan, a Planning Commission filing shows.