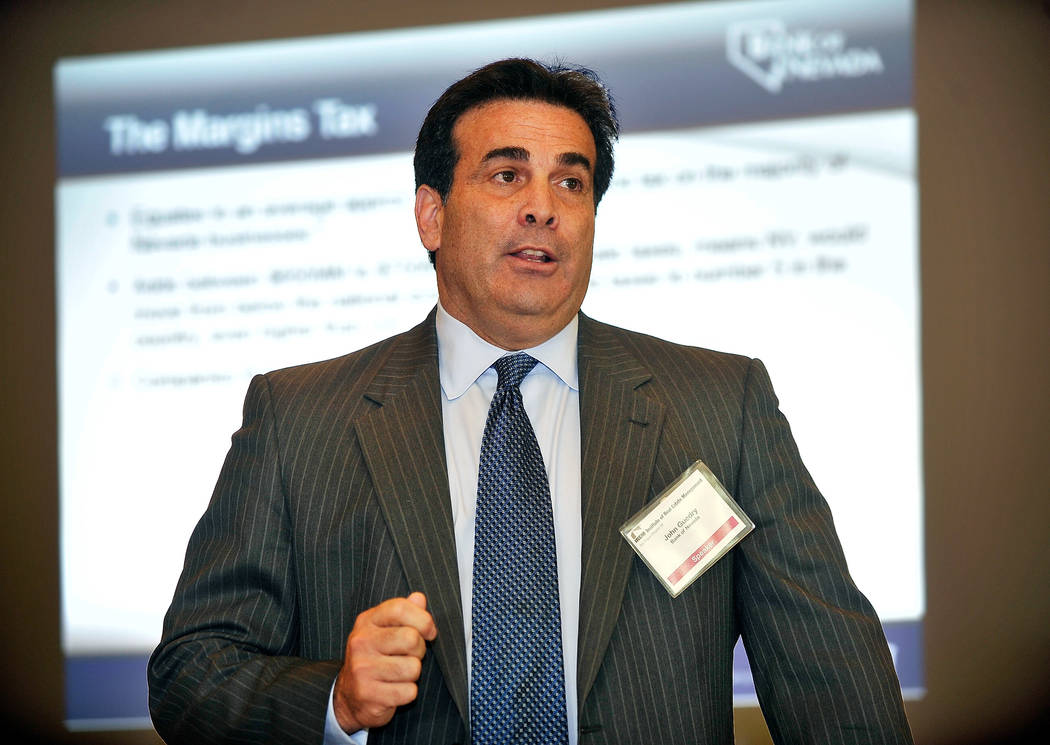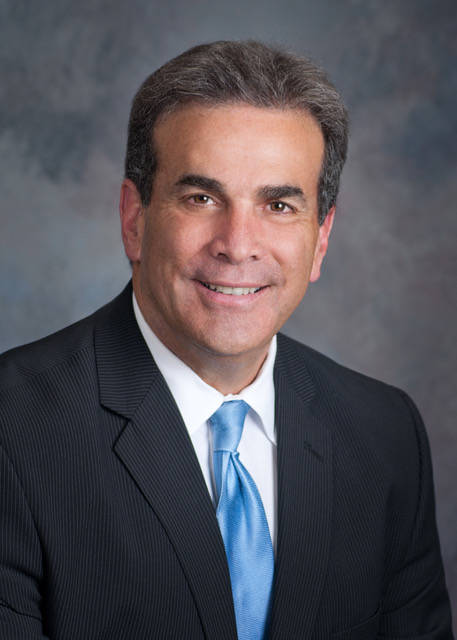 The R-word is top of the mind among members of the Southern Nevada commercial real estate industry, but a panel of experts predict the economy will do well in 2019 and when a recession does hit it should be short.
The federal government shutdown and economic predictions dominated a gathering of CCIM Southern Nevada held Jan. 16 at the Palms.
The group was joined by members of the Institute of Real Estate Management.
"We have a tremendously strong economy," said Barbara Crane, the national president of CCCIM, which has its own economists. "The fundamentals of commercial real estate are strong. They're solid, and we've got an economy that's growing, GDP that's growing and tax reduction that's been helpful."
Crane, who's based in Texas, cited four interest rate hikes by the Fed in 2018 that hasn't "crippled the real estate market." When she started as a commercial broker in 1979, the interest rates were in excess of 20 percent and people still did deals, she said.
"It's not the end of the world if the Fed raises interest rates a little bit higher," Crane said.
Her bigger concerns are implantation of more tariffs as part of a trade war. The (possibility of an) ongoing government shutdown is a concern as well.
"I think what's going in Washington is worse than anything we can see in our economy," Crane said.
"Tech innovation is making our economy smarter, faster and better. Supply and demand in the real estate market is great and the growth of the population and workforce growth here, in Texas, Florida and Sunbelt states is going strong in those markets."
Matt Vance, an economist with real estate firm CBRE, Vance said his firm's predicting 2.6 percent national GDP growth for 2019, which is below the more than 3 percent expected for 2018. He said businesses shouldn't be worried about the next recession when it happens and hopefully it will be mild and short-lived, allowing for a reset.
"We want to give companies confidence to come out of that recession leaner and more efficient," Vance said. "I wouldn't worry about one. We do think rising interest rates will give some pause to consumer confidence and business spend, and we think additional equity market volatility could push us into a recession in mid-to-late 2020 that would result in a fairly shallow 2021. Then we will start to see acceleration again coming out of the second half of 2021."
John Guedry, CEO of Bank of Nevada, said the last recession a decade ago took a long time to recover and the community has learned a lot of lessons about overbuilding from both the banker and developer standpoint.
"We haven't fully recovered from that, and as we enter into when the next recession is going to start, the impact will be less felt," Guedry said. "We never got back to those peaks that tend to cause you to fall into a valley. We have flatted out some as we started to crawl out of that hole. The good news is when you look at the fundamentals locally there are $13 billion worth of construction projects along the Strip and entertainment corridor and downtown, even for a city our size, that's pretty massive. That's a lot of jobs. I like where we are positioned in the state and local market, and I think we will less impacted when a recession does hit."
Vance said the current population growth in Las Vegas should make the industry excited for the diverse employment growth. That drives demand for commercial real estate, and there's been a strong growth in business and professional services, and that requires office space, he said.
"Across the board for all sectors we ended the year with vacancy rates lower than the previous cycle peak and none of the sectors face any risk of an overhang that would give us pause for concern," Vance said. "The forecast we give throughout 2019 and even into 2020 is strong and robust with rent growth and sustained vacancy."
Vance contends the Trump tax cuts have had a "muted impact," while the anticipation was for a much stronger stimulus coming from that. On the consumer side, take-home pay rose and people spent it, but on the corporate side the tax cuts and repatriation of U.S. dollars from overseas has resulted in stock buybacks and non-stimulative outcomes, he added.
"Much to the surprise of policy makers, we haven't seen that big of a bump on the corporate side – the business investment – which would have had the majority of the impact most likely," Vance said. "I think we will continue to see a little bump from that through the first half of 2019."
In detailing various sectors, Vance said while e- commerce is growing it's not quite 10 percent of total sales. He said the narrative that traditional retail is going away is overblown, but it's forcing retails to adapt and evolve to the changing demand for customers.
"The Amazon effect is strongest on the industrial sector," Vance said. "The warehouse demand and changing style of industrial space being built, and I think the next disruptor will be in the grocery space.
The U.S. is lagging behind many countries in our adoption of online grocery sales. The UK is at 8 percent, and we're still under 3 percent. The adoption of that will dramatically change the type of space used for that distribution, in particular vertical cold storage, is what seems to be the hot topic among industrial developers."
Las Vegas ended 2018 with a 2.6 percent industrial vacancy, and it might as well be zero, Vance said.
"The idea that there's any product available today with cold storage is very unlikely," Vance said.
As for office, Vance said Las Vegas isn't quite the corporate city as others in the West such as Denver, but the movement of companies around this country looks different than it has in past cycles.
There are opportunities in this marketplace, especially with Californians moving here with the skills they have, he said.
"Firms are chasing talent, and talent is king," Vance said. "When we talk about real estate expenses, and they are far down the list on line items of cost of doing business. On average, a $1 savings per hour on employment equates to $16 a square foot for office rent annually. When you see this many people expressing and interest and acting on that interest moving to a city like Las Vegas it does not go unnoticed."
Guedry said that while locating a company to Las Vegas is a good idea with a 24-hour workforce, but the challenge is it doesn't stack up favorably to companies needing specific skill levels. Only 20 percent of the workforce here has post-secondary education, he said.
"It's not only a challenge of the jobs of today but the jobs of the future," Guedry said. "The missing link is how do we get a workforce that's prepared for jobs in those industries. When you look at the industries virtually every one of those jobs has some type of level of expertise in science, technology, engineering and math."
On the multifamily front, Brett Holmes, the president and owner of Advanced Management Group, a property management firm, said 2018 was amazing and occupancy has been great and that 2019 should continue to be strong. There was 6 percent rent growth across their portfolio, but he expects that to be a little lower this year.
"It's going to be a good year," Holmes said. "The city is on a good track to be able to continue to grow, and it's nothing but positive for me."
Holmes said what's exciting about Las Vegas is the expectation of 75 households moving to the city daily for the next five years. That demand for apartments will continue to be there, and it's up to the builders to meet that. The challenge, however, is going to be housing affordability because people already feel rents are too high, he said.
"The way things are going is demand is still going to be there and there's growth in the town with a lot of people coming here," Holmes said. "We don't see that slowing down for at least a few more years."
Vance said the marketplace has less supply of office, retail and industrial under construction now than there has been this cycle. There are even concerns about apartment development not capturing demand, he said.
"Right now we are at two-thirds of our annual multifamily Las Vegas construction pipeline,"
Vance said. "We have averaged over the last 25 years over 2,800 annually, and right now we have 2,800 units that are expected over the next 18 months. Demand is going to swamp supply at least in the near term, and developers will have to find a way to respond to that."
Guedry said there's more high-end luxury apartments being built in part because of higher land, labor and material costs. Income levels needs to rise by more economicdiversification because costs aren't coming down, he said.
WHAT KEEPS THEM UP AT NIGHT
Vance said his biggest concern is the way policy makers react to volatility in the equity markets. There's been worse volatility in the past. He said he would like the FED to "stand strong on interest rates and not bring them back to zero."
Guedry said "politics over policy" is the concern, especially as it relates to consumer confidence.
"We need to tone down the rhetoric and focus on solutions not just in D.C. but throughout the state and local governments as well," Guedry said.
Crane said she's concerned about new federal rules put in place Jan. 1 that all tenants must recognize their lease obligations on their balance sheets. In previous years there was a cut-off point, and the size of the lease dictated whether it had to be on the balance sheet, she said.
"What may be a hiccup in my mind is once all these leases hit the balance sheets come the first quarter there will be a difference between the debt-to-equity ratio of the companies reporting to Wall Street," Crane said. "The general investors won't understand what has happened to all of the companies across the board and what may happen to the valuation of those stocks. There's the possibility that tenants will want to shorten their leases as a reaction to that so that they don't have greater liability on their balance sheets. It may be more difficult to start a new project from scratch or to refinance."
Guedry agreed that the tax cut has been muted and helped the consumers more than it did businesses.
It didn't go as far as it needed to and ended up being a Band-Aid on a gaping wound. There needs to be a lowering of rates but eliminating loopholes into a more simplified tax plan. Guedry said his company was socially responsible and took the tax savings and passed that on to employees.
"We were not alone, and a lot of big companies did that," Guedry said. "I think they should applauded for that, and that's what it was intended to do – to push it out to consumers who invest in the communities they live in."