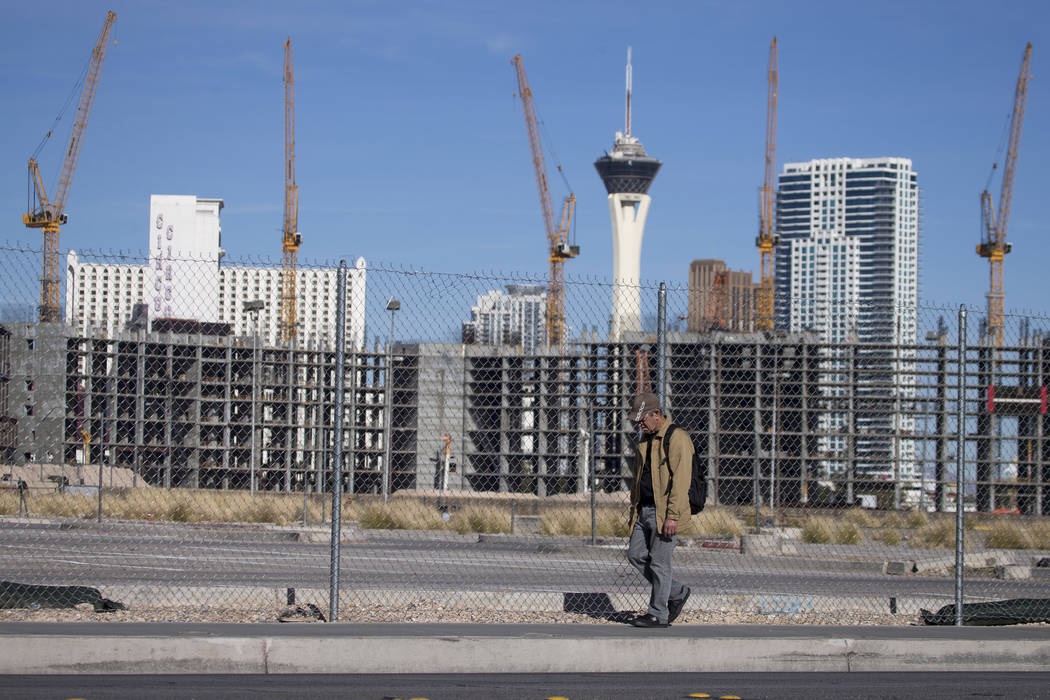 The construction industry is breathing a sigh of relief that it has recovered from the Great Recession, but executives say it's not close to where it was in the 2000s and raised concerns with a shortage of labor and rising construction costs.
Executives with longstanding locally based general contractors expressed excitement about the economic recovery and their concerns about the industry during recent luncheon entitled "Boom, Bust or Both," hosted by Crew Las Vegas at Las Vegas Country Club.
Jim Colegrove, managing partner at Burke Special Projects, a part of Burke Construction Group, said after the financial crisis a decade ago, Burke looked to diversify. There were no ground-up construction projects going forward and the company, known for school projects, didn't do tenant improvements at the time.
That prompted Kevin Burke, company president and CEO, to travel extensively and get the company licensed in 26 states. Burke also started doing tenant improvements locally because firms were either downsizing because they didn't need the space or expanding because rents were reduced, Colegrove said.
"Six years now of doing special projects, which is now its own company, we have grown revenueyear-after- year," Colegrove said. "It's a great market, and I think when you look at Vegas and the resilience it has says a lot about the community we are in. Although, we have enjoyed the growth in the tenant improvement side, I think we're just now seeing the ground-up coming back last year and this year."
Colegrove said no one should confuse what's happening today with the "go-go days" last decade when there were more than 100,000 construction workers in 2007. That fell to fewer than 40,000 by 2011 and in 2017 surpassed 60,000, he said.
"We're going back, but we're not where we were before," Colegrove said. "If anything, there's more work being done with less people. A lot of us don't think it's sustainable; so companies, whether design companies or building departments, aren't hiring because they're waiting for that shoe to drop."
Alan Jeskey, CEO of AJB General Contractors, said the boom that preceded the bust was "a lot quicker and more frantic and the "uptick has been gradual in our case over the last five years." That makes a "big difference" as far as the stability of the economy and as it relates to the construction industry, he said.
"This year maybe a little different since you have so many large projects going on like the Raiders stadium and Resorts World starting up (a Strip resort project) again. It should be a fun year, and I'm looking forward to seeing how everything goes."
Shawn Danoski, CEO of DC Building Group, said contractors learned a lot going through the recession. They had to become more efficient and creative. DC was well-positioned because it had no debt, but it had to reduce staff and do projects across the country from California to Connecticut, he said.
"We followed our clients," Danoski said. "There were market sectors that grew during the recession, and that's something to be learned the next time we have one. Rents went down, so some people actually grew (during the recession). Some of our clients doubled and tripled in size, and they helped carry us through the recession."
The construction market is growing in Las Vegas, but it's not growing "as fast as it feels," Danoski said. While there's "an incredible amount of opportunity out here," there's a shortage of labor as well, he said.
"That's something we're experiencing in every market sector whether it's banking, real estate, construction or staffing offices," Danoski said. "Capturing the number of people we're going to need for growth is probably our biggest challenge."
Colegrove said that local high school and college students think construction jobs are for those uneducated or drop outs; and more needs to be done to change that perception and how there are skilled jobs that are well-paid. The industry needs to do a better job of promoting that and getting people to go to trade schools, he said.
In addition, Colegrove said municipalities and local governments need to get out in front of development in terms of shortening the permitting process and suggested they haven't because they don't think the growth is sustainable. The permitting process has gotten longer. He cited Clark County for having two full-time and one part-time electrical plan checkers, for example.
"They need to get ahead of it and maybe explore what the city (of Las Vegas) did with hiring third-party consultants," Colegrove said. "You need to be responsible and get ahead of that and not have us stand down there wondering way it takes four weeks to get a tenant improvement project or three to four months to get a grading permit."
Colegrove said even companies like NV Energy need to do a better job of getting ahead of development by building power substations because when it cost developers hundreds of thousands of dollars to extend power, it is cost-prohibitive to develop a site.
Even if the Bureau of Land Management released more federal land for development, there isn't theinfrastructure in place that would allow projects to go forward, Danoski said.
"We have enough land, but we just don't have enough usable land," Danoski said.
Jeskey said he's not worried Las Vegas will soon return to where it was a decade ago withoverbuilding. With the cost of construction materials and labor increasing, people are going to be cautious, he said. During the boom, there were 35,000 homes built a year, but it will be less than half of that in 2018, he said.
"I remember back in 2006 people were saying the crane was the state bird because there were so many in the air," Jeskey said. It's getting that way, but it's not there yet. You have the Fontainebleau and Resorts World starting up, but we're not where we were in 2006."