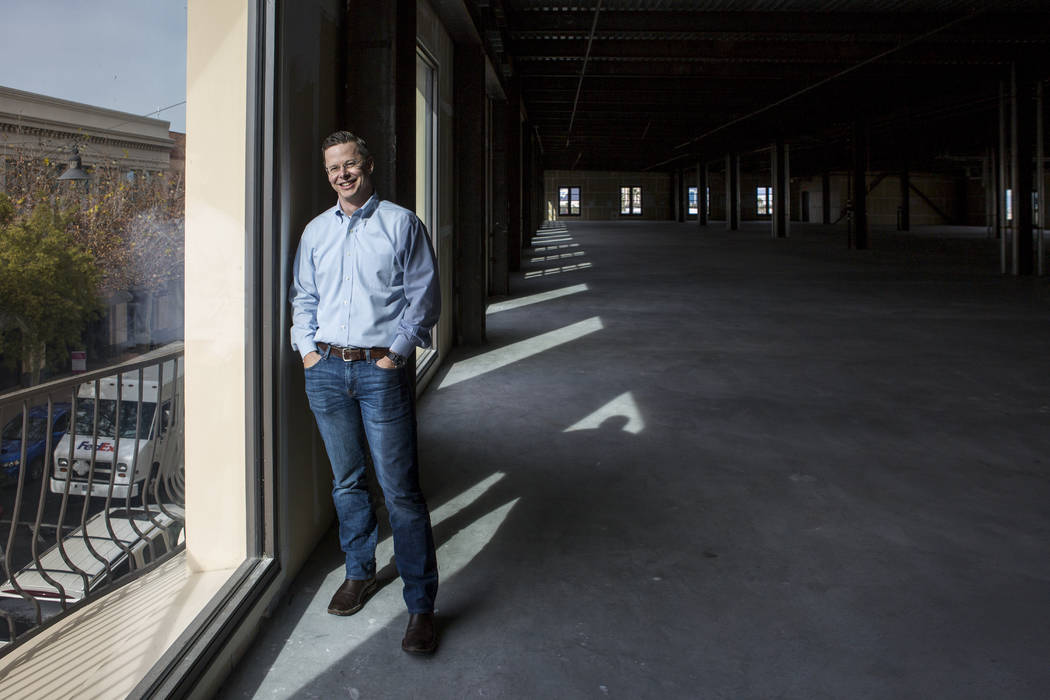 Members of the commercial real estate industry had reason to be celebratory at last Thursday's mixer at the headquarters of the Greater Las Vegas Association of Realtors
With a strong local economy, businesses are starting, others are expanding and companies are relocating to Southern Nevada. Commercial real estate is the beneficiary.
The vacancy rate for the office market hit its lowest level since the Great Recession and demand remains strong, according to research firm Applied Analysis. The same can be said of the industrial market that can't build enough space to keep up with demand. And despite the changes in the retail sector with companies downsizing or going out of business, the Southern Nevada market has reached its lowest vacancy rate in a decade.
OFFICE MARKET
The best news has been in the office market where the vacancy rate fell to 16 percent by the end of the period, reaching its lowest level since the first quarter of 2008, according to Applied Analysis.
That's down 1.3 percentage points from a year ago even as more space is added to the marketplace with new construction.
Cathy Jones, president of the Commercial Alliance Las Vegas (CALV), which is a division of the GLVAR, said it's taken a while but the industry is starting to see "strong improvement" in the office sector. For the high-end Class A office market, the vacancy rate is in the single digits in the southwest valley, she said.
"That's a very positive sign," Jones said. "The economy has been strong. We've had great visitor volume and we're seeing a lot more diversification. I always felt the Golden Knights and Raiders coming were emotionally big drivers for companies considering our market. They now feel like we're a real community."
Applied Analysis Principal Brian Gordon said the continued growth in jobs that require office space is generating demand. That includes the professional and business services sector and the financial sector, which have added a combined 9,000 jobs in the past 12 months, Gordon said.
"Diversification efforts into professional services should bode well for the real estate sector, but ensuring sufficient Class A capacity will be important to sustaining the pace of demand," Gordon said.
Construction activity in the Las Vegas office market increased to 431,800 square feet during the quarter, Applied Analysis reported. Three projects began during the first quarter, including the 150,000-square-foot Raiders headquarters in Henderson, the 40,000-square-foot build-to-suit headquarters for Sunburst Shutters in the southwest and a new 18,000-square-foot building in the Sunset Hills Plaza in the southwest valley. Other notableprojects include the UNLV Technology Park and the fourth phase of the Cimarron Courtyard Office condominiums — two projects that will add 110,700 square feet and 48,000 square feet, respectively, to the southwest submarket, the firm reported.
Applied Analysis project manager Melanie Framo said construction activity has grown over the past year due to need for nearly 200,000 square feet of build-to-suit office space.
"We're also seeing innovative office projects taking shape in the area that are geared toward attracting the upcoming generations with features such as food halls, fitness centers and creative space," Framo said. "The Las Vegas office market has been focused on keeping up with changing technology and worker's needs to create a more lifestyle-friendly office environment."
Jones said that's an interesting trend that the real estate industry has been talking about for Las Vegas. As tenants are looking for office space, they're seeking amenities either in their building or walkable to them such as restaurants, entertainment or even a gym, she said.
"They want to be right there, and it's starting to make a difference," Jones said. "When people are viewing office buildings they are starting to take that into consideration. Do I have to get in my car and drive somewhere or can I just walk across the parking lots and have a couple of nice restaurants available to me."
Jones said she hasn't seen office complexes in Las Vegas retrofit to create more amenities, but it's a trend happening in other markets such as Dallas where she visited.
"I think we will start to see that trend in Las Vegas, too," Jones said.
The office market inventory expanded by 20,400 square feet in the first quarter as two projects completed construction, bringing total inventory to more than 55.9 million square feet, according to Applied Analysis. Some of the notable completions included the redevelopment of 601 E. Bridger Ave., which added 15,900 square feet of office space to downtown, and the 4,500-square-foot expansion at Hills Center Business Park at 1765 Village Center Circle.
The office market had 366,500 square feet of net absorption during the first quarter the firm reported. Some of the notable leases during the quarter include CVS leasing 59,000 square feet at Crossing Business Center No. 2 at 1451 Center Crossing Drive. In addition, Assured Healthcare Properties leased an additional 14,900 square feet of office space at the Partell Medical Center, 2870 S. Maryland Parkway.
The average asking lease rate was $2.62 per square foot for Class A space, up from $2.56 a year ago. It was $1.97 per square foot for Class B space, up from $1.92 a year ago. Class C space was $1.55, up from $1.53 a year ago.
INDUSTRIAL MARKET
The industrial sector had a vacancy rate of 6.3 percent at the end of the first quarter, which is down 1.5 percentage points over the past year. That's despite the completion of eight projects totaling 1.1 million square feet in the first quarter.
There was about 1.1 million square feet of space absorbed during the first quarter with the largest at the Northgate Distribution Center, 5430 Donovan Way, where Excel Inc. leased 313,700 square feet. T3 Expo also leased 160,700 square feet at AirPar Industrial, 1710 Executive Airport Drive.
The industrial market has nearly 6.4 million square feet of inventory under construction and nearly 5.0 million square feet planned for future development, according to Applied Analysis.
"Space is getting leased up as fast as they can build it," Jones said. "Up until recently, most of the new development was big box large warehouse projects, and now we are finally starting to see (smaller) flex and mid-bay projects being built. There wasn't a lot of that that a couple of years ago. Those small flex spaces and mid-bays are the incubators for those big boxes down the road. The big boxes attract Amazon and the big players that come in from out of state. But if you look at the growth and expansion of jobs, more of it is expansion of existing companies than new ones. They're growing out of the 20,000 square feet to 40,000 and 60,000 square feet. There's a lot of companies that are up and coming."
Gordon said "an evolving retail sector combined with the Las Vegas area's strategic positioning has generated significant demand with the local industrial real estate market."
Industrial capacity continues to expand along with growth in population and employment in Southern Nevada, Gordon said. With more than 6 million square feet under construction and another 5 million square feet planned for future development, vacancy rates may moderate in the near term, he said. That additional space should provide inventory for those looking to expand or relocate to Southern Nevada, he added.
Amazon recently announced their new North Las Vegas distribution center, which is slated to be completed during the second quarter, and is expected to employ more than 1,300 full-time positions, Gordon said. In addition, Google estimates it will hire 50 employees over the next five years for their new $600-million data center in Henderson.
"These are the types of developments and large-scale projects that should benefit the local economy," Gordon said.
The northeast valley added nearly 553,000 square feet to the market with the completion of two projects — the Harsch Speedway Commerce Center III Building B completed its 339,100 square-foot distribution center at 6255 N. Hollywood Boulevard; and the Centennial Commerce Center completed its 213,800-square-foot building, 6405 E. Centennial Parkway.
Five projects were completed in the southwest valley adding more than 462,000 square feet to the market. There was the Blue Diamond Business Center Building 6 (322,600 square feet); Sunset Business Center (70,000 square feet); and the Blue Diamond Distribution Center (46,300 square feet).
RETAIL MARKET
Applied Analysis reported Las Vegas retail market's direct vacancy rate fell to 7.7 percent by the end of the first quarter, down only 0.2 percentage points from a year ago but still the lowest rate in a decade.
It's expected to decline further given strong consumer spending.
Gordon said there's stability in the retail sector while consumer spending continues to grow with a strong economy. He said the development of big box retail "has progressed at a measured pace," and the expansion of restaurants and specialty retailers "has acted as stabilizing force in many existing centers. At the end of the day, strong population and employment growth will generate incremental demand for goods and services, and the retail market should follow suit."
Framo said the valley's retail market is "demonstrating a cautious pace of expansion as retailers evolve with market conditions and an increasing pace of internet-based shopping. Space is being built in sustainable phases that have been able to draw tenant interest and contribute to the stable performance in the market."
Retail has gone through a big transformation with large retailers going out of business or downsizing, Jones said. That has left vacancies and required different uses such as call centers, storage centers and family entertainment venues.
Retail inventory in anchored centers increased to 54.7 million square feet during the quarter with the completion of the first phases of three projects, totaling 215,000 square feet, Applied Analysis reported.
Las Vegas Athletic Club completed construction on its 90,000-square-foot center, 1195 Wellness Place, marking the completion of the first development within Union Village Promenade.
Also, marking the first phase of their retail center, Maya Cinemas opened their doors with a 69,000-square-foot, 14-screen movie theater at 2195 Las Vegas Boulevard. In addition, Albertson's completed construction on a 56,000-square-foot grocery store at 6730 N. Hualapai Way in Deer Springs Village in the northwest valley, the firm noted.
During the first quarter of 2019, the retail market reported 262,300 square feet of net absorption. In addition to recent completions, Burlington Coat Factory leased 39,300 square feet at Best in the West at 2192 N. Rainbow Blvd. Old Navy also committed to 14,700 square feet at Eastern Beltway Center at 1920 E. Serene Ave.
Construction increased to 809,900 square feet by the end of the quarter. St. Rose Square continued to progress with its second phase of 316,100 square feet to accompany the recently completed Costco, Applied Analysis reported.
Blue Diamond Decatur Plaza began construction on its 165,000-square-foot community center on the southwest corner of Blue Diamond Road and Decatur Boulevard. The center is expected to feature a 40,000-square-foot EōS Fitness gym that is slated to be completed by the fall. An additional 2.3 million square feet of retail inventory remains in the planning stages, according to Applied Analysis.