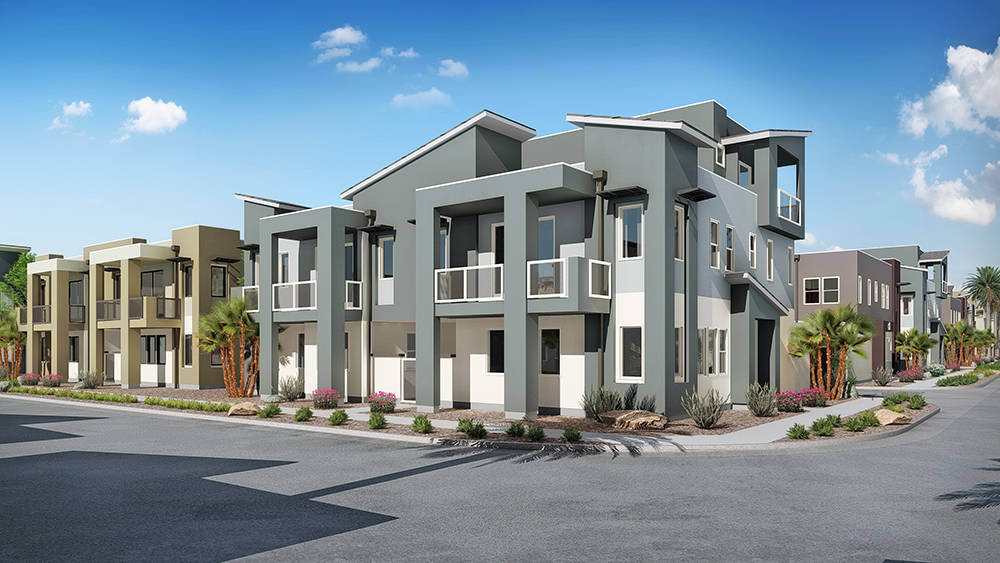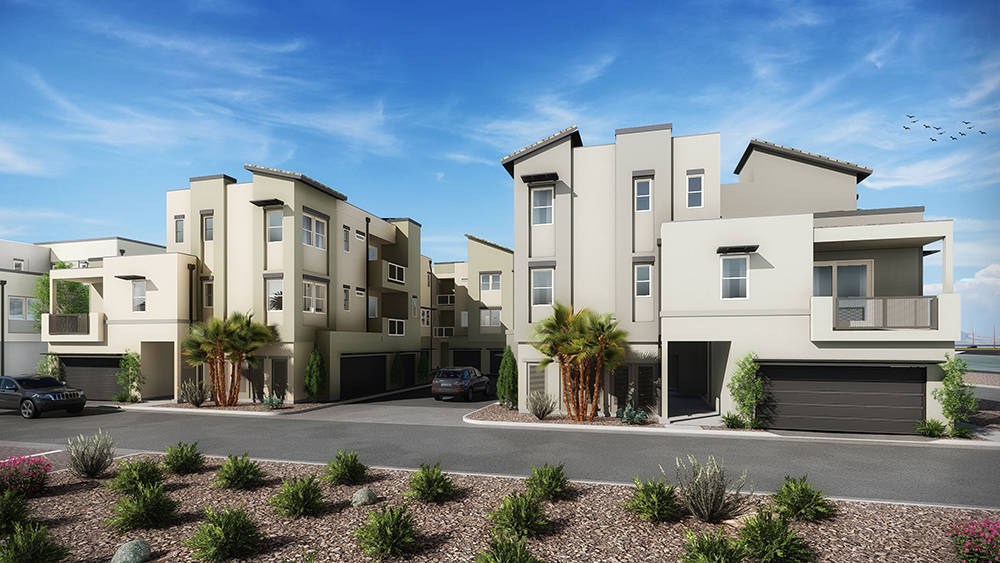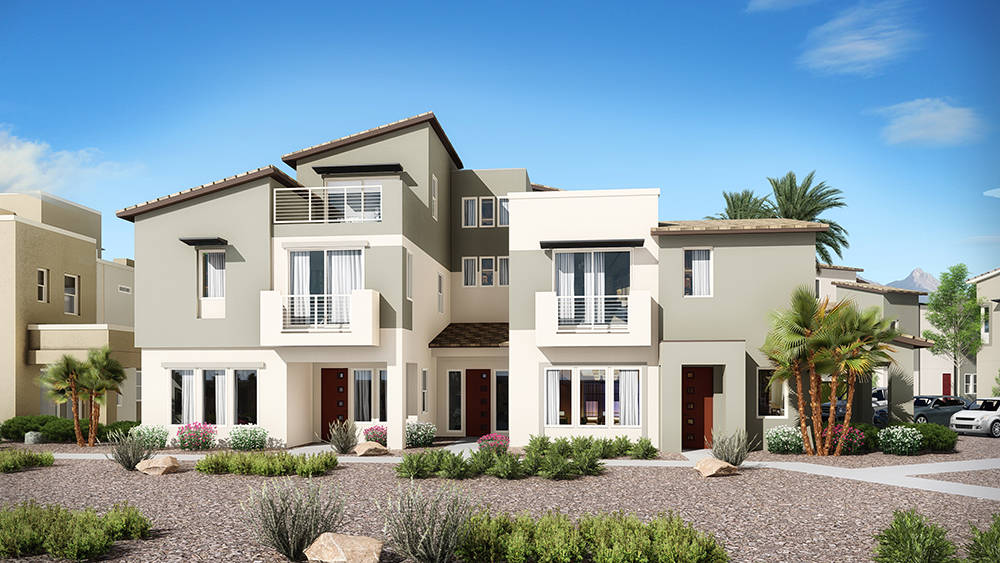 Builders are targeting Summerlin with luxury town homes and condos, and the master-planned community is also seeing an influx of attached homes that's making it more affordable as well.
Town home is the buzz word in Summerlin as builders opened models in August and September and will open more over the next six months. While technically they're condos because buyers don't own the land underneath, many functions as town homes with two or three attached either side-by-side or stacked in some cases.
There's Toll Brothers opening models in October in The Ridges for its Fairways Hills community where town homes will be priced at $680,000 on the low end to more than $1 million at the upper level.
CalAtlantic Homes is selling town homes that start at $285,000 and will go into the upper $300,000s.
Other builders such as William Lyon Homes and Shea Homes have products whose price ranges will fall between those two, covering the whole gamut of buyers.
Builders said they're just responding to the demand that more customers have for a lock-and-leave style where owners don't have to worry about maintenance and landscaping, while having the feel of a single-family home. The demand for existing town homes and condos has been strong as evidenced by sales up 39 percent in July and 27 percent in August, according to the Greater Las Vegas Association of Realtors.
"It's only natural that the town home market would improve," said Dennis Smith, president of Home Builders Research. "The baby boomers have been a major force of the housing market and for the past two to three years, they're downsizing. They (have wealth) and want products where they have amenities but don't have to have a lot of upkeep. It allows them to travel to see the kids and grandkids."
The town home and attached-home market has "always been strong in Vegas" compared to the rest of the country because of the number of people who are second and third homeowners, Smith said.
Prior to the recession, new attached homes were 15 to 20 percent of the market. It was non-existent after the recession, and grew to 4 percent of sales in 2016, Smith said. It could reach 10 percent this year with the inclusion of more affordable homes that are attractive to millennials in addition to the luxury ones getting built, he said.
Town homes can be built in phases, which means they won't have a lot of inventory at once unlike a stack of condominiums, Smith said. Given there hasn't been a lot of attached units built in the last decade and inventories are down, it's a great time to build, he said.
"It's nowhere near where it was before the recession, but it's coming back," Smith said. "I knew it would eventually as builders started to diversify their product types, which a lot of them had to do because they can't find replacement lots or land at a price to build as many detached homes as they like."
Brian Gordon, a principal at research firm Applied Analysis, said the regulatory environment has shifted in Las Vegas, starting with the 2015 Nevada legislative session related to construction defect litigation. That relief brought more builders back into the town home and condo construction, he said.
Summerlin, which has about 100,000 residents, is an attractive location for all types of town home and condo development because of its amenities. It's home to more than 250 neighborhood and village parks, more than 150 completed miles of trails, nine golf courses, shopping centers, medical and cultural facilities and business parks.
The average price of new homes in Summerlin has centered around $600,000, and the wide range of prices for town homes covers the spectrum of buyers who want to live in the master plan.
"While Summerlin has long been known as a community comprised primarily of single-family homes, today we are welcoming a greater variety of attached housing products that accommodate emerging trends and lifestyles," said Kevin T. Orrock, president, Summerlin. "Homes with smaller footprints and reduced maintenance are equally desired by generations on both ends of the home-buying-spectrum from millennials to empty-nesters and retirees who seek a more experiential lifestyle.
"As a result, we are responding with a growing number of attached homes in all price points. From inception, Summerlin was envisioned as a multigenerational community, and the growing diversity of housing options helps us maintain that goal."
With many homes in the gated community of The Ridges selling in the high $1 million-range and exceeding $2 million, the opportunity to buy into Fairway Hills at much lower prices is generating a lot of interest, according to Gary Mayo, group president of Toll Brothers. The project has views of Bear's Best golf course in addition to the Strip. There will be 129 town homes with most buildings having three units and some having only two. With three units, the buildings have one town home on the first floor and two on the top. They start at 2,210 square feet and increase to nearly 3,300 square feet. All have garages.
"It has all the amenities you have in a home," Mayo said. "They're highly upgraded with large decks, and the location in The Ridges at under $1 million is great. It doesn't exist other than what we have."
Toll Brothers started the project before the recession and had closed 20 units in 2006 until it put the project on hold, Mayo said. It's one of the "best pieces of dirt we own in the company" and decided to wait for the market to recover for the greatest return, he said. It has recovered, and that's reflected in that 40 percent of the buyers are likely to be from out of state, especially from California and Pacific Northwest, he said.
"I think you're seeing a repeat of what we had prior to the recession in a lot of in-migration to Las Vegas," Mayo said. "They're seeing it has matured, and there's a lot of diversity in the economy. There are many drivers bringing in people who may not have come prior. You have a lot in the tech industry, and the medical industry continues to grow. That's fueling demand in all price points."
Some builders are seeing opportunity with older buyers.
Shea Homes is focusing its Summerlin town home project Trilogy to those 55 and older since many want to downsize with their children no longer living with them. There will be 354 town homes with most in the form of duplexes and a small number of triplexes, said Kyle Tibbitts, Shea's general manager in Las Vegas.
More than half will be duplexes side-by-side and vertical ones will have one unit occupying the first and second floor and second unit on the third floor accessed by an elevator.
Construction has started and the models will be completed in early 2018, Tibbitts said. They range from 1,500 to 2,800 square feet and prices start in the mid-$400,000s, and will exceed $700,000 in some cases.
There will be a clubhouse and resort swimming pool and culinary studio among the amenities, Tibbitts said. The project is drawing a lot of interest from local residents, including those who already live in high-end homes in Summerlin.
"When you wake up every day at a resort it's a lot easier to maintain," Tibbitts said. "We find a lot of people are looking for a great lifestyle and not have to worry about home maintenance. They want to spend their Saturday enjoying life than maintaining their lawn. They want to be able to travel on a whim and not worry about their house."
At lower price points, William Lyon Homes is building Affinity, 485 units in four communities on Charleston Boulevard at the 215 Beltway. It includes the most affordable at the mid-$200,000s to the high $400,000s, according to Kim Chitwood, vice president of sales and marketing. They range in size from about 900 square feet to about 2,500 square feet.
CalAtlantic's Santa Rosa town home development off the Far Hills exit of the 215 Beltway in the Paseos village has units priced from under $300,000 to more than $400,000. It's part of the company's strategy that made it one of the top two town home builders in Las Vegas during the last five years, according to Dana Rogers, the division president for Las Vegas. The project is a nod to Summerlin's intent to have more affordable housing in the master plan, he said.
"Summerlin hasn't done this is quite a while," Rogers said. "If you're trying to find a single-family new home in the $300,000s in Summerlin, you can't find them. There's a market for it."
The units feel like single-family homes and just because it's at a lower priced point than traditionally seen in Summerlin, it has an upscale feel, Rogers said.
Some town homes have balconies and optional rooftop decks, and there's plenty of amenities that make it attractive such as an outdoor cabana with television homeowners can program with their phone. At the center of the village is the 12-acre Paseos Park with walking trails, play areas, basketball courts, and picnic ramadas.