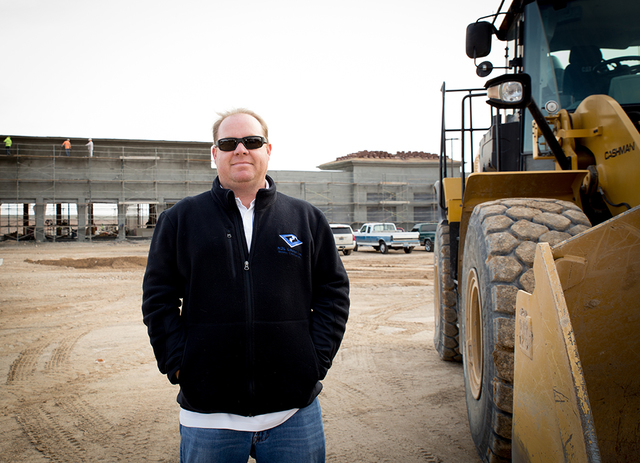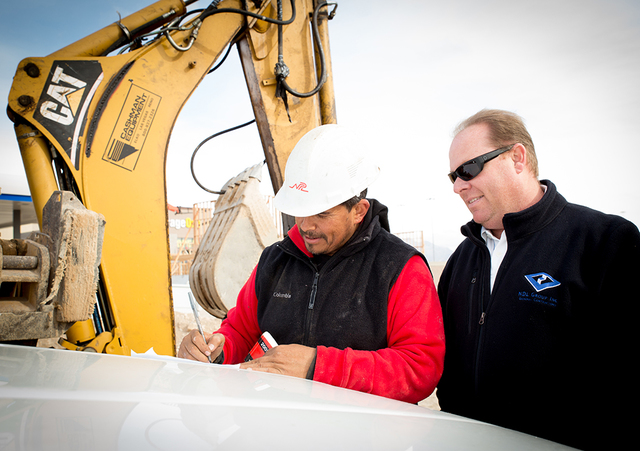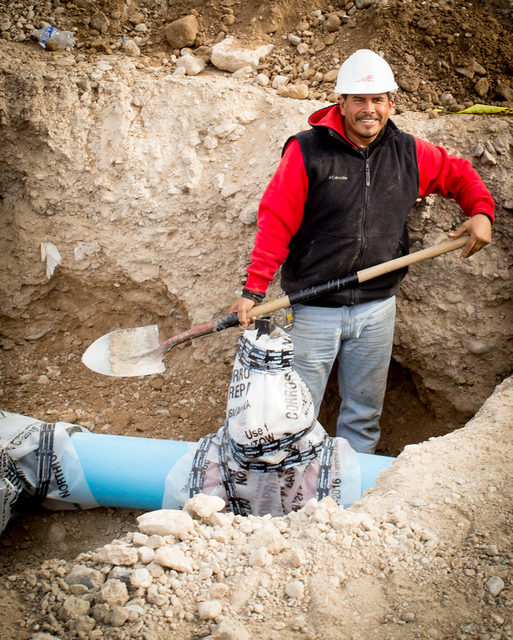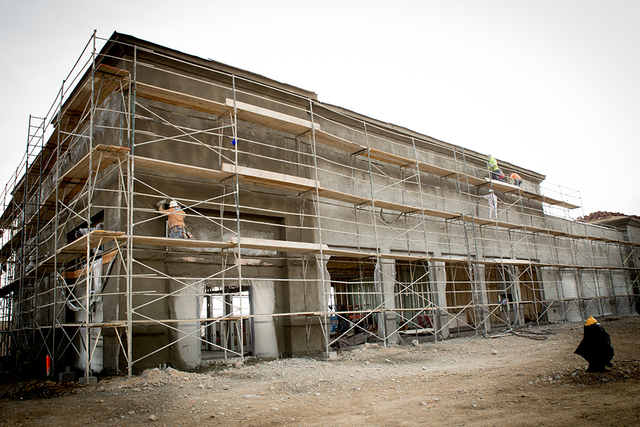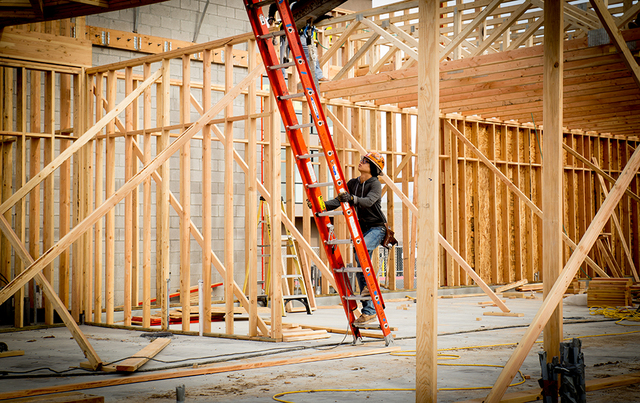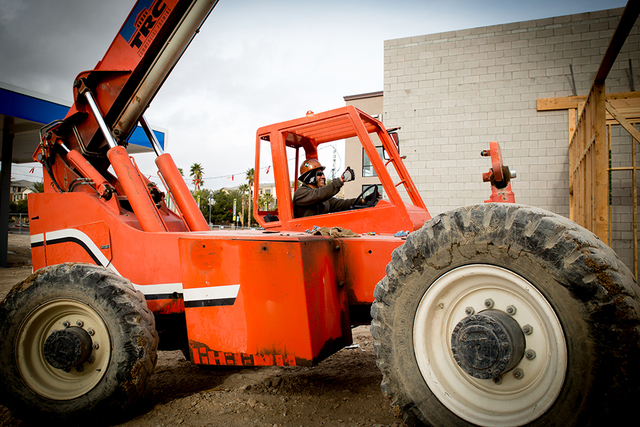 Residential and some sectors of the nonresidential construction markets have been heating up over the past several quarters in the Las Vegas Valley, leading to a greater need for qualified workers. But some local firms and homebuilders are reporting a dry spell in available workers needed to fill some of the new positions.
"Not only is it difficult to get people to send in resumes, it's even more difficult to find qualified people," said Nathan Schweigart, president of Las Vegas-based NDL Group Inc., a general contracting and consulting firm. "About 90 percent of the resumes NDL receives, the workers aren't qualified for some of the positions."
One of the reasons for the plunge in available workers has been the length of the time that has passed since the boom years. Schweigart said anybody who was qualified to do high-skilled work moved out after things got tough in Las Vegas.
"Your superintendent that could do site building and out-of-the-ground building — those guys can get jobs anywhere, so they left with their family," he said.
At the valley's height, the number of construction workers employed sat at about 110,000, said Stephen Miller, director of the University of Nevada, Las Vegas Center for Business and Economic Research.
Miller said we are at about 60,000 construction workers in the valley today. Comparably, that number has risen from a low of 34,800 workers in early 2012, according to data from Colliers International Las Vegas.
Commercial construction and homebuilding on rise
Some of the boost in construction employment has been from the rise in commercial projects, which NDL focuses on, around the valley.
"I have a year-and-a-half worth of backlog," Schweigart said. "Turning the year with almost your whole next year filled with work, that's something that hasn't happened in eight to 10 years."
Increases have predominately come from the industrial sector in the past several years. Completed construction projects in the industrial sector sat at more than 1.1 million square feet in 2014, which included build-to-suit and spec development, according to Colliers International Las Vegas.
That completion rate nearly doubled in 2015. And 2.4 million square feet of industrial space was completed in the first three quarters of 2016, with much of it speculative space, according to Colliers International Las Vegas' third quarter industrial report.
Construction expected to continue
"All the market indicators point to an industrial market that will continue to prosper in 2017," said John Restrepo, principal at RCG Economics. "While we had concerns about a tightening market that could lead to space shortages, rising rents and land prices, the market has responded with 4.8 million square feet currently under construction and 7.4 million square feet currently in the planning stages for 2017 and beyond."
Miller agreed there was a shortage in the industrial sector, with its low vacancy rate. As of the third quarter, vacancy in the industrial sector sat at 5.2 percent, Colliers International Las Vegas data showed.
Compared to industrial, the office and retail sectors have been less active. The vacancy rate for office was 17.1 percent in the third quarter, according to Colliers. This was an improvement over the third quarter of 2015, when vacancy was at 18.2 percent.
The retail market had a vacancy rate of 8.6 percent in the third quarter, also a drop of about 1 percent over the same time in 2015, Colliers data show.
One of the largest projects in the retail sector was the more than 350,000-square-foot Ikea project in the southwest.
There are some larger office projects in the pipeline. Just up the road in Summerlin, Howard Hughes Corp. announced plans to raise a 152,000-square-foot-plus, six-story office building in Downtown Summerlin. Other build-to-suit office projects were announced in 2016, including Credit One Bank's 152,000-square-foot office building in the southwest and the Greater Las Vegas Association of Realtor's planned 40,000-square-foot headquarters near S. Rainbow Boulevard and the 215 Beltway.
CONSTRUCTION Labor shortage extends to homebuilding
There also has been an increase in the number of new homes going up around the valley, leading to similar worker shortages as the commercial builders.
"When the economic downturn happened in 2008, a lot of people moved out of town," said Frank Wyatt, president at Pinnacle Homes Inc. "A lot of labor that we had, that built our houses, is gone."
At the bottom in 2011, there were 3,732 building permits pulled for new homes, according to Home Builders Research.
That number moved up to 8,544 permits in 2016, though it still fell below the valley's 2004 peak of more than 32,000 permits.
Filling the void
Matthew Walker, director of government affairs at Southern Nevada Home Builders Association, said it's also a generational divide that's causing a shortage.
"People are growing up with their tablet, and the idea of getting out there with a hammer and nails or getting behind a shovel is foreign to them," Wyatt said.
In 2013, the National Association of Homebuilders reported data from the U.S. Census Bureau, showing the average age of construction workers at 42, slightly higher than the average age for all workers in the U.S., 41.
To resolve some of the low interest, the SNHBA is looking to partner with the Clark County School District on programs for high school students.
"They (younger generation) need to be introduced," Walker said. "They're (the younger generation are) not going to come by (it) naturally, so we're really excited for that potential of growing that workforce here in town."
Schweigart also has turned to education initiatives in a different form. He currently has some younger workers in training to be superintendents. The move does come with potential consequences.
"What happens if within the next year, I spend all my time training these two younger guys, and they start to get it?" Schweigart said. "Let's say right now they're making $52,000 a year. Let's say by the end of the year, they're making $65,000. What's stops somebody from offering that young kid $80,000? I spent the last year and a half training him, and then he leaves. It happens."
Schweigart said he's used some other methods, including posting ads on LinkedIn, Indeed.com and in newspapers in other states, including California and Arizona. Other than those efforts, Schweigart said he poaches from other employers, a common practice, he said.
Big projects draw qualified workers
The one thing that's been slow to move is some of the larger projects around the valley. This includes Faraday Future, the stadium project, Resorts World and action on the Fontainebleau property.
Schweigart doesn't see workers heading back to the valley until there are more projects of that size coming to fruition.
"Until our market here shows significant time — that it's not just going to be six months of work or a year of work — then they're back into the same situation, I don't think we're going to get the really good, qualified folks back," Schweigart said.
Mandy Wilkins, executive vice president at the Mechanical Contractors Association of Las Vegas, said about 50 percent of union workers are still sitting on the sidelines, as those union workers aren't allowed to work for nonunion contractors. But some have found ways to survive by taking advantage of work in other parts of the country.
"They're traveling, as the term is," Wilkins said. "There is work in other places."
Wilkins said one hot spot lately has been in Northern Nevada with the Tesla Gigafactory.
"In the last year and a half, I've had three contractors open their door in the north, really trying to capitalize on some of that work," Wilkins said.