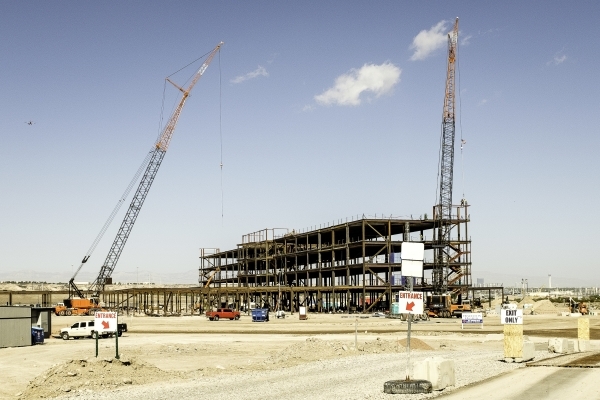 Las Vegas' residential and nonresidential building sectors are on the move, according to a report released by a construction analysis company at the end of September.
Dodge Data and Analytics, a provider of data, analytics, news and intelligence solutions for the North American construction industry, reported residential and nonresidential construction starts in the Las Vegas region are up more than 25 percent from September, 2015.
Ken Simons, chief economist for The Associated General Contractors of America, said there are numerous types of nonresidential projects happening around the Valley.
On the residential side, Simons said the population is growing but warned that it might not be growing fast enough to absorb the excess housing built in the last decade.
The residential construction sector is also a changing game.
According to Anirban Basu, chief economist at Associated Builders and Contractors, a national construction industry trade association, much of the residential sector recovery has come from an increase in multi-family projects and a decline in home ownership was apparent. But the tables are turning.
"We are now beginning to observe more interest in purchasing single family homes," said Basu. "Sales volumes are up in much of the country; prices are up in much of the country."
According to Dodge Data's report, residential projects are ahead of the commercial numbers for the year—residential saw a 29 percent rise while commercial's gain was 25 percent.
With residential construction and home buying being one of the key drivers of the U.S. economy, Basu said he suspects that's one of the factors that the Fed used in deciding whether or not to increase short-term interest rates. Basu also said there likely won't be a rise in rates in 2016.
Las Vegas is on the rise again, according to Basu.
Basu explained the local housing market's collapse stemmed in large part from the loss of a certain sector: buyers who were looking for second or third homes, which took a huge hit during the downturn.
He said Las Vegas is once again becoming a place to own a second or third home and a retirement destination.
The Strip is also on the move, according to Basu.
"The leisure and hospitality segment of the U.S. economy is back," said Basu. "It's one of the strongest growth segments of the U.S. economy."
Mandi Wilkins, executive vice president of the Mechanical Contractors Association of Las Vegas, agrees there has been a rise in recent construction work in Las Vegas. MCA Las Vegas' members do sheet metal and mechanical work on nonresidential projects.
Wilkins attributes the increase in construction numbers over the past year to the start of MGM's stadium project and an increase in starts on stalled projects that smaller casinos put to the side during the economic downturn.
Though there have been increases and hope remains that there will be a return to the high times Vegas has had in the past, Wilkins paints a different picture for the future. It's a less optimistic picture, although she hopes she's wrong about her predictions.
"We will continue to see about this amount of work," said Wilkins. "This is our new norm."
*****
Pardee joins Skye Canyon
Skye Canyon, a 1,700-acre master-planned community in Northwest Las Vegas, has named Pardee Homes as the final builder to round out phase one of the development.
Pardee Homes joins Century Communities, Pulte Homes and Woodside Homes.
Olympia Cos., developer of Skye Canyon, has begun meeting with prospective homebuilders for parcel selection in phase two.
Pardee is set to break ground in early 2016 on a total of 190 single-family home sites with floor plans ranging in size from 2,500 to 3,500-square-feet, with up to four bedrooms and four baths with three-bay garages. Select homes will offer an optional second-floor space to accommodate loft, bedroom and bath design options, in addition to Pardee's exclusive GenSmart Suite for multi-generational living.
"Skye Canyon is a unique lifestyle driven opportunity in Las Vegas," Dan Hale, vice president of Pardee Homes, said in a statement. "Its location near the valley's pristine outdoor recreation areas surrounding Mt. Charleston and Red Rock Canyon, and its amenities, make this the perfect community for those who value healthy and vibrant living."
Pardee Homes, a member of the TRI Pointe Group, has built homes and communities for nearly 50,000 families in the Las Vegas Valley since 1952.
"Pardee, along with our other builders, will take our vision of building the next generation master planned community and enhance it with their excellent home offerings," Garry Goett, chairman and CEO of Olympia Companies, said in a statement. "We hope to continue with this momentum by choosing homebuilder partners for phase two of the development that match the caliber of excellence of homebuilders in our first phase."
Skye Canyon is the vision of Olympia Cos., developer of Southern Highlands, along with Stonehill Capital Management and Spectrum Group Management LLC.
At completion, the community will offer 9,000 homes from entry-level to move-up and luxury, along with a gaming location and various retail locations. Amenities include designated bike lanes, hiking and biking trails, a 9,663-square-foot fitness facility and Skye Center, which will include a juice bar, coffee shop, open-air cantina and wine bar, outdoor patio, fireplace and fire pits.
For more information about Skye Canyon, visit www.skyecanyon.com.