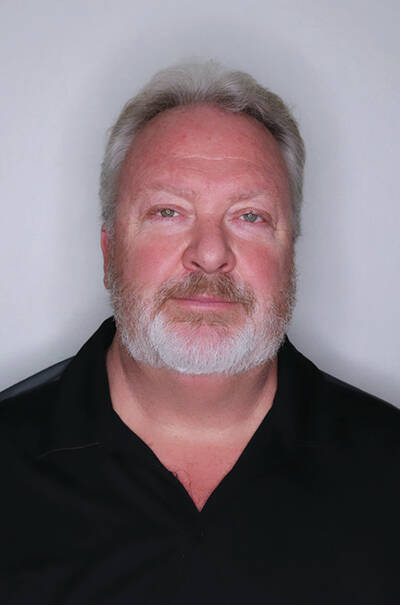 Chad Van Buskirk has had the construction bug in his blood since high school, and he's passed that love onto his children.
The 59-year-old who works for Shea Homes won the Silver Nugget for Construction Superintendent of the Year.
Van Buskirk oversees Shea's Trilogy project, a 354-unit condominium project in Summerlin for those 55 and older. So far, 175 units have been completed of the three-story duplexes that go for more than $1 million.
Van Buskirk has always loved to build and enjoyed his shop classes starting his junior year at Vo Tech High School where he learned to weld, frame and detail. He even built cedar chests for people as a teen.
He took the initiative during his high school years and went to work after school pushing a broom at construction sites. He once asked a superintendent what it would take to move up the ladder in the industry and get his job.
"He said keep working and work hard, and that's exactly what I did," Van Buskirk said. "I didn't want to be the guy that kept pushing the broom. I wanted to be the guy walking around pointing things out and getting things done."
Van Buskirk has done that and more. He's more than just pointing things out, however. Even as superintendent, he's chipped in, whether it's driving a forklift to give his crew the lumber and other supplies they need or some touch-up stucco work and painting and other tasks as well. It's hard to tell someone to do something if you don't know how to do it yourself, he said.
"I've done every trade work there is, and I will be the first one to carry something," Van Buskirk said. "Some superintendents want to yell and scream and point their fingers, but if I can help you get your job done, I look better."
After going to work in construction full time after high school, Van Buskirk worked his way up to assistant superintendent, superintendent, project superintendent and project manager. His first job was with Pacific Southwest Development working as a customer service director before moving up to assistant superintendent and a superintendent building semi-custom homes in the southwest valley. By the end of the 1980s, Van Buskirk had moved on to Pinnacle Homes as a project superintendent for the homebuilder.
When the Great Recession hit, Van Buskirk was like many in the industry who was laid off and found it difficult to get a position in the industry at the time. Instead, he went back to his roots and did remodel work and got so busy, getting laid off had no impact on him. As the economy and housing market recovered, Van Buskirk got a call to be a project superintendent for Christopher Homes and worked on its luxury town home project Vu in MacDonald Highlands. More than two years ago, he got a call from Shea Home to oversee their Trilogy project, a position which includes overseeing other superintendents.
A lot has changed during his career since Van Buskirk started in his oversight role. There's a lot more inspections for safety reasons. In Summerlin, there's a requirement for fire suppression built into the project, which he said is a good thing because large fires are now rare.
The pandemic continues to affect supplies of everything from paint and drywall to cabinets and air-conditioning units that can delay construction for three to four months. That's a temporary problem.
The long-term problem is the dwindling construction workforce that was worsened by retirements and the Great Recession. It's even difficult to get subcontractors for projects nowadays, Van Buskirk said.
"Our labor force here in Nevada has been hit hard," Van Buskirk said. "The old days of calling them up and telling them I need them to start this electrical work, today, and that they would be right out, are gone. Everybody has a time frame."
The problem is fewer young people look to construction as a career as Van Buskirk did in high school. It's a shame because it can be a great career for young people in which they advance quickly and make good money to support a family, he said. They can start at jobs earning $45,000 a year and get raises as they advance and earn another $10,000 in six months. Foremans earn $75,000 a year.
"That is the downfall in construction now," Van Buskirk said. "We can't get anybody who wants to learn how to do a trade. That's for all construction across the board. It's sad what we are dealing with."
The problem is not everyone wants to work outside or wants instant gratification, Van Buskirk said. It's hard work and you sweat.
"I think we need to go back and implement trades more in high school," Van Buskirk said. "You can make a good living but most people don't want to start at the bottom. Everybody wants to start at the top."
Van Buskirk met his wife, Barbara, in high school, and they had three children, two of which work in construction.
His son, David, works for a grading contractor driving heavy machinery — something he told his dad he would do when he was 8 when he was out on the job site with him driving a loader. Daniel is a superintendent on commercial properties. The youngest son Dallin is a Las Vegas Metropolitian Police officer.
As for Van Buskirk, he said he's glad of his career choice. Construction was all he knew and couldn't imagine any other life. He said he's always got satisfaction out of building something.
"I love it because I can drive through the valley and tell you what communities I built," Van Burkirk said. "There's a satisfaction of once a home is finished, that I built it. I like seeing the finished project. You're taking it from a slab of dirt to a home someone is going to live in for a long time."