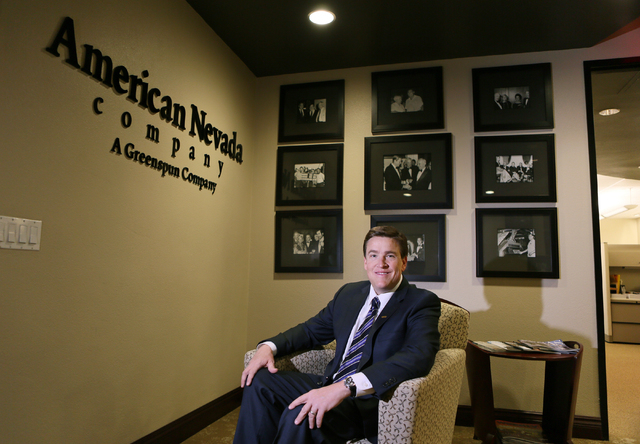 American Nevada Co., the entity that brought the first master-planned community to Southern Nevada, had some harrowing days dealing with the Great Recession and Zappos' exit from Henderson.
But an improving economy, and a full-court press that landed a new call center, have stabilized the commercial landlord's holdings and with it one of Henderson's key corporate neighborhoods.
American Nevada owns the Pebble Marketplace and Green Valley Corporate Center; part of the Green Valley Ranch development in Henderson that extends north of the 215 Beltway on Green Valley Parkway. The company developed The District at Green Valley Ranch but has since sold it.
Charles Van Geel, vice president of leasing and sales for American Nevada and president of NAIOP, said the company's quick actions saved it from what could have been a major disaster when tenant Zappos.com decided to head for downtown Las Vegas.
"Three or four years ago, when Tony Hsieh stood on the steps of City Hall and announced to the world they were relocating Zappos.com from Green Valley to downtown, boy, I can tell you as their landlord, our heart stopped," Van Geel said. "They were vacating three buildings, 150,000 square feet, in the deepest part of the recession. We couldn't help but be quite a bit concerned, but when they made the announcement, we were very proactive."
American Nevada then began a public relations and marketing campaign to lure call centers to the space.
"We attacked the call center industry," Van Geel said. "We went after all the site selectors and brokers who target call centers, and reminded them on a regular basis of these three buildings, and shortly after, we were introduced to Barclaycard who is now leasing 120,000 square feet of what Zappos was leasing."
Barclaycard US leased 2280 and 2290 Corporate Circle, and moved in during December. ITT Technical School took another 25,000 square feet.
"We were very fortunate that we were able to backfill Zappos space so quickly because of our location," Van Geel explained. "Green Valley and Green Valley Ranch is one of the most desirable areas not only to live, but to do business. This intersection of Green Valley and I-215 … is defined by a lot of the business community as a central business district. It wasn't defined that way by the planners of Green Valley back in 1978, but it sure turned out that way."
The Green Valley Corporate Center now has "some amazing publicly traded companies doing business here" Van Geel said. "Toyota, Wells Fargo, AAA."
Henderson Chamber of Commerce CEO Scott Muelrath praised the company's strategy.
"Thankfully Charles and his team have been able to re-tenant and push that project forward into a real high-profile complex," he said.
"From a Chamber perspective, we have seen some significant businesses come into that project that have in turn joined up with the Henderson Chamber as well … noteworthy names," he said, mentioning Barrick Gold, HighTower Advisors, and Trish Nash Realty.
The center consists of 1.1 million square feet of office and commercial space on 90 acres at the northwest corner of Green Valley Parkway and the 215 Beltway. It is almost fully developed, but there are a few commercial pads unsold in Green Valley Ranch, Van Geel said. One is a two-acre parcel that fronts the beltway, north of The District. The others are in Corporate Center South.
American Nevada's older master-planned Green Valley Town Center, on Sunset Road east of Green Valley Parkway, has struggled to remain viable, but is faring better.
In a space abandoned by the United Artists theater, which was plagued by outdated technology, the Galaxy Luxury Theatre moved in and invested in substantial improvements that appear to be paying off, Van Geel said. The theater has brought new vitality to tenants like Todd's Unique Dining, Coyote Cantina, and the Olive Garden, and it won "Best Theater" award in the Las Vegas Review-Journal's Best of Las Vegas this year.
"They have a unique theater concept that has been very successful," Muelrath said. "When you have an attraction like that, the ripple effect to the surrounding businesses is significant and I think they're seeing some of that revitalization as well because of the theater."
But the developer is struggling to find tenants to backfill vacant spots around the old fountain area, formerly occupied by specialty shops and small restaurants.
"The theater is a wonderful anchor in that it draws a tremendous amount of traffic, but they're a destination, in that people show up, see a movie, and then drive away," Van Geel said.
Barley's Casino and Smith's supermarket, both original tenants of the center, are doing well, Van Geel said, and Smiths will be adding a gas station to the center soon.
"(That) means that Smith's sees that as a location where they're willing to make a substantial investment of hundreds of thousands, if not a million dollars in that center, so that bodes well," he said.