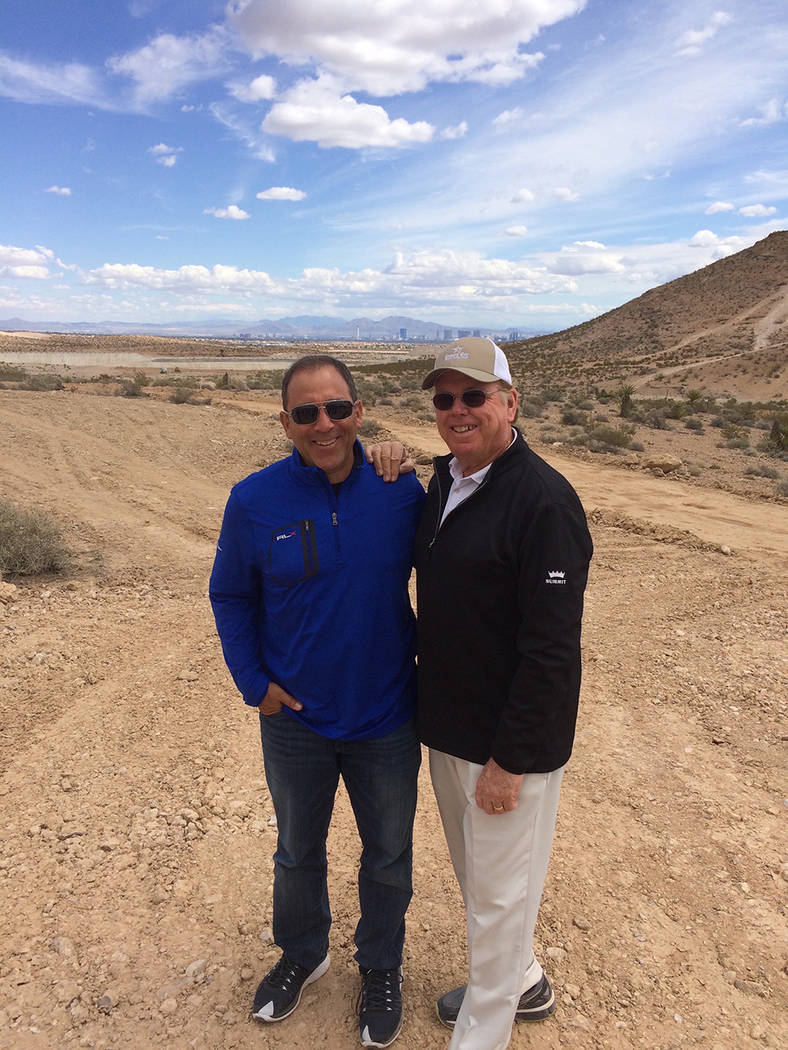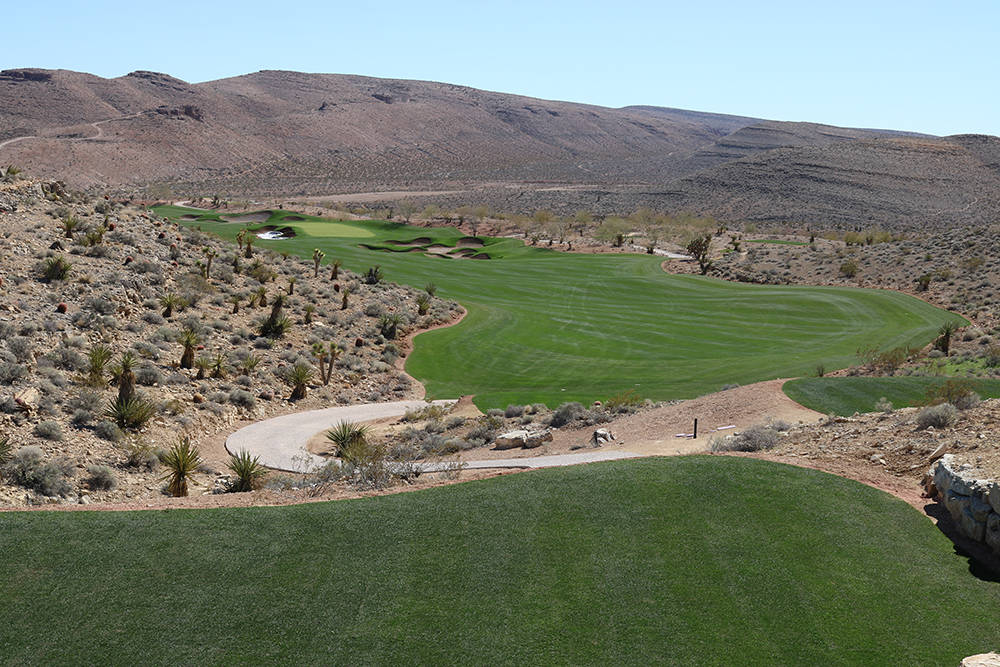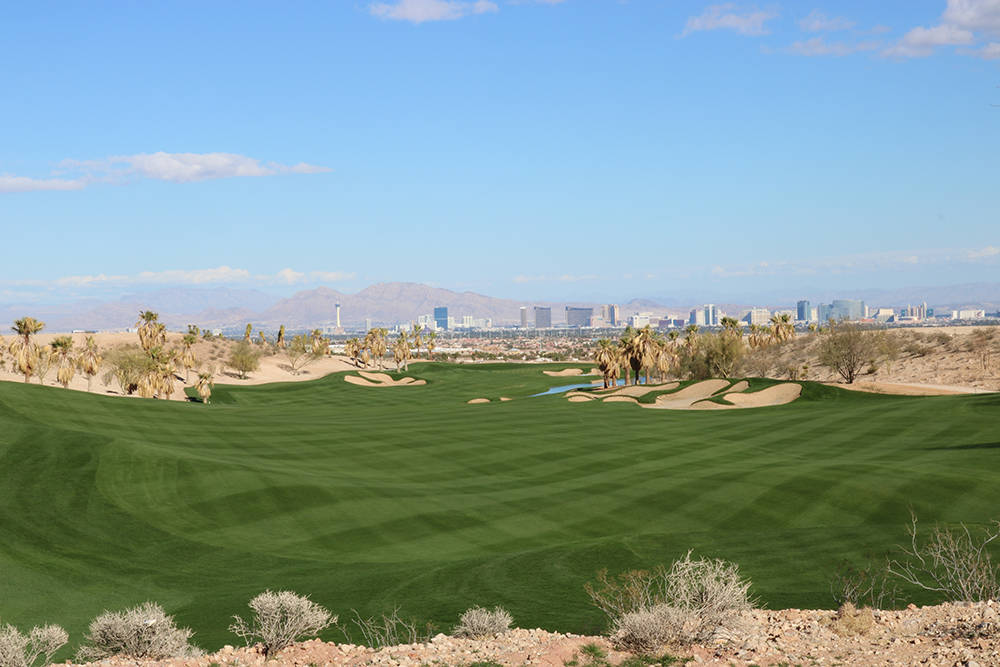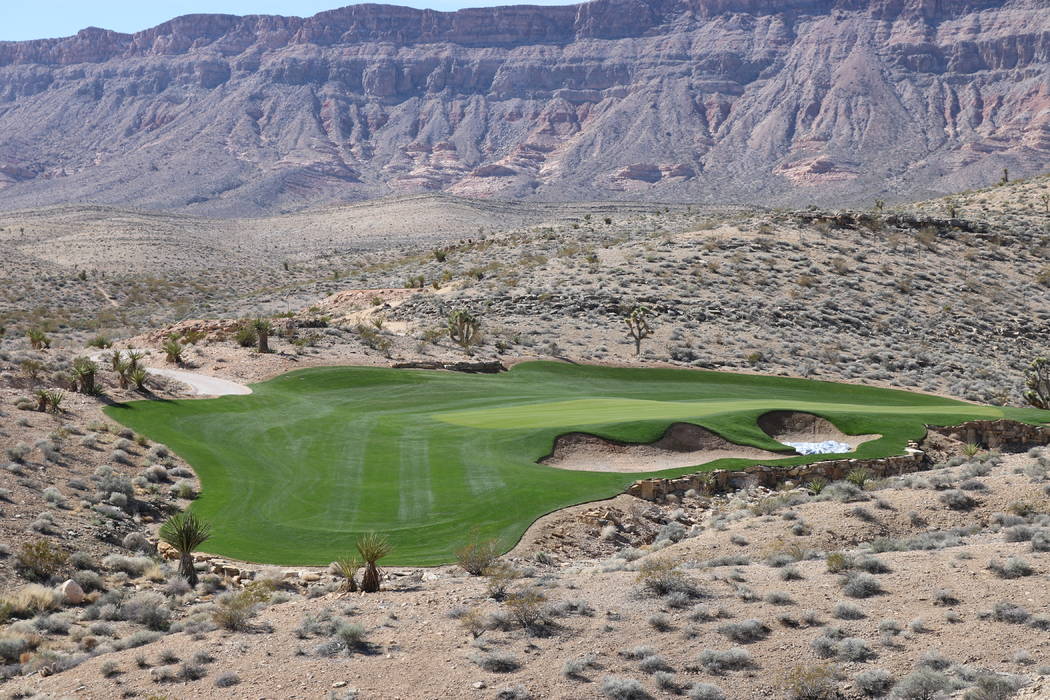 With the championship golf course complete and ready to open in April, the focus on Las Vegas' ultra-high-end luxury resort community will now turn to the construction of multimillion-dollar homes.
Foundation work has started on three homes, streets are being paved and home construction is expected to begin this summer at The Summit Club in Summerlin, a joint venture between Discovery Land Co. and Howard Hughes Corp. Between the golf course, clubhouse and other facilities, it's expected to cost $350 million for the 555-acre development.
Some 83 of the 146 custom lots at The Summit Club have been sold with an average price that exceeds $3 million, according to Tony Renaud, the vice president of sales and marketing. Lots with Strip views can cost $5 million to $8 million, and the highest-priced lot with views of the Strip and Red Rock Canyon costs $10 million.
The homes, which the owners will custom-build, are expected to range between 8,000 to 20,000 square feet. They will cost somewhere between $500 and $800 per square foot, meaning some homes will cost more than $10 million to build.
The homes will be situated on ridges between 15 and 40 feet above the golf course and will not be in the path of golf balls, Renaud said. The building heights are limited to 28 feet for two stories and 22 feet for a single-story to preserve the views, whether it's Red Rock Canyon to the west or the Las Vegas Strip to the east. The development sits at an elevation between 2,800 and 3,100 feet.
In addition to the custom-home construction, buyers have the option to buy among 84 bungalows and cottages that range between 3,200 and 5,300 square feet and are about a five-minute walk from the clubhouse. So far 22 of those units have been reserved, Renaud said.
"We will build as we sell, and it's to give somebody who doesn't want to go through the whole architectural process," Renaud said. "It's sort of a turnkey deal. It's semi-custom because you will be selecting all of the finishes and fixtures."
The costs start around $3.5 million and go as high as $7 million to $8 million, Renaud said.
Construction on the $90 million clubhouse, which has the highest elevation on the property at 3,100 feet and thus the most sweeping views, will start during the second quarter and take 22 months to complete.
The second floor of the clubhouse includes 32 condominium suites, which will range from a one-bedroom unit at 1,200 square feet to a four-bedroom condo that measures as large as 3,500 square feet. Ten of the 32 suites have been reserved and will range in price between $2.5 million and $10 million, Renaud said.
"This is for someone who is looking to come in for a week at a time and lock and go," Renaud said.
There's a lot of interest from people who will live there full time, Renaud said. Some 85 percent of the buyers are local, and many already live in nearby Summerlin developments.
California, Washington and Oregon are the top states for buyers from outside of Nevada.
"I thought maybe 50 to 60 percent would be local, but it comes down to two things," Renaud said. "Security is No. 1, the biggest reason that appeals to them, and the exclusivity and privacy are prominent. If you look at the facilities, there are no truly private courses in Las Vegas. Everything else is semi-private where they allow outside play or unaccompanied play, which we don't allow at our facility."
Despite the high-caliber golf course, Renaud said 25 percent of the buyers are non-golfers.
The Summit Club also will have restaurants, a fitness center, spa, tennis courts and a kid's camp among its amenities. A temporary fitness center will open until the clubhouse is completed, and tennis courts and pickleball courts will be done prior to the clubhouse, Renaud said.
"Even if you're not a golfer, you want to live in this community if you could afford it," said golf course designer Tom Fazio. "You would say the views are spectacular. For people into golf, it's a great environment. Those who don't play golf would want to live there for security in a guard-gated community with a beautiful clubhouse and social activities a club would have. It will be one of those premier places to live."
There will be more than 50 security staff with many positions filled by former military personnel. In addition to an 8-foot wall, there will be laser fencing and thermal imaging to monitor activity around the property and keep out intruders, Renaud said.
"There will be trained personnel that run this program," Renaud said. "Lasers will tell us if the perimeter is broken and where the intrusion took place. With thermal imaging, no one can hide."
Security is important to buyers because they read the crime reports and are aware of break-ins at homes and want to protect their families, Renaud said.
"We have high-profile people who have their own security, and we would like to negate the necessity to do a large amount of that," Renaud said.
Those high-profile buyers include business executives, especially in the casino industry, Renaud said. There will also be entertainers and athletes that will live there as well, he said.
"It's not a huge percentage but probably a handful of big names," Renaud said. "The whole thing about our club is, there's a strong base of people who want to enjoy the amenity and protect that privacy and exclusivity. They don't mind paying for it, and they police themselves and make sure they treat their neighbors as they expect to be treated. We have a good membership. We really do. It's a good cross-section of people. The buyer for a Discovery property doesn't look at, 'Can I sell this and make this amount of money?' It's a family decision. The club is inclusive with family activities."
There's no dress code or rules because people at that level police themselves, Renaud said. Like other Discovery properties, it's a no-tipping facility to ensure everyone is treated the same by staff, and people don't have to worry about carrying cash with them at every moment. The one exception is tipping for caddies.
Buyers had to put down 15 to 20 percent for their lots. Membership in the course costs $150,000, but that increases to $200,000 when it opens. The dues are $27,000 a year and that will increase to more than $30,000 a year when the clubhouse opens.
The homeowner's association fees are $15,000 a year and are expected to start this summer when streets are paved and security is in place.
The first residents are expected to move in by the first quarter of 2018, but some could be in place by the end of 2017, Renaud said.
It will make about 18 months to sell the rest of the lots and three to five years for the bungalows, Renaud said. The condos will go quickly once the clubhouse is done.
With six owners buying two lots, The Summit Club is expected to have 262 members, Renaud said.