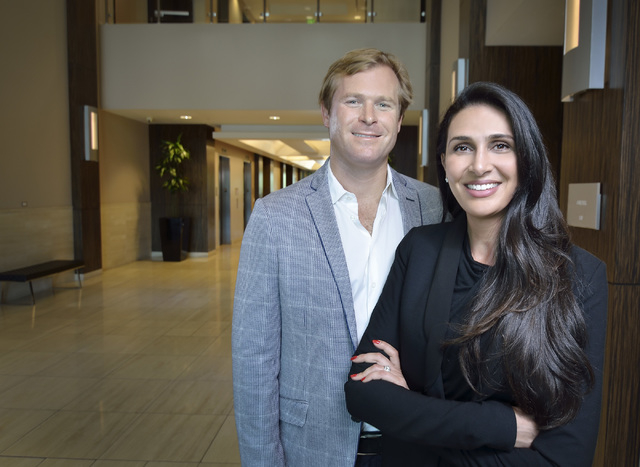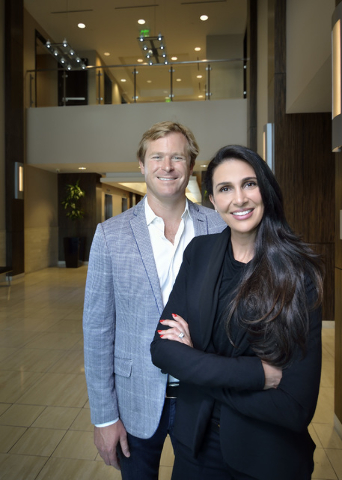 The commercial real estate market in Las Vegas is coming back in a big way from the depths of the Great Recession, and Dornin Investment Group is betting its investments in office space will catch the wave.
Dornin Investment Group, which has offices in Las Vegas and Laguna Beach, Calif., has made several recent purchases of office buildings:
▶ Breakthrough Way, a three-story, 102,052 square-foot office building in Summerlin;
▶ Marnell Corporate Center, which consists of three multitenant buildings with 179,960 square feet of office space near McCarran International Airport;
▶ And Seven Hills Medical Center, which consists of two two-story, 43,000-square-foot medical office buildings.
Chris Dornin, founder and chief executive officer, describes the company as a real estate investment firm that invests in commercial and residential real estate in partnership with a broad base of institutional and private investors. The firm specializes in distressed, opportunistic, value-add and core-plus real estate investments in all major property types throughout the United States with a focus on Arizona, California, Nevada and Texas, according to the company's website.
"We have been bullish on Las Vegas for some time now," Dornin said. "We first started acquiring office property in 2012. Personally, my wife is from Las Vegas, her family is here, and they have established their own business here — BJ's Cocktail Lounge. …
"We started seeing an increase in business there in the gaming industry and the food and beverage industry, and we realized it was a good opportunity to enter the market ahead of the recovery. Las Vegas is really strong now, and Nevada ranks among the top in population growth and job growth. The leisure, hospitality, tourism and gaming industries are improving. Construction is rebounding to pretty strong numbers, and we believe the commercial office market is really poised to see some substantial gains over the next couple of years."
investing at home
Dornin and his wife purchased a residence at the Mandarin Oriental City Center and moved to Las Vegas as full-time residents last year.
In true Las Vegas fashion, Dornin Investment is ready to bet on one of its investments paying off. Dornin paid almost $40 million for the Marnell Corporate Center, and now, the property is for sale.
"We are believers long-term in Las Vegas, but we are also opportunists," Dornin said. "We acquired most of these properties with substantial vacancies with plans to stabilize and lease them up over the next couple of years. We will be exiting some properties over the next 12-36 months to complete our business plan. We are asset-specific, and it all depends on where we see ourselves in that investment cycle and other plans to deploy capital. We are preparing to take some of our properties to market in the next 30 days or so."
Dornin's decision to test the market on the Marnell Corporate Center might pay off big for the investment company.
more room to grow
The Las Vegas office market reported a 23.6 percent vacancy rate at the end of the first quarter of 2015, which represents a decline of 10 base points from the prior quarter, according to an office market report compiled by Voit Real Estate Services, which has an office in Las Vegas. The office market also reported about 113,700 square feet of positive net absorption in the first quarter, which compared favorably to the negative 83,800 square feet of net absorption in the same quarter in 2014.
"Unlike other West Coast locations — Los Angeles, San Francisco Bay Area and the Pacific Northwest — Las Vegas has not reached its peak," said Brad Tecca, managing director of DTZ's office San Diego. DTZ helped Dornin Investments purchase the Marnell property.
"Investors are still seeing Las Vegas as a real value play where the market is still recovering and hasn't reached peak highs. With all the positive things going on in the market — vacancy rates, positive net absorption — investors want to get in while they can still find some value."
In February, the Las Vegas Metropolitan Statistical Area reported an annual job growth of 27,500 positions, including 10,600 jobs in the leisure and hospitality sector and 4,000 jobs in professional and business services, according to the Voit report.
trend expected to continue
That report goes on to say that while it will be some time before office market vacancies reach pre-recession levels, it is likely the vacancy rate will continue to decline in 2015.
"When we entered the market a couple of years ago, it was a little slow, but we knew a turnaround was imminent," Dornin said. "We have seen a substantial pickup in the last six months. New businesses are entering the market, and existing companies are expanding. Many employers have turned the page on layoffs. They are now in growth mode and starting to expand their businesses."
As for Dornin Investments plans for future investments of Las Vegas, Dornin said his company is always analyzing opportunities.