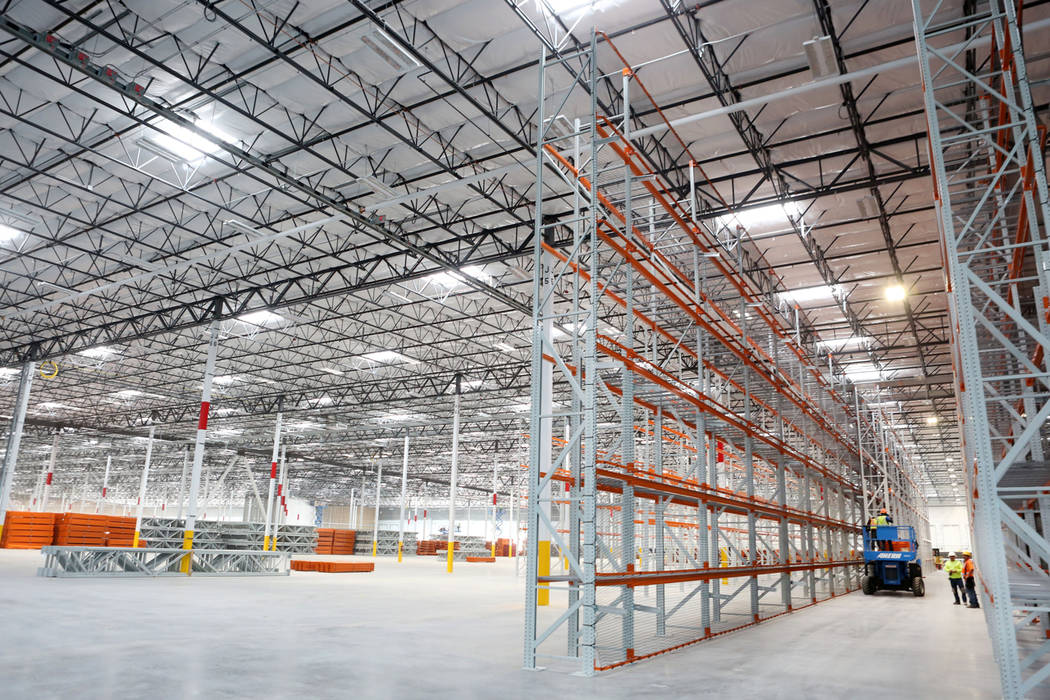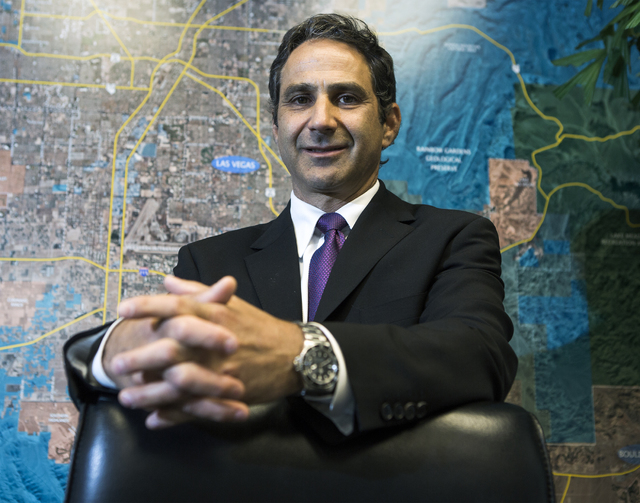 The Las Vegas Valley's industrial real estate market moved strong through the first half of 2017 — following a positive trend in the latest report on e-commerce activity across the nation and in Clark County.
The valley saw roughly 3.7 million square feet in construction completions in the industrial sector through June, according to a report by commercial brokerage CBRE in Las Vegas.
Donna Alderson, senior vice president, advisory and transaction specialist, industrial and logistics at CBRE's Las Vegas office, said the Las Vegas Valley is set to see completions of roughly 8.2 million square feet of industrial space in 2017, which is a record number of completions in a calendar year, Alderson said.
Meanwhile, vacancy rates have continued to stay low: 4.4 percent for the second quarter of 2017, according to CBRE data.
CBRE also reported nearly 3 million square feet of net absorption through the first half of 2017 — roughly 74 percent of the industrial product that just came online.
"We're projected to absorb 6 million square feet (of space) this year, she said.
E-commerce retail sales positive
E-commerce is helping push the growth in industrial real estate in Las Vegas.
"It's really structurally changing the dynamics of the market," said JJ Peck, CBRE's research and marketing manager in the Las Vegas office.
Companies such as Amazon, which worked on developing an 800,000-square-foot warehouse in North Las Vegas, have added to the valley's industrial footprint dramatically.
Other examples are Bed Bath and Beyond's more than 500,000 square feet of industrial space in North Las Vegas and Florida-based Fanatics' 400,000-square-foot building at the Northgate Distribution Center, near Lamb Boulevard and Interstate 15.
In Clark County, taxable sales for nonstore retailers, which includes e-commerce giants like Amazon, grew by 26.9 percent in May 2017 — going from just over $54 million in taxable sales at the end of May 2016 to more than $68.6 million in May 2017.
Industrial market stays strong with major building
Alderson said the valley is not seeing overbuilding in the industrial sector, as vacancy rates remain low in the face of millions of square feet coming online.
Peck doesn't see the low vacancy changing too much, even with the nearly 4.6 million square feet of industrial space that was under construction in the second quarter.
The vacancy rate remained the same in the first and second quarter at 4.4 percent and was lower than the 4.6 percent vacancy rate in the second quarter of 2016, CBRE data show.
Alderson said not having product to show can lead to potential clients looking elsewhere.
"It's a big problem if you don't have product to provide to the demand that you're seeing," she said. "We're optimistic and very pleased that we're seeing product added to the market and we are seeing it being absorbed in a very healthy manner."
Lease rates in the industrial market could remain high.
"As the vacancy continues to remain low, and the demand remains strong, we're probably going to see lease rates go up — probably not to the level that we saw prior to the recession, but we're going to see more healthy growth," Peck said.
Jay Heller, the 2017 president of NAIOP, agreed.
"I think overall, it just depends on the overall occupancy.
The actual lease rates moved up 15 percent in the second quarter of 2017 over the second quarter of 2016. According to data from CBRE, actual lease rates in 2016 in the valley were 52 cents a square foot, moving up to 60 cents a square foot in the second quarter of 2017.
Asking rates were down by 5 percent in the second quarter of 2017 at 58 cents a square foot from 61 cents a square foot from the same time last year, according to CBRE data.
Smaller users also keep up strong numbers in the valley
Bigger product is not the only space in demand in the local industrial market. Heller is developing a 70,000-square-foot space on Sunset and Torrey Pines roads, just behind the new UFC headquarters.
Overall occupancy has been high, which was the catalyst for bringing the new space into the market.
Heller said he's still in the planning stages on the space that will be divisible down to about 1,400 to 1,500 square feet, he said.
A second-quarter report by Xceligent showed space under 250,000 square feet, and also removed single-tenant users in builds over 100,000 square feet, had a vacancy rate of 5 percent in the second quarter.
Comparably, Xceligent's vacancy rate for the entire market in the second quarter sat at 6 percent.
Tina Hickman, Xceligent director of analytics, Las Vegas, said the group has tracked 4.5 million square feet of industrial space smaller than 250,000 square feet and multitenant buildings larger than 100,000 square feet in the first quarter of 2016 through the second quarter of 2017. Only 48 percent of that space is available today, she said.
Smaller space users are mostly local tenants .
"We're not seeing a ton of tenants coming from out of state for the small spaces," she said.
Locally, recreational marijuana users could become a great addition for industrial real estate in the smaller space category.
"My interest is kind of waning toward what we're going to see now that marijuana has been legalized and what kind of distribution facilities we're going to start seeing popping up," Hickman said.
These users usually go for the smaller space, from 5,000 to 30,000 square feet, she said.
Hickman compared Nevada's market to Colorado. In that state, the market was oversaturated within a couple years and has slowed down since.
But the region's inventory is still tight because of the local expansion, and Hickman is looking for a similar trend in Nevada.