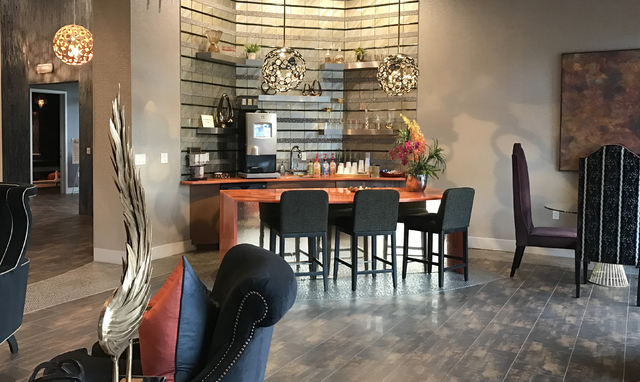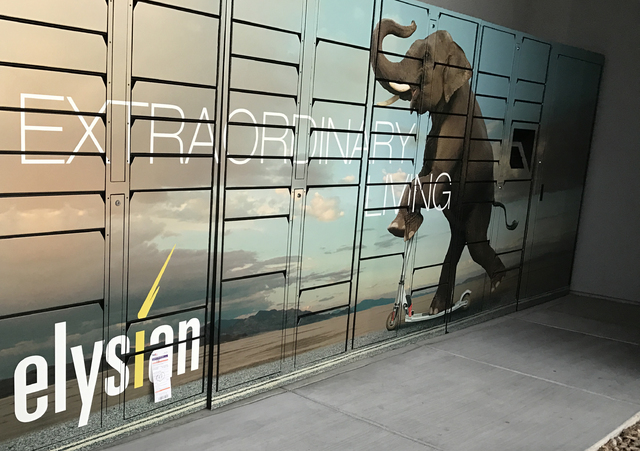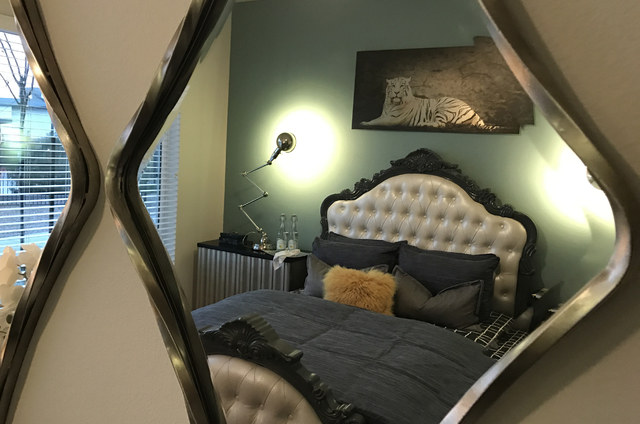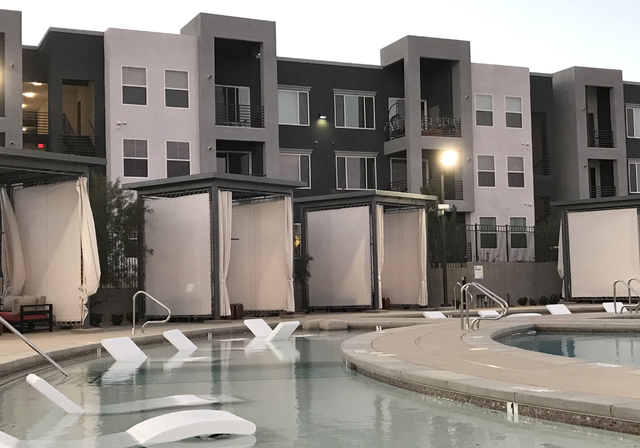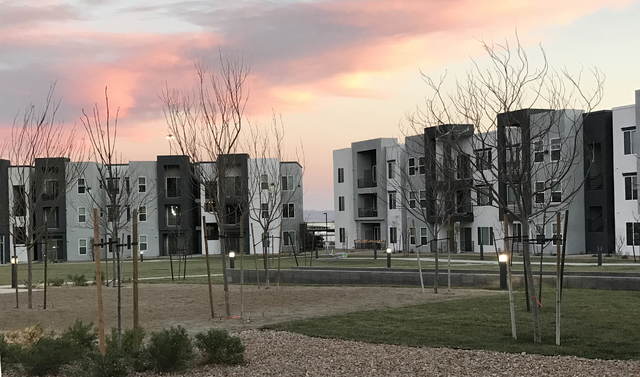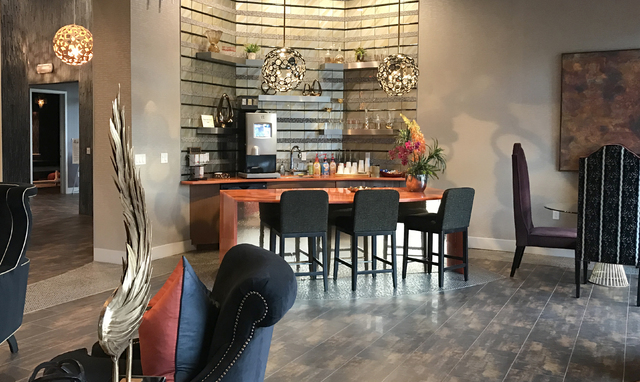 The expanse of structures that comprise Elysian West created a stark geometric pattern in shades of gray against the winter sky at sunset.
Only a few residents were visible, traversing the large, grassy common areas between the units and clubhouse. On this late afternoon, the grounds took on a feeling of hibernation, but this perception was deceiving. Elysian West — emblematic of the city's residential building surge — is buzzing.
"We are currently 72 percent occupied," reported Alysha Daicy, marketing and lifestyle director for the property, which contains 422 units with one, two and three bedrooms. Nine- to 18-month leases are available and range from $900 to $2,000 monthly.
The valley's seven Elysian properties are part of Las Vegas-based Calida Group, which was founded by Eric Cohen and Douglas Eisner in 2007. Calida operates about 12,000 units and offices in more than 40 properties in Nevada, California and Florida.
Along with Elysian West, which opened in May, the company operates Elysian Southern Highlands, Constellation in Summerlin and Stonelake and The District in Henderson.
Touch of luxury
The Elysian model is predicated on the idea of providing a higher level of accommodation than its competitors, including wood flooring, quartz countertops and built-in wireless speakers in many units.
"We try to make it as elegant and inviting as possible," Daicy said. "From our clubhouse and common areas to the apartment homes, individually."
The clubhouse's interior design — by Calida Sudios operated by Eric Cohen, who is Calida's co-founder and managing partner — is modern and elegant, punctuated by quirky touches, including a floor lamp in the shape of a nearly lifesize horse and a central column surrounded by illuminated strands of ice-like beads. The property features a children's room, coffee station and a 24-hour fitness center with a studio cycle room and yoga and Pilates equipment.
"Our aesthetic is more pleasing to residents looking for long-term rentals," Daicy said. "A lot of times when you are in apartment homes, (you) might be in and then out in a few years. But we would rather this be a home you want to live in for several years. So we have created more of a home feel than an apartment feel."
Elysian also offers luxury of another sort.
"For all of our properties, we use Valet Waste, which is a company that comes in and grabs trash for our residents," Daicy said. "So (residents) get containers for trash and recycling, set them outside their door five nights a week. Valet Waste comes in and collects it, so residents don't have to worry about going up and down the stairs."
Mass appeal
Elysian properties are designed to create a wide demographic base from which to draw prospective renters, according to Daicy.
"We cater to anyone from an 18-year-old who is getting her first apartment to someone who is coming out of a home for 20 years and is looking to not worry about maintenance, yard care and all that."
Accommodation variations among Elysian properties include overall size and levels of occupant density and the availability of townhomes and loft spaces to fit specific renter demands.
Pet Friendly
A welcoming policy toward pet owners is another element Daicy says is attractive to many potential renters.
"Dogs (and cats) are allowed and we don't have any weight limits, which is a difficulty when you are searching for an apartment home with a pet," she said.
"Instead of having to go get a home with a yard, this is a great alternative. We realize that many of our potential residents have pets and enjoy that sort of a lifestyle, so we wanted to make it more convenient, where living in an apartment home is actually a luxury for them as well."
The site also includes a half-acre fenced dog park, which Daicy says has proven to be a very popular feature.
Many rental apartments choose to forbid or severely restrict pet ownership, due to potential property damage, droppings on the grounds and noise issues. "But our developers are very pet-friendly," Daicy said. "We are all pet lovers ourselves and wanted to be the alternative."
Growing with the market
When the effects of the recent recession began in 2008, local population growth slowed and building projects came to a halt, some in mid-construction.
But 2016 saw a flurry of residential construction that is expected to continue.
"Over 7,000 (units) are planned this year, but 3,000 of those are scheduled to be delivered in the fourth quarter," said Spencer Ballif, senior vice president of multifamily investment properties for CBRE, a large global real estate management company. "More than likely, around 5,000 units (will) get built. The product is almost all in the south side of the city around the curve in the southwest and in Henderson."
Portions of the 360-unit Elysian at Stonelake are still being constructed even as units are being rented, and builders are expected to break ground on Elysian at Flamingo, also 360 units, before the end of the year.
But are property operators concerned about a possible surplus of units on the market?
"We focus on Calida Quality locations and being in the best locations in each of the submarkets," Cohen said.
"It is well within our range to continue building," Daicy said. "I don't believe we are oversaturated yet. At least not in the Las Vegas market because a lot of people who are moving in from California, New York, Chicago — where they are coming in and working — and their cost of living is still relatively inexpensive in comparison to other big cities."
Cohen said the company is making plans to develop a 6-acre property at the Hughes Center, near Flamingo and Paradise roads. "We will be building a five-story wrap product around another 360 units," he said.
In August, the company will be delivering a skilled nursing center adjacent to St. Rose Dominican Hospital-Siena Campus and will begin construction on its first assisted living facility and special care unit in Summerlin in July.