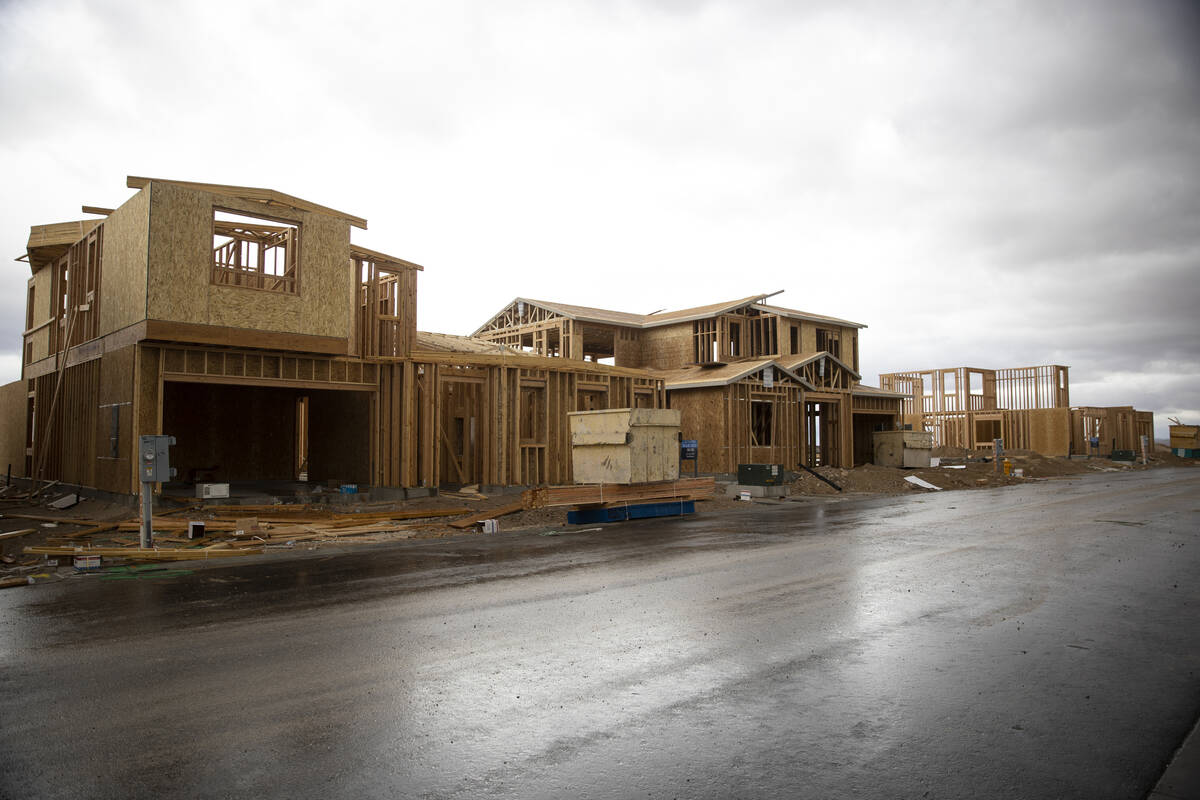 Despite rising mortgage rates slowing new and existing home sales, a housing expert told the Southern Nevada homebuilding industry that's temporary and with 6,000 people moving to Las Vegas a month, there could be a housing shortage within the next one to two years.
The presentation made by Brian Gordon, a principal at Applied Analysis, will help ease concerns of builders looking to construct more homes amid the current slowdown. His catch phrase is how the housing market is starting to stabilize after its decline. New home net sales — sales minus cancellations — fell 33 percent in 2022 while the median new-home price rose 17 percent, according to Las Vegas-based Home Builders Research.
In addition to population growth, Gordon said mortgage rates are starting to tick down, which is only going to help sales. Thirty-year fixed mortgages were 3.1 percent in December 2021 but reached 7 percent last fall and have since dropped to 6 percent. The Federal Reserve continues to hike interest rates to slow demand and curtail inflation but at some point they will taper their actions.
"When rates were increasing, fear set in and panic set in and everybody pulled back. Stability in mortgage pricing has the potential to benefit the housing market. It does send a signal to the public," he said.
A year ago, the mortgage rate for a $500,000 home was 3.1 percent, and a monthly mortgage payment was $2,100. With rising rates, that home costs $900 more a month, which is about $10,000 a year. To make the same $2,100 a month payment, that translates to buying a $350,000 home instead, Gordon said.
"This is one of the reasons we are seeing downward pressure on pricing," Gordon said. "People are ratcheting up a greater share of their income toward their mortgage payments. That's probably why we are doing better than we should."
Gordon made his appearance during the annual luncheon sponsored by the Southern Nevada Home Builders Association. About 300 people attended the event at the Orleans.
During the last 12 months, about 72,000 people have exchanged out-of-state driver's licenses for Nevada ones, Gordon said. That boosts the housing market demand over time.
"That's 6,000 people moving here a month, and we're seeing a lot of positive population growth coming into the market," Gordon said. "We're losing people to the tune of 2,000 a month so on the net we're in the 3,000 to 4,000 range of growth. Those folks have to live somewhere. For all of you, let's build some houses and hope they buy them."
Based on electrical hookups, 8.2 people are moving into Las Vegas every hour of every day for 365 days a year. And the biggest percentage continues to come from California who are bringing their wealth with them, Gordon said.
"That should provide some stability for the housing market overall," Gordon said.
Gordon said what's happening in the existing home market plays a significant role with new construction.
There's 5,400 units on the market, which isn't a lot, and that pushes more people to consider new homes even though there's a greater lead time to move into one, he said. There's also a lot of inventory buyers aren't interested in acquiring, which creates an opportunity for homebuilders, he said.
"I don't think when we were looking back at 2019 and 2020 when we had almost 10,000 units on the market that people were screaming from the rooftops that there's too much inventory," Gordon said. "We're going in reverse today with fewer and fewer units on the market. That's a benefit to new construction."
Gordon said the equity homeowners have today is substantial and even though there's a pullback in pricing it's not like the aftermath of the Great Recession. There are few people with negative equity and about 75 percent of all mortgages outstanding have interest rates of 4 percent or less, he said.
"Granted they are not going to be moving anytime soon, but it is providing stability for the housing market, and that's why we haven't seen a lot of fallout like some have predicted, particularly during the COVID-19 pandemic and as of late as interest rates have risen," Gordon said. "We're in for a much softer landing and much more stable environment. That's a good thing for all of us."
The Las Vegas Realtors association reported this week that the median price of existing single-family homes sold in Southern Nevada through its Multiple Listing Service during January was $425,000. That's the same price as December, and down 2.3 percent from $435,000 in January of 2022. It's also down from the all-time record price of $482,000 in May of 2022.
About 22 percent of households in Las Vegas can afford the median price homes, which means affordability is a challenge, Gordon said.
"I do think we will see improvement as we have seen rates come down a little bit," Gordon said. "Affordability is a critical issue for the industry that we are going to have to get our arms around."
The vacancy rate for apartments continues to slide and although rents have risen on units, that is stabilizing as well, Gordon said. There are even some price cuts in the valley and increased concessions — all which impacts the housing market.
"I've talked about all of the folks who have moved to this market, and they will have to live somewhere," Gordon said. "As long as people are not leaving the Las Vegas Valley, we should continue to have stable demand. We have a greater chance of having a housing shortage in the next 12, 24 or 36 months. Think about all of the units you are building today, and we still have those 6,000 people moving in the market every month. At some point it will reverse the other way and we may not have enough inventory. This provides me with some comfort that we will see some increased stability in the housing and be better positioned than the last time we went through these types of cycles."
Besides the migration, jobs are also important for boosting the housing market, and Gordon said Southern Nevada is well-positioned going forward. In December, Nevada ranked eighth in the nation in employment growth but over the entire 2022 Nevada ranked No. 1, he said.
"We were the hardest-hit market in the nation during the COVID-19 pandemic, but we are bringing those jobs back," Gordon said. "That's critical."
That should continue to improve because with Nevada's tax climate, businesses continue to relocate to Las Vegas, especially from California, Gordon said. Nevada ranks No. 7 in the nation with its business tax climate, he said. California is No. 48.
"As long as they keep screwing up stuff in California, we'll be OK," Gordon said. "Keep them coming all daylong. We'll take them."
C-suite executives in the Western region rank Nevada as the No. 1 place for relocation and best place for reinvestment in their businesses, Gordon said.
"We are well-positioned from an economic standpoint when it comes to business relocations," Gordon said. "Another reason why we're well-positioned for those employees to migrate here is the average cost-of-living index. We are cheaper in our overall cost of living and also cheaper from a housing standpoint. We are cheaper among these major markets in the Western United States."