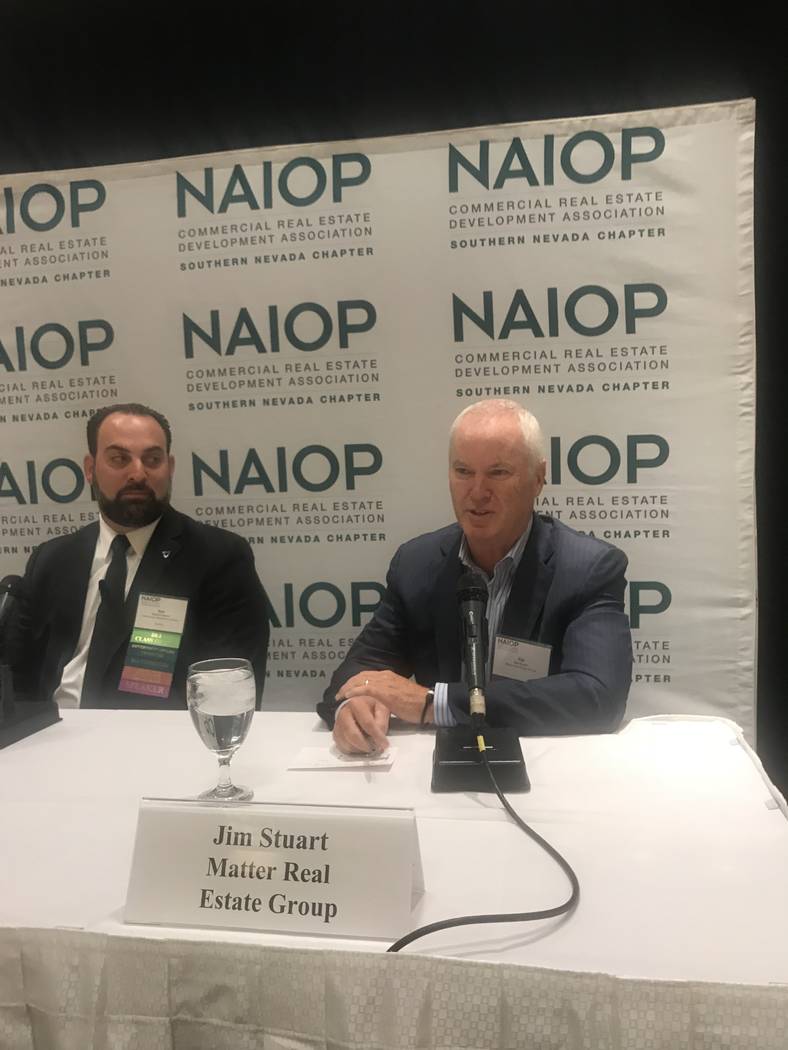 Jim Stuart, the insightful real estate developer who liquidated his holdings in Las Vegas in 2007 ahead of the Great Recession, has some advice for marketplace — there's a great opportunity to attract businesses with an image change and building the next generation of offices.
Stuart, a partner with Matter Real Estate Group who's highly respected nationally for his acumen, was the headline speaker at September's breakfast meeting of NAIOP Southern Nevada, the development group. He packed up and left for San Diego more than a decade ago when the commercial market was still booming. Now, people listen carefully to his words.
"If Las Vegas can shed its reputation of being a place of debauchery, like Nashville did of shedding it's reputation as a honky tonk town, Las Vegas can be an epicenter of business," Stuart said. "This next chapter of Las Vegas has to be shedding the image of a gaming capital and instead be a business capital."
It's not a new message from business leaders trying to recruit companies.
Stuart followed up afterward by saying there's an inherent conflict between Las Vegas Convention and Visitors Authority in promoting tourism and how people see themselves as being a part of a community.
"While 'What Happens Here Stays Here' is wildly successful for the LVCVA, it sets a tone and expectation that perhaps Las Vegas isn't serious all of the time," Stuart said. "It's going to be a balance of having the business community find its own voice and showing Las Vegas is a serious place for business, and a place for innovative and progressive companies with great workplaces to get the best work done."
His comments were part of a panel discussion about the next generation and how the needs of the modern workforce are changing with development. Stuart talked about some of the opportunities, even in the tech industry, but overall about competing against Phoenix, Austin and Salt Lake City to capture relocations. Las Vegas was on the verge of "doing great things," he said.
"I see the opportunities and hope Vegas can act on the opportunities, but it's not a certainty," Stuart said. "There's high-pressure, business-hostile environments like California that are squeezing companies out every single day. Las Vegas has to be in a position to show up and not just comparing itself to California. That's not needed but it's about comparing itself to its competitors like the Phoenixes or Salt Lake Cities."
It starts with office development because many suburban office parks in North America, including Las Vegas, are "functionally obsolete," Stuart said. That should sound alarm bells, and Las Vegas needs to follow the newest trends of what's happening, he told the development community.
"It starts with building great environments that are consistent with how modern employers look to workplace design so they can recruit the best talent," Stuart said. "From the perspective of a California resident, they are fleeing California but they are also seeking what's familiar. That's a modern-designed office campus with a lot of amenities. They like to see cooler, more hip restaurants (nearby). What they are not interested in is soulless corporate environments that are more representative of Henry Ford's concept of the 40-hour work week. That's not the modern workforce. It's agile, flexible, untethered from a desk. They want to be able to socialize, be inspired and creative and be around companies that have purpose and some level of authenticity to what they're doing. A resident from California who sees an uninspired work environment will choose another location. For the first time in generations, the employees have many options."
Stuart said other markets are doing developments that will eventually bleed into this market. People ask why doesn't Las Vegas "have that kind of cool stuff in other markets? But it is coming. It's just a matter of Las Vegas being late to get back into the game."
Stuart said that doesn't mean a beer tap and ping pong table, which he said is easy to dismiss as "some cute things for the younger generation can have fun at work." He said that's the furthest from the truth, and it's up to the next generation of developers to "make Las Vegas cool" and taken advantage of an opportunity to become a market leader.
Stuart said there's been a flight to the urban core around the country for the last 15 years as the young workforce looked for the energy, social interaction and cooler environment in which to work. As that group ages and has children, they want room to breathe and those employees are now "seeking suburban locations with an urban feel. That's changed how we have to think about office space in a way that is incredibly profound and different."
Stuart didn't mention it at the NAIOP breakfast but Matter Real Estate Group earlier this year announced a $400 million, 40-acre office park project in the southwest valley called Uncommons. The plan calls for 500,000 square feet of office space, about 100,000 square feet of retail and 875 apartments near Durango Drive and the 215 Beltway.
"Uncommons is but one example that I hope many others follow suit," Stuart said in a recent phone interview. "The modern workplace is more about lifestyle than desks and rows of cubicles."
Stuart said office projects, today, need to seamlessly integrate the outdoors, must provide for natural light and must be thoughtful about sustainability. It requires environments where people can escape their desks and gather with friends in a social setting.
"To a younger generation that doesn't necessarily mean Starbucks," Stuart said. "What it means, today, is where are the more hip and interesting brands that speak to their generation, and they must all be integrated seamlessly into one environment."
Fitness is also important, but that doesn't mean a fitness inside the office building, Stuart said. It means a Soul Cycle or YogaWorks and other offerings where people can be around others, have instructors and have energy and social component, he said. Everything from the workout place to restaurants needs to be walkable, he said.
"Where people make the mistake is they believe this is about tech companies," Stuart said. "It's not. It's about everyone. The modern workforce is comprehensive. Maybe technology companies led the way with more innovative work spaces. The idea of workplace culture extends to every organization. They all struggle to compete against their peers to hire the best talent and keep them talent they have. That battleground is found first and foremost at your workplace."
Stuart said the companies most aggressive in wanting office buildings for the next generation of workers are based on the East Coast, and include investment banks, financial institutions and other Fortune 500 companies. Their first conversation isn't about lease rates but having an environment where their people can succeed, he said.
Stuart said there are a lot of opportunities in the technology sector that has millions of jobs but because Nevada universities lagging behind those of other states it wouldn't be the headquarters. Instead, it would be segments of that industry seeking a low-cost business environment. That could be more centered around industries Las Vegas has with automated driving and gaming technology, he said.
"Maybe if few buildings show up, a HR (human resource) director might come to town and say we have a place to call home and recruit into," Stuart said. "We're making a big bet to see if that is proven. If the right companies come to town, you can drive them to an environment that is familiar to them, they would put Las Vegas on the list and give this serious consideration. Today, the problem is they get in the car and drive around and look around at the existing stock and just answer the question themselves by saying we can't relocate and recruit people out of other markets into a soulless, empty office environment. A great deal of the inventory in this market is the old suburban product not built for this modern workforce."
CALIFORNIA-BASED EXPERTS WEIGH IN ON LAS VEGAS OPPORTUNITIES
Stuart brought to the panel discussion two development experts based in Southern California who work in Las Vegas.
Tiffany English, a principal with Ware Malcomb, an architectural engineering firm has worked with larger e-commerce companies in Las Vegas. She declined to name them because of confidentially. She said even the traditional perspective of industrial is changing and companies are looking at it for different uses. In some cases, like Chinatown, industrial space was converted into retail uses, she said.
There are opportunities in other parts of the valley to do the same for office components like in other parts of the country, English said.
"We're seeing a lot of companies that would traditionally have their administrative offices in one location and maybe their manufacturing and warehouse distribution in another combining them to bring the group together," English said. "That's more cost-effective, and they find they can spend more money on the tenant improvements because they can spread that across the entire development."
Those companies are adding amenities such as a gym, large lounge spaces, alternative work areas, exterior patios, bocce ball courts and volleyball courts, outdoor eating areas.
"We're seeing all those amenities where in the past industrial environments were just warehousing with truck docks and pickup areas," English said. "It's now much more conducive to the work environment."
English said Las Vegas has a lot of older industrial development that can be converted into these office uses, and that's more affordable than targeting a Class A office complex. She said Las Vegas is a "perfect location" to attract California businesses looking to escape higher taxes.
"With those high ceilings, they have that creative office space and able to create a more raw environment because spaces are more open," English said. "That is where you are going to attract those tech companies. If you go to any large metropolitan areas with tech companies, they actually building to look like old industrial buildings. Vegas is a market that is conducive to that reuse. That's what you are seeing happening in Nashville and Phoenix and even Denver, (which) are similar to Vegas. Adaptive reuse is what Vegas should be looking at for long-term marketability toward bigger tech companies or e-commerce companies to set them apart."
Darrel Fullbright, a principal with Gensler, a global design and architectural firm that's based in California but works in Las Vegas, said Southern Nevada is in a good position because California is pushing out businesses with taxes and regulations.
Fullbright said the main driver of new development across the country and biggest opportunity is with technology and that he doesn't see why Las Vegas can't be a tech hub as well.
"You have the quality of life and cost of living, and that's why they're moving to Nashville and Austin," Fullbright said. "It just needs that one company to build on. But it's all about the talent. You have that, and they will come."