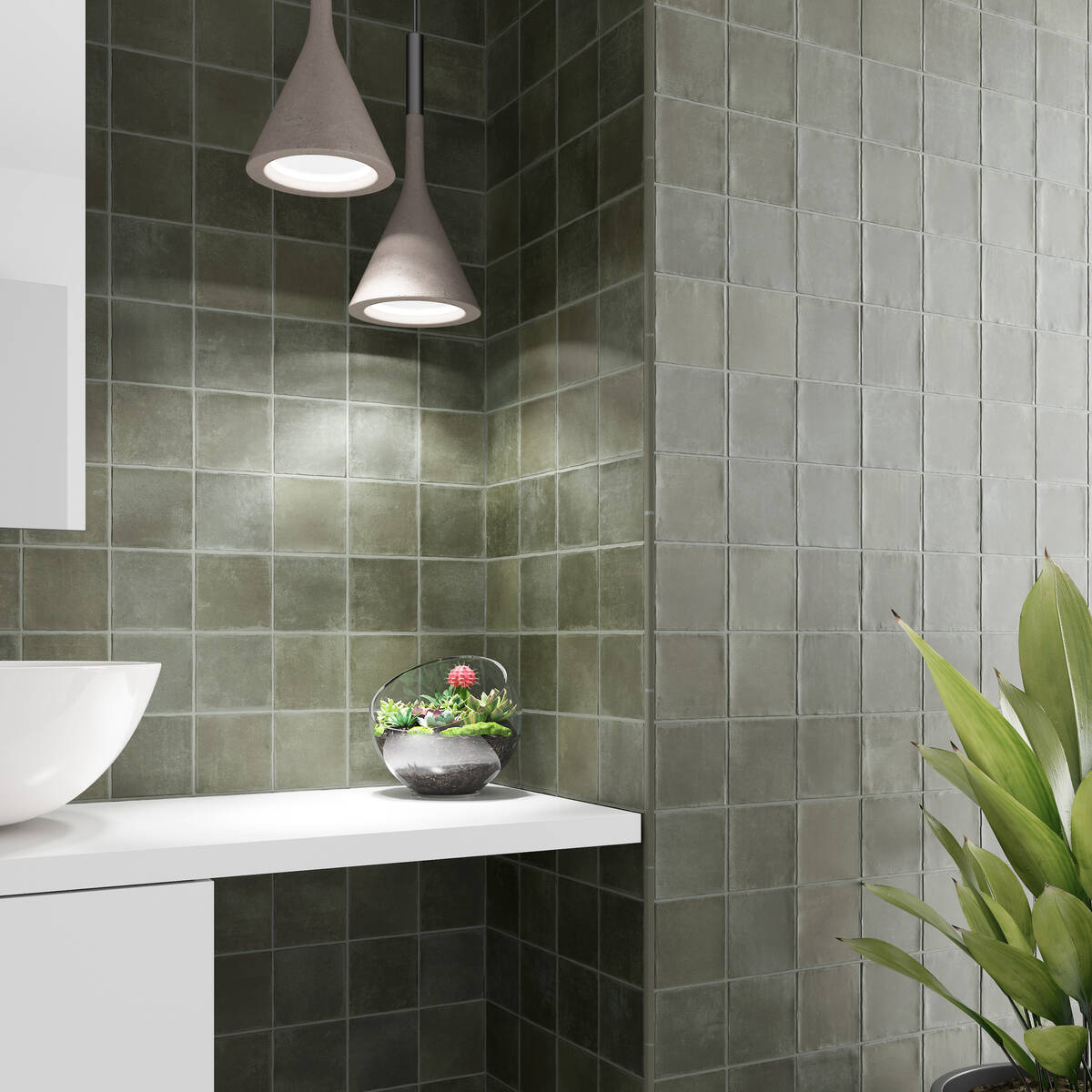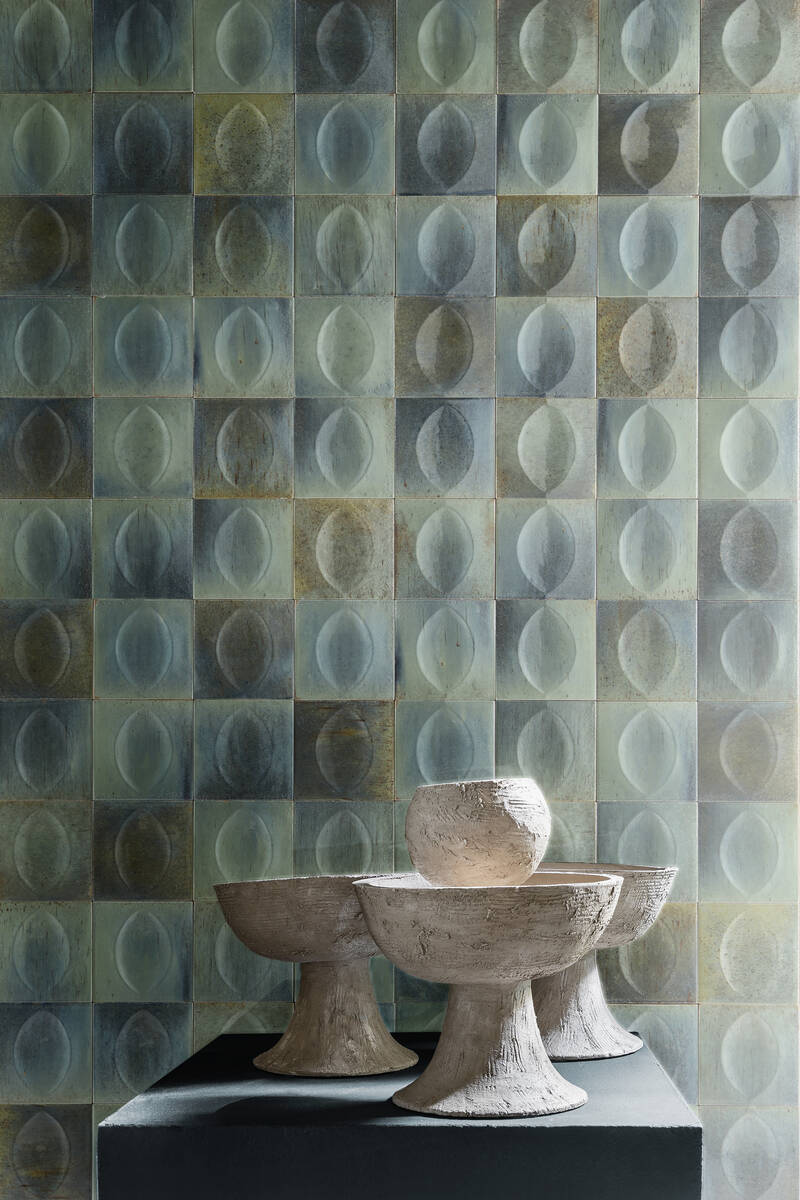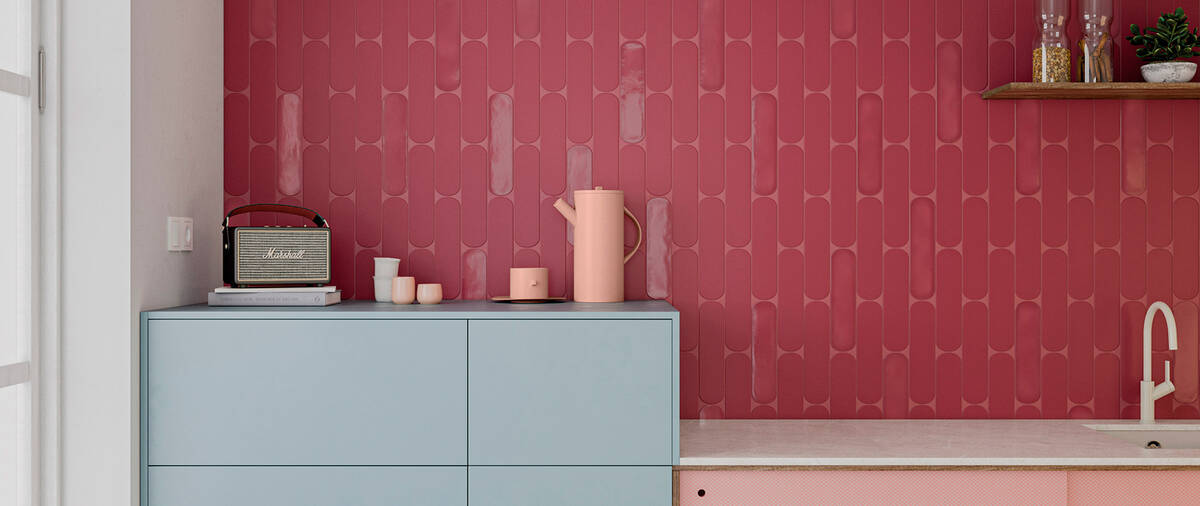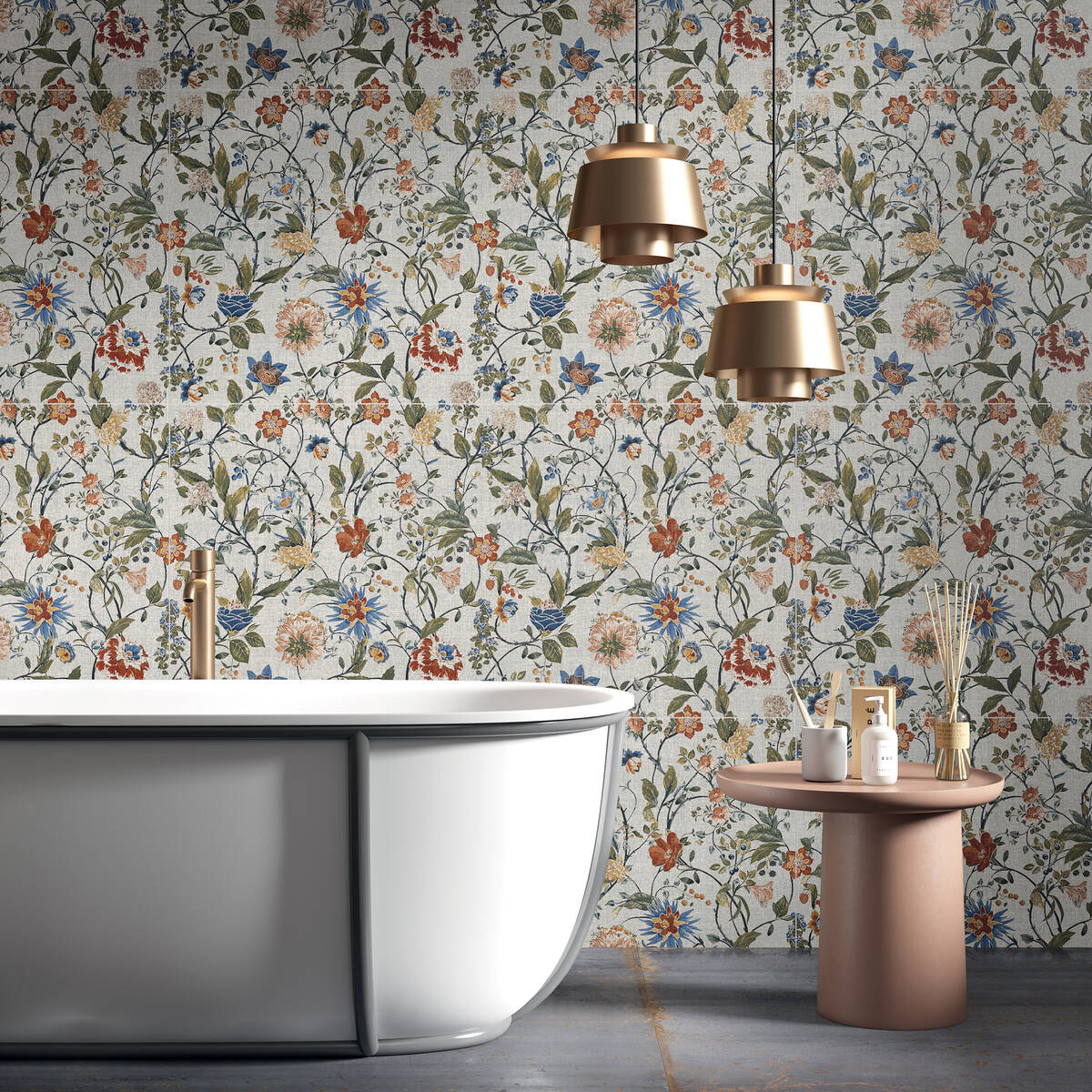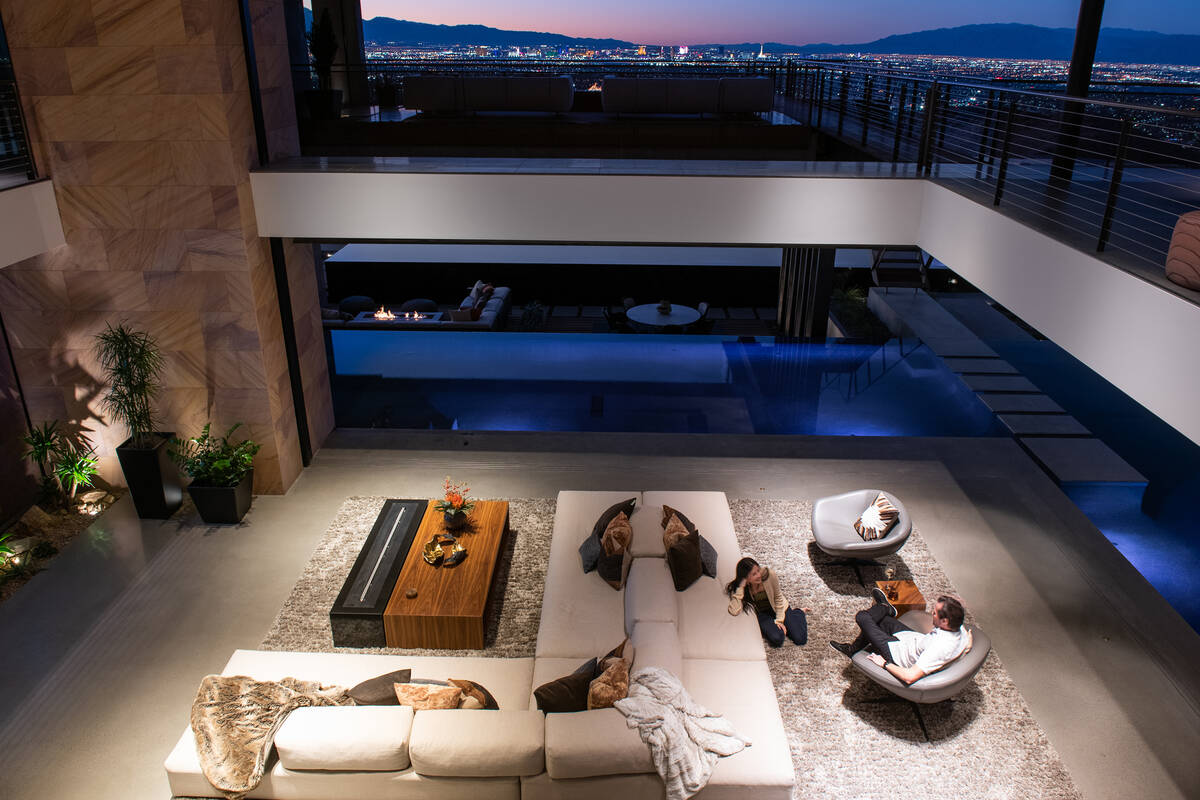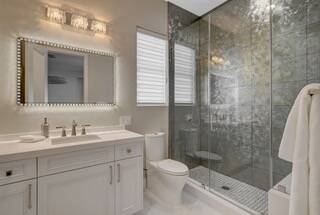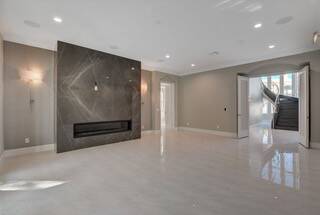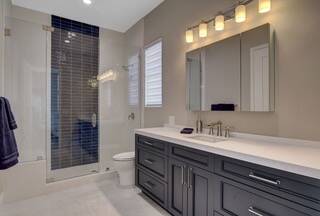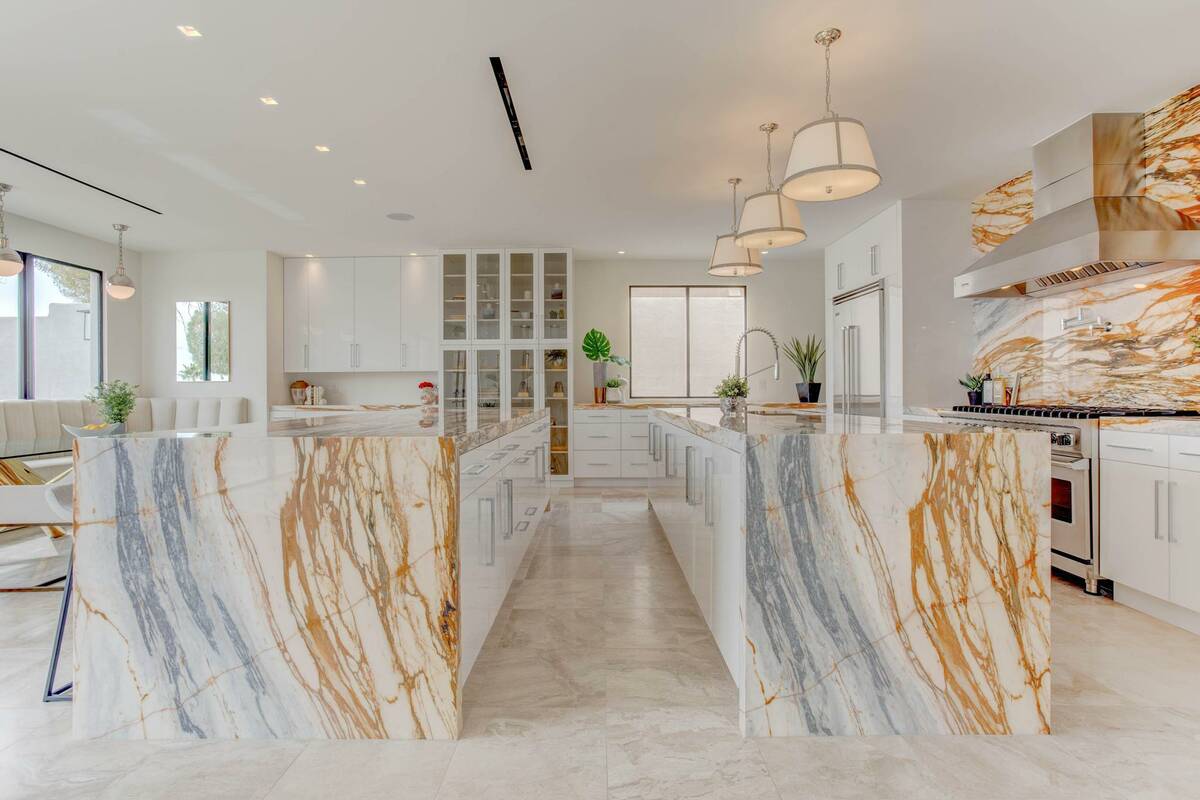 Flooring is more than merely covering the floor. It is a vital design element in any luxury home, setting the tone, style and mood — influencing the way the home is experienced.
"In the Las Vegas luxury market, clients want something to talk about," Kim Johnson, owner, and principal designer of Funk It Up Interiors Las Vegas. "Their homes are a canvas for their personalities and interests."
The luxury "canvas" of flooring options is ever-expanding and changing. Warmth, comfort and connection to nature continue to be themed in design this year, an apparent response to spending so much time indoors the past two years.
This year's Coverings 2022, Global Tile and Stone Experience — held April 5-8 in Las Vegas — demonstrated today's hottest trends from industry leaders across the globe. Coverings is the largest ceramic tile and natural stone trade fair and exposition in North America with exhibitors from more than 30 countries.
Coverings spokesperson/tile industry ambassador Alena Capra, designer and owner of Alena Capra Designs, presented 2022 Tile Trends. Her presentation showcased 10 styles dominating the marketplace: captivating colors (including classics from centuries past, earthy jewel tones and pastels), baroque, bas relief, crisp and clean, golden arches, murals, plaster looks, warm stones, shapes scaled and polarized marble.
Captivating colors
The rich history of ceramics is celebrated by introducing weathered edges, classic glaze techniques and traditional patterns as the industry circles back to some intriguing masterpieces from centuries past.
"I am very excited to see so many great colors in the mix to add in or even accent with — green being the most popular as well as all shades of blue," Capra said in an email. "I think we are going to see a lot more splashes of color with tile."
Kathy May, president of Blue Heron Lifestyles Division, finds small spaces such as powder rooms allow homeowners to experience color without much risk.
"We do a lot of fun things in powder rooms," May said. "It's the one place you can go bold without it becoming overwhelming. It creates this feeling of it being a more special destination. You can go in there and experience something a little bit more fun."
Leafy greens and rich clay colors give a connection to the outdoors. Capra noted the world is inviting more natural colors into the home and onto the walls including amber, brick, emerald and aquamarine hues.
"Emerald is in big time," interior designer Tiffany Sparks, owner of Tiffany Sparks Design, said. "I did a small bathroom in emerald. It turned out pretty and I'm using it in another project."
Soft pastels are romantic and soothing, conjuring images of spring flowers. The less saturated tile trend incorporates colors like sage, mint, rose and sky blue.
"We are doing a lot of tone-on-tone in higher-end homes with ceramic tile," Johnson said. "For example, muddy pink ceramic tile laid in a herringbone pattern with taupe pink grout, soft pink cabinets, a pretty patterned pink floor and a blush wallpapered ceiling — eye candy from top to bottom."
Baroque
The 17th-century baroque tile returns with exuberance. Defined by a sense of movement and grandeur, dramatic marble looks with striking colors accented by gold and other colors detailing and reflective surfaces make a bold statement.
"Marble is timeless, but the geometric pattern with gold accents makes it bolder and an interesting conversation piece when having drinks with friends at your bar," Johnson said. "In addition, there is a hint of colored marblelike blue, green and pink that I am begging anyone who will listen to say, 'yes' to."
Bas relief
Influenced by traces of the past, the bas relief tile adds variation and depth. Rounded edges and low relief patterns are two of the many examples of the trend, among numerous other styles.
"Texture tile is huge," Sparks said. "Right now, I'm working on a primary bath that has a sand-colored ribbed texture tile on the vanity wall. I'm a huge fan of the neutral tone with texture."
Crisp and clean
Modern-designed homes integrate the crisp and clean tile trend. Smooth compositions and minimalistic patterns create sleek designs to harmonize with the sophisticated interior.
"Vegas is trending big on modern homes and interiors," Sparks said. "I'm seeing a lot of the subdued minimalist look."
Golden arches
Art deco design takes center stage in the golden arches tile trend. Arches and rounded rectangles bring a sense of whimsy to luxury aesthetics.
Murals
An alternative to wallpaper, the mural tile offers a wide selection of patterns including florals, greenery and historical patterns such as toile and damask.
This dynamic patterned tile can be used in any room without the risk of water or heat damage when installed next to a sink, shower or fireplace. It comes in extra-large or ultra-thin profiles.
"This trend is one of my favorites, and I am doing it in my new build here in Las Vegas," Johnson said. "But it is hard to get people here to see the joy it will bring. I find that it takes clients a little while to warm up to such a bold statement. For right now, no one has taken the plunge, but I am hopeful."
Plaster looks
Textured wall treatments are undergoing a resurgence. The plaster looks tile trend brings warmth and richness to walls and enhances an earthy, natural design — often boasting textural additions one can touch and feel.
"I would say the textured plaster in warm earthy tones is a predominant look in Vegas," Sparks said. "I'm very happy because I've never been a fan of cool gray tones."
Warm stones
Enhancing the earthy interior, the warm-stone tile trend adds warm tones and a natural appeal to a space.
"Natural stone has always been big with us," May said. "We take our inspiration from the landscape and tend to use a lot of earthy organic colors and textures. It creates a feeling of calm yet excitement without being overwhelming."
Shapes scaled
Triangles, diamonds, parallelograms, hexagons and polygons form eye-catching patterns in the shapes scaled tile trend. These shapes of various scales offer a contemporary twist on a classic design element.
Sparks is using geometric shapes in several of her projects including a small boy's bathroom.
"It's called puzzle," Sparks said. "They are producing larger format geometric tiles in different shapes."
Polarized marble
The polarized marble trend is a newly refined approach to the classic white marbleized look.
"It retains the organic variation of a veined stone," Capra said. "With an overall aesthetic that is more homogenous with a symphony of texture, finish and effects."
Additional options
In addition to different tile options, the Las Vegas luxury market showcases other popular flooring options including large format tile, natural hardwood, engineered wood, vinyl plank and monolithic options.
The smooth, uninterrupted appearance of large format tile gives an open layout a luxurious feel. The larger format effortlessly creates a seamless indoor-outdoor connection with minimal grout lines.
"Masterfully achieving an indoor-outdoor seamless flow with the flooring is important," May said. "Large format tile is big. We use large format porcelain tile because porcelain is more suited for high traffic areas."
Hardwood flooring — either natural or engineered — is making a resurgence in the Las Vegas luxury marketplace.
"Wood flooring provides warmth," May said. "A softness that natural patinas over time. It lends itself to that comfort vintage feel."
Another style making inroads in the high-end market is waterproof luxury vinyl plank flooring.
"When I was first introduced to it, I was so negative and believed that it had no place in a luxury home, but my clients started asking for it," Johnson said. "It is half the cost of wood, and the labor cost is less too. Even my clients who have the money, love the savings and usually splurge on something else."
Highly durable and aesthetically pleasing, monolithic flooring is fast becoming a popular option.
According to May, Blue Heron has been integrating monolithic flooring for years, but with the opening of VM001, Blue Heron's show home in MacDonald Highlands is now one of the most requested floorings. VM001 featured a seamless monolithic flooring throughout the entire main level of the three-level home.
"We decided to utilize the actual slab of the home," May said. "We did a light topping with more cementitious material and matte polish over the top of that. It created this tone-on-tone terrazzo type look which turned out beautiful."
May added there is a growing awareness of environmentally friendly lifestyle choices sparking an interest in natural, sustainable source materials.
"People are becoming more aware of being sustainable," May said, "eco-friendly if you will. I think it will continue to move in that direction."