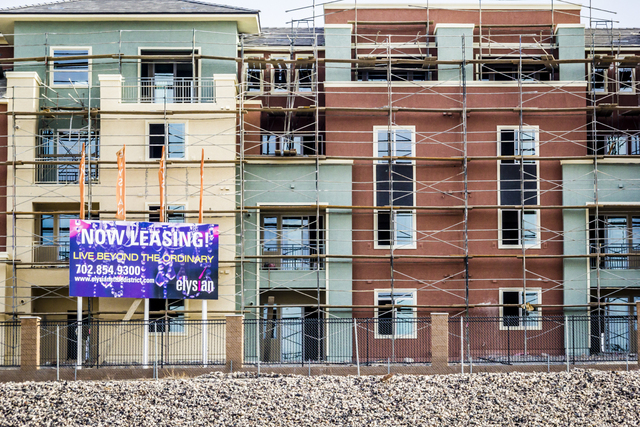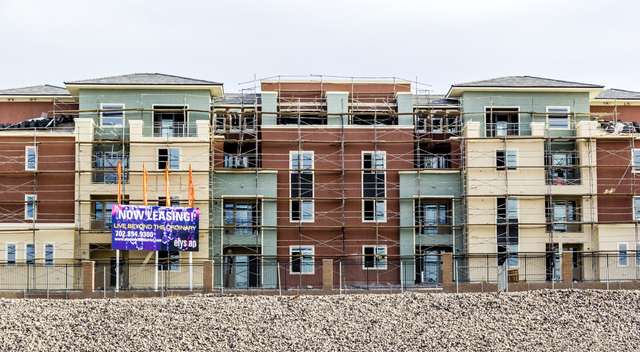 A tsunami is forming in the valley. If you look closely, you can see it rising to rooftops in the form of a wave of apartment construction.
For once, the news has nothing to do with homeowners being underwater, and observers say the building activity could help lift all economic boats still sailing out of the recession.
New research shows just how much the local economy has benefited from this rental tsunami. In 2013, the latest year for which numbers are available, apartment construction, operations and resident spending contributed $4.5 billion locally and supported 46,800 jobs in the metro area, the study said.
The data are part of new research commissioned by the National Multifamily Housing Council and the National Apartment Association, which looks at dollars and jobs from apartment construction, operations and resident spending, nationally, by state and in 40 specific metro areas, including Las Vegas. Based on research by economist Stephen Fuller of George Mason University's Center for Regional Analysis, the data are online at www.weareapartments.org.
"There certainly is a national trend among first-time households to delay buying a home, which means some kind of movement toward apartment living in highly dense areas like downtowns," said Ed Coulson, director of the Lied Institute for Real Estate Studies at the University of Nevada, Las Vegas. "We certainly see that in other cities. I haven't seen the data that would support that for Las Vegas quite yet, but with the increasing amount of downtown ammenties such as stuff coming out of the downtown project, assuming that's viable for the long-term, then you might see something like this.
"When you talk about apartments, I think about renters. But it might also be condos, and that's an alternative ownership structure that seems to be on the rise in many cities to have the tax benefits of homeownership without the responsibility that comes with a single-family detached unit. And that's in dense areas, and that's something we see an increasing amount of. Again, that's other cities. Whether this is coming to Las Vegas the way it is coming to other places, I don't know yet. But it's not crazy to think that way, even for Las Vegas.
But Coulson isn't ready to sing hallelujah over the study's economic-impact claims.
"I don't know about this $45 billion economic impact, and I don't know about the job numbers they're talking about," Coulson said. "I have to see the study more. Are they putting a multiplier in there, or what? So, it does seem like they're not telling us how the sausage is made."
However, Wells Fargo added a heaping helping of optimism with its Commercial Real Estate Chartbook: Q4, which mainly targeted five trends to watch in 2015.
Wells Fargo, led by Senior Economist Mark Vitner, opened its report on a cheery note: "With more than five years of positive economic growth since the end of the Great Recession, economic and labor market conditions are finally gaining momentum. … Against this favorable economic backdrop, commercial real estate fundamentals are expected to continue to strengthen in 2015."
"Apartment construction is the highest since the tax credit boom of the '80s," Vitner said. "In terms of Las Vegas, it's nowhere close to peak starts. All across country there seems to be a push into urban lifestyle. It's not necessarily to downtown; it might be another urban location. It breaks down to mixed-use development. Once you get home, you have multiple options that don't necessarily involve getting back into a car.
"The whole economic recovery is so hesitant and disconcerting on so many fronts. So many are hesitant to buy a home. The shift in preference toward renting seems to have some legs to it. It's something that's not about to go away. Millennials are the bulk of first-time homebuyers. They are delaying getting married, having kids."
The Wells Fargo report said a "torrent of foreign investment is driving up real estate prices much more than fundamentals support in certain markets" and that this activity is increasing downward pressure on cap rates.
However, Coulson said rent prices determine the asset value of a property, which then leads to the cap rate. Vitner said local rents have consistently risen since 2011. The Wells Fargo report also states that domestic investors will likely begin to set their sights on apartment markets, calling Las Vegas a hot spot. This determination is largely based on local employment and population growth outpacing the U.S. average.
"It's a hot spot in terms of growth," Vitner said. "It fell further than the nation, so it has further to go to recover. Over the years, we've seen a lot of growth, stronger population growth than the national average. But you would expect that."
Vitner said that travel and leisure, not gaming, are most important to job creation in Las Vegas.
"I'm optimistic about the job market. Job growth has improved," Vitner said. "They're adding them across virtually all industries. In Las Vegas, the two main industries for job losses were government and financial services. There has been strong growth in construction jobs. But until the economy gets on firmer footing, there will be rentals. It's still a relatively high unemployment rate for Vegas. We've seen that the folks working part time got more hours. It makes up for the fact that wages aren't rising all that much. It's still easier to afford to rent in Las Vegas."
Almost suggesting that "if you build it, they will come," Coulson noted that the powers that be behind apartment creation must foresee strengthening in some key support fundamentals, most notably jobs and population influx.
"Any boom in residential housing has to be maintained by fundamentals, so that means that somebody is counting on increased migration to the area," Coulson said.
Vitner and the Wells Fargo chartbook also touched on some other key economic markers. Contrary to wide public opinion, he said, a drop in energy prices is not completely friendly to the overall economy.
"The negative effects of lower energy costs is that production cuts have been seen (which affects jobs)," Vitner said. "Gas prices will probably come back down later this year. As far as stability, the U.S. looks better relative to Canada. The dollar has increased in strength dramatically, which leads to a surge of exports.
"The immediate headlines for the economy (are) much more cautious. The national and Las Vegas economies have come back, but Las Vegas is still behind. Travel and leisure is more important than gaming, believe it or not."