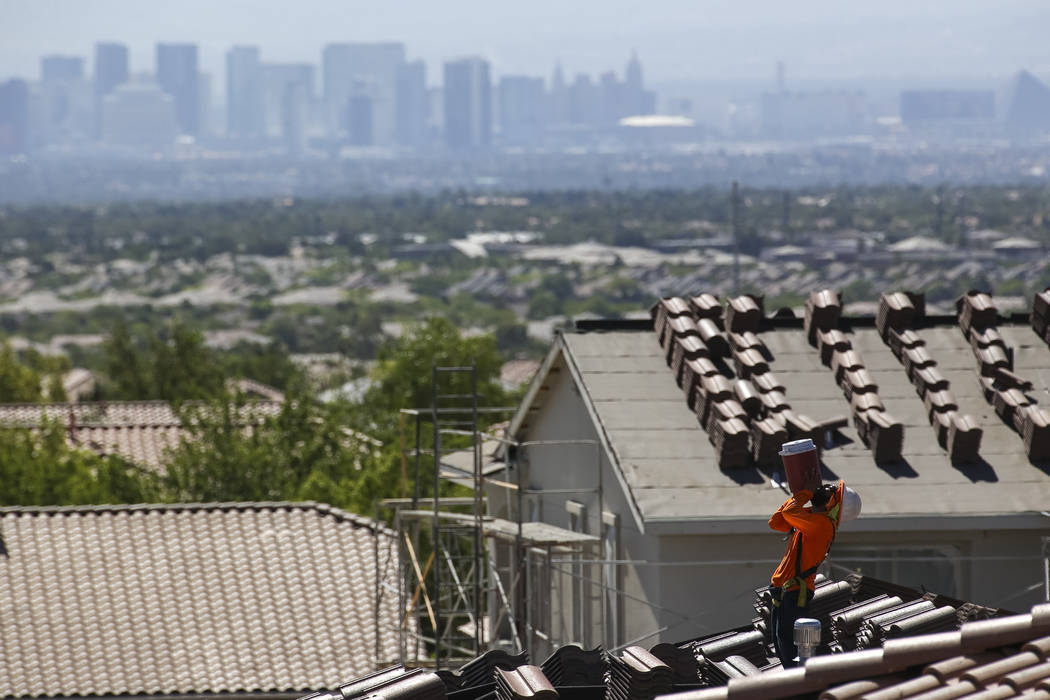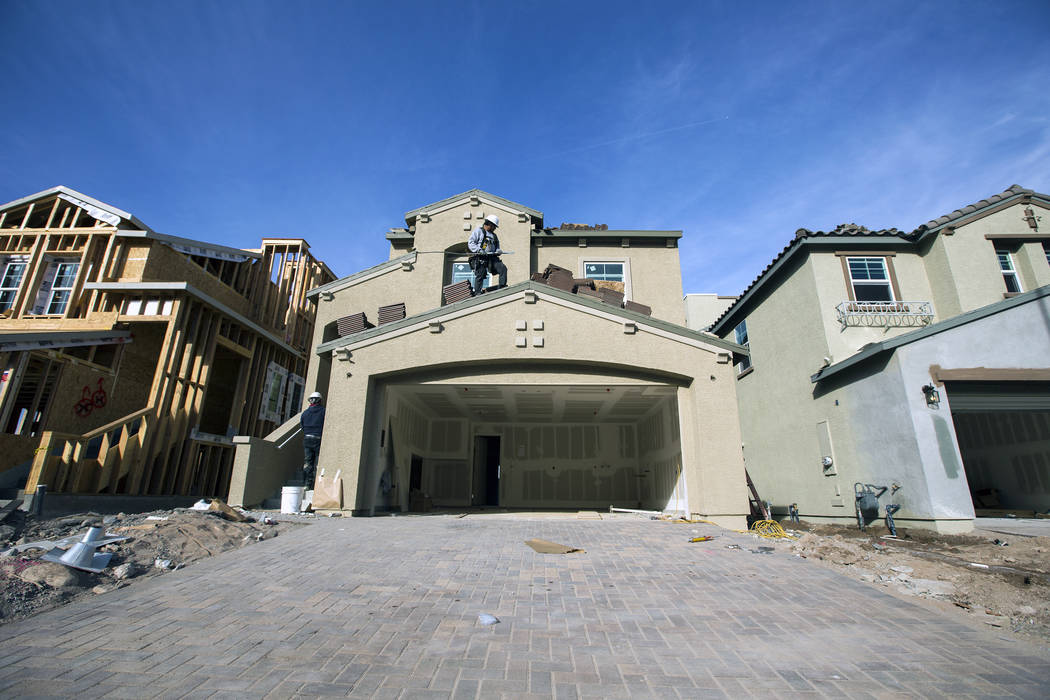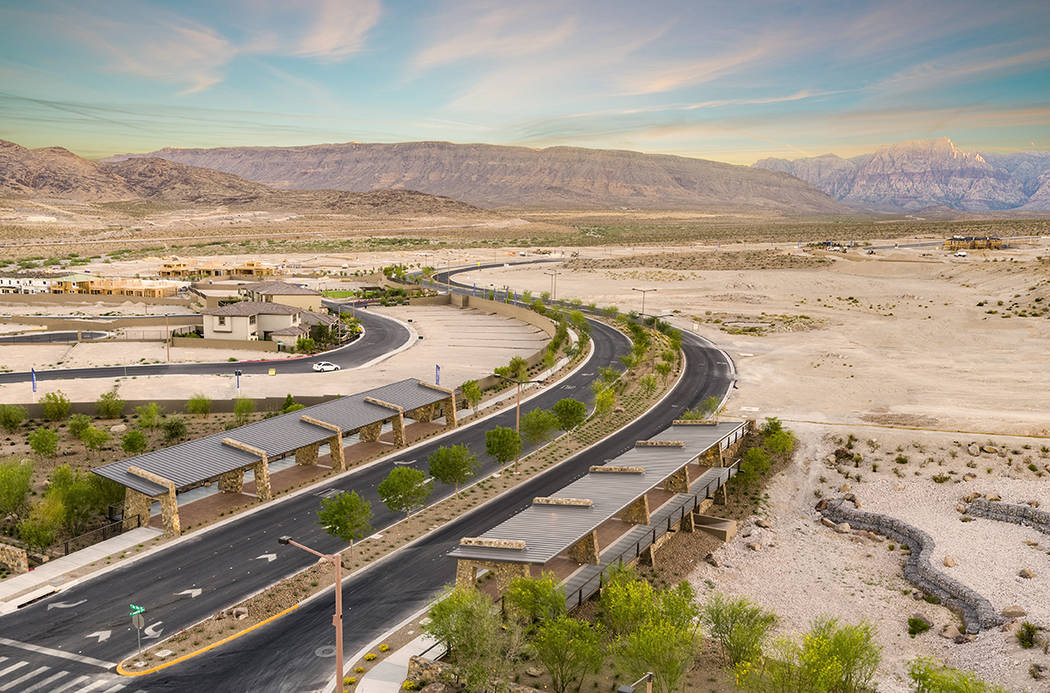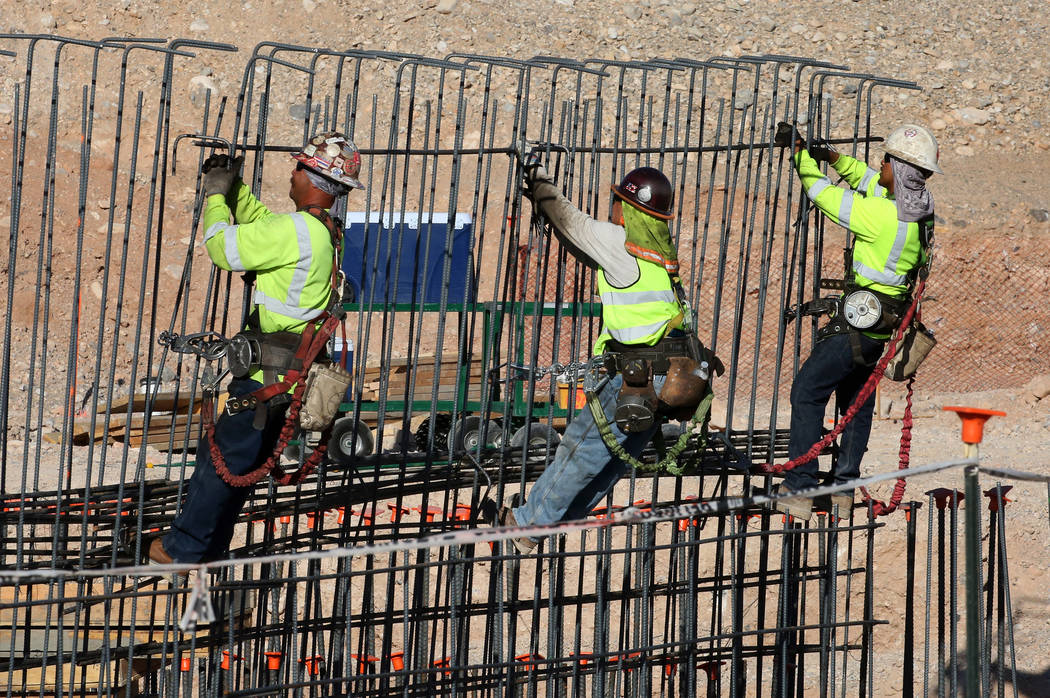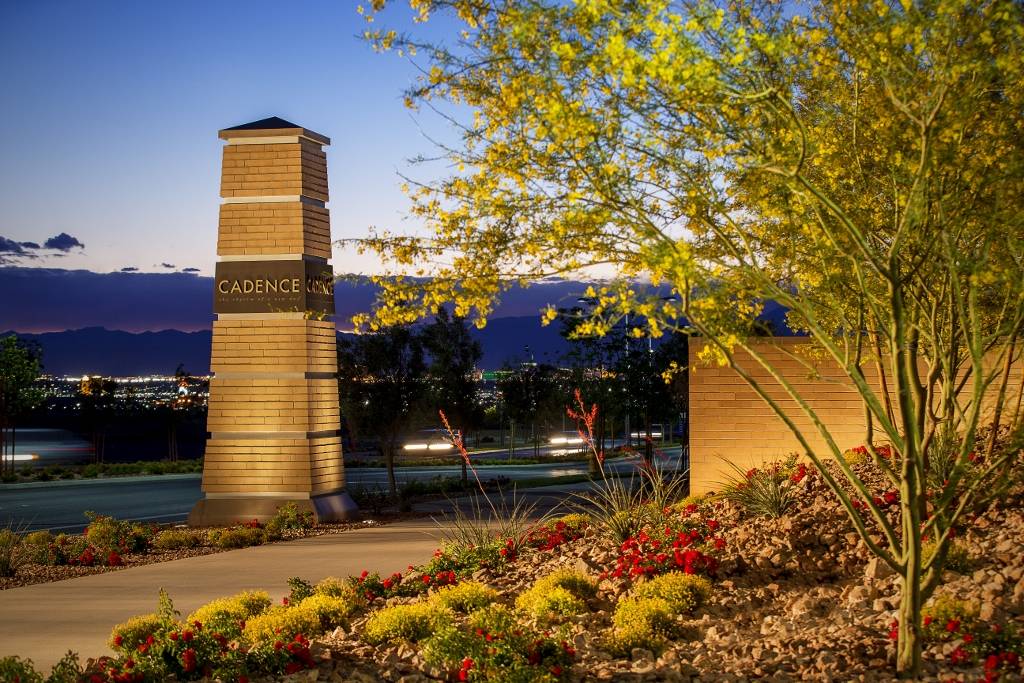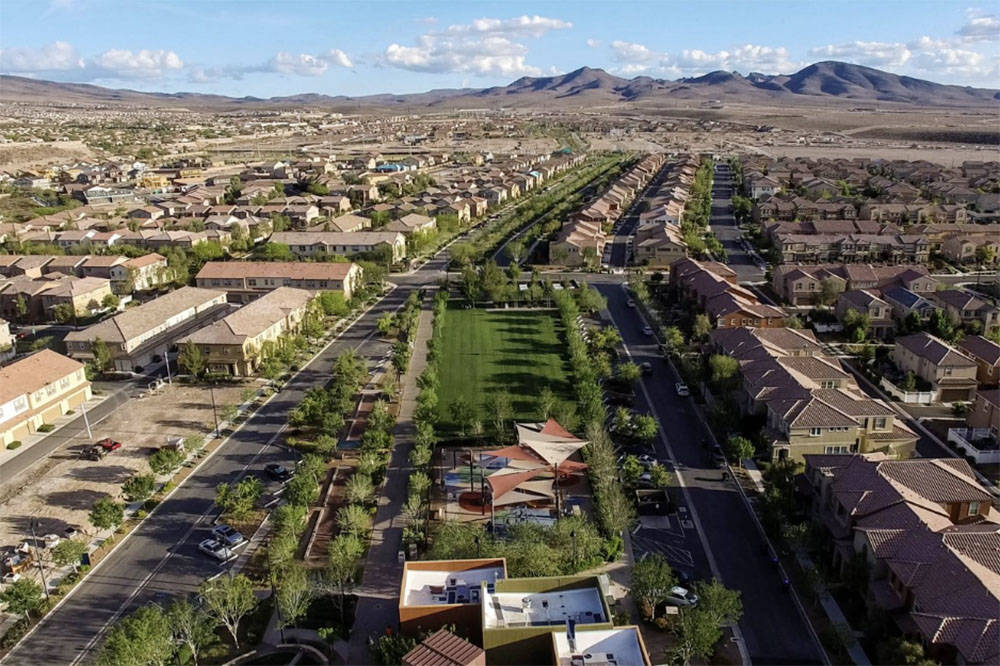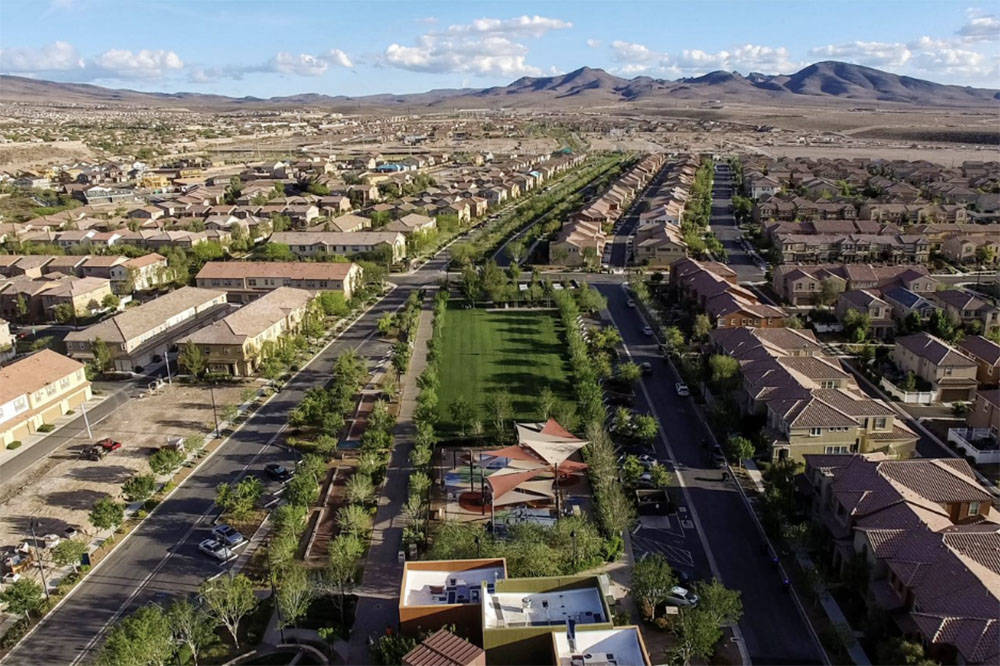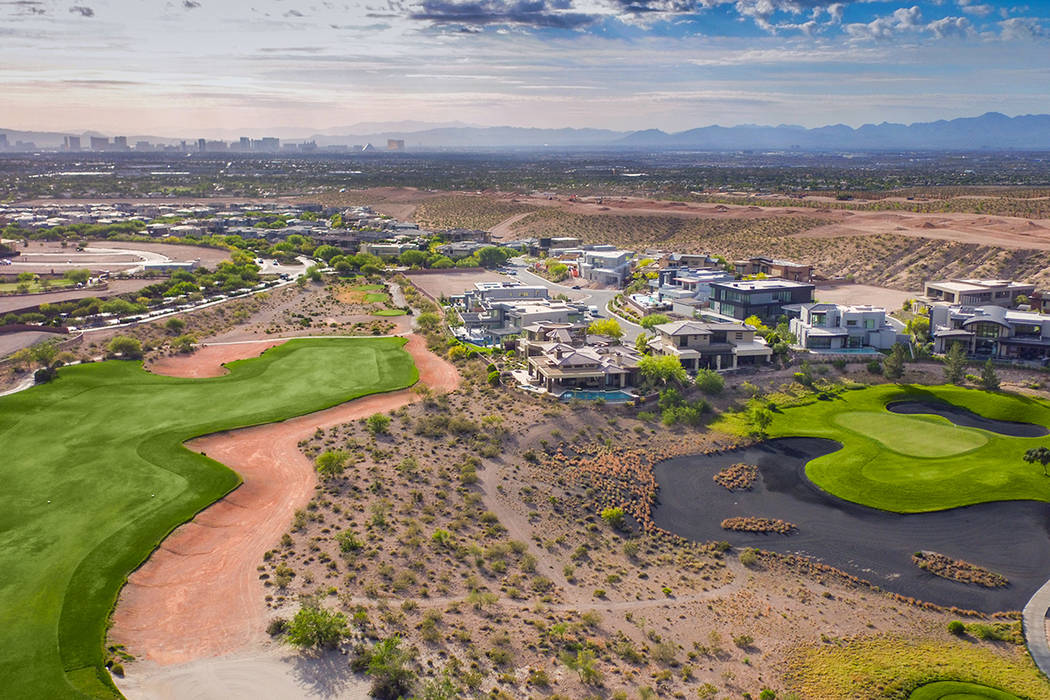 Summerlin recorded the biggest increase of home sales in the nation among master plans during the first half of 2018 and has reached No. 3, and three other Southern Nevada communities were ranked in the top 20.
It's a reflection of the ongoing recovery of the Las Vegas new-home market since the Great Recession. A strong economy and relocation of buyers from California has contributed to the continued gains in addition to a lack of existing homes on the market.
Summerlin recorded 772 sales between Jan. 1 and June 30, a gain of 64 percent from 470 a year ago. It jumped from seventh to third in the rankings.
Inspirada in Henderson moved up one spot from ninth to eighth. It had 475 sales, a jump of 21 percent from 391 in the first half of 2017.
Cadence in Henderson leaped from a tie for 24th in 2017 to No. 12 in the nation with 334 sales, a gain of 45 percent.
Skye Canyon in the northwest valley made its first-ever appearance in the top 50 midyear rankings by RCLCO, a national real estate consultant. It had 284 sales. Skye Canyon finished the 12 months of 2017 in 47th place in the nation.
Todd LaRue, a managing director for RCLCO, said a lack of supply of existing homes on the market in particular continues to drive new-home sales in Southern Nevada.
"The retail inventory is very low, and this is pushing people into the new-home market that may have otherwise chosen a resale home at a closer in location," LaRue said. "The new-home communities are also doing well because they're also delivering a different product that is either appealing to a value-seeker in terms of (a more affordable price that's competitive with resales) and newer innovative products for consumers seeking a certain lifestyle."
Homes have had more of an emphasis on common space, living areas and entertaining areas and not as much on the number of bedrooms, LaRue said.
"That lifestyle buyer isn't necessarily looking for a lot of space," LaRue said. "Sometimes, they're looking for low maintenance so a town home product with a very nice interior could do very well for that type of consumer. Or, it could be more of a courtyard or patio home type of product that has a high level of finish inside and more emphasis on its design and functionality than just on getting a bunch of space."
The expectation is 2018 will finish as a strong year. Nationally, the housing market is under building and a lack of labor has contributed to that, LaRue said. The demand is stronger than the supply.
"I think in Nevada we will see it continue just like we have seen in the first six months of the year," LaRue said. "The developers we interviewed suggest their confidence level is very high and have a strong outlook for the rest of 2018 and beyond.
"These newer communities are providing the product and inventory to help keep the market moving, and consumers are responding. You can see it in the increase in sales."
LaRue called Summerlin, a development of The Howard Hughes Corp., the dominant player in the market and how it continues to diversify its product line and have a broader appeal. The prevalence of employment, shopping and entertainment in Summerlin helps drive sales, he said.
LaRue said the newcomer to the list, Skye Canyon, in addition to the growth in Cadence and Inspirada are replacing communities in the top 20 on the list in previous years, namely Mountain's Edge and Providence.
"They did well for many years and have reached build-out," LaRue said. "Skye Canyon has become a replacement product for that as have others, such as Cadence over in Henderson as well as Inspirada. You are seeing a variety of newer communities emerge in the Las Vegas Valley that have picked up the slack where others are building out."
The RCLCO report said master-planned communities that had sales increases credit successful market segmentation — the targeting of various age, income and household segments with appropriately priced and designed residential product types and lifestyle amenities.
Summerlin
Howard Hughes executives said that describes Summerlin, where homes are available in wide range of prices and styles with more than 150 actively selling floor plans in 34 neighborhoods throughout seven villages.
New homes in Summerlin range from 874 square feet to more than 5,000 square feet and are priced from the low $200,000s to more than $1 million, thus meeting the needs of multiple market niches.
Eighteen months ago, Summerlin, which is 22,500 acres and home to about 100,000 people, unveiled a two-pronged strategy to grow market share by not only offering higher-end homes on hillside lots but more affordable housing in the flatlands.
Summerlin is on track to blow past the 1,052 sales in 2017, the highest number since 2006 before the recession.
"This newest 2018 midyear report speaks volumes about Summerlin's remarkable and enduring success as it leads new home sales in Southern Nevada, even in its 28th year of development. We anticipate strong sales to continue throughout 2018," said Summerlin President Kevin Orrock.
Summerlin's City National Arena, the practice facility of the Vegas Golden Knights, has drawn people to the master plan to visit; and next year the Las Vegas Ballpark, future home of the Las Vegas 51s, is expected to do the same.
"Downtown Summerlin is a huge draw for fans from throughout the valley and reflects the city's passion and excitement for professional sports," Orrock said.
Orrock called the community's sales performance remarkable given the Southern Nevada region's lack of labor supply, which has affected the speed at which homebuilders can deliver new product. In its report, RCLCO mentioned that a lack of workers was holding back home construction in Nevada and nationwide.
According to Gregg Logan, another managing director with RCLCO, Summerlin has consistently appeared on the list since the firm began tracking sales in 1994. He said Summerlin has appeared on the list 22 times, ranking among the 10 top-selling master plans in the country for 17 of those appearances. Inspirada
West Henderson's Inspirada, now a consortium of four builders: KB Homes, Pardee, Beazer and Toll Brothers, has surpassed 3,000 sales since the community of more than 1,900 acres was launched in 2006 prior to the recession.
"We're extremely pleased and excited about the midyear ranking," said Brian Kunec, division president of KB Home on behalf of the builder group. "This is the third consecutive year we sustained being ranked in the top-10-selling master plans in the nation. It's not a surprise to us. It's a great master plan at Inspirada, and it has matured fantastically. We have a lot of unique lifestyle programming, and a lot of pet-friendly activities for our residents. It has turned into a beautiful setting."
Kunec said Inspirada's first public elementary school, Robert and Sandy Ellis Elementary School, will open in August. There are other additions coming as well, he said.
"There's going to be a lot better access into Inspirada," Kunec said. "We're nearly completed a 3-mile roadway connection off Las Vegas Boulevard to Inspirada on Via Inspirada. Right now you have to come off of Airport Road off St. Rose (Parkway). People will be able to get off on Interstate 15 and go right up Las Vegas Boulevard to get to Inspirada. We're excited about that accessibility."
The home prices range from $222,990 for a town home that measures 1,366 square feet to more than $500,000 single-family detached home, Kunec said. Skye Canyon
At Skye Canyon in northwest Las Vegas, Desiree Van Leer, marketing manager at the Olympia Cos., said they're excited about the progress in the development that saw its first sale in March 2016.
"We're thrilled about it as our homebuilder partners," Van Leer said. "It's a pretty exciting time for Skye Canyon, and it's a testament to the growth of the community. More people are aware and willing to come out and see what the lifestyle is about and what our homebuilders have to offer."
Van Leer said the opening of Skye Canyon's phase two neighborhoods is helping with sales because it gives more floor plan options.
In June, Skye unveiled model homes in six neighborhoods in phase two with 24 floor plans from Pardee Homes, Pulte Homes, Richmond-American Homes and Woodside Homes.
Plans feature one- and two-story models that range from 1,470 square feet to 3,386 square feet. Pricing starts in the mid-$200,000s. The price point of other Skye Canyon homes range from the high-$200,000s to mid-$400,000s.
"We're closing out some of our phase one neighborhoods already," Van Leer said. "It happened quicker than we thought it would." Skye Canyon, which markets itself for its recreation in the northwest valley, has sold about 800 homes since it opened and given its first-half numbers could surpass 1,000 sales by the end of the year.