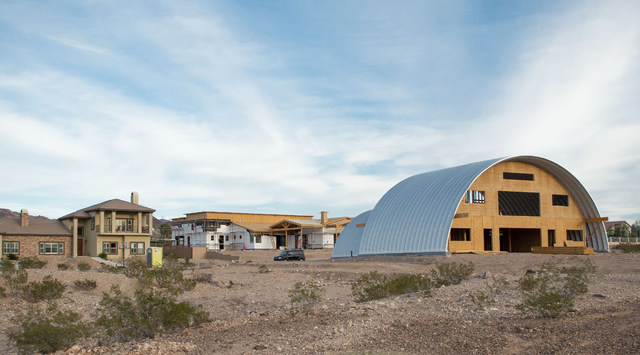 A new showcase home is coming to Henderson.
Design firm Tozier Ltd. is partnering with design and development company Global Living Systems to build the venture's G home at 328 N. Lisbon St., near Lake Las Vegas.
The 3,170-square-foot home follows 21 ecological principles, using thermal and solar photovoltaic panels, wind turbines, energy-storage batteries and charging stations. It will also have multiple types of insulation, including rigid, spray and batt insulation, plus radiant heat barriers. Its structural envelope includes prefabricated, corrosion-resistant steel-arch panels which are stackable for space-efficient transport.
"Our goal as a design-build firm has always been to make green living easy and affordable without sacrificing strength, performance, safety and, of course, aesthetics," said Aeron Tozier, founder of Global Living Systems and designer of the G Home. "A G Home is capable of living quietly, anywhere on the planet with a zero-carbon footprint. This is wonderful, liberating and guilt-free living."
A G Home prototype in Riverside Co., Calif., achieved an energy-efficiency rating of 40.7 percent over-compliance to California's Title 24 energy standards, the company said.
The designers said they expect the Henderson project to cost about $100 per square foot to build.
Scott Sanders Construction of Henderson is the general contractor.
Once the home is complete, it will serve as a venue for meetings, special events and public presentations showcasing G Home design and philosophy.
Two hotels change hands
Solstar Investments of Los Angeles has bought two extended-stay hotels in Henderson.
The firm bought the 120-room Marriott SpringHill Suites Hotel at 1481 Paseo Verde Parkway, and the 108-room Marriott TownePlace Suites at 1471 Paseo Verde Parkway.
The seller was the original developer, Campbell Lodging, which built the properties in 2009. GE Capital Franchise Finance provided funding for the purchase, for which the terms and price were not disclosed.
David Mirharooni of Brickstar Capital, a partner in Solstar Investments, said the deal reflected the investors' confidence in the Las Vegas marketplace.
Added Steve Barklis of Solana Advisors, also a partner in Solstar: "We are very excited about the acquisition of these two fine Marriott select service hotels. The hotels are already doing well. With a change in management and completion of a new property improvement plan, we expect both hotels to significantly outperform the market.
Pawn Plaza filling up
A reality-TV property offshoot has new tenants.
Pawn Plaza, at 725 Las Vegas Blvd. S., just south of Gold &Silver Pawn Shop of the History channel's "Pawn Star" fame, will be home to three eateries. Rick's Rollin' Smoke BBQ and Tavern, Poutine Vegas and Rita's Italian Ice have all inked leases to go in the center. Terms of the leases weren't disclosed.
When Pawn Plaza opens this summer, it will have 6,000 square feet of retail space and 6,000 square feet of balcony and patio space. The developers of the shopping center said the location will benefit from the neighboring pawn shop's 4,000 daily visitors.
"I couldn't be more excited to see this development come to fruition," said Rick Harrison, owner of both the pawn shop and Pawn Plaza. "It is extremely rewarding to be a part of the revitalization of downtown Las Vegas and provide locals and tourists more reasons to return to the 700 block of the Strip."
Contact Jennifer Robison at jrobison@reviewjournal.com. Follow @J_Robison1 on Twitter.