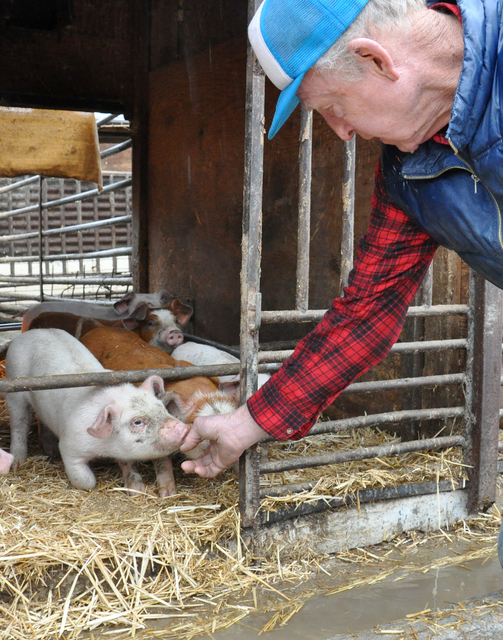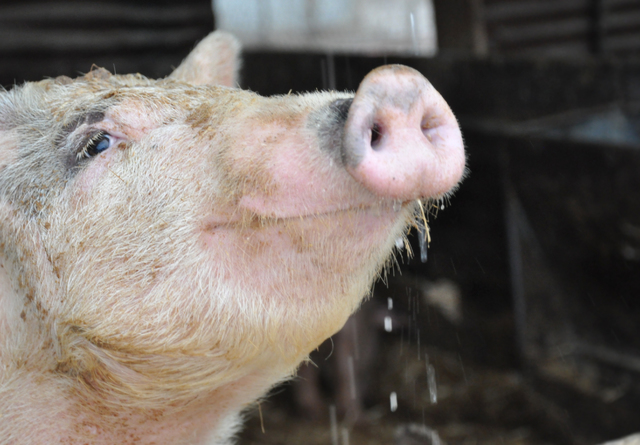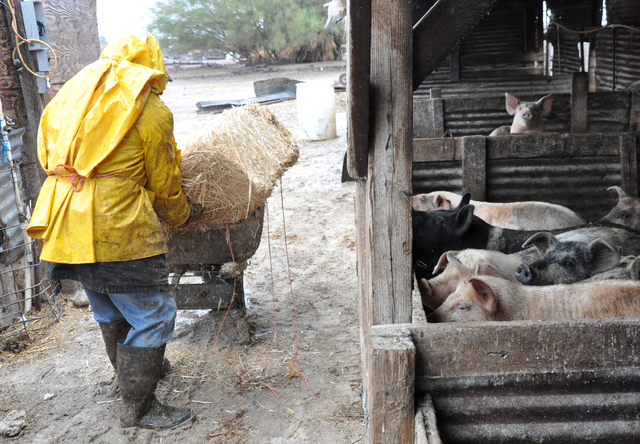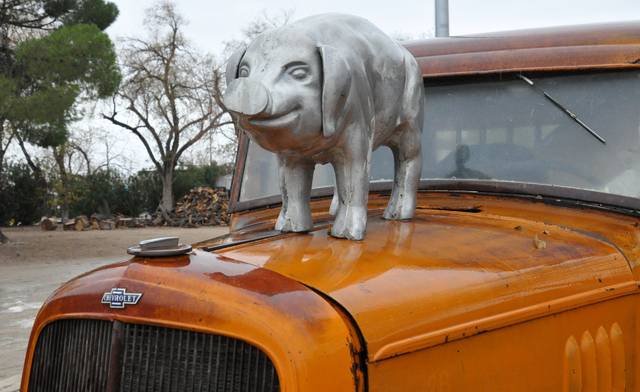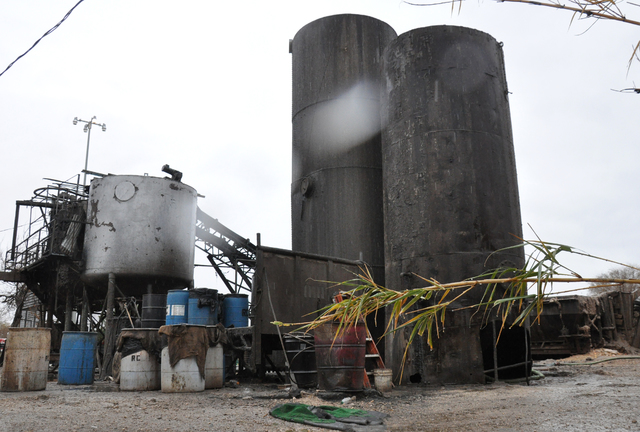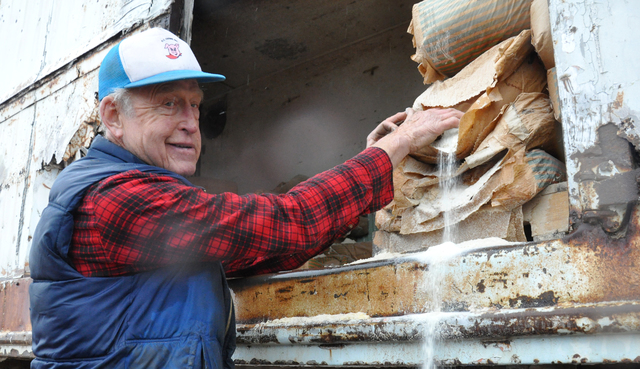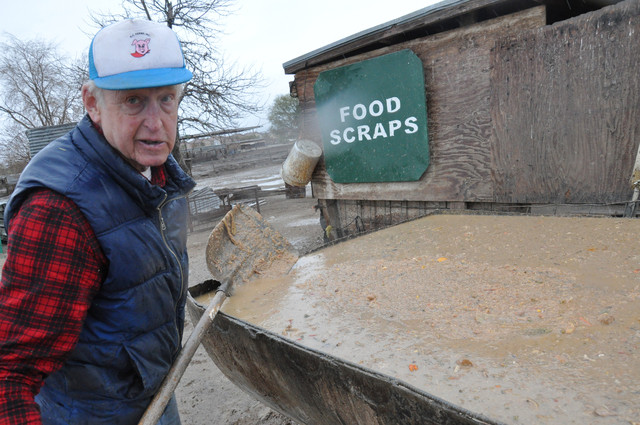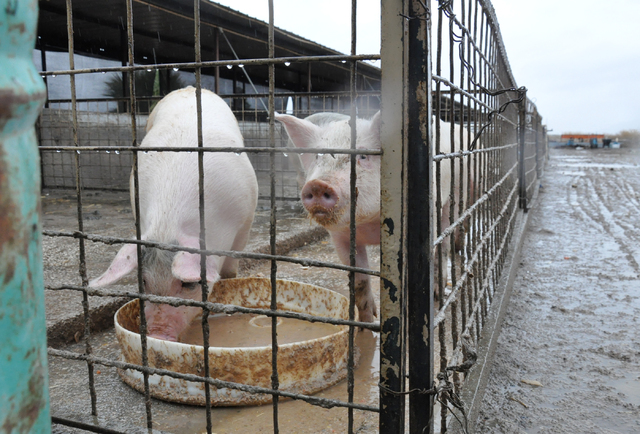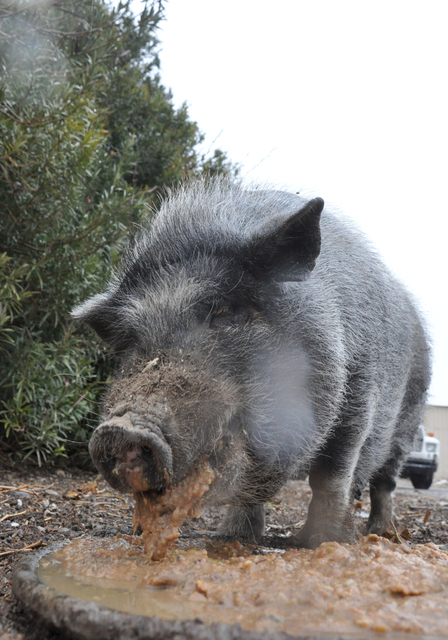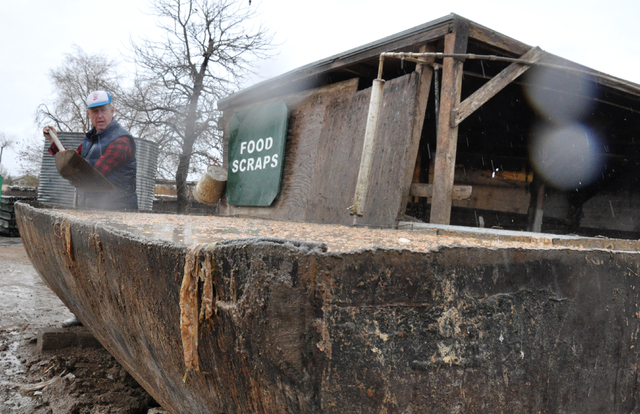 Robert Combs, 75, has raised more than a quarter of a million pigs for market since opening R.C. Farms in North Las Vegas in 1963, but that part of his life is about to end.
"In any profession, it is an advantage to truly love it and enjoy it," he said. "As you live your life, you should be enjoying it. And bringing joy to other people in that endeavor."
The 153.4-acre property, which has been the source of the farmer's joy for the majority of his life, is nearly barren now, and only a handful of animals remain as he prepares to turn the land over to new owners. By spring, the farm will be gone, and preliminary work to begin construction on a development for more than 500 homes called Sedona Ranch is expected to be well underway.
"It has sold to a group of investors led by a man named Guy Inzalaco, (who is with) the Olympia Group of Southern Highlands," reported former North Las Vegas mayor Mike Montandon to a gathering of regional real estate brokers at City Hall on Dec. 7. Montandon, now a broker for Providence Commercial, represented Combs in the transaction.
In October, Inzalaco purchased the property — the farm and an adjoining lot — for $23 million, according to county records, and plans to build homes on the site, which is bordered by Bruce Street, Commerce Street, West Ann Road and El Campo Grande Avenue.
"Three (builders) are already negotiating to be the primary homebuilder in Phase One and Phase Two," Montandon said. "There will also be a Phase Three. It will be a 150-plus-acre community that will be a real asset to North Las Vegas."
The project will utilize the city's transit-supported land-use plan, said Montana, and will take advantage of the Fifth Street Business Corridor, which the property intersects. A future transit route is planned by the Regional Transportation Commission to begin at Las Vegas Boulevard and Owens Avenue, extend up Fifth Street, through the R.C. Farms site and terminate at a proposed satellite campus of the University of Nevada, Las Vegas on Pecos Road.
Montandon expects construction on Sedona Ranch to begin in the third quarter of 2017, depending on the speed of city permits and zoning agreements.
"So there will be anchor grocery fronted on Fifth Street," he said. "Your Walgreens, those types of uses, to take advantage that Fifth Street is a major commercial corridor. It is a really exciting community."
The sale and development plans are welcome news to city planners — and more than a few residents.
"Years ago, North Las Vegas had no plan for what it wanted to be when it started, so things just popped up," said Mayor John Lee. "Over the years, things conformed to a master plan. This is one of the last remnants of agriculture in our community."
The farm gained significant notoriety over the decades. It often was visited by local student groups and has been featured many times in print and on television, including a 2006 episode of "Dirty Jobs" on the Discovery Channel. But all of that seemed a distant memory a few days before Christmas, when Combs offered the Business Press a last tour of the grounds under a steady, cold rain.
Roosters and chickens huddled beneath a flatbed truck. Black silos stood lifeless beside a shipping container and a dozen steel cargo drums not far from berms of compost. A few dozen hogs waited restlessly as a worker clad in a bright yellow rain slicker flung bales of straw into their pens. Despite the activity, the place exuded a sense of having already receded into the past.
At its heights, R.C. Farm employed 13 people who helped maintain a herd of more the 4,500 pigs, fed from casino scraps as part of a recycling program Combs initiated shortly after opening the facility in 1963. Another 40 employees were part of the daily operation of moving the leftover food to the farm.
"They call it sustainability now," Combs said. "I always called it survival. To a lot of people, 4,500 animals (may) seem like a lot, but to a small farmer like myself, we're out. A big operation runs 5,000 sows. Over in Utah, a farm has inventories of over 1 million live hogs. They are packed close. The facility costs so much per foot, and they give (the hogs) a lot less space."
Combs peeled back a thick, blue tarp protecting piglets less than a month old from the wind. Their mother stood behind them in an open bay on the other side of the pen.
"We never use any artificial insemination here," noted Combs, who always preferred to put the hogs together and let nature do what nature does. The little animals squirmed over each other and under a steel bar to receive attention from the kneeling farmer.
"We have respect for the animals," he said. "You get very attached to them. That's the thing about our pig. He does wonderfully on our food. He grows fast. He takes what would be waste and turns it into a very important thing called protein."
All of the animals, including these piglets, will go to market when the farm is vacated by mid-January.
The cyclical nature of life, the passing of all individuals into the complex, evolving stream of coexistence is never far from Combs' mind. He gripped the wheel of the utility cart with hands that were large and rough – farmer's hands – a testament to the physical demands such a life requires.
As he maneuvered through dripping, overhanging branches, he bumped the trunk of a tree growing beside a small pond on the property that seasonally attracts migratory birds.
"That's the way I drive," he laughed. "Just keep going until I run into something."
What Combs has run into now is time. His body can't serve him the way it could when he was a younger man. Small farm operations are succumbing to massive-scale farm factories. Property values are beginning to rise again after the crash following the 2008 recession.
And then there are the neighbors. As the city developed and homes began to be constructed nearer the property, the long-fondly regarded farm became a nuisance to residents because of the odor associated with a commercial livestock facility.
"It was mostly pungent after a rainstorm or an event like that, but it was always there," Lee said. "The residents who purchased there knew that someday the farm would go away, and now it is finally happening for them."
"It used to be the formula was if there was a house in North Las Vegas, pick a value and the price goes down as you get closer to the pig farm and up as you got farther," Montandon said.
Combs and his wife, Janet, acknowledge that the area could smell intensely like a pig farm tends to smell, especially after monsoon season rains. But Janet Combs pointed out that they are not the only odorous industry in the vicinity. "On Craig Road there is a soy sauce factory, and of course they blame us for that (smell)," she said, laughing heartily. "Everybody does."
"There is an odor ordinance where everybody who buys property within that circle, it encumbers their title," Lee said. "I think property values will go up 10 percent. (Assistant City Manager) Ryann Judan says the experts expect a 17 to 25 percent increase."
"No longer is the pig farm a negative asset," Montandon said. "Now it is the asset. Every home there has been affected, either directly in the title report and odor easement, or by the actual value. But that is all gone. By the end of (2017), there will probably be homes in Sedona Ranch."
But just because Combs is retiring and selling the property, that doesn't mean he and his wife are going anywhere. As part of the agreement, the couple may reside for life on 4.3 acres of the site that includes the family's ranch home.
Collectibles are scattered around these grounds, including vintage cars and trucks in varying states of preservation, iron stoves, folk art — mostly pig-related — and a water-well windmill that belonged to Combs' father in Southern California.
Inside, the house is a tasteful mix of traditional country and arts and craft styles, including oval braided rugs and a large, solid-wood kitchen table. As in many farm homes throughout the world, a rifle is propped by the front door.
In the den, which features a vaulted ceiling with solid dark wood beams and an array of exotic animals preserved by taxidermy, Combs gestured toward a framed copy of the farm's mission statement. "This has always guided us," he said, "from the beginning."
The statement reads: Produce more protein and reduce pollution by feeding livestock mostly recyclable commodities. In doing this, we are addressing two of humanity's concerns. Through recycling we are assisting in one aspect of God's greatest creation…Life.
"We want to stay (involved), but in a different capacity," Robert Combs said. "With our sons building a larger operation (in unincorporated Clark County 19 miles to the north), a lot of livestock (25,00 animals) and processing into consumer products, we are going to work in that area. But I'm not going to be moving the containers and dumping barrels like I did for 50 years."
What will he miss most?
"I can answer that for him," said Janet Combs when her husband grew silent. "He'll miss these babies." She pointed to a photograph of the farmer with closed eyes and a beaming smile as he held three piglets in his arms. "Your life is not your own when you are taking care of living things."
Robert Combs seemed to fight back emotions when asked how he felt about his sons carrying on the farm's legacy, including the recycling program.
"They went through the school of hard knocks here," he said. "They learned from my mistakes, and I expect them to do a much better job than I have.
"It is a hard life, yes it is. I told them you better love it, because you'd hate to put in 20 years and then find out you don't. That is such a waste of time. If you love it, you can take those hard knocks. They are going to come, but you can take them and not give up."