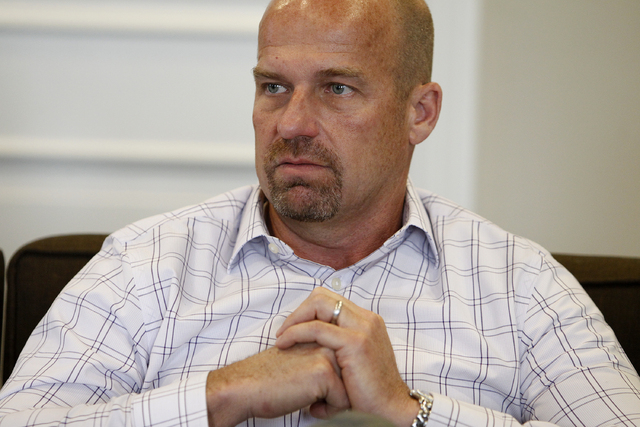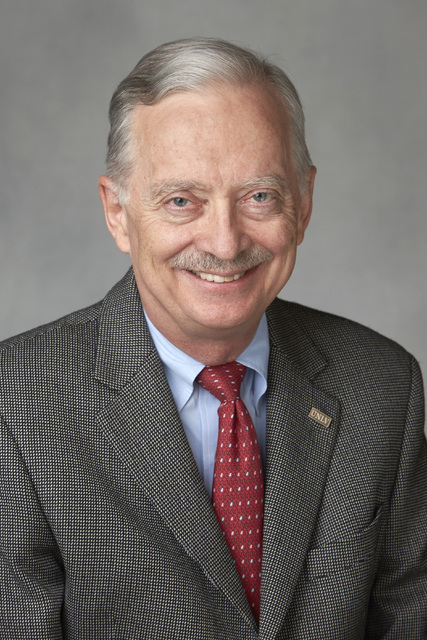 The long-term effects of the recession are catching up to Las Vegas and the nation in the housing and multifamily markets. Realtors are watching the number of homes sold in the valley increase, while the supply chain of existing homes coming onto the market dwindles and homebuilders race to fill the gap.
"It's the population growth of the last 10 years," said David J. Tina, 2017 president of the Greater Las Vegas Association of Realtors. "We've outpaced the supply in the last 10 years. The supply can't meet the demand."
According to data from the U.S. Census Bureau, Clark County had a 10.5 percent increase in population from April 1, 2010 to July 1, 2016 — going from over 1.9 million to more than 2.1 million people in that time frame, or a jump of more than 200,000.
The local home market may have not been completely ready for this type of increase in new faces. After the financial meltdown of 2008, local homebuilding activity came to a screeching halt.
"While they (homebuilders) were building too much in 2005 to 2007, they overcorrected, just like everyone else, and they stopped completely," Tina said. "Because of that, they're coming back, but they're not able to build fast enough."
The existing stockpile of homes is also decreasing. In the latest report from the GLVAR, the association reported that there was less than a two-month supply of homes, where most economists believe a four to six-month supply is normal.
Tina said Clark County fell below the normal supply limits about two years ago.
Locally, this has affected several aspects of the housing market from higher rents to creating the potential for increased pricing in the existing home market, especially in the lower-price tiers.
Homebuilders have also seen a jump in interest due to the limited supply in existing homes. The national scene has been on a similar trajectory.
Demand for homes increasing
in the valley
The number of units sold through April 2017 is on a trajectory to outpace 2016. Through April, there were 2,866 single-family homes sold, a 1.7 percent increase over the same time in 2016, though the number of condo and townhome sales decreased by 5.3 percent.
Last year, there were 41,720 homes sold in the valley, up from 38,577 in 2015.
The number of homes available in the Las Vegas Valley in April 2017 was significantly less than the same time last year.
According to data from the GLVAR, there were 11,001 single-family homes available in the association's multiple listing service. This was 20.3 percent lower than the same time in 2016, when there were 13,799 homes available.
The condo and townhome market experienced a similar decrease. In April 2017, there 1,854 condo and townhouse units available in Las Vegas, compared to April 2016's 3,581 available condos and townhomes. This was a decrease of 48.2 percent in April 2017 over the same time last year.
Steve Miller, director for the Center for Business and Economic Research, said what's occurring in the local market is normal in a recovering housing market.
"When the housing market is recovering like it is now, this is the sort of thing that you expect as the markets are trying to adjust," Miller said. "The supply of single homes and condos and townhouses and rentals. It's all in the mix and the markets are trying to come to some sort of equilibrium."
Miller said a under a five- to six-month supply would be a better situation, rather than being less than two months.
Pricing is also an issue. The tightest market of all is the lower-priced tiers, Tina said.
"The only market that they're being very aggressive is the under $300,000 market," Tina said. "That is a very tough market right now because the FHA limits are $287,000, so the under $300,000 market is very tight."
Tina didn't have any predictions on price increases in the future, though the cost of a single-family home in the valley has been on the rise.
The median price in April 2017 for a single-family home was $249,000—up 2.9 percent from March and 12.9 percent from April 2016.
The condo and townhome market also saw increases over 2016. The median price in April in that market was $130,000, up 8.4 percent from April 2016.
Additional demand for housing is being created by Southern Nevada's recovering overall economy. A component of that is the increase in population and employment opportunities, said Miller.
In March, Nevada's unemployment rate fell to 4.8 percent, down from 4.9 percent in February. That's a large improvement over recession time in the valley when there was 15 percent unemployment.
New home market expands
in Southern Nevada
Homebuilders are trying to catch up to put more homes in the local market after a long stretch of no building.
Klif Andrews, division president for Pardee Homes, said he's noticed an uptick in homebuyers looking to purchase a new home this year over 2016.
Andrews said this is most prevalent in the lower-price tiers—below $400,000, he said.
"What's happening is, because the resale supply has gotten so tight, sellers are entertaining multiple offers on a house," Andrews said. "Buyers will often times make a couple of offers and they don't get accepted, so they get kind of frustrated."
Overall, Pardee is selling 20 percent more homes. And in product below $400,000, Andrews said he's seen an increase of 50 percent over last year's numbers.
Pardee is selling in five communities that are below $400,000: North Peak, Castle Rock and Camino in North Las Vegas; Solano in Inspirada in Henderson; and Summerglen in the southwest part of town.
Andrews said that labor and construction costs are also rising.
"Construction costs have gone up nearly 10 percent," he said. "Actual construction costs have added about 5 percent onto the price of a new home from a year ago. It's going to keep happening. That's going to continue."
Andrew Smith of Home Builders Research said he's projecting 9,400 building permits to be pulled by the end of 2017. That's up from 8,702 in 2016.
According to Smith, there were 261 new home projects reporting in the first part of May. At the same time last year, there were 245 projects reporting, he added.
"We started seeing overall net sales totals per week at or above 200 in February of this year and that has continued to this point; same timeframe 2016, it was more around 170 or so," he said.
There is a premium on new homes. The median price of new product in April was $336,827, Smith said.
That compares to GLVAR's reporting a median price of $249,000 in April.
On the national level, builders are also behind because of the recession.
Lawrence Yun, chief economist and senior vice president of research at the National Association of Realtors said homebuilding activity has been below historical averages for 10 straight years.
"We are seeing home values rising much higher than people's income growth, so this would be a signal for the builders to build more, but the builders are indicating that they are running into some constraints," said Yun.
These include a lack of skilled construction workers, getting development done quickly enough through the permitting process and financial regulations burdening construction loan availability.
Due to the slow pace of building, and subsequent shortage, Yun sees home prices rising 5 to 6 percent, double that of potential wage growth on the national level.
"I think that's unhealthy, but hopefully next year things calm down, so that we have 3 to 4 percent price growth," said Yun.
Rental market heats up with
more demand
Rentals have also been on the rise in the valley.
"The rental market is brisk as well," said Miller. Rental prices are rising, which you should anticipate. When we went through the crisis, homeownership rates went down and some people moved into apartments. We've had a lot of apartment construction going on."
The vacancy rate in multifamily was 3.2 percent in the fourth quarter of 2016, according to a first quarter report from Colliers International Las Vegas. That was down from 4.2 percent in the fourth quarter of 2015.
The report also said there were 1,680 units completed in 2016—an increase over 2015's 1,510 units. Another 3,042 units are currently under construction, the report said.
Rents are also up. The average asking rent in the fourth quarter of 2016 was $959 per unit in multifamily, in all classes—up $44 per unit since the fourth quarter of 2015.
Class A multifamily moved up 5.5 percent to $1,099 from the fourth quarter of 2016 over the same time in 2015 when the average asking rent was $1,042. In Class B and C multifamily, there was an increase of 3.8 percent in the valley, from $791 in the fourth quarter of 2015 to $821 at the end of 2016.