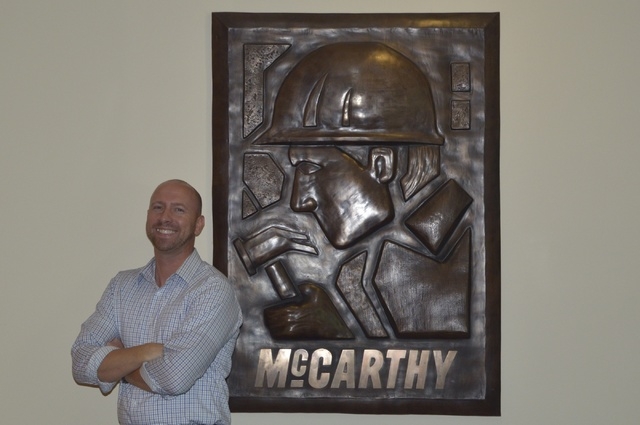 Jeff Wood, who was recently promoted to vice president of operations at McCarthy Building Cos., has a natural instinct for construction.
He was raised in a small community in Southern Illinois where his passion for constructing things started at a young age "Me and my brother from a really young age, probably 8 or 10 years old, we were building bridges and forts," he recalled.
"One time, we built a dam on the creek behind the house. My dad didn't know we were doing it. It was a pretty small creek but we ended up creating about a half-acre lake behind our house and had it all stocked up with fish, and my dad found it about a week later. He wasn't real happy because you needed to get permits from (the) Army Corp of Engineers to build dams. But me and my brother did it out of sticks and mud and cinderblocks."
Wood holds a bachelor's of science degree in engineering management and industrial engineering from the University of Missouri-Rolla, which is now called Missouri Science and Technology.
His hobby is golf and he has parlayed that into a charity fundraiser. "One of my main focuses is with our charity golf tournament every year, and our major beneficiary is Nevada Childhood Foundation," Wood said. "So, that's something that's really important to me. I think over the last three years we've raised over $75,000."
Q. In your new role, what are the most important things you check daily?
A. I spend a lot of time with the backlog of projects we have and pre-construction projects that we have in construction and really focus on staffing. It's really dynamic — we have daily needs of people being moved from project to project. That's one of the most important things we do. There's a lot of focus on keeping the projects adequately staffed and keeping everyone happy.
Q. How do you keep large projects on time, on budget, and financially worthwhile?
A. It's really all the pre-planning that we do. We spent a lot of effort before we ever put a shovel in the ground.
Q. What strikes you as the best part about the TopGolf sports-entertainment project you're working on at the MGM Grand?
A. This is going to be their flagship location so it's not like a typical TopGolf. This one has (a) concert venue and a couple of pools and VIP cabanas so it's kind of a mix between a normal TopGolf and a nightclub. It's going to be very unique.
Q. What rules do you live by and what values do you feel are important when conducting business?
A. In my past lives, I've been on the owner's side. I worked for the Cosmopolitan, I worked for Station Casinos, and so I understand what the clients are going through. So, I try to view everything from not just my side of the table. I try to view it from the architect's side, the owner's side, so that I really understand what those people are going through and make sure that everyone feels good about the project at the end of the project. At the end of the day, I just want to have raging fans at the end of a project.
Q. What kind of technology currently has your attention?
A. In the construction industry, when I started, we were using fax machines and stuff like that still. It's completely different now. All of our engineers are running around job sites with iPads, taking pictures and pinning issues to the drawings.
We're doing a lot with 3-D coordination and it's not just for a pretty picture; it allows all of our subcontractors to move faster and ultimately save money for the clients.
We're getting into what I'll call 4-D scheduling; it's a 3-D model that has time built into it. So, at any time during the job, you can say "Jeff, what's the job going to look like in October of this year?" and I can pull up a picture that would show you what the project would look like. That's really powerful for communicating with clients and also with subcontractors; what the job's going to look like at this point in time.
Q. What extra duties did you take on as vice president of operations?
A.I was a project director, so I was managing several teams of project managers in different projects. With the vice president's role, you have a lot more national responsibility. I sit on a lot of committees nationally with the company.
Q. What is your role with the Associated General Contractors?
A. I'm on the ambassadors committee so what we do is promote new membership and reach out to the subcontractor, general contractor community, and involve those members to get the membership up and make people aware of issues that are affecting the industry.
Q. How did you get involved with the Nevada Professional Facilities Managers Association?
A. I first got interested in that when I was with the Cosmopolitan. I stayed there through the construction project but afterwards I ended up involved with the facilities department there — 200 engineers maintaining the building and all that stuff. When I came to McCarthy, it just made sense to keep that synergy going, because I understood what they were going through. We do a lot of work on the property. It's good to have relationships with the people that are managing of facilities.
Q What do you enjoy about working at McCarthy?
A. I've never worked for or with a company that the people love the company so much and were so happy. I think we're up to four years in a row (as one of the) Best Places to Work. Whenever you can say that about any company, it's pretty powerful but when it's a construction company, that means even more because typically the construction industry is a pretty tough industry.