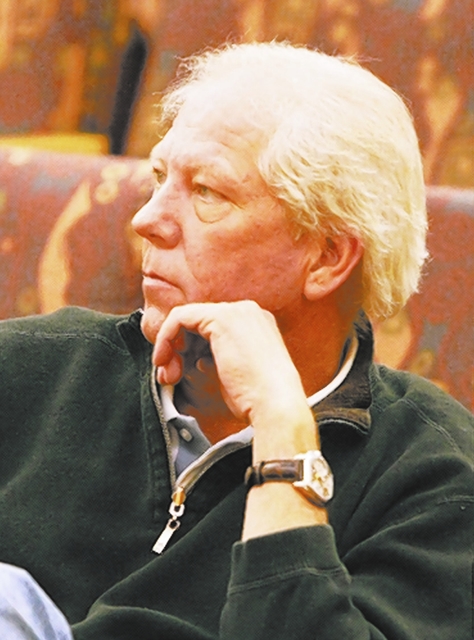 Jim Rhodes knows much of what's been said and written about him over the past two decades makes him out to be a bad guy and someone not to do business with, but he says he doesn't care. His own words, however, show that he does. He says he wished people understood him better or at least appreciated what he's accomplished.
Still, it's not a reputation that's going to be erased, given his history and perceptions about how he got to where he is today.
Rhodes has been one of the largest private homebuilders in Las Vegas for the past 20 years. He has been driven to prove people wrong his entire life and show he can play with the big boys.
Plenty of words have been used to describe Rhodes: visionary, risk-taker and entrepreneur, which have been contrasted by moody, impatient and untrustworthy. But one word everyone can agree upon when it comes to Jim Rhodes — who lost his namesake company Rhodes Homes in bankruptcy proceedings in 2009 – is survivor.
While other builders didn't withstand the collapse of the housing market, just when people thought Rhodes would be out, he positioned himself to remain a player and reinvented himself with Harmony Homes.
"When a small builder starts out and predicts he will be the biggest, that rubs people in the establishment the wrong way," said Dennis Smith, president of Home Builders Research, who lists Rhodes as one of his long-standing clients. "I respect what he's done. I remember one of the big builders said he would be out of business in six months, and I have reminded that builder of that."
The same year Rhodes lost his company to bankruptcy, he started local homebuilding company Harmony Homes. Rhodes said he is the company's CEO and owner. Harmony Homes Inc. is listed in public records as the parent company of Harmony Homes Nevada LLC. The Nevada Secretary of State registration for the company lists Rhodes' brother, John C. Rhodes, as the company's director and Bradley G. Sneed as its president. The two men are listed in those company positions with the Nevada State Contractors Board as well.
In any case, Harmony Homes closed on 97 homes in the depth of the Great Recession and has since expanded to Southern California. In 2010, Harmony closed on 379 homes, ranked No. 4 among all builders. The company has dropped in the rankings since then, falling to 14th with 157 closings in 2016.
"They're running out of lots," Smith said. "It's hard to find replacement lots."
However, Rhodes isn't done thinking big in Las Vegas, just as he did with his signature project, Rhodes Ranch, in the southwest Las Vegas Valley. Rhodes and Gypsum Resources continue to pursue building 5,000 homes on a 2,400-acre development on Blue Diamond Hill overlooking the Red Rock Canyon National Conservation Area to the dismay of environmentalists, neighbors and outdoor enthusiasts.
The development has had legal and other hurdles to overcome, as well as skeptics about its cost and Rhodes' ability to pull it off. That's the kind of challenge Rhodes has thrived on in his career.
Rhodes rarely has given interviews, and he's admitted he's not as active as he used to be in the day-to-day operations of the homebuilding business. His profile has risen again, though, due to the proposed Blue Diamond Hill project making its way through the Clark County Commission in 2017.
"I just work and try hard, and try to do good work," Rhodes said of the criticism of him in the media. "I signed up to be a builder and not (to) be popular or unpopular."
Rhodes' life has been a wild ride. He went from a laborer making $3 an hour to a homebuilding entrepreneur virtually overnight.
Anywhere else that would be an unlikely story, but it's the story of Las Vegas — someone young and eager with a little higher education who rides the growth and builds up a multimillion-dollar enterprise.
Even today, the brash-talking and affable Rhodes comes across more as the one-time construction worker who made it big than a top executive. Living a life of hard work and hard play, he looks older than his 58 years.
The son of a dentist who moved to Las Vegas in 1958 — the same year Rhodes was born — he wasn't amounting to much after high school, driving off to Idaho in his Corvette to ski during the day and work at night.
Upon his return to Las Vegas in 1977, his dad, Leonard, didn't like the choices his son was making with his life and told him to go out on his own.
Rhodes sold his Corvette for $4,200 two days later and set out to make his fortune at the blackjack tables, only to lose most of his money. He would have to rely on a bike as transportation to and from his odd jobs as a laborer.
But hard work and a drive of being out on his own led him to framing homes. Within a few months after his dad kicked him out of the house, Rhodes started his own subcontracting firm that grew to 100 workers. In 1984, he decided to become a contractor, buy lots and build his own homes. Six years later, he bought more than 200 acres to build homes in Spanish Hills in southwest Las Vegas.
Rhodes said that he has built about 11,000 homes in the valley as a developer and 25,000 to 30,000 homes as a contractor.
That success has made some envious, and others cry foul. Rhodes has made his share of enemies in his 40 years in the homebuilding industry in Las Vegas.
In lawsuits and claims, business partners and contractors have accused him of ripping them off — not giving them what they were owed or defrauding them in other ways. Lenders accused him of mismanagement and misappropriating funds before taking Rhodes Homes in 2009 as part of bankruptcy proceedings.
Business executives who have dealt with Rhodes over the years joked that when you shake hands with him, you have to count your fingers. Others have called Rhodes aggressive, and if they worked with him, it was best to play by the same rules he did.
Rhodes has blamed the criticism not on anything he did wrong, but, in part, on competitors envious of what he has achieved and they have not; business partners or contractors trying to bilk him out of money and allowing media accounts to be written about him without addressing the accusations to show they're inaccurate.
"I'm a Presbyterian and plan to meet my maker in heaven," Rhodes said. "I have one guy to satisfy. I can look in the mirror and be proud of myself."
Rhodes, who said he's read plenty of books about self-made business executives, points to the stories of Bill Gates, Sam Walton, Michael Milken, Warren Buffett, Armand Hammer and Walt Disney as a defense.
"Some of them had a lot worse reputations than I have had," Rhodes said. "They just cleaned it up with a better PR firm. I'm a Boy Scout compared to some of these guys."
Boy Scout isn't one of the terms some people would use to describe Rhodes. What some consider drive, others questioned in how he conducted business.
In 1998, an investor group accused Rhodes of mismanagement and directing resources and earnings from a partnership that built the Palm Canyon community in Henderson to Rhodes Ranch.
In 1999, Rhodes was fined and placed on a one-year probation by the Nevada Contractors Board after homeowners said he didn't resolve their complaints. Rhodes and other developers were sued for construction defects in North Las Vegas' Casa Linda subdivision, and the $16.25 million payout was the largest in the state at the time.
In 2008, Rhodes lost a lawsuit, which he then appealed, in Mohave County, Arizona, involving the purchase of 6,900 acres in Golden Valley near Kingman for a development known as Pravada. Businessman Scott Dunton said he'd agreed to a deal in which his group would gain nearly 5,200 acres, and Rhodes would get 1,700 acres, but when the deal closed, the land was titled to Rhodes. The two ultimately settled the case.
Rhodes blamed problems with taking on partners and said that's one reason he avoids them.
"They don't always have honest intentions, and they are little scammers," Rhodes said. "They lay awake at night trying to figure out how to scam you."
Rhodes was accused of breaking federal law in the 2002 campaign by funneling a total of $27,000 in corporate money through his employees to Dario Herrera's congressional campaign and Harry Reid's Senate campaign. Rhodes settled the complaint by paying a $148,000 fine.
Rhodes even paid $200,000 a year for a period of time to former Clark County Commissioner Erin Kenny to act as a consultant, even after she pleaded guilty in 2003 to accepting bribes from a strip club owner. Rhodes said he didn't know of the charges looming against Kenny when he hired her and maintains his payments were simply for her skills as a consultant.
As for complaints about contractors or vendors who've criticized him for not getting paid what they're owed, Rhodes said he's gotten stiffed for tens of thousands of dollars owed him when he worked as a subcontractor, which taught him a valuable lesson about protecting himself. Rhodes said some subcontractors want pay for 40 hours of work when it only took them four hours to complete.
"You can't let people rip you off," Rhodes said. "It's kind of a shame that a person is out there taking risks, putting his assets on the line, and providing jobs, health insurance and economic impact, and you aren't viewed fairly."
According to those who know him, improving his reputation was what Rhodes had in mind in 2007 when he pledged to donate $11 million to the Nevada Cancer Institute after his dad died of cancer. It was a chance to rebuild his image. But in 2009, the Nevada Cancer Institute sued Rhodes and his wife, Glynda, accusing them of reneging on more than $10 million in donations after giving $600,000. The case was voluntarily withdrawn by NCI.
Rhodes' observers said he was trying to make a statement, but didn't follow through on a commitment, which they described as his biggest weakness. They said he's committed to himself, but not necessarily other people, and that the episode initially generated a lot of goodwill, but he never lived up to the publicity after that.
Rhodes admitted that's the case, and he took a deep breath and long pause before talking about the issue that he said he will never put behind him. He said he was only trying to do the right thing and that his initial plan was to make the donations over 10 years, with an option to delay it to 15, depending on the economy.
The Nevada Cancer Institute pushed for it to be accelerated, and Rhodes said he later tried to amend it and push it back, only to be blindsided by a lawsuit. He said he was hurt and angry that his issue was made public when others couldn't fulfill donations as well.
For all the criticism about how Rhodes conducts business, even detractors give him credit for his success in the homebuilding industry and ability to survive the housing downturn when others didn't.
In 1995, Rhodes assembled nearly 1,800 acres, borrowing money from family and friends at a time when many in the industry told him not to do a master-planned community — especially one in the middle of nowhere.
It became Rhodes Ranch, which has become one of the more successful master-planned communities in the Las Vegas Valley. Rhodes has been credited with seeing what others didn't, and as someone who's not afraid of risk and challenging authority.
Smith said the move was either luck or vision, and maybe it was a combination of the two. Its importance can't be underestimated. It opened the southwest valley to development long before the Las Vegas Beltway, he said.
"He's done things over the years that have caused people to shake their heads and ask what he's doing," Smith said. "Some think he's either crazy or a genius, but he has a lot of vision and (is) not afraid to stick to his guns."
When virtually all builders were sitting on their hands following the collapse of the new-home market, when the valley's closings went from 35,291 to 5,244 in 2009, Rhodes was bucking the trend, buying finished and partially finished lots at distressed prices that would position him for a rebound at a time Rhodes Homes was collapsing under a mountain of debt and misjudgments about the housing market.
Critics contend the saving factor was that Rhodes was able to use the company's assets — namely those at Tuscany Village in Henderson and Rhodes Ranch — as collateral for $500 million in financing arranged by Credit Suisse in November 2005.
Lenders accused Rhodes of misappropriating money, alleging the company directed millions of dollars from more than $370 million in loans to finance his companies not covered by the loans. That included Harmony Homes, which was operated by Rhodes through a trust in his children's names, the company alleged.
The legal filing branded Rhodes as one of Las Vegas' most controversial homebuilders, saying "his self-dealing and illegal conduct extended to many facets of his life."
It lambasted his management and said his company's balance sheets dropped by about $6 million in the days leading up to his bankruptcy filing. It claimed Rhodes paid family members for limited work, bought luxury automobiles and may have used company money for a divorce settlement in the amount of $2.4 million.
It was maintained Rhodes received a $75,000 bonus in addition to a $400,000 annual salary, and the bonus was approved at a board meeting where he was the only attendee.
Rhodes denied the allegations, but later agreed with creditors to give up possession of two developments in Rhodes Ranch and Tuscany Village, a development near Lake Las Vegas that was stymied by the housing downturn and its location.
Rhodes said allegations made against him were fiction driven by Wall Street as a way to sway the judge in the bankruptcy case.
"They are the ones who came knocking on my door, and their sales pitch was, 'If you do this loan, this will pay off the $200 million in debt you have, and you won't have any personal guarantee,' " Rhodes said. " 'And if it doesn't work out, you just give us back the keys.' These boys from Wall Street had their eyes wide open."
It was Rhodes' pursuit to build tens of thousands of homes throughout Arizona, including in White Hills, located south of the Nevada state line, which observers say contributed to Rhodes Homes' demise. The developments already faced challenges of water issues and other infrastructure issues, as well as creating communities in the middle of the desert.
But Rhodes always defied his critics, and it empowered him to take more chances, especially with money to spend, observers said. He thought Arizona would be like Las Vegas and spent money to build a market that was untested.
Despite those failings, Rhodes didn't go under or remain on the sidelines like other builders. He had an exit strategy that enabled him to start from scratch and start rebuilding his homebuilding empire.
When the Las Vegas housing market went south, and land prices plummeted, Rhodes said he saw an opportunity and bought lots at low prices that would make it affordable for him to build homes at a profit when other builders' margins were hindered by the high cost they had in their land.
Rhodes said he used his personal funds to finance Harmony and didn't use the proceeds from Credit Suisse. He said terms of the deal with them wouldn't allow Rhodes Homes to purchase distressed property, and so he had to create a separate entity.
Housing market observers said Rhodes easily could have sold his company during the height of the market, but wanted to keep it and continue to make a name for himself. Some laud his perseverance and drive and refer to Rhodes as a Rodney Dangerfield figure always looking for respect.
Rhodes said before his dad died in 2002, he used to brag to friends how his son paid more in taxes than he and his two brothers earned per year. He said his dad did him a favor when he tossed him out of the house.
"It made me feel really good," Rhodes said of his dad's praise. "That's why he's my hero."
But Rhodes said he knows he hasn't gotten such love from the rest of the community. He said he loves Las Vegas, and nothing would get him to leave, no matter what people say or think. He's proud of having survived the ups and downs of the housing market.
"I am just going to keep my head down and keep going, and I think it will dawn on people who's the last guy standing," Rhodes said. "Then, maybe people will say he wasn't completely wrong."