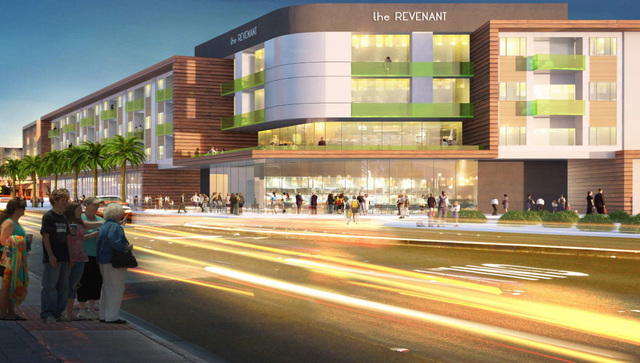 A proposed large-scale mixed-use project in the downtown area of Henderson could open a new chapter for businesses and residents along Water Street.
The Revenant, a planned four-story, 177,000-square-foot mixed project at Water Street and Victory Road in downtown Henderson, is heading for final approval on Nov. 14 from the Henderson City Council.
"City Council is very supportive of it," said Stuart Hitchen, president and owner of SH4 Development.
SH4, the developer on the project, is working with owner/operator South Carolina-based Cross Island Associates. Under the current plan, the project will bring about 22,000 square feet of retail space to downtown Henderson, along with 111 multifamily units.
Hitchen said he expects to get the final green light to start building by spring 2017. From there, he anticipates the project to take about 12 months to complete, so the finished product should be standing in downtown Henderson about spring 2018.
The project started to move forward after Cross Island purchased the 2.8-acre site from the Henderson Redevelopment Agency in June. This will be Cross Island's first project in Nevada.
"They think downtown is going to turn around, and that area will regentrify, which is why you have a redevelopment agency and redevelopment area established there," Hitchen said. "It's a leap of faith that somebody had to make that will change downtown."
The redevelopment agency is aiming for this type of project to the downtown region in Henderson.
"That's the goal—to bring more people, newer housing and to really increase the density of the housing down here," said Mark Hobaica, redevelopment manager at Henderson's redevelopment agency.
There has been a lot of interest in The Revenant, especially in the retail component, Hitchen said.
The Revenant project is geared toward the millennial renter, he said.
The Revenant will feature one- to two-bedroom units and include an area for pets, a community room and community garden. Hitchen estimated the rents in the multifamily units to be in the mid- to high-range. There will also be six luxury units available.
"We're anticipating, within the building, a lot of our tenants having bicycles," Hitchen said. "So we're going to have a bicycle area to check in and check out."
Hitchen hopes that The Revenant development will spark new life to the local region.
"When this opens, a lot more is going to happen downtown," Hitchen said.
He expects the region to gain its own feeling and vibe.
"There's no reason this can't happen here, especially with Cadence coming on board, and the residents that are going to move out there," Hitchen said. "They're going to need a destination. Water Street could be a destination for shopping, dining and entertainment."
To help this along, Henderson offers a $50,000 tenant improvement grant. There is also grants for exterior improvements and to help with the cost of a new sign. Hobaica said there is a potential for businesses to grab $60,000 to $75,000 in improvement grants that move to the downtown Henderson region.
Hitchen said the Revenant project is not looking to take advantage of these grants, but they could help bring more tenants to The Revenant.