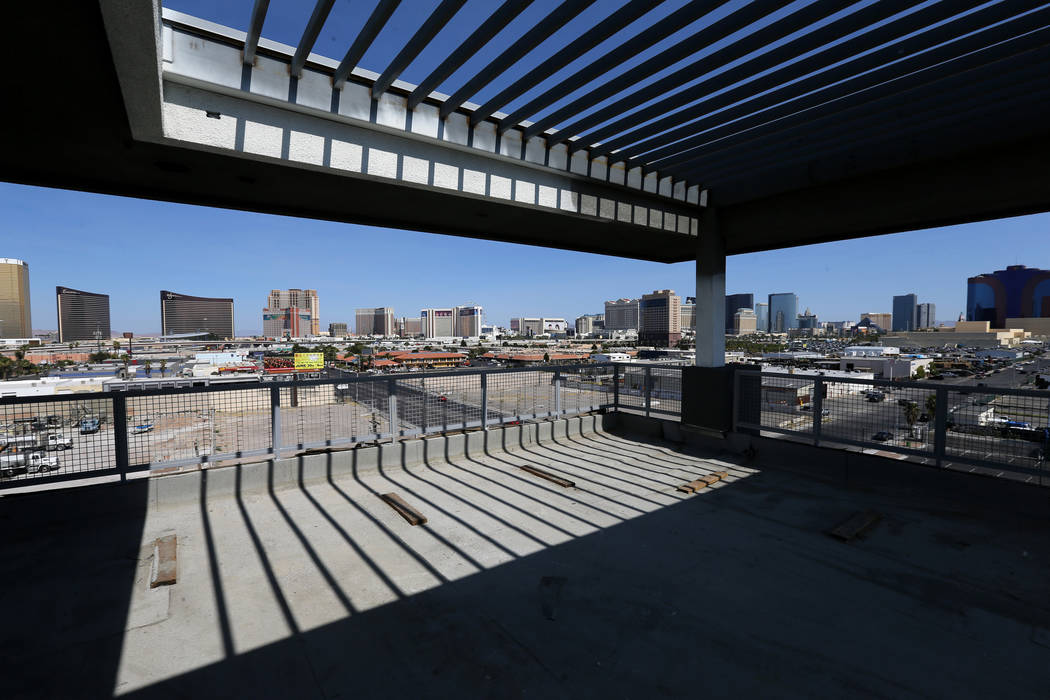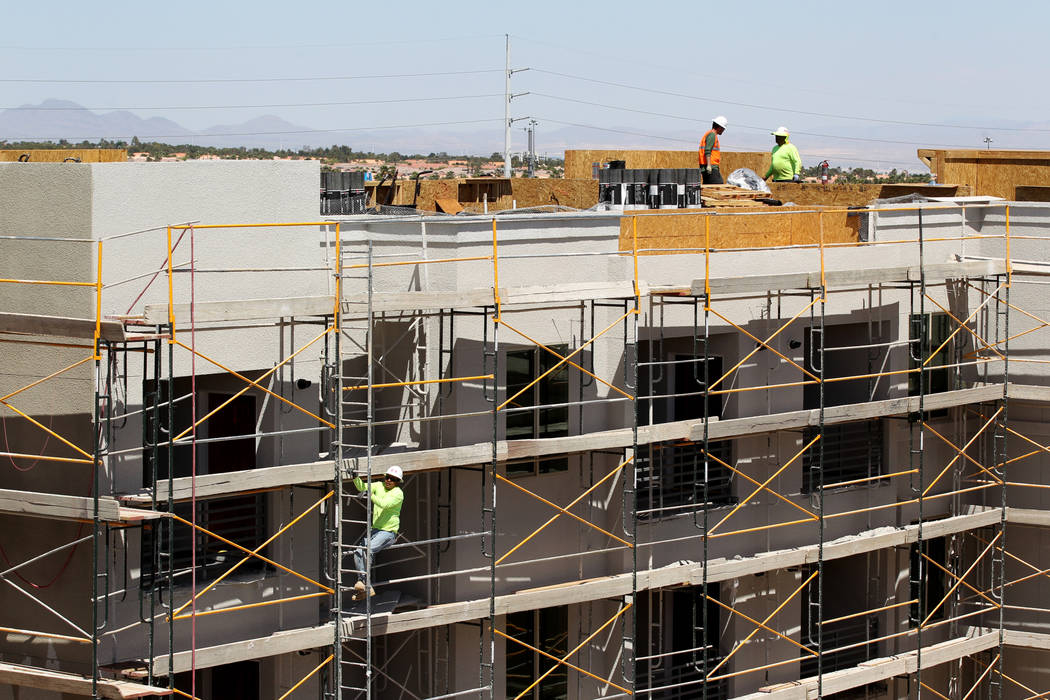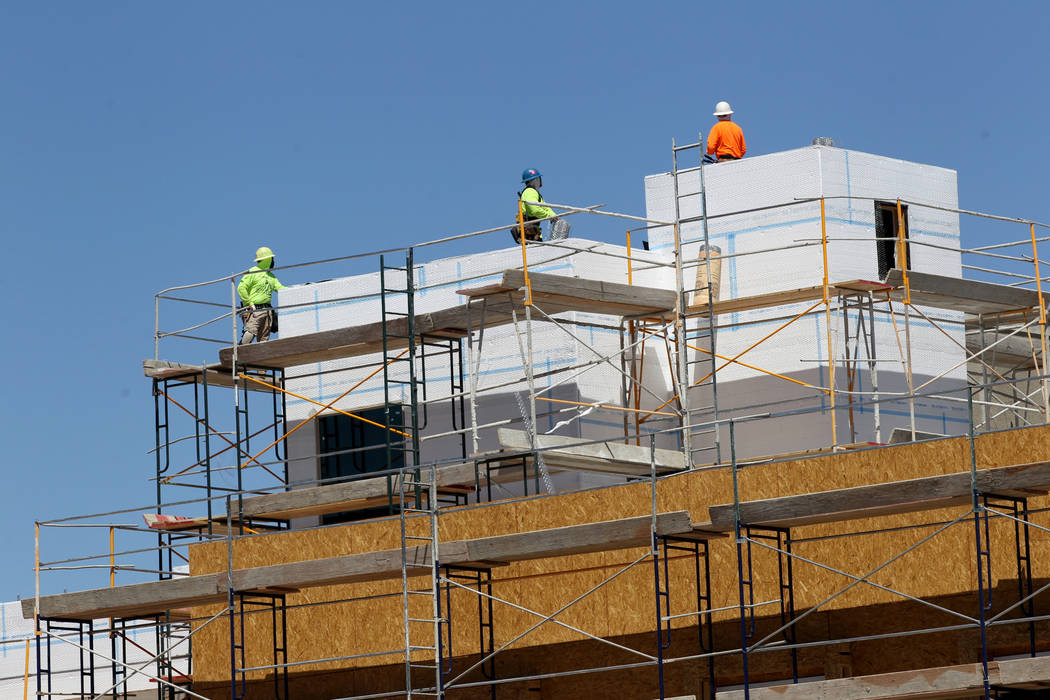 Nothing is hotter in the Las Vegas Valley these days, not even the temperature, than the multifamily marketplace.
Investment companies are buying up Southern Nevada apartment properties at a rate that's similar before the Great Recession, according to a recent analysts. They're increasing rents to help pay for their acquisitions.
While construction has been slow to rebound compared to the rest of the nation when it comes to apartments and obstacles of projects penciling going forward, developers are opening, constructing and planning projects to keep up with demand. And those that are opening tend to be luxury complexes with high rents and amenities to go along with it.
Nothing exemplifies that like Lotus Las Vegas, a 295-unit at 3616 Spring Mountain Drive in Chinatown that opened in April and charges rents ranging from $1,200 to $3,040 a month. It's complete with concierge services and karaoke room, virtual-reality sports room and its own restaurants.
Based on the latest report compiled by the Center for Business and Economic Research at UNLV quarterly rent growth has gone up for three consecutive years. Projects like Lotus contribute to that trend line.
In the second quarter, the rents went up 2.4 percent to $1,003 a month, an all-time high.
Rents are up 35 percent since the trough in the market of $741 a month during the first quarter of 2013. The market had peaked in the second quarter of 2008 at $876 before the collapse of the economy.
The current vacancy rate stands at 7.2 percent and has been trading at that range for nine consecutive quarters, according to CBER. It still has a long way to go to reach the 4.53 percent vacancy rate in the first quarter of 2006 when the housing market peaked.
Some 46 ZIP codes saw an increase in rents in the second quarter with the highest at $1,523 a month in 89138 in Summerlin. Two other Summerlin ZIP codes, 89144 and 89135, had average rents surpassing $1,300 along with 89012 in the Green Valley area of Henderson and 89041, which includes Southern Highlands.
Since apartments complete with single-family homes, CBER noted that home rentals decreased by 2.8 percent in the second quarter while apartment rentals increased by 7 percent. Home rentals are down 4.1 percent over the previous year while apartment rentals are up 4.3 percent.
Part of that may be affordability with single-family homes, renting on average at 86 cents per square foot, getting their largest quarterly increase since the recession —up by four cents a square foot or nearly 5 percent from the first quarter.
Jonathan Fore, managing partner of the Fore Property Co., which opened Lotus Las Vegas and whose company lists nine other properties in Las Vegas, has planned a six-story, 293-unit complex on Twain Avenue near the Rio. He said the market was out of control in 2007 and 2008, and that there should be a longer run with a more cautious approach this time around.
"It's the hottest market I am in," said Fore who participated in a panel discussion on multifamily development during a breakfast meeting of the Southern Nevada Chapter of NAIOP, the development association. "Some of the other markets were hotter 12 to 24 months ago, but they have seen some cooling from supply constraints. This market is free from concessions (like two months of free rent), and that's usually a sign of a good market."
John Cunningham, managing director of Jones Lang LaSalle multifamily investments in the Southwest, said transaction volume is consistent from the previous peak in 2005 and 2006. His company did $2.5 billion in multifamily transactions a year back then and did $2.2 billion in Southern Nevada in 2017.
The previous market was driven by syndicators doing condo conversions that created a bubble, but this market is driven by institutional investors based, Cunningham said. Half of the buyers are new to the marketplace, he said.
"We are more than 2 million people right now and got a more diversified economy that we have had in the past," Cunningham said. "Institutional investors from a national and international perspective are looking at Las Vegas differently. They are excited about this market as a whole."
Cunningham said Las Vegas has been ranked by some analysts as No. 1 for investors with expectations of an 18 percent return. He said they sold Vantage Lofts for $347,000 a unit, which is the highest price ever paid in the marketplace.
"Vegas has never been No. 1, and we have tremendous runway ahead of us based on a diversified economy, lack of supply, strong demand and returns," Cunningham said. "Investors are looking to Vegas as the last bastion of investment property."
Despite all this money flowing into the marketplace, Cunningham said no one should think Las Vegas is overbuilding. It's actually under delivering, he said. Other markets from Seattle to Denver have been adding 6 to 7 percent of new inventory every year compared to 2 percent of Las Vegas's inventory of about 150,000 units.
"When you see all of these apartments being built, it looks like we're overbuilding but in reality we are not," Cunningham said.
Fore said that's because Las Vegas was one of the last markets to recover from the Great Recession when it comes to multifamily investment. Any project under construction now took three to four years.
"It was late to the recovery and why it's not the same percentages as Southern California and Denver and Seattle," Fore said. "It was only four to five years ago that groups from Boston and New York fly in and say I want to put money into a new development in Las Vegas."
The one concern is that groups are coming in and paying whatever it takes and increasing the rents after updating the interior of the units andamenities, Cunningham said.
That's echoed by Mike Shohet, executive vice president of real estate development for Nevada Hand, an affordable housing developer. He said that while the demand for affordable units remains strong and it's difficult to meet that because of the construction costs and rents needed to justify it.
"That's getting harder and harder to do," Shohet said. "On the investment side, it's hot and we are a buyer of multifamily, and we're not able tocompete with buyers underwriting with huge rent growth."
There's an unmet demand in the valley because statistics show that for every 100 households that have income of $30,000 and less, there are 39 units in the market affordable to them, Shohet said. There will be a lack of supply for at least a decade, he said.
"That is a huge deficit, and those are people who are competing for a limited supply of affordable housing," Shohet said. "We're talking working families that have decent jobs that come from the casino business, retail, entry-level medical professionals and teachers. If you take those that earn between $35,000 and $65,000 a year, that is 248,000 workers — a quarter of our workforce.
Without us ramping up production, that segment of the population will get squeezed. I don't think people are aware of it, but we need it because it will impact economic development for the valley."
The only product being added that pencils for construction is Class A luxury based on rents that can be charged for that, Shohet said.
On the luxury end, Fore said the biggest difference he's found from a decade ago is how millennials want the freedom of renting an apartment versus a home. Renters are even looking for amenities of single-family ownership.
"There are even 50- or 60-year-olds that don't want to be in a home now but want the freedom of being in an apartment," Fore said. "The expectations like a pool or a playground are gone.
There are some unique things being put into apartment buildings from rock-climbing walls to our karaoke room that has been a big hit.
Retention is a big part of our business and we offer brunch and cocktail hour and concierge services so it's more than a place to live."
Millennials, meanwhile are a primary focus when looking to layout an apartment building, according to Fore who said he's looking for more in-fill projects in urban areas.
Many millennials have ditched their cars, like food delivered and want the convenience of being close to work, retail and restaurants rather than homeownership, Fore said.
Cunningham said millennials are saddled with student loan debt and that makes it challenging for them to buy a home at this time.
As for rents being charged in Las Vegas, they are right where they should be based on 1.5 percent growth a year over the decade or so, Cunningham said.
No panelist suggested rent control as an alternative, and Fore said that issue being on the ballot in California in November has investors coming to Las Vegas.
"There's uncertainty of how does that affect growth going forward," Fore said. "The fact that we don't have that here is a big plus when looking to invest capital on the West Coast."
Much of the most recent apartment development has been in the southwest and Henderson where there has been two-story and three-story units near the 215 Beltway, Fore said. Those areas are getting overbuilt, and Fore said there's a shift of investment to more of the urban core of the valley.
"There are four to five deals now that will be within a mile to mile-and-a-half of the Las Vegas Strip," Fore said. "Deals are coming online downtown, and Las Vegas is starting to see that investment from suburban to urban Las Vegas."
Fore said the banks have been methodical in approving loans to keep the marketplace in check.
There are concerns, however, going forward. He's seen construction costs go up 15 percent in two years. He's build the same product for $135 a square foot that's now $175 a square foot. Land prices have doubled in three years for multifamily development, he said.
"You are getting to the point where you are maxed out and deals aren't getting done because they are not making economic sense because of the construction costs and land prices," Fore said.
There are concerns about increasing costs of steel, lumber and other supplies because of tariffs imposed by the Trump Administration, and contractors can't lock in a price, Fore said.
"Deals are razor thin, and we don't have room for another 5 to 10 percent," Fore said. "And there is not lot of qualified skilled labor to build if we get up to 3,000 units a year."
As for the future, Fore said he's looking for infill opportunities in the Charleston Boulevard and Tropicana Avenue boundaries and Valley View Boulevard.
Cunningham said the marketplace needs more diverse product and foresees denser projects that are vertical.
"You have to do something bigger and better," Fore said. "You can't do the same thing you did three years ago. We're working with design professionals to amenitize the buildings to stay ahead of the curve. That's an important part of multifamily."
Shohet said his group is looking at West Henderson, North Las Vegas near the 215 Beltway and Maryland Parkway corridor where a light rail may be installed.
"From our perspective, transit is going to encourage a lot of investment in that corridor," Shohet said.