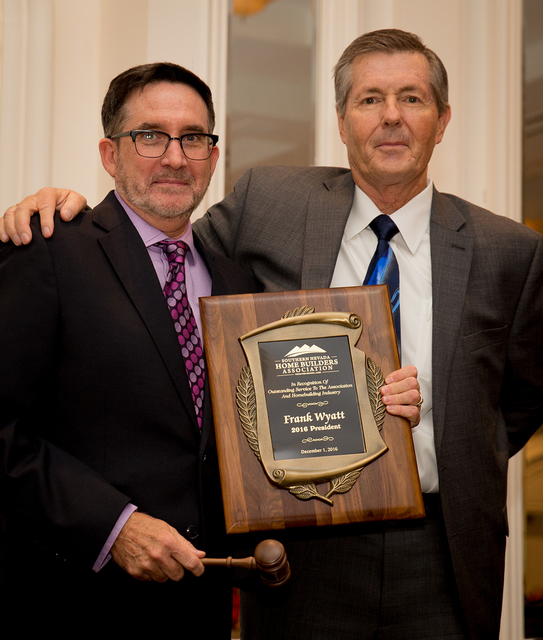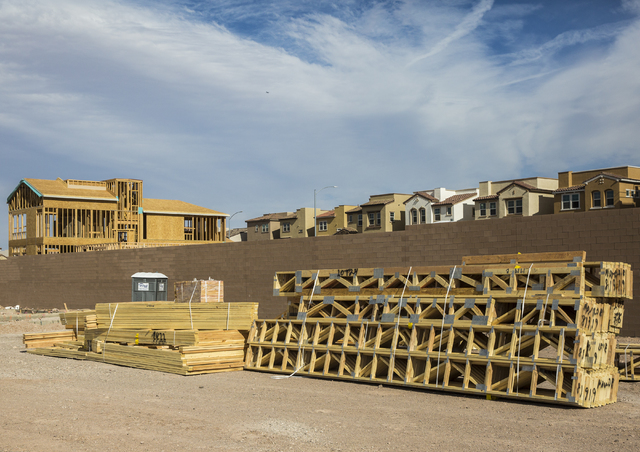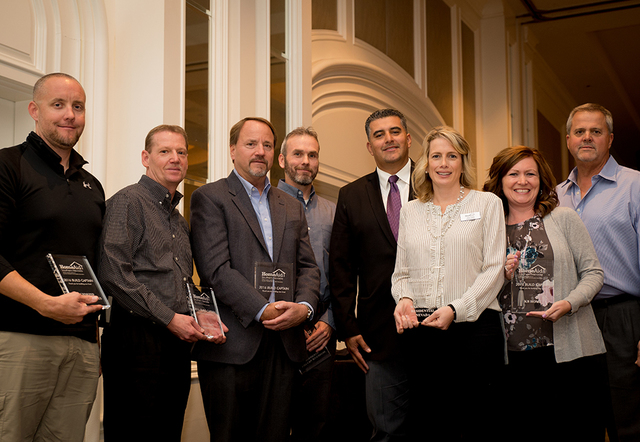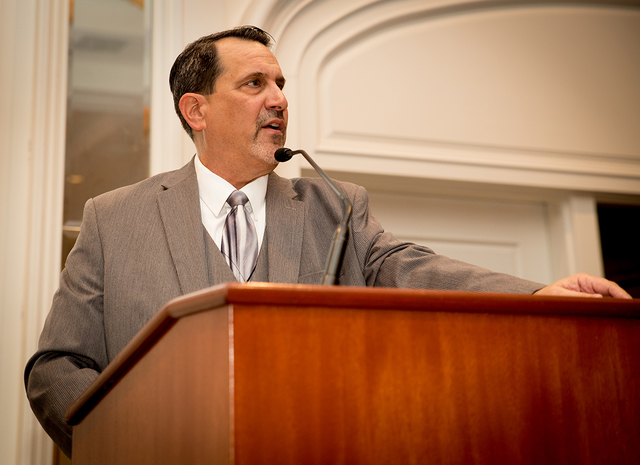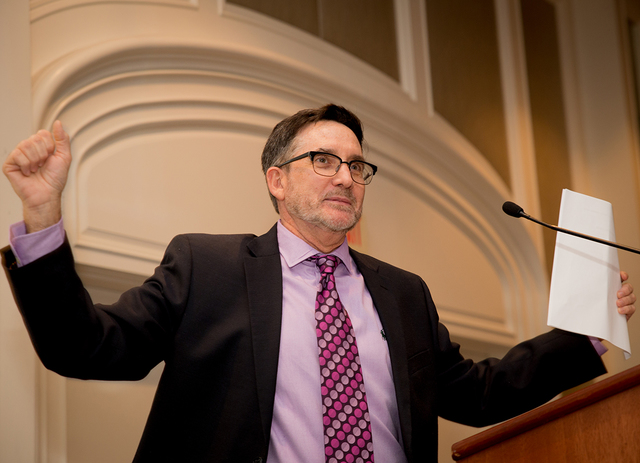 One of the coolest things about attending a Southern Nevada Home Builders Association function is the parade of super big trucks in the valet. After the trade group's Dec. 1 luncheon at the Four Seasons Hotel, a magnificent, white Ford F-150 with desert dirt splattered over the right fender pulled up to retrieve its driver — a perfect punctuation mark for the affair.
After being brought to their knees by the Great Recession, Las Vegas homebuilders are back in the truck and getting down to business.
This year, it's expected the industry will start construction on 8,800 homes, an increase of 16 percent over last year, according to outgoing 2016 President Frank Wyatt. The 2017 President Wayne Laska, principal of StoryBook Homes, said he expects the same in the upcoming year. That's compared to the 30,000 housing permits builders pulled in each of the peak boom years of 2004 and 2005, according to Dennis Smith, owner of Las Vegas-based Home Builders Research Inc.
"I'm optimistic about 2017," Laska said, cradling his new gavel after the event, where awards were doled out and new officers installed.
Laska said his local building company produces about 110 homes a year. He said the Trump administration will lower taxes and loosen industry regulations. In addition, he predicted lending requirements will loosen, allowing more people to be able to purchase homes "without us getting into trouble," all of which will benefit Las Vegas homebuilders, who are just now getting back on their feet. This year, 430 attended the event, compared to 250 last year, according to Nat Hodgson, SNHBA executive director. He said that in the years leading up to the crash, 700 to 800 attended the annual event. Following the Great Recession, numbers fell to around 125.
He predicts 2017 will "keep a slow, positive, single-digit" pace.
Laska and Hodgson said the biggest challenges for the industry will be a shortage of labor and land. Laska and Wyatt said the spike in new apartment construction is causing a strain on the workforce needed to keep up with new-home demand in the valley. This year, the valley saw about 5,000 new apartment units, according to Applied Analysis, which tracks the local real estate market.
The rising costs of labor, land and staying in compliance with government regulations have caused new-home prices in the valley to increase. The price of land varies throughout the valley from $350,000 to more than $500,000 per acre, according to Home Builders Research.
"Builders are happy to get anything under $400,000 an acre," Smith said.
The medium price of a new home was $335,000 in October, according to Home Builders Research. That was a 5.7 percent increase from the same time last year. In addition, interest rates are at a 10-month high. Many experts predict they will continue to rise next year. They say 4 percent is the new low.
Laska said that is still a historically low rate. He said there are some new Las Vegas homes that are still affordable. But he added that those homes in the low end, priced from $250,000 to $275,000 are "fast disappearing." And there are few new homes in the Summerlin master-planned community priced at less than $400,000.
Smith agreed there are some affordable new homes in some portions of the valley. He also agreed that 2017 will be more of the same as this year with some increases in new home prices, "but nothing ridiculous."
He added that he thinks homebuilders will offer more affordable housing in the market by starting townhome and condo projects next year. There have been few new condo projects in the last decade.
"Some builders are going to have to diversify their products," he said.
Laska takes over the top post for the 480-plus-member trade organization Jan. 1.
He told the homebuilders attending the event he would focus on three issues in the coming year: addressing the construction labor shortage, improving relationships with government agencies and increasing homebuilder participation in SNHBA.
Several prominent Las Vegas homebuilders credit Robert Lewis, who owned Lewis Homes, with mentoring them in the industry. Laska worked for Lewis Homes for nearly three decades before the company was acquired by KB Home.
Lewis, who was in attendance at the event, said "(Laska) will make an excellent president. He is someone who can get things done."
After working 28 years in the Las Vegas homebuilding industry, Laska founded StoryBook Homes in 2003. He became vice president of sales at KB Home after that company acquired Lewis.
Laska has been a real estate broker in the state for more than 25 years and has a Bachelor of Science degree in business administration with a major in marketing from UNLV.
He has lived in Nevada for more than 45 years and supports many local charities, including childhood cancer organizations and the Spread the Word book program.
Other officers installed during the event were Kent Lay of Woodside Homes as first vice president; Janet Love of KB Home as second vice president; Brian Gordon of SalesTraq as associate vice president; Tom Warden of The Howard Hughes Corp. as treasurer; and Rocky Cochran of Pardee Homes as secretary.
The other builder members on the board of directors for 2017 are: Rick Barron, Century Communities; Bonnie Hernandez, American West Homes; Brandon Laughter, Pulte Homes; Tom McCormick, Touchstone Living; Brian Plaster, Signature Homes; Dana Rogers, CalAtlantic Homes; Wayne Shumsker, Lennar Homes; Brian Walsh, Richmond American Homes; Nathan White, Summit Homes; and Carlos Zuluaga, Pardee Homes.
Associate members on the board are: Greg Combs, Cal Pac Painting; Claire DeJesus, Las Vegas Review-Journal; Scott Donnelly, Cooper Roofing and Solar; Dave Edwards, VTN Nevada; Chad Hirschi, Hirschi Masonry; Stephenie Heagerty, Boral Roofing; Rebecca Merrihew, Red Rock Insulation; and James Stein, Southwest Gas Corp.
Annual awards were also presented:
▶ The Builder Member of the Year Award went to two builders: Bonnie Hernandez of American West Homes and Brian Walsh of Richmond American Homes.
▶ Associate Member of the Year Award went to Michael J. Sweeney of American Mortgage Co. for "outstanding service to the association and the industry."
▶ Outstanding Member awards were given to Benjamin Bodja of Dominion Environmental Consultants, Christa Bilbray of KB Home, Rob Pressgrove of Cox Communications and Kathy Spicuzza of Finance of America Mortgage Co.
▶ A Leadership Award went to Michelle Merrick of Blue Heron.
The association, which was founded in 1953, also shared the podium with its favorite charity, the Southern Nevada chapter of HomeAid, a nonprofit organization that builds and renovates shelters and provides other provisions for homeless men, women, children, families and veterans in metropolitan Las Vegas.
The group presented a video to show projects the association members participated in throughout the year.
By The Numbers
• The medium price of a new home — $335,000 in October
• Land costs — $350,000 to more than $500,000 per acre
• 8,800 home permits for 2016
• More than 30,000 housing permits per year were pulled in 2004 and 2005
Source: Home Builders Research Inc.