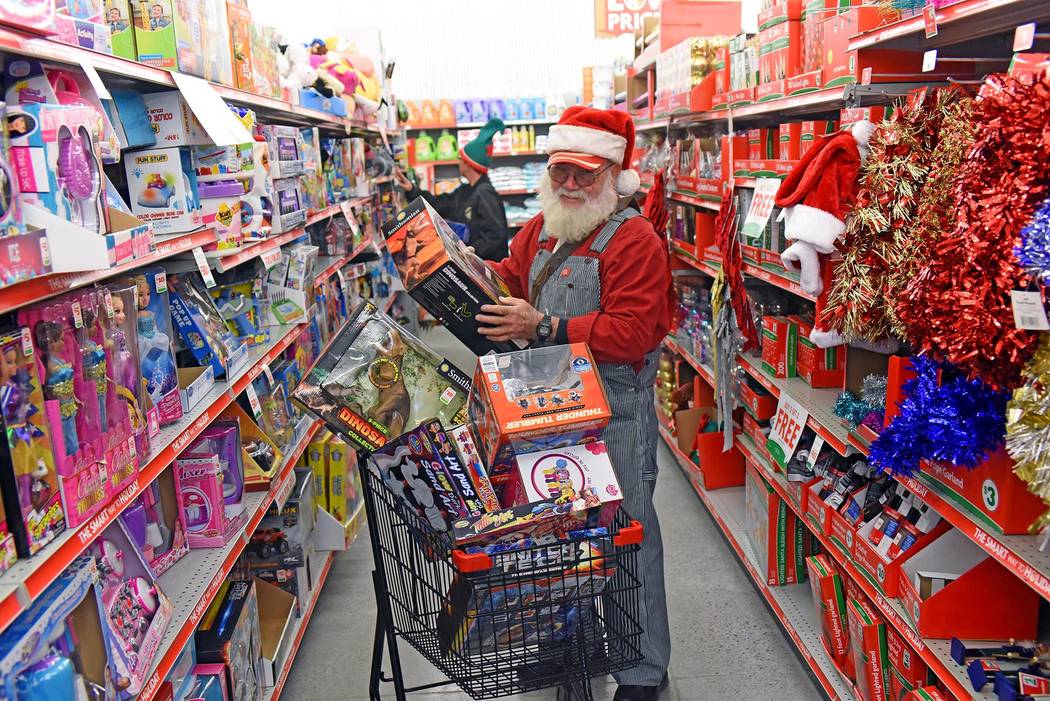 The government may be shut down and the stock market is tanking, but Southern Nevada retail sales remain strong and show no sign of slowing in 2019, according to retailers and analysts.
The holiday shopping season in Las Vegas has turned out to be a good one for retailers as many predicted prior to Thanksgiving.
It got out to a good start at Downtown Summerlin with traffic up 10 percent Thanksgiving weekend, setting a Black Friday record, and it hasn't slowed, according to Andrew Ciarrocchi, vice president of management and operations for The Howard Hughes Corp. Retailers haven't reported their final numbers yet but "everything is right on track and better than expected" for the center that has seen sales up 7 percent for 2018 before the holiday shopping season started.
"I expect to easily beat last year's numbers," Ciarrocchi said. "That's how sales have trended all year, and there's no expectation that will change."
Earlier this month, the Nevada Department of Taxation released its numbers through the end of September (the latest month available) that showed taxable sales for the state up 5 percent compared to a year ago for the first quarter of the fiscal year. Clark County was even higher at 6.5 percent. In September alone, statewide retail sales were up 56 percent compared to September 2010 when the region was reeling from the Great Recession.
The National Retail Federation reported November retail sales for the nation were up 5 percent compared to 2017, slightly higher than its forecast of 4.3 to 4.8 percent for the holidays.
"Consumers have the capacity and confidence to spend this holiday season," NRF Chief Economist Jack Kleinhenz said, citing the influence of stronger employment, improved wages, tax cuts and increased net worth. "This is a good start to the holiday season and consistent with our outlook. Consumer spending remains solid and clearly provides evidence that the economy is healthy as we head into 2019."
Among the highlights cited by the NRF were online sales up 12.1 percent compared to last year. Electronics and appliance stores were up 5 percent; general merchandise stores up 4.2 percent; clothing and clothing accessory stores up 4.1 percent; health and personal care stores up 3.6 percent; furniture and home furnishing stores up 2.9 percent. The one exception was sporting goods stores that were down 7.8 percent.
That's not what Steve Zurita, owner of Sports Town USA at Downtown Summerlin, is seeing for sports apparel. He said sales have been up double digits over 2017 and credits the success of the Golden Knights and West Coast NFL teams such as the Los Angeles Rams and Chargers and the pending arrival of the Oakland Raiders to Las Vegas in 2020. The spring opening of the minor league baseball park in Summerlin adjacent to Downtown Summerlin and name change to the Aviators is sparking demand for that gear, he said.
Zurita, who said he added to his staff to meet the demand, credits a good economy and strong housing market for the year-over-year gains and doesn't see that trend slowing in 2019.
"I think we'll do just as well next year because the Raiders will be coming and that's going to be awesome," Zurita said. "And when the baseball season starts, people will stop by and get a hat or jersey when they're stopping to eat in Downtown Summerlin."
The gains in retail are valleywide and all market segments.
Kevin Budny, general manager of the Galleria at Sunset in Henderson, said he's expecting holiday sales to be up 3 percent to 4 percent.
At Fashion Show Mall, Janet LaFevre, senior marketing manager, said sales throughout the property "continue to trend upward year over year, and we're looking forward to a successful 2019."
She cited a report from Deloitte of annual sales growing between 5 and 5.6 percent for the holiday season.
Nordstrom completed a major renovation in time for the holidays at Fashion Show, which is 98 percent occupied. The shopping center helped by differentiating itself from other Las Vegas retailers with 36 exclusive stores to Las Vegas, including Kendra Scott, Travis Mathew, Lolli & Pops and now online retailers Untuckit and Amazon, LaFevre said.