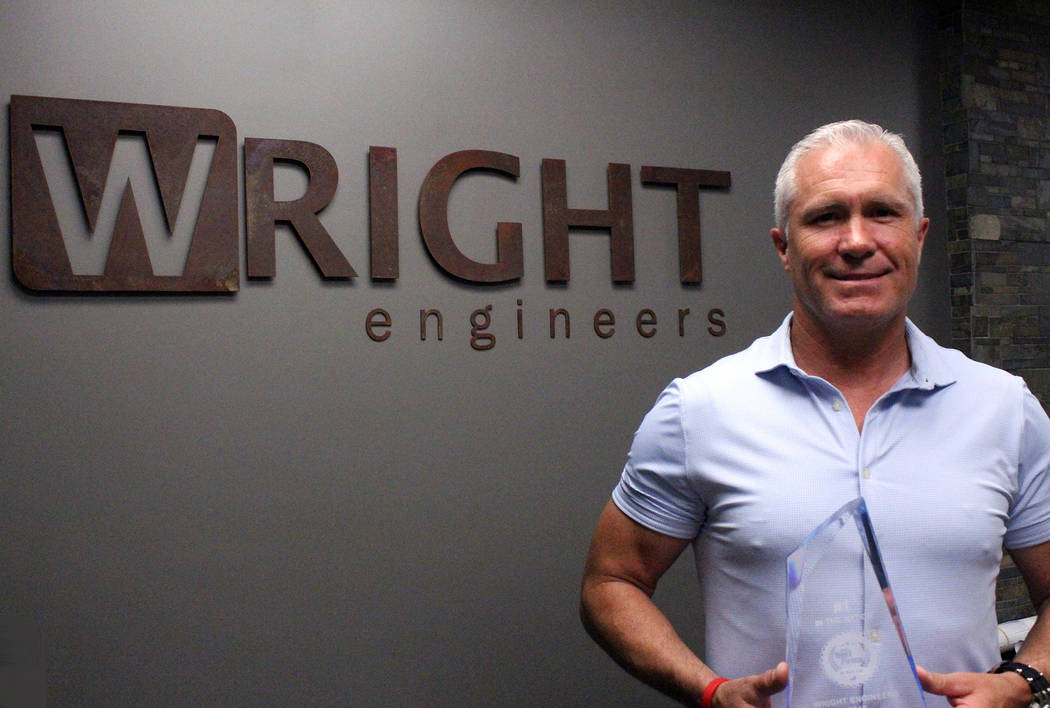 The number of new college graduates obtaining engineering degrees has been on the rise and one local firm is working to attract top talent from the pool of potential new recruits.
Leaders at Wright Engineers, a structural engineering firm that opened its local office more than two decades ago, know the challenges companies face in attracting new graduates.
"The challenge is attracting them and then keeping them," said Brent Wright, founder and CEO of Wright Engineers.
The local firm has an advantage over some in the local region and those across the country. Wright was named the 2018 "Best Firm to Work For" in the structural engineering category in the U.S. and Canada by Zweig Group earlier this year.
Wright said some of his new hires initially connected with the firm's name through an online search for top firms to work for.
The number of students graduating with engineering degrees has increased over the last several academic years. According to statistics from the National Center for Education Statistics, roughly more than 106,000 students graduated with a bachelor's degree in engineering during the 2015-2016 school year, up from more than 76,000 in the 2010-2011 school year. Overall, that's a nearly 40 percent increase in that category.
"Right now, our industry is blessed with as much work as we can handle, which is great," Wright said. "But the way we can grow and progress is to hire new people."
Wright said that the company has typically looked for new graduates.
"We love to do that because then you can get the best of the best and then train them exactly how you want them to do things," he said.
But the best companies always get the best talent, according to Wright.
"We have a good reputation," Wright said. "We do projects that are interesting and challenging. We have opportunities for young, ambitious people to advance and grow and have a fulfilling career."
The company began in 1997 and has done several projects across the valley including the UNLV William F Harrah College of Hotel Administration Building and the Lucky Dragon.
"We work on fun projects and they're in an environment where they can really flourish, and they can enjoy it. They can enjoy coming to work."
Wright does look for people with the right skills, but other factors also play into him deciding to hire a new employee.
"First of all, they have to have the skill and experience," he said. By far, the most important is they have to be a cultural fit."
Wright employees 66 people across its offices in Salt Lake City, Phoenix, Irvine and in Las Vegas. The firm does work in all 50 states.
Employees are treated to several perks in the office, which helped the firm win its high ranking as top structural engineering firm to work for.
The criteria under Zweig Group's ranking "is based partly on us providing a list of all the perks and benefits we provide our staff: half day Fridays, we give floating holidays, half day off for birthdays. We have free snacks and drinks and all those things, all daylong," Wright said.
But "75 percent of the criteria is based on an anonymous employee satisfaction survey," he added.
Other factors also draw new recruits to Wright and other firms: a social media and digital presence.
"I'll tell you one thing that has really been reinforced to me is social media and a web presence is huge to the new recruits," Wright said.
There are advantages for employees and companies with a digital presence.
"Now, it's so much more transparent in many ways, Wright said. "It's an advantage for the good companies, and it's too bad for the companies that aren't good. Maybe they'll get better."