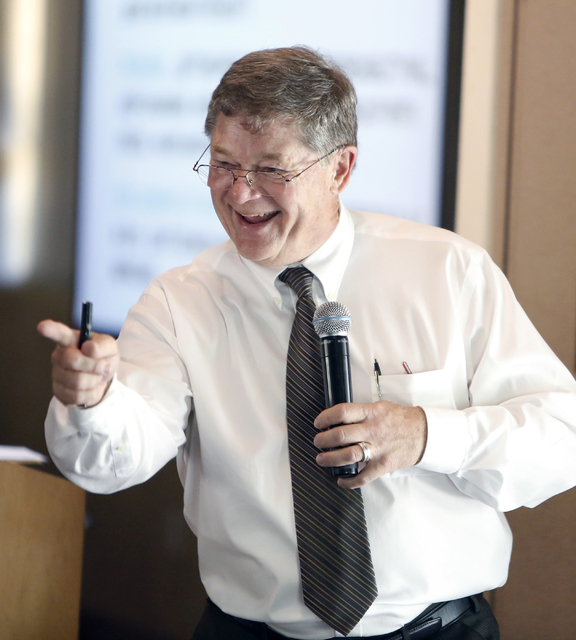 The strength in the Las Vegas new-home market recorded in December carried over into 2018, according to the latest report from Home Builders Research.
There were 704 new home recorded sales in January — the largest number of new home closings in the month of January in the last 10 years. Since mid-January, the net sales per subdivision have been some of the strongest since 2014, according to Andrew Smith, president of Home Builders Research.
There were 912 net sales (which means new contracts) posted in January. That's the highest best monthly total since June, Smith said. It's building off momentum at the end of 2017.
There were 977 new home closings in December, making the yearly total 9,401, a gain of 1,310 or 16.2 percent over 2016. That's the highest yearly total since 2008.
As for what caused the spurt in sales in early 2018, Smith said rising mortgage rates are a big factor "as fence-sitters purchase and try to beat further rate increases." Home prices are rising and that impacts affordability, he said.
The median price of the January new home closings was $352,984 — a year-to-year change of $22,989, or 7 percent. The new-home January median price backed off a little from prior increases over the last four months, he added.
"We have little doubt that this will be a short respite from continued upward pricing pressure, at least for most of 2018," Smith said.
Conventional mortgage rates are sitting around 4.5 percent but "most of the signals are suggesting additional upward movement," in them, Smith said. Since January, rates have risen by about 0.5 percent, he said.
The Texas-based Housing Research Center released a report saying the biggest threat to the housing recovery is the rapid rise in rates seen so far this year.
"It's troubling for the health of the recovery and the housing market, and this could derail the recovery in our view if they continue to rise too fast," according to the HRC.
Smith cited the Mortgage Bankers Association's new mortgage applications to purchase a new home declining 6.2 percent and refinance applications fell 7.1 percent in the week ending Feb. 16 — the largest drop since 2017, he said.
There were 907 new home permits pulled in January, which Smith said is the largest number of January permits since 2007. That's an increase of 283 permits or 45 percent from January 2017, he said.
That number should lower in the coming months, Smith said. While sales have been strong, it has slowed in recent weeks, he said.
"We think the level of demand peaked in late January, and the change coincided with 30-year fixed mortgage rates going over the 4 percent threshold," Smith said.
The subdivisions that pulled the greatest number of permits in January included: Cliffs at Dover town homes, Beazer — 20; Windwood, KB Home — 14; Expressions, DR Horton — 16; Inspirada town homes — 43; Brookfield, Harmony — 15; Davyn Ridge, Lennar Homes — 14; Alder Landing, KB Home — 15; Fox Hill Estates, American West — 13; Parkview, Century Communities — 14; Southbrook, American West — 13; and Cordera Ranch, DR Horton — 13.
In the existing home market, Home Builders Research reported 3,399 sales in January, a year-to-year increase of 257 or 8 percent over January 2017. The numbers would have been higher except for the limited supply of homes on the market, especially those under $300,000, according to Smith who said closings in 2018 might drop over 2017 because of less than two months of supply.
That mirrors a national trend with the Housing Research Center reporting in January that existing home sales were down 1.9 percent.
The median price of the January resales in Las Vegas was $237,600, which is a year-to-year increase of $32,600 or 16 percent, Smith said.
"It's no surprise that resale prices continue rising at a steady clip as reports keep pointing out the tight supply of available listings," Smith said.
"For months, most Realtors have been lamenting the lack of available properties to show their clients. In Las Vegas, this is primarily the issue for those homes priced under $300,000. As the low supply of affordable homes continues to be (sold), many homeowners are pushing their prices higher, a natural phenomenon due to the existing supply and demand."
The number of single-family listings is about half what it was two years ago, Smith said. It's 37 percent below where it was in mid-February 2017, he said.