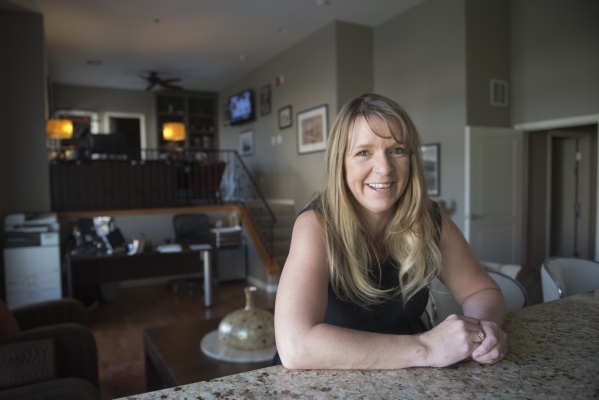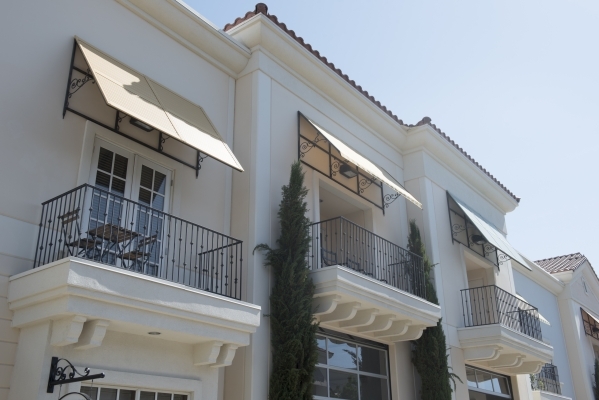 Real estate developer Joel Laub hit a home run with a never-before-done-in-Las-Vegas concept: an industrial park combining warehouse, office and loft living space in one suite.
Now he'€™s moving into a second phase of the project, which attracted entrepreneurs who need a customizable large space plus a warehouse and on-site living quarters.
Called LoftWorks at Tenaya, the community opened in 2009 on South Tenaya near Rainbow and I-215. The project is 100 percent occupied, and its second phase is being planned.
Live-work communities have typically been used by artists in large metropolitan areas, but this is the first new construction project of its type in Southern Nevada.
"I got this idea traveling Europe,"€ Laub said. "€œI saw neighborhoods set up as live-work, where the people who owned the shops lived up above, and they were very interactive neighborhoods. I thought that would work if applied properly in Las Vegas."
Laub founded Astoria Homes, which developed more than 5,000 homes in the valley before he sold the company in 2005.
"This was a product that I always had in the back of my mind. I was trying to think of a good transition from residential construction to industrial."
Laub designed it for a couple of different markets. First, for the work at home buyer who doesn't want to drive to work every day, he explained, "So they would save money and time by not commuting."
"The other market I was looking for was someone from out of town who had a business here who would typically fly here, go to their business, then spend the night in a hotel. It would be much easier for them to have living quarters right where they work, with everything under one roof,"€ he said.
Each suite includes a 1,100-square-foot second floor loft with an open living area, kitchen, bath, closet and laundry area. The first floor is an open office area separated from the warehouse by a small restroom and kitchenette. The loft is classified as a "caretakers living quarters" for zoning purposes, according to Christina Flores, the company'€™s vice president.
LoftWorks is home to a law practice, two gyms, several design firms, at least one on-line retailer, and a security design consultant.
Dungeon of Discipline, a Beverly Hills, Calif.-based workout facility, opened a location here and the owners bunk in their loft when they come to town.
The project'€™s first phase has 27 units spread throughout three buildings. Three units were bought, and the rest are under lease at 90 cents per square foot plus CAM charges.
Buyers or tenants are already working on designs for Phase II, which will start at 3,300 square feet. Prices range from $673,000 to $858,000, and space can be customized as needed.
Chris Fusch and his wife, Tracy, opened their commercial interior design business in LoftWorks in 2011 and are already planning an expansion into the second phase.
Before going into business for themselves, said Chris Fusch, he worked for another office furniture company.
"€œI looked at this project for two years… and wanted to move the business to it. The owner and I disagreed, so I chose to move into it myself on our own. I did two years of due diligence on it,"€ he said. "€œLoftWorks has been instrumental to our success. It sets the right level of expectation for our clients when they come here. They see the outside, then they walk into the inside, and they go 'Okay, you guys get it; do my space'."
Design choices were made to blend in with the residential neighborhood and medium-density zoning business parks nearby.
The property was zoned CMA (cooperative management area), said Laub, "which would be light industrial M-D zoning, but it's up against medium-density residential, so I designed this product to be a great transition from residential single family homes into industrial, so we've designed the elevations and colorations to be more than just industrial. They have more of a neighborhood flavor, and there's a residential aspect to it."
Instead of being flat, the roof lines are gabled to look more residential. And the balconies have details like corbels supporting them, and multi-paned glass doors and windows. "The landscaping is a lot more lush than you would find in any office- warehouse project," Laub said.
Getting this new concept approved by the county planning commission took some effort, said Laub.
"They were really confused as to what I wanted to do, or how to zone it. They hadn't seen that before, so we worked it out. We've had very positive feedback from the county and the City of Las Vegas,"€ he said. "€œThey contacted me and wanted me to build this downtown, and Henderson has contacted me on some property that the city owns downtown, to have a variation of this product there. I see that happening in the future; this would be a very good product for downtown Las Vegas. I already have ideas on how to blend the business with the residential for that area."
Joel Laub & Associates sold 13 acres across from the development to Richmond American Homes, which is building houses that will shorten the open space to the property's north.
The new phase will be north of the existing phase and further west. There is also a space set aside for a 20,000-square-foot building, should any large company chose to locate there. "We have Ikea coming in, and everything booming in the southwest, so that more companies are wanting to come here and more people are wanting to live here," said Flores.
After attending UNLV, Laub in 1977 became a licensed realtor and broker who went on to develop thousands of acres of land for both personal and client investments, including Silverado Ranch Master Planned Community. He was on the board of directors of American Bank of Commerce and First Security Bank of Nevada.