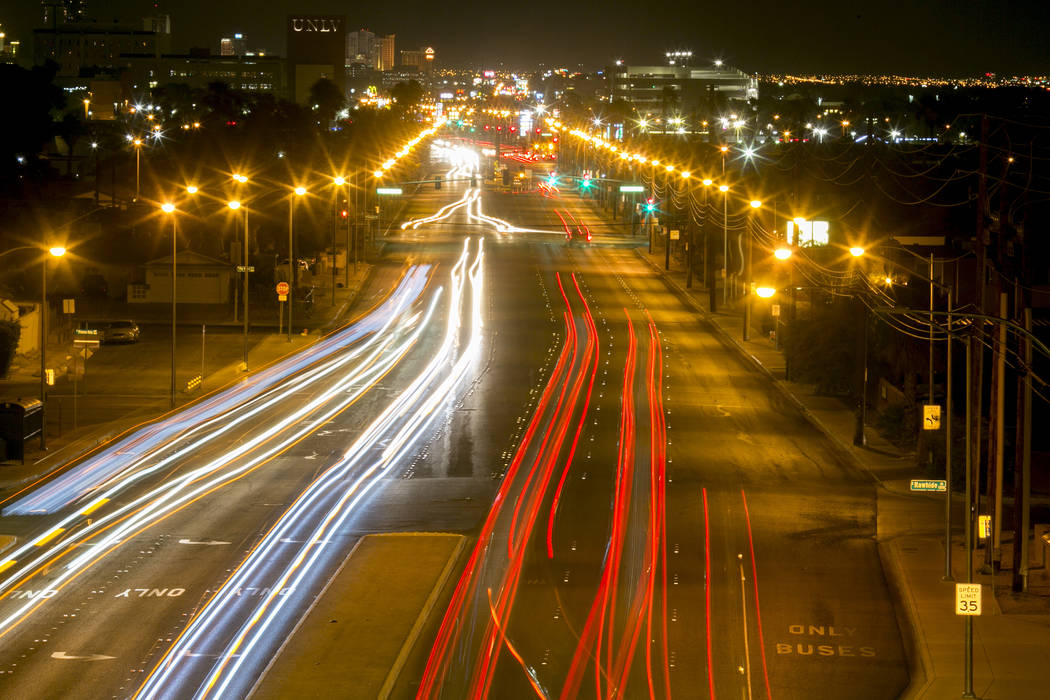 Several legends in the commercial real estate realm made their way to the stage this fall to speak on changes they've seen and experienced over the last several decades in the industry.
The 13th annual Commercial Alliance Educational Symposium at the Gold Coast featured a luncheon and panel with two longtime players in commercial real estate: Hank Gordon, chairman and CEO of Las Vegas-based Laurich Properties Inc., and Michael Saltman, managing general partner and president of the Vista Group real estate company in Las Vegas.
The Commercial Alliance Las Vegas annual event brings commercial real estate professionals from Las Vegas and beyond. Commercial real estate professionals had an opportunity to gain continuing education credits during the daylong event.
The panel discussion, dubbed "Las Vegas Real Estate Legends — When Cocktail Napkins Were Contracts," was moderated by Terri Sturm, also a longtime player in the development of commercial real estate in the Las Vegas Valley. Sturm, now semiretired, is the CEO and founder of Territory Inc., a major company that developed, owned, managed and leased several million square feet of retail space in the valley.
Saltman, who is still in the business and active in Las Vegas and California, said he is interested in seeing Las Vegas' inner core thrive again, including along Maryland Parkway.
The longtime developer and commercial real estate professional said he would like to see the potential light rail and the Midtown UNLV (University of Nevada, Las Vegas) projects come to life in the region.
Should light rail be put in place by the Regional Transportation Commission of Southern Nevada, the proposed line could stretch along Maryland Parkway and have stops near UNLV and Sunrise Hospital and Medical Center before traveling through parts of downtown Las Vegas and onto the Las Vegas Medical District.
"I do hope to see in our lifetime — all of us — that the corridor in the community is redeveloped because that's really a lagging part of the community, east and west," he said. "If light rail were to happen, I think a huge development opportunity for developers in this room, outside of this room, would be part of Las Vegas in terms of its growth."
Saltman explained that other areas of the valley are great such as Green Valley and Anthem, but the inner portions have been neglected.
Saltman has developed a long list of housing, office, industrial and retail projects in Las Vegas and California, along with Florida and Utah. He once had holdings along Maryland Parkway, which he purchased in the 1970s, but has exited most of them, except one near Sahara Avenue and Maryland Parkway, which he is working to develop.
Much has changed in the industry over the years — one being financing projects.
Saltman explained that the banking world fell apart after the recession and dislikes some of the new regulations that came in the aftermath.
"I do hope, parenthetically, those regulations that have taken us from way too aggressive to way too conservative will hopefully, over the next few years, swing back to the middle, so developers, real estate people, commercial brokers and bankers will have a little easier field in which to deal, because it's much more arduous today putting a loan together," he said.
Gordon, whose real estate career spans back to the late 1950s, also talked about the differences of financing prior to the recession, explaining that it was much simpler to get financing on a property before the downturn.
Gordon said there are two keys to success as a commercial developer: "Don't carry land, don't have big overhead. If you can do those two things, you're going to be OK."
Laurich Properties, where Gordon is chairman, has developed over 4 million square feet of space at the Las Vegas-based shopping center development company. The company was founded in 1988.
Over the course of Gordon's career, he has developed a wide range of commercial real estate properties across California, Nevada, the Pacific Northwest and Alaska and Montana. In his early career, he developed and sold homes and apartments in California. Gordon is a graduate from the University of Southern California.
Saltman is an attorney and has worked as general counsel and director of international operations for Shareholders Capital Corp. in Munich, Germany, and is co-founder of the Saltman Center for Conflict Resolution at the UNLV Boyd School of Law.
Stories of how they weathered the recession and financial bumps in the road were also shared during the panel discussion.
Saltman said the market was doing well in 2005 and 2006, though he didn't believe Las Vegas was on the path it met, and didn't think that securitized debt was going to fall into the trouble the way it did either — so abruptly.
Saltman said he was doing well at the time of the boom prior to the recession but the biggest mistake he made during that period was several loans he made for other development at that time, all of which cratered, he said.
"I don't know if there's a warning out there, but I'm conscience of it and cognitive of those kind of risks," he said.
"I don't want to get over my skis again," he added.
Things are different now for Saltman who is watching his portfolio be resurrected in Las Vegas and in California.