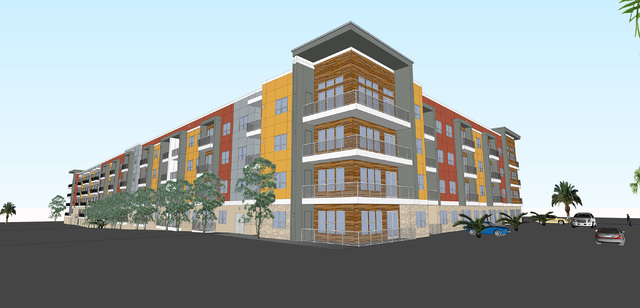 Fore Property Co., a national full-service real estate company with offices in Las Vegas, and the company's partner, Argosy Real Estate Partners, broke ground on a luxury multifamily project at 3616 Spring Mountain Road at the end of September.
The 295-unit apartment project will rest at the beginning of Chinatown Plaza at Spring Mountain and Valley View Boulevard. The project also will include a 9,000-square-foot retail space.
"We look forward to creating a unique and luxurious living community, which will help revitalize this dynamic part of Las Vegas," said Alison Burk, development director at Fore Property Co. Las Vegas. "The property combines high-end amenities with close proximity to the Strip, offering a one-of-a-kind living experience."
To date, there hasn't been an announcement of a build-out date or projections on the cost of the project. The project broke ground Sept. 26.
A rendering of the property has been released, along with details of its amenities. Residents will have a rooftop terrace, a yoga-spin room, two resort-style pools with a DJ booth and cabanas and a virtual sports room. Other amenities include a 24-hour fitness center, massage room and concierge services.
Future residents will be able to choose from studio, and one- two- and three-bedroom options.
Also, there will be an option of upgrading to 22 premium units. The units will feature full tile baths, rainfall showerheads, porcelain wood tile flooring, island waterfall countertops and a refrigerator.
GLVAR announces 2017 board
The Greater Las Vegas Association of Realtors announced its officers and board members for 2017 at the end of September.
The results of a vote in September show David J. Tina elected as president. David J. Tina is the son of David R. Tina, the 2016 president of Nevada Association of Realtors. The father-and-son team also owns Urban Nest Realty in Summerlin.
The president-elect will be Christopher Bishop, branch manager at Coldwell Banker Premier in Henderson. There were several seats filled in the organization: the spot for vice president went to Janet Carpenter, and the treasurer will be Thomas Blanchard.
The new list of directors includes Shawn Cunningham, Amber DeLillo, Tim Kelly Kiernan, Chantel Tilley and Julie Youngblood.
Several Realtors were not up for re-election, but will continue to serve on GLVAR's board: Jillian Batchelor, Kolleen Kelley, Aldo M. Martinez and Brandon Roberts.
Report shows growing backlog for construction firms
The Associated Builders and Contractors' analysis on the second quarter of 2016, released at the end of September, showed an increase in nonresidential construction backlog across all regions in the U.S.
Across the Western region, which included Nevada, the association reported a backlog increase of 3.1 percent or 0.21 months. This brings the average number of months on backlog to 7.15.
Also in the report, firms with revenues reaching more than $100 million saw an all-time peak backlog of 14.06 months. That was an increase of 14.8 percent over the association's first-quarter analysis, which showed a 12.25-month backlog.
The tide could be shifting for the national scene.
"While a handful of commercial construction segments continue to be associated with expanding volumes, for the most part, the average contractor is no longer getting busier," said ABC Chief Economist Anirban Basu. "While backlog is hardly collapsing, the period of growing in nonresidential construction spending appears to be ending. In fact, nonresidential construction spending data indicates that growth has been slowing for a number of months, something that prior weak CBI readings suggested would occur."
CBRE reports sale of retail space housing an In-N-Out Burger
CBRE Group Inc. announced the sale of a building being occupied by In-N-Out Burger restaurant.
The building at 9240 S. Eastern, sold for $3.7 million to MMY LLC, a private Southern California investor.
CBRE's Alex Kozakov, Patrick Wade, Eric Roy and Matt Bear represented the seller, Great American Capital, a private development company that does work in Southern California and Southern Nevada. The property neighbors a 99 Cents Only store and other big-box stores including Wal-Mart.
In-N-Out has six years left on its lease, according to a release from CBRE.