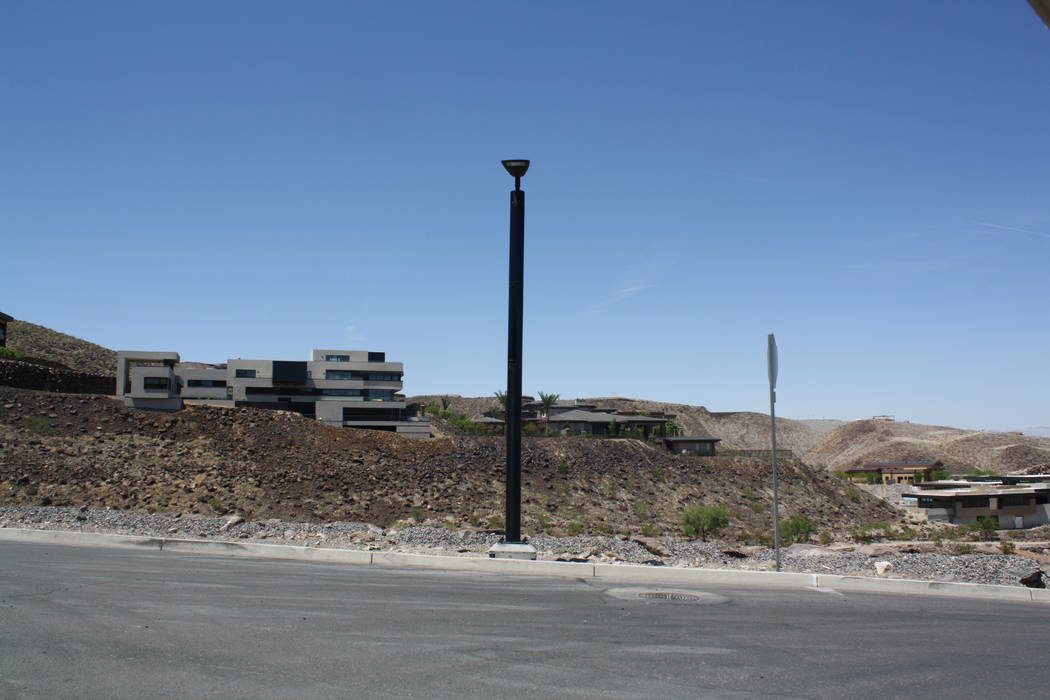 Luxury residential community MacDonald Highlands is the first master plan in the valley to install street lights powered by solar energy and is eyeing plans to include Wi-Fi in them in the future.
Four lights were recently installed at the end of MacDonald Ranch Drive and that will save the development on installation costs to wire the lamp posts and save the homeowners association money on energy costs, according to Paul Bykowski, the senior vice president of land development for MacDonald Highlands.
It's a trend that's expected to become more prevalent in the future, especially in hillside areas where power isn't readily available. The city of Henderson has shown interest in the concept. The city of Las Vegas has installed some solar-powered lamps in its business district in recent years.
"We're into anything that saves energy, said MacDonald Highlands developer Rich MacDonald, adding the development may be one of the first in the country to install them. "When I heard about it, I said we're there. It's nice to be cutting-edge. They say pioneers end up with arrows in their back. I like the technology, and it's environmentally friendly, which is what the community is about anyway."
The move by MacDonald Highlands has been 15 years in the making. It started in 2003 when Bykowski said his predecessor didn't wire up some light posts because he thought they would go with solar powered ones.
When he took the job, Bykowski said he researched the matter and discovered at the time that the solar panels on top of the light posts were five times the size of the top.
"It looked like it had a giant umbrella over each light and looked ridiculous," Bykowski said. "The lights took so much energy, and it was hard to get solar because the high-pressured sodium light bulbs back then used so much energy."
So, he waited. The development's renewed interest in solar started two years ago when a resident asked why a light, which didn't have any power connection, wasn't turned on, Bykowski said.
By then, the lamps switched to LED, which uses a minimal amount of electricity, Bykowski said. The solar panels got smaller and the lithium batteries got better, he said.
"When we started looking at lights in the new areas, I wanted to go solar again because we spend so much time digging up the ground and putting in new conduit and running wires from pole to pole," Bykowski said. "For us, it's even worse being a hillside community because we only do lights at intersections. In a normal street, you are running power down the street, and you have a light pole every 150 to 200 feet. We will have a couple of thousand feet between light poles. It doesn't make sense to throw all this wire in the ground and to have power running for so long for one light that is not even near a another light."
The solar lights cost about $5,000, including shipping, which is about the same as traditional street lights, Bykowski said. It costs between $2,000 and $10,000 to extend power to poles, he said.
"It helps us both because we don't have to put the power in the ground throughout the community, and the HOA saves because they don't have to pay for power," Bykowski said. "It is nice to be able to put them where we want. If you want to put one across the street, you pour a foundation. You don't have to dig up the road to run power across the street or dig up landscaping."
After not being lit since the post was installed in 2003, a solar light was turned on in early 2016 at Saint Moritz Drive and MacDonald Ranch Drive. It worked well, and Bykowski said he was negotiating with the company to buy a number of them until they suddenly they went out of business.
"We went back to square one," Bykowski said. "I went on the internet looking for someone who does solar lights, and there were a few different options because they started bending the solar panels within the light poles so you can keep them on a round pole. A lot of them had square sides, and they didn't quite match the community."
Bykowski said he found one that looks like a normal pole with the LED light on top. The company that did it, however, was based in the Netherlands. He said he got the company to send some demos to see if they worked because their considered technologically advanced lights, he said.
"They reset the time of day if they are turned on and off based on the GPS inside so you don't have to adjust them," Bykowski said. "They have lithium batteries so they charge themselves."
When the lights arrived, they were set on European GPS and "thought they were on the other side of the world," Bykowski said. "They were on during the day and off during the night because they were actually the first poles in the United States. I guess European GPS is different programming than American GPS. They (come here and) updated them, and they come on at dusk and turn off at sunrise.
Once it's logged on, it tells the chip where it is every day and updates the sunrise and sunset automatically. Bykowski said they can even change the parameters by computer and reduce how bright they are at 2 a.m.
There's about 100 light posts in MacDonald Highlands and about 50 more to go. He said he's ordered about 30 more.
"More homes are being finished so I have more lights on the way at other intersections," Bykowski said. "I will have them at all the cul-de-sacs and intersections within the next couple of months."
Lights coming in the future will allow for landscape lighting to run off the streetlight battery, Bykowski said. There's even an option to put Wi-Fi repeaters on the lights, and that's what he would like to see.
"The old street light was power running to a light bulb, and you couldn't do anything else," Bykowski said. "We have a smart community and when you are in the community you will have Wi-Fi. That's the way I want to go in the future."
As for the first solar light installed two years ago at Saint Moritz Drive and MacDonald Ranch Drive, it worked until someone hit it with a car last year, Bykowski said.
There are no plans to replace it, however, because the design of the street has changed, and it's no longer at an intersection, he said.
The four lights were put in on MacDonald Ranch Drive where homes are being constructed as part of Highlander Ridge, Bykowski said.
One light goes up at each intersection and at dead ends. The number is set by MacDonald Highland's development agreement with the city of Henderson.
"A residential neighborhood has them every couple of hundred feet but because we're a hillside, they don't want people staring up at a bunch of lights on a hillside," Bykowski said. "They only require them at intersections for safety reasons. You see the light up ahead, and it lets you know something is up there."
As for the community reception about the lights, Bykowski said it's been positive. They look "totally different" from the old lights that are "boxy-old school lights. He called them "slick" with glass- covered round solar panels covering the light. The pole and aluminum are colored black. The head has a more modern look to it, he said.
"The community is getting a more modern feel to it and more contemporary as we finish out houses," Bykowski said. "We started pushing desert contemporary, but there's more and more because it's gotten so popular with buyers. It didn't make sense to have a more old-fashioned light post out there with homes getting more modern. These definitely look cool."
The lights have even attracted the interest of Henderson, which is coming out to see if they want to use them in other parts of the city, Bykowksi said.
People ask about them and where they are going so they can take a look.
"I had one of the kids up there that was into it," Bykowski said. "He had seen the other light and his mom contacted me about the solar street lights, and he was all excited about them coming in. He was tracking the delivery."