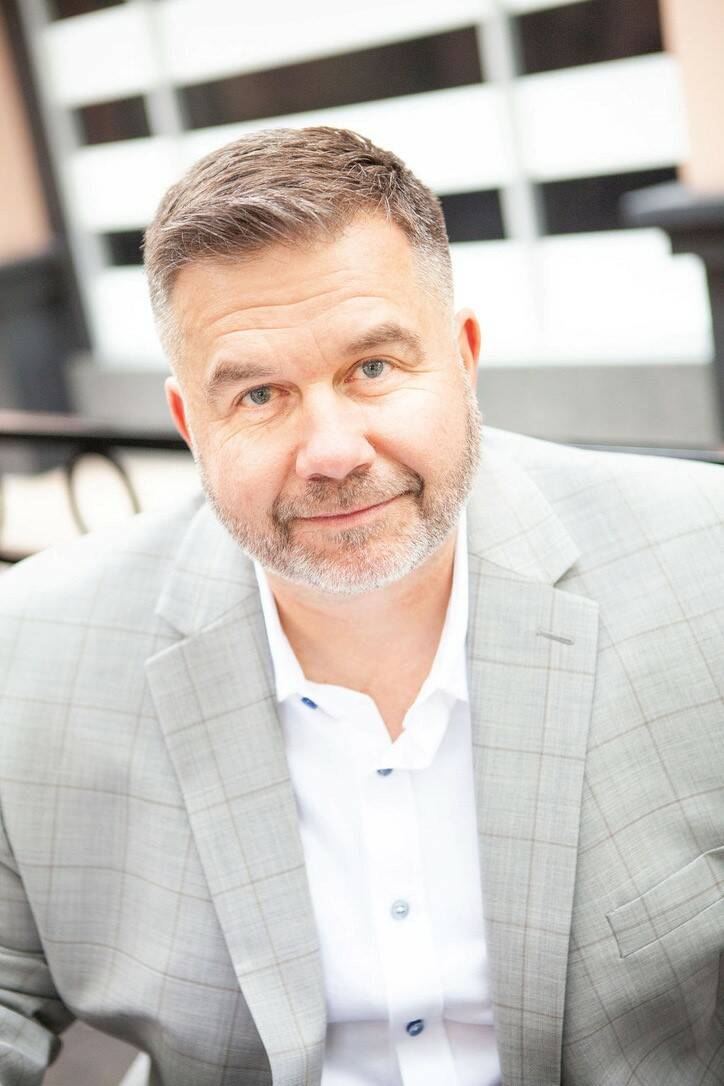 As Brandon Roberts settles two months into his one-year term as president of the Las Vegas Realtors association, the valley's resale home prices show no signs of slowing from record highs. Roberts said that's not sustainable and something will have to give.
On Tuesday, LVR reported that the median price of existing single-family homes sold in Southern Nevada in February through its Multiple Listing Service was $450,000. That tops the previous record set in January. The median home price is up 26.8 percent from $355,000 one year ago.
That's more than triple from the bottom of the market in January 2012 when the existing single-family home price was $118,000 following the Great Recession. The latest increase comes as inventory gets gobbled up with a record 38,601 single-family home sales in 2021 and more than 50,000 when town homes and condos are included.
"Local home prices can't keep going up this fast, forever," Roberts said Tuesday. "The increases we've been seeing in the last year or so are just not sustainable. It remains to be seen how much higher these prices can go and when we might start to see the market stabilize, as many national experts have been predicting. Either way, I seriously doubt you'll see home prices more than triple again in a single decade."
For those concerned there's a bubble happening again like in the 2000s, Roberts said people shouldn't worry about that based on the way people are buying homes. They are making down payments and can afford the homes, unlike the Great Recession when there were creative loan programs and people buying multiple homes they couldn't afford.
Roberts said after coming out of a record 2021 there will continue to be growth in prices in 2022 but expects some leveling. He cited a projected rise in interest rates throughout the year because of action by the Federal Reserve. That would shrink the buyer pool and thus keep prices from rising as quickly.
"That affects people's buying power, which could affect the demand on some of the properties," Roberts said. "I do think we will stay strong because we have low inventory, and we will continue to see that. As soon as they are coming on the market, they're selling. We're in a shortage of housing, I don't think builders could build it fast enough because of supply, labor and permits. I think we will see increases (in prices) but not at the level we saw last year."
Affordability continues to remain a concern, especially for Las Vegas residents who are priced out by Californians having the equity to pay more for homes. Roberts said the state association and their lobbying team are looking at affordability and that it will be a big discussion in the 2023 Legislature.
"I don't have the answer right now, but we do need more housing for both on the rental side and homebuyers to purchase," Roberts said.
The state has earmarked $300.7 million of Nevada's 2021 tax-exempt bonding authority for the development of affordable housing projects throughout the state. Earlier this week, the State Board of Finance approved the issuance of more than $150 million in tax-exempt revenue bonds to support 608 affordable multifamily housing units and additional funding for down payment assistance to homeowners.
Las Vegas, meanwhile, could surpass its sales record in 2022 because in the 2021-record breaking year there was about one month's worth of inventory the entire year, Roberts said. LVR reported a total of 3,183 existing local homes, condos and town homes sold in February. Compared to one year ago, February sales were down 9.1 percent for homes and down 7.3 percent for condos and town homes. Compared to one year ago, January sales were down 2.9 percent for homes, but up 13.9 percent for condos and town homes.
"There's still a lot of people coming in from out of state, and the population growth in Nevada is driving the sales (because of their buying power from cashing out equity, no (Nevada) state income tax and newfound ability to work from anywhere). There's a lot of people realizing from the pandemic who want a bigger home.
Millennials are buying their first homes. And, we have investors and hedge funds purchasing homes, too."
Roberts, who turns 50 in May, has worked in the real estate industry for 25 years in both Utah and Las Vegas where he founded firms. Born in Salt Lake City, he relocated to Las Vegas in January 2008, just as the Great Recession was starting, but before a big collapse in home prices.
Roberts said no one in his family worked in the real estate industry. His dad worked in the restaurant business, and Roberts said he owned a deli when he was 19. In the 1990s, he had a friend, who worked in home refinancing who would come into the restaurant and encourage him to go into that industry.
"I said I didn't want to do that, but I would rather be in real estate," Roberts said. "He came in with the information for the school, and I sold my restaurant. Two weeks in, I was sitting in a class and said: 'what did I do. I'm in sales.' It just happened. It wasn't something I always aspired to do, or something my family did. It was something I fell into."
Roberts started his career working for a firm as an agent in Utah in 1996. He said that was a struggle, and he wound up purchasing a real estate franchise and grew his office to more than 350 agents in four offices in Salt Lake City. He was named broker of the year for Toronto-based EXIT Realty in 2007.
"They gave me the opportunity to buy the region of Nevada as the franchisor in (October) 2007," Roberts said. "I thought what a great opportunity, and I realized quickly that I just made the worst investment in my life, because my new job was to sell real estate offices and help them open in one of the biggest recessions ever when everyone was closing their offices."
Roberts said he quickly realized he needed to move to Las Vegas to make it work and sold his offices in Salt Lake City. As he pushed the EXIT Realty brand in Las Vegas over five years, he said he met a lot of great people. He ultimately parted ways with EXIT in 2013 when he went independent and founded his Signature Real Estate Group.
Since its founding in May 2013, it has four offices and about 560 agents. Roberts' son, Tyson, works as an agent for his dad's company.
"I think everything happens for a reason and during that time I met the right people, and they got me involved," Roberts said. "In 2013, I was president of the Women's Council of Realtors, Las Vegas chapter, which put me into the state leadership program. That's when I learned about the (LVR) board and led me to running for president."
Roberts said he served three years on the board and took off for two years before deciding to return and seek the job as president.
"I like being on the board and being in the know and helping talk through those decisions," Roberts said. "I wasn't in a position to run a few years back because I was growing my company. I positioned myself by hiring good managers to support me so that I could commit the time for the board. This industry has been very good to me, and I wanted to be able to give back."
Roberts called it a critical time in the real estate industry, which he said has third-party technology disruptors coming after Realtor commissions and the way business is done. He said he wants to bring that technology in-house so Realtors are tech providers rather than tech buyers.
Many Realtor boards across the country subscribe to third-party services that provide listings. It started with Zillow launching a website to generate leads, which are sold to real estate agents. Realtors started buying more and more leads to fund the operator, which now is a competitor with Zillow buying properties to flip.
"They are at the mercy of those other companies, and we fund those companies to develop other things that may disrupt our industry," Roberts said. "There's all kinds of technology sold to the real estate industry that I think boards by themselves or in regional pockets could develop some good stuff. Some markets already are. It would help protect us from these companies who grow off of Realtor dollars and come back to compete against us and try to put us out of business. I'm not concerned that it would happen overnight, but it's important that we control ourdestiny."
The LVR has more than 17,000 members, up from 15,500 at the start of 2021. It's approaching the all-time high of 17,500 in 2006 when the housing market was at its peak.
"It's looking that way," Roberts said of surpassing the 2006 mark. "There's a great trend up. I would say we will be up over 18,000 by the end of the year if the market remains strong. We will lose people throughout the year, too. You get agents who come into the market who think it's going tobe different than it is. It's a sales position, which means if you don't sell anything, you don't make any money."