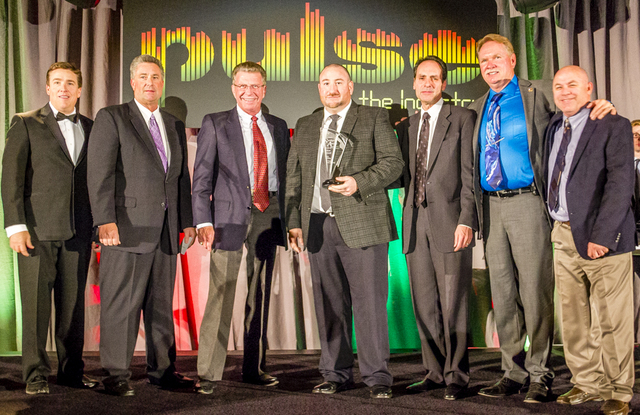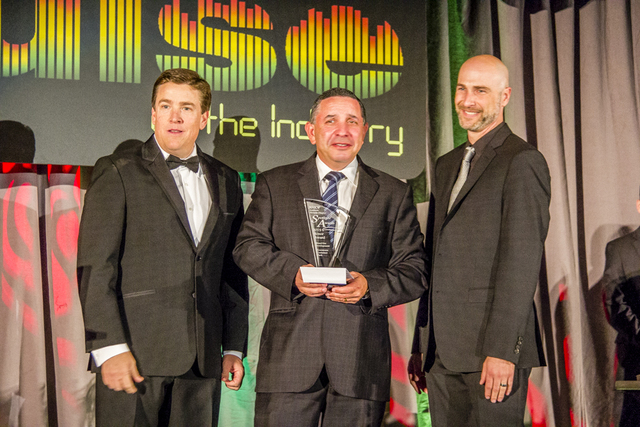 The house was rockin' and rollin' Feb. 28 during NAIOP's Spotlight Awards 2015 gala.
The formal event loosened up a bit this year at the Hard Rock Hotel, blasting predinner tunes (Yes, they played "Taking Care of Business") and featuring Steph MacKenzie of rock station KPXT-FM (97.1) as awards hostess.
And the good times rolled when team members gathered onstage to accept a project award for the Strip's new Harley-Davidson venue. With the way the night was grooving, some wondered out loud why they didn't ride up on their hogs.
"Receiving the award is very satisfying," said Brent Cajthaml, chief operating officer of Moser Architecture Studio. "It's a validation and recognition from NAIOP, our peers, and the community that our team, Moser Architecture, Martin-Harris and Harley-Davidson, put in the long hours and hard work and it's paid off.
"We worked together for more than two years to design and deliver a project that successfully integrates the iconic branding of Harley-Davidson with the imagery and reputation of the Las Vegas Strip."
With his farewell tour of the room, Frank Martin was the night's biggest rock star. The 67-year-old co-founder of Martin-Harris Construction garnered three awards, including the lifetime achievement honor. The other two were Retail Building Project Award for the Harley-Davidson store and General Contracting Firm of the Year.
"Unbelievable," Martin said of the individual honor. "I was totally 100 percent surprised. When they started talking about the winner, I started looking around the room for the person. Felt dumber than a post. I got surprised in a very, very good way."
It was his company's seventh top-contractor honor.
"It was a very good night," he said. "Because of what's happened in my life with the sale, it was a really cool way to say that our company still has the touch. Cool deal."
Project Honor Award Winners
Sustainable/Green Building: Vadatech corporate headquarters and manufacturing facility
Tenant Improvements – Retail/Entertainment: Brooklyn Bowl
Tenant Improvements – Small: Mainor Wirth Injury Lawyers
Tenant Improvements – Medium: McDonald Carano Wilson
Tenant Improvements – Large: Barclaycard Call Center
Public Use/Government: Nevada System of Higher Education, Southern Nevada headquarters
Redevelopment Project: SLS Hotel &Casino Las Vegas
Mixed Use Development: Downtown Container Park
Retail Building: Las Vegas Harley-Davidson
Industrial Building: Carpenters Union International Training Center
Office Building: EVAPS Professional Law Office core &shell
NAIOP Works: Vadatech corporate headquarters and manufacturing facility
Industry Awards
Architecture Firm of the Year: JMA Architecture Studios
Brokerage Firm of the Year: Colliers International
Engineering Firm of the Year: Walker Engineering LLC
Financial Firm of the Year: Bank of Nevada
General Contracting Firm of the Year: Martin-Harris Construction
Principal Firm of the Year: Harsch Investment Properties LLC
Developing Leader: Steve Neiger
Broker of the Year – Retail: Jason Otter, The Equity Group
Broker of the Year – Industrial: Higgins &Toft Team, Voit Real Estate Services
Broker of the Year – Office: Randy Broadhead, Brad Peterson, Darren Lemon, Amy Lance, CBRE
Principal Member of the Year: Jeff Foster
Associate Member of the Year: Jennifer Levine, CCIM
Spirit of Spotlight: Sallie Doebler
Trendsetter Firm: Prologis
Lifetime Achievement: Frank Martin